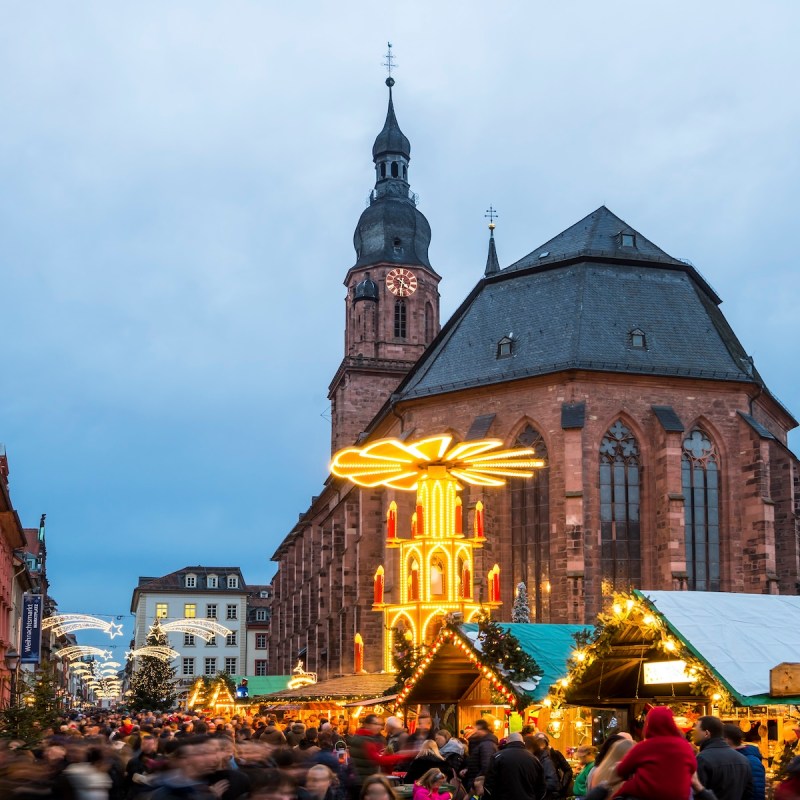 Conjure up your favorite memories of the Christmas season and they'll likely include sparkling trees, roaring fires, mulled cider or wine, and lots of sweet treats. And there's no place better than Germany to truly experience that holiday spirit. After all, it's the very place where the Christmas market concept was born hundreds of years ago.
Sounds intriguing? If you're ready to trade in the ho-hum Hallmark version of the holiday for an authentic European adventure, consider checking out one of these historic German Christmas markets brimming with small-town charm and good cheer.
7 Best German Christmas Markets With Small-Town Charm
1. Cologne, Germany
Cologne's majestic cathedral creates a dramatic Gothic backdrop for the city's immense Christmas markets. Live music blends beautifully with the cathedral's ringing bells and colorful stalls are the perfect places to purchase hand-crafted holiday gifts, artwork, and ornaments. Keep a keen eye out for Cologne's Christmas elves, around nearly every corner, and don't skip the sausages here; they are cooked on massive grills, served with a slathering of spicy mustard. The fun continues down toward the harbor, where locals and visitors alike can ice skate on an open-air rink. If you're in luck, you might even get a glimpse of Santa and his helpers jet-skiing the Rhine River.
2. Dresden, Germany
Now in its 589th year, Dresden's Striezelmarkt claims to be the oldest Christmas market in the world. What began back in 1434 as a single-day celebration is now a weeks-long holiday extravaganza featuring more than 200 market stalls, a large walk-in candle arch, and daily special events bound to delight everyone in your travel party. For a bird's eye view of all the lights, take a ride on the Ferris wheel. And to get a truly authentic feel, consider picking up some Pflaumentoffel — traditional edible figurines made from dried plums.
3. Freiburg, Germany
Located on the southern edge of the famed Black Forest, Freiburg's medieval old town is the perfect place to enjoy German Christmas traditions. The city's market, located in the main square, shines bright during the holiday season. There are plenty of market stalls to peruse, sweet roasted almonds to munch (so good!), gluhwein to sample, and glass blowers to watch as they craft gorgeous ornaments perfect for any tree. Take the time to try your hand at candle making or gingerbread baking, too. I strongly recommend visiting this charming German small town for holiday celebrations!
4. Heidelberg, Germany
Spread out over six squares in this historic university town, Heidelberg's Christmas market features twinkling lights, pine boughs, fir trees, and numerous Christmas stalls offering a whole host of goodies for sale. Wander the gorgeous squares, churches, and cobblestoned alleys mostly spared by the bombings from World War II. Grab a mug of gluhwein (rose was my favorite) and shop to your heart's content. Do not skip the steak mit zwiebeln, or steak sandwich. I accidentally ordered it expecting schnitzel, but it was the most delicious mistake ever; delectable with caramelized onions and tender steak stuffed into a small, soft bun. This town has the most delicious German food that you should try at a Christmas market.
5. Koblenz, Germany
Koblenz, where the Rhine and Moselle Rivers come together, was first established as a Roman military post 2,000 years ago. Today, its Christmas market spans six historic squares and is a favorite for tourists and locals alike. The land around Koblenz has long been used for vineyards and the traditional holiday gluhwein made from local vintages is especially good. For an extra holiday treat, consider taking the tram up to Ehrenbreitstein Fortress, which gets an incredible Christmas glow-up each season.
6. Nuremberg, Germany
One of the oldest and most well-known German Christmas markets in the world, you're bound to catch the holiday spirit in Nuremberg. This market really leans into the Christmas sweets; gingerbread and spekulatius almond cookies are traditional favorites. All visitors are encouraged to remember and relive the child-like wonder of the holiday. It's easy to do as you spy Christkind, the golden angel thought to be the main gift-bringer on Christmas Eve. There are also Nativity scenes, many market stalls, and glowing, gorgeous trees. 
7. Rüdesheim, Germany
Located in the picturesque Rhine Valley, Rüdesheim is brimming with festive, global cheer. Its Market of Nations focuses on Yuletide celebrations and traditions from around the world, with more than a dozen countries represented. Food, drinks — including Christmas ales — and handicrafts are all on offer. The German town that is especially beautiful during Christmas has the vibrant Drosselgasse, a narrow alleyway lined with decorated restaurants and bars, which is the perfect place to wander. Rüdesheim's quaint market right along the Rhine River is the stuff holiday dreams are made of!
No matter which German Christmas market you choose to visit, you're bound to have a magical experience. If you'd like to see and shop multiple markets, consider a river cruise. Several leading cruise lines — including Viking, Avalon Waterways, and AmaWaterways — offer seasonal sails of the Rhine and Danube; the perfect way to truly make the most of your Christmas market time.