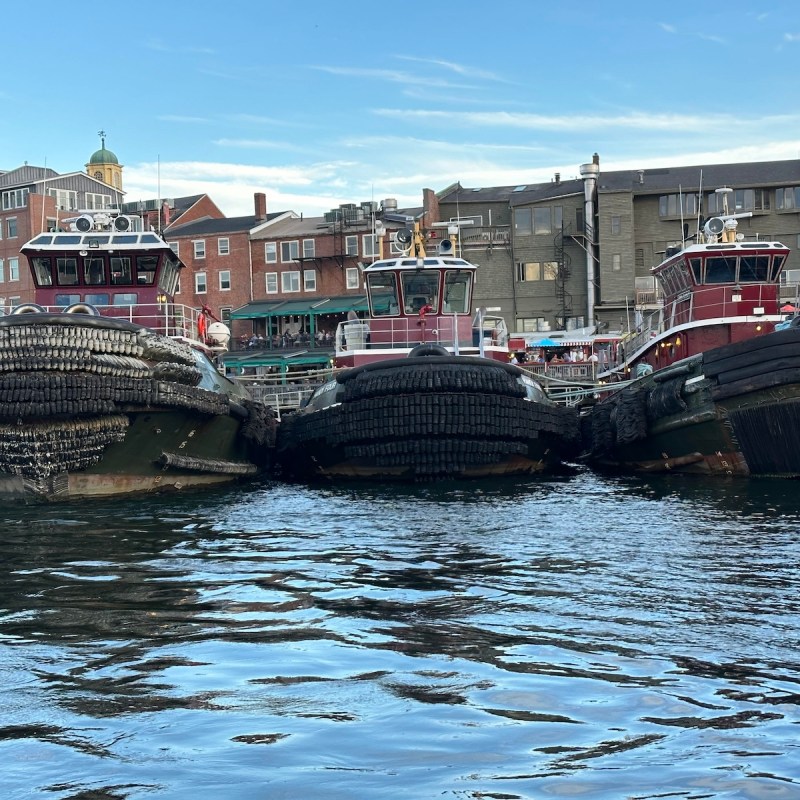 Charming local shops, delicious culinary options, painterly sunsets, historic buildings, and a walkable downtown along the beautiful Piscataqua River make Portsmouth, New Hampshire, a fun getaway destination. By simply adding a few couple-focused itinerary experiences, it is easy to plan a romantic Portsmouth interlude.
Some information in this piece was obtained during a sponsored press trip, but all recommendations are my own.
Romantic Stay In Portsmouth, New Hampshire
The most important part of a romantic getaway is booking the right hotel. When looking for a romantic hotel, you want to consider the ease of your stay. The hotel should be beautiful, that's a given. You should be able to walk out of the door, preferably hand-in-hand, and enjoy the quaint charm of the city. A personalized romance hotel package easily enhances your special stay.
The Residence Inn Portsmouth Downtown/Waterfront offers all these experiences and more. With a pre-stay call to the hotel, you can easily set up a custom-room romance setup to surprise your special someone. Steps from the front door are all the waterfront restaurants and pubs. It also offers easy access for strolling the brick sidewalks to meander to and around the downtown shops and eateries.
Pro Tip: Valet your car and enjoy your Portsmouth getaway on foot — no parking worries.
Sunset Cruise
Sunsets are intrinsically romantic and sunset sails with your favorite someone set an alluring tone for the evening. Portsmouth Harbor Cruises offers a 1.5-hour sunset cruise around Portsmouth Harbor and the Piscataqua River. On a perfect night, the sun sets red, orange, and pink, decorating the sky with a kaleidoscope of color. Set your camera on night mode to capture the stunning light and dancing reflections off the water.
As you return to the dock, the city lights, framed by one of the river-crossing bridges, imparts a warm, twinkling glow of possibilities.
Pro Tip: Portsmouth Harbor Cruises operates out of a small shack in the harbor section of the waterfront — between the working harbor and the waterfront restaurants and bars.
Dining In Portsmouth, New Hampshire
After your romantic sunset cruise, enjoy a table for two at one of Portsmouth's many restaurant options. From brew-pub hopping to spectacular views of the city and harbor to charming coffee shops, you will find lots of great eats in Portsmouth.
Rooftop At The Envio
Elegant yet cozy, the Rooftop at The Envio is a fantastic choice for a dinner for two. Enjoy dinner on the porch or cocktails on the rooftop deck. Rooftop at The Envio is perched high above Portsmouth offering one of the best panoramic views of the city.
The Envio Shrimp Cocktail is a perfect starter — jumbo shrimp with a not-too-spicy Bloody Mary cocktail sauce and a smooth honey lemon aioli. A New England coastal classic, dive into Envio's Grand Maine Lobster Roll — succulent lobster tossed in a lemon mayonnaise on a perfectly toasted brioche bun. Turf lovers will enjoy the Korean barbecued boneless short rib with tamari lime carrots, broccolini, and bamboo sticky rice.
Pro Tip: Secure reservations for after your sunset cruise. Envio is a just short walk from where the cruise docks.
Thirsty Moose Taphouse
If your dining style is a sports bar tavern, then the Thirsty Moose Taphouse is the place for your romantic dinner. Great pub grub is served up in the large, open dining room surrounded by wall-to-wall televisions projecting all the games all the time.
Pizzas, burgers, sandwiches, and other traditional pub bites grace the extensive menu. A delicious and "healthy" starter, the fried brussel sprouts are coated with red pear, gorgonzola, bacon, and balsamic glaze. Another great starter are the prime rib sliders smothered in caramelized onions and horseradish sour cream sauce for the win. An alternative to their yummy pizzas and burgers, a tasty entrée is the Create Your Own Mac & Cheese. Fun add-ons like pulled pork, hot dogs, steak tips, or buffalo chicken make it uniquely your own.
With dozens of regional beers on tap, it is fun to taste test your way to a favorite brew.
Popovers On The Square
A leisurely brunch is key to every romantic getaway. Downtown, Popovers On The Square serves delectable breakfast and brunch items to satisfy the morning hangries. Thick French toast sticks are served with whipped cream, fresh berries, and New Hampshire maple syrup. Classic brunch fare, the smoked salmon plate served with cream cheese, pickled red onions, and a popover is delicious.
Don't neglect to try the namesake popovers with creamy maple butter.
Strawbery Banke Museum
History buffs will enjoy Portsmouth's Strawbery Banke Museum — a living museum of collected homes in the Puddle Dock neighborhood. The museum's buildings and artifacts date from when the Indigenous Abenaki people settled the area to present day life. Buildings were collected and moved to Puddle Dock, allowing the museum to showcase the changing day-to-day lives of early settlers through historic exhibits and costumed docents.
Buildings from a wide timeline include the Goodwin Mansion circa 1811, the Penhallow House circa 1750, the Lowd House circa 1810, and the Reproduction Wigwam built in 2021. Beautiful heirloom gardens, herb gardens, and historical landscapes bring an artistic and practical touch to the museum grounds.
Pro Tip: The museum is a 15-minute walk from downtown Portsmouth through a charming old neighborhood.
Prescott Park
After your visit to the Strawbery Banke Museum, head toward the waterfront to enjoy Prescott Park. Ten acres of landscaped garden beds, sculptures, and park benches; it is a lovely spot to hold hands and stroll along the meandering pathways.
Wentworth-Coolidge Mansion
Part of the New Hampshire State Park system, the Wentworth-Coolidge Mansion was home to New Hampshire's first governor, Benning Wentworth. The massive 40-room mansion sits on the banks of Little Harbor. For a small fee, you can visit the interior of the mansion and garner a peek into the aristocratic life of Colonial New England.
For some fresh air and sunshine, take the easy 1.5-mile hike on the Little Harbor Loop Trail, which takes you through Creek Farm and the Portsmouth Conservation Land woodlands and waterfront.
Shopping
Shopping for a memento of your wonderful getaway with your favorite person reflects your personality as a couple. The perfect souvenir could be fine jewelry from Market Square Jewelers or Springer's Jewelers. Foodies will go wild over the selection of finishing salts at Salt Cellar. Explore a few unique flavor-enhancers like Cyprus Black Sea Salt, Ginger Root Sea Salt, Porcini Mushroom Sea Salt, Icelandic Licorice Sea Salt, and other mind bending flavors. During your walk through downtown, you will discover independent antique shops, galleries, boutiques, and bookstores.
The Hill
The Hill is a small section of Portsmouth where 17th- and 18th-century historic homes in the Italian North End neighborhood faced the urban renewal fight and won several victories. Much of the neighborhood fell to the modern-day projects that make Portsmouth the vibrant city it is today. Several of the historic buildings were moved to the Strawbery Banke Museum. Some were left standing and are still privately owned, while others have been reimagined into businesses.
Portsmouth Road Trip
Portsmouth is between Boston, Massachusetts, to the south and Bangor, Maine, to the north. It is close to vibrant and picturesque coastal cities. If you have a few more days to extend your getaway, consider a Boston to Bangor road trip. A fun short trip from Portsmouth is to Freeport, Maine, home of the L.L. Bean flagship store.