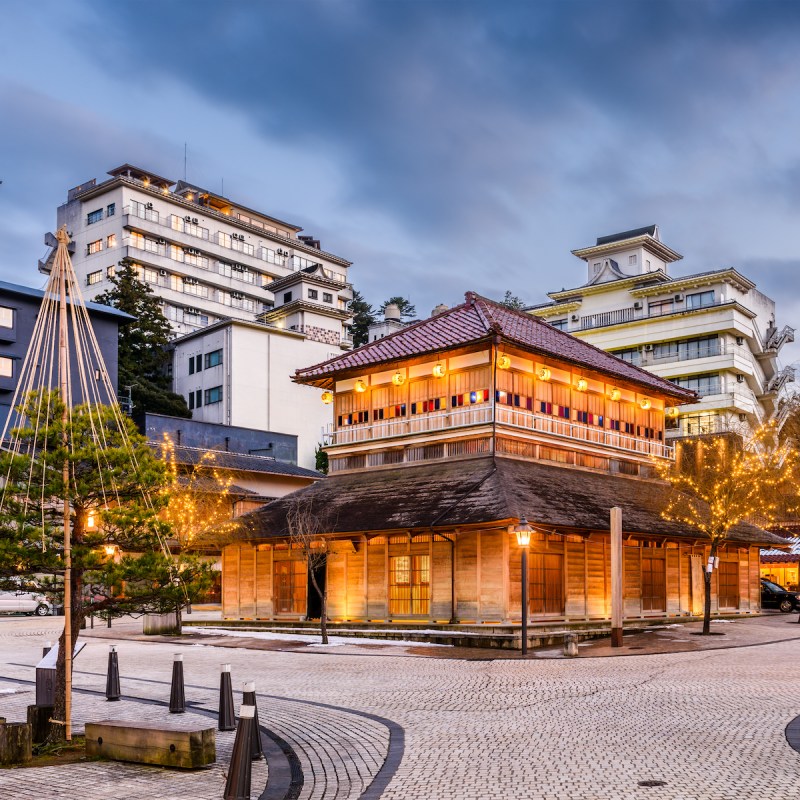 If Ishikawa Prefecture isn't on your travel wish list, it should be. Experience breathtaking landscapes, views over the Sea of Japan, antique streetscapes, temples, gardens, amazing food, hot springs, cherry blossoms in spring, and ski slopes in the winter. This spot on the northwest coast of Japan's largest island, Honshu, deserves a place on your bucket list.
With the remote Noto Peninsula, the historical castle town of Kanazawa, the seafaring city of Kaga, and the mountainous Hakusan region, there's something to explore, excite, and enthrall everyone. I spent a week exploring the region and definitely fell in love.
The Noto Peninsula
The Noto Peninsula is known for its rugged coastlines, rural views, and agricultural heritage. There's a feeling of remoteness here and a much more relaxed atmosphere than many other parts of Japan.
1. Wajima Morning Market
Wajima Morning Market is a daily market that's been in operation for over 1,000 years. This is one of the biggest morning markets in Japan, with over 200 stalls selling everything from freshly caught fish, local fruit and vegetables, various dried goods, snacks, and locally made crafts. The stall-holders are very happy to let you sample their wares. The market operates daily from 8 a.m.–noon.
2. Osaki Lacquer
Lacquerware, known as urushi, has a 9,000-year history and is one of Japan's best-known crafts. Generally, three coats of lacquer are applied to seal and protect an object, and then decoration is added. The lacquer itself comes from a special tree sap, collected by hand, from the Japanese lacquer tree. A visit to Osaki Syouemon is a great way to learn about the process and see some incredible lacquerware products.
3. Gold Leaf Experience
Gold leaf production in Japan dates back more than 400 hundred years. Production of gold leaf is a long and arduous process that requires the repeated pounding of the metal into impossibly thin sheets. Pay a visit to Wajima Art Studio Nagaya where you'll have the opportunity to learn about the process called "makie" and decorate your own souvenir with gold leaf.
4. The Shiroyone Senmaida Rice Terraces
These hillside rice paddies lead right down to the sea. As the rice terraces are built on a steep slope, they have to be planted and harvested by hand; a traditional way of cultivating rice that's been recognized by the United Nations as a Globally Important Agricultural Heritage System. The beauty of the terraces changes seasonally. In winter, they're covered by snow, and in summer, they're a striking green, before turning gold in August and September.
5. Notojima Island
Notojima Island sits just off the coast of the Noto Peninsula and was only recently connected by a bridge to the mainland. As a result, the area has developed its own culture of self-reliance, sustainability, and slow-paced lifestyle. One of the best ways of getting to know the area is by taking a cycling tour with an English-speaking local guide. I loved this experience. The cycling tours last 3.5 hours and are available from March–November.
6. Sleep And Eat
Koshuen and Tadaya are two traditional Japanese-style inns on the Noto Peninsula that feature hot-spring bathhouses, tatami-matted rooms (a type of rush matting), and fantastic traditional cuisine. For an amazing dining experience, L'Atelier de Noto is a Michelin-star French restaurant with a Japanese twist.
Kanazawa
Kanazawa, the capital of Ishikawa Prefecture, is a city with a rich culture and history that successfully blends the modern and the traditional.
7. Kenrokuen Gardens
Kenrokuen Gardens opened to the public in 1871 and is one of Japan's most famous traditional-style gardens. It's small enough to see everything within an hour, but definitely a place I could happily stroll through time and time again. Trees, shrubs, ponds, and waterfalls — the garden has it all. Its appearance changes with the seasons, from cherry blossoms in the spring to carpets of green moss in the summer. In autumn, the Japanese maples turn crimson and russet, and in winter, gardeners tie up the trees with bamboo and rope to protect them from heavy snowfall. Shigure-tei teahouse, on the grounds of Kenrokuen, is perfect for relaxing while enjoying a bowl of tea and traditional snacks.
8. Kanazawa Castle
Kanazawa Castle is one of the most popular tourist destinations in Ishikawa Prefecture. Built in 1580, the castle has suffered several devastating fires over the years. The city has recently rebuilt sections of the castle and it's an impressive place to visit. A traditional tea service is available at Gyokusen'an Rest House in the Gyokusen'inmaru Garden on the castle grounds. 
9. Higashi Chaya District
The Higashi Chaya District with its many restaurants and shops is the entertainment district of Kanazawa. The chaya, or "teahouses," were traditionally places where customers could come for geisha performances (or geigi as they are called in Kanazawa). We visited In Kanazawa House to experience a traditional geisha evening with food, entertainment, and a chance to talk with the delightful geigi between performances.
10. Omicho Market
The following morning started at Omicho Market, which has been in existence since the 1600s. This is Kanazawa's largest fresh-food market, with over 180 stalls and restaurants. We shopped, with assistance, before returning to In Kanazawa House to watch, learn, and have our chance at turning our purchases into sushi.
11. Nagamachi Samurai District
The cobblestone streets and tiled earthen walls of Nagamachi District were home to several samurai families during the Edo period (1603–1867). If you spend a little time exploring here, you'll get a sense of what life was like for samurai of the time. One highlight is the Nomura Residence, the only samurai residence open to the public in Nagamachi. There are various heirlooms on display including a full suit of samurai armor.
12. The 21st Century Museum Of Contemporary Art
The 21st Century Museum of Contemporary Art is just a few steps from Kenrokuen Gardens and showcases artists from Japan and abroad. The museum houses several popular permanent exhibits as well as a number of temporary exhibits. One of the most popular, interactive, and permanent exhibits is Leandro Erlich's Swimming Pool — a pool where exhibition goers appear to be underwater.
13. The Noguchi Naohiko Sake Institute
Under an hour's drive from Kanazawa City lies the hamlet of Kanagaso, so tiny that even many locals don't know of its existence. Here, you'll find the Noguchi Naohiko Sake Institute. Noguchi Naohiko is one of the most famous Toji (sake master brewers) and has been making sake since 1949. In 2017, he came out of retirement to open the institute with an aim of teaching future master brewers. Try some of the institute's delicious sake in their special tasting room.
14. Sleep
A great choice for somewhere to stay in Kanazawa is the Hyatt Centric Kanazawa. It's an upscale hotel situated in the heart of the city, close to all the attractions and just seconds from the railway station where the bullet train to and from Tokyo arrives and departs.
Kaga Onsen
Kaga Onsen is a collection of four hot spring towns (or onsens) south of Kanazawa. The hot springs were discovered over 1,300 years ago by monks visiting Mount Hakusan and have been popular ever since. A characteristic of Kaga's hot spring towns are their public baths (soyu), which are found in the center of each town.
15. Yamashiro Onsen
Yamashiro Onsen is nestled in the foothills of Mount Hakusan. Visitors can immerse themselves in the atmosphere of old Japan by staying in a ryokan ("inn") and visiting the town's soyu ("public bath") or ko-soyu ("old public bath"). You can have your own private thermal bath in your room at the lovely Tachibana Shikitei ryokan in town. Alternatively, the Mori no Sumika Resort & Spa has gorgeous rooms, incredible food, and fantastic hot spring baths just outside town.
16. Yamanaka Onsen
Yamanaka Onsen is a small resort town along the Kakusenkei Gorge. The hot spring waters here are said to ease muscle and joint pain, speed recovery from disease, and improve one's general health. You can bathe at the Kikunoyu — Yamanaka's public bathhouse in the town center — which has separate buildings for men and women. A great place for lunch in town is the Enuma Station Bistro with its French cuisine and Japanese precision.
17. Kakusenkei Gorge
The Kakusenkei Gorge runs parallel to the town of Yamanaka and is just a few blocks from the town center. There's a beautiful wooden bridge at one end of the gorge and a modern steel bridge at the other. A 20-minute forest trail leads from one bridge to the other via the gorge with its river, waterfalls, and unique rock formations — a tranquil escape from the town above.
18. Natadera Temple
The last stop was the beautiful Natadera Temple, where dramatic cliffs and natural rock formations tower over unique temple buildings, serene mossy forests, carp-filled ponds, and traditional-style gardens. In 717, the monk Taicho climbed Mount Hakusan, and whilst meditating on the highest peak, was inspired to build Natadera Temple. The wooden halls and pagodas are intricately carved with Chinese zodiac animals, peonies, and chrysanthemums. The main hall, used for most Buddhist services, houses a 25-foot statue of Kannon, the Buddhist goddess of mercy and compassion.
The opening of the Hokuriku Shinkansen train route between Tokyo and Kanazawa has meant the region can now be reached in just under 2.5 hours by bullet train, making this fantastic part of Japan accessible to every traveler.