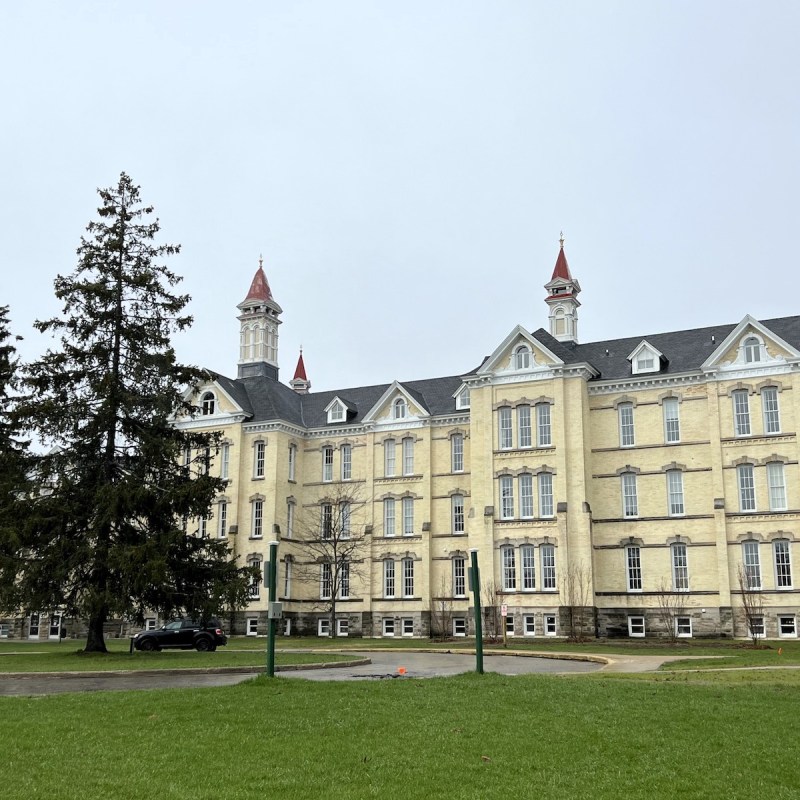 While the Village at Grand Traverse Commons is in Traverse City, an urban setting on 480 acres of preserved parklands, you'll think you're in the country. The community is full of history.
In April 1883, construction began on the Victorian Italianate-style main building, Building 50. In November 1885, the Northern Michigan Asylum, later renamed the Traverse City State Hospital, admitted its first patient. Dr. James Decker Munson, founding medical superintendent, followed the revolutionary moral treatment movement. "Beauty is therapy" was a central component of the treatment plan: surround patients with a beautiful environment and their mental and emotional states would improve.
Architects designed the facility according to the Kirkbride Plan — each patient room had a window and an outside view. Ample natural light was essential. Hospital staff served patients meals in the dining room on fine China, complete with the state seal. White linen tablecloths and fresh flowers adorned the tables.
After 104 years, the Traverse City State Hospital closed its doors in 1989 and remained vacant until 2000. The elements and vandals took their toll on the once-beautiful campus. In 2002, the Minervini Group acquired the property and began one of the nation's largest historic preservation and adaptive reuse developments.
The former chapel is now Kirkbride Hall, a community gathering space with a first-floor restaurant. The main building has become apartments, shops, and restaurants, creating a new community in this former place of healing. Here are seven of my favorite restaurants at the Village at Grand Traverse Commons, listed in alphabetical order.
Thank you to the Village at Grand Traverse Commons for providing a tour of the historic buildings.
1. Left Foot Charley Winery
The hospital's laundry has become a dual-use winery and coffee roastery. Left Foot Charley teamed up with 18 vineyards that work exclusively for them, the first urban winery in the region. The wines smell fruity, clean, and intense. While you might expect a sweet wine, it's more about the balance between sweet and dry. The region's elements, the sun, the sand, the water, and the rolling landscape make a difference. The idea behind the winery is to work with small vineyards and produce wine so that you can enjoy what the harvest has to offer.
During the warmer months, sip a glass of wine on their patio space.
What To Order At Left Foot Charley Winery
Order a flight to sample a variety of wines and ciders. I suggest trying:
Wine: 2021 Le Caban Riesling, a 2022 Dan Berger International Wine Competition Gold Medal Winner
Appetizer: Whitefish pate, a specialty in northern Michigan
Entrée: The Ploughman's Lunch, a selection of cured meats and cheeses with local vegetables, fruit, fig jam, and pickles
Pro Tip: Schedule a tour of their wine-making facility to learn more about Left Foot Charley Winery.
2. PepeNero
Located on the first floor of the hospital's original chapel, PepeNero has all the found history pieces from Kirkbride Hall. Today, the elegant restaurant features the chapel's relaxing atmosphere.
Chef Giorgio Lo Greco grew up in Sicily and worked in his uncle's trattoria. His restaurant in Traverse City serves dishes inspired by the memories of his youth and his travels abroad. The menu includes local farm sources for his fresh ingredients and Italian sources for items like anchovies and olive oil.
What To Order At PepeNero
You'll want to order one of their fresh, house-made plates of pasta, either as a first course or an entrée. For those with gluten-free requirements, you can substitute gnocchi for all but the stuffed pasta.
Primi: Pappardelle with a slow-braised baby-back-ribs ragu, cream, Pomodoro sauce, and Parmigiano Reggiano
Secondi: Branzino baked in parchment with artichokes, a caper, tomato relish, and dill served with potatoes
Pro Tip: During nice weather, enjoy your meal on the patio.
3. Pleasanton Brick Oven Bakery
Today, a bakery's brick-oven fire burns in the second of the village's former firehouses. Pleasanton Brick Oven Bakery sports a wood-fired brick oven that the owners, Carl and Devon, use to make their artisan loaves of bread and pizza.
They have several versions of their pan au levain — a traditional French sourdough that begins with a wild yeast starter. You'll find vegan types of this same bread, like the Michigan cherry pecan or the cinnamon raisin. In addition to the sourdough versions, they offer challah, ciabatta, and focaccia, to name a few.
Then there's the pastries and cookies. In my sampling, I loved the ginger molasses cookies. They have a bit of a kick from the ginger, while getting a big hug from grandma.
What To Order At Pleasanton Brick Oven Bakery
You'll find outside tables during the warm months, but the inside seating is limited. If you want a quick grab-and-go breakfast, lunch, or snack, try one of these options:
Entrée: Margherita wood-fired pizza featuring San Marzano tomato sauce, or a ham and cheese croissant sandwich
Pro Tip: From Tuesday through Saturday, noon–3 p.m., you can buy pizza by the slice.
4. Spanglish
The cheerful bright-yellow building with window boxes and wrought-iron trim is Spanglish, once Firehouse Number 1 in the hospital complex. Today, this counter-service restaurant uses northern Michigan ingredients and traditional Mexican recipes to create Mexican dishes with a twist. You won't have difficulty finding gluten-free and vegetarian options.
During the warmer months, sit outside at a picnic table and enjoy the sounds of a bubbling brook running in front of the restaurant.
What To Order At Spanglish
Deciding what to order is difficult, as the menu has many good options. I enjoyed the Spanglish fried rice; a dish composed of Spanish rice, red bell pepper, poblano peppers, sweet corn, onion, and whole beans topped with feta, cilantro, and chopped onion. They heat it on the grill so it has some flavorful crispy bits. The portion size is generous, almost enough for two.
Drinks: Horchata, a sweet drink made with rice, whole milk, cane sugar, and cinnamon
Entrée: Corn tostadas topped with refried beans, shredded cabbage, onions, cilantro, tomatoes, Mexican sour cream, and salsa verde
Pro Tip: While you're there, purchase some of your favorites to stock your freezer. I like to have tamales and burritos tucked away at home when I can't eat at the restaurant.
5. Trattoria Stella
Executive Chef Myles Anton leads the kitchen at Trattoria Stella. He's a five-time James Beard Award semi-finalist focusing on locally sourced, sustainable ingredients. You'll find the names of the farms on the menu. The team makes everything in house — charcuterie, cheese, pasta, bread, and desserts. Wine Enthusiast Magazine named Trattoria Stella one of America's Top 100 Wine Restaurants. The restaurant features local wine from Leelanau, the Old Mission Peninsula, and the Italian Peninsula.
What To Order At Trattoria Stella
The chef prints a new menu daily, so what I enjoyed may not be on the menu when you go. Some of my favorites were:
Drinks: Try a bottle of wine from one of the area's vineyards. Their sommelier can help you find the perfect pairing.
Appetizer: Cherry bruschetta
Entrée: Berkshire pork chop dusted with herbs and char-grilled, served with tomato risotto, roasted sweet peppers, and red cabbage agrodolce
Pro Tip: If you want something delicious but don't feel like dining out, order something online from their ready-to-go menu and take home a piping hot meal, ready to eat.
6. Red Spire Brunch House
Inside the historic Building 50, the Mercado, you'll find the Red Spire Brunch House with the big red spires on the roof. The space is cozy and colorful. While reservations aren't required, your chances of avoiding a wait are better with them. 
What To Order At Red Spire Brunch House
You can order breakfast, brunch, and lunch. Here are some of my recommendations:
Drinks: Breakfast martini with Hendrick's Gin, lemon juice, a splash of orange juice, and orange marmalade
Breakfast Entrée: One of the traditional Benedicts served with fruit or hash browns
Lunch Entrée: Strawberry chicken salad
Pro Tip: They're open Wednesday through Monday and close at 3 p.m.
7. Sugar 2 Salt
Sugar 2 Salt is a breakfast hot spot that blurs the typical breakfast. For example, you might think of slow-roasted beef brisket and potatoes as a comforting dinner, but at S2S, it morphs into a potato and garden herb waffle, featuring brisket topped with hollandaise and a poached egg. It reminds me of dinner for breakfast, rather than breakfast for dinner.
What To Order At Sugar 2 Salt
While their menu changes weekly, even daily, here are some dishes that you should try:
Entrée: Tortilla bowl that includes chorizo, black beans, soft scrambled eggs, baby bok choy kimchi, fresh cheese, house hot sauce, cilantro, and crème fraiche on a house flour tortilla
Dessert: French toast breakfast bread
Pro Tip: Sugar 2 Salt is closed on Tuesday and Wednesday. They are open Thursday through Monday, 9 a.m.–2 p.m.
To see what else is in the Traverse City area, you may want to explore some of these articles: