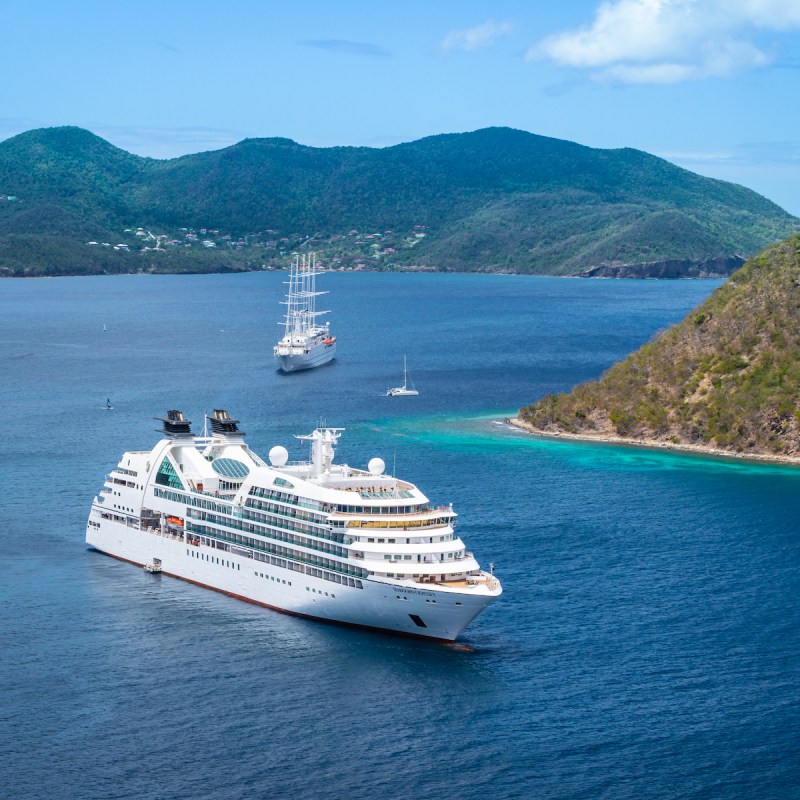 It's not that you don't love the little ones. But every now and again, it's grown people time. Don't feel guilty. Instead, start packing your bags for an adult-only Caribbean cruise.
There are a handful of cruise lines that cater to the 18+ crowd and other cruise lines that are adult-centric; they don't prohibit children, but they aren't tripping over themselves to attract them either. This means you likely won't find a kids club, a Frozen-themed theatrical dining experience, or a waterslide. What you'll find are adult-only pools, decks, and quiet areas.
Here's where to turn when you're ready to set sail for an adult adventure in the Caribbean.
1. Virgin Voyages
Forget about long lines at the buffet. On Virgin Voyages, not only are there no buffets, but no designated mealtimes or formal dinners. You might think you're at an uber-luxe resort with 20+ eateries and menus crafted by Michelin-star chefs. Ship interiors were inspired by W Hotels and Soho House. They showcase the work of interior design gurus like Tom Dixon and Roman and Williams. For entertainment, there's the Duel Reality Show, an acrobatic performance that takes a page from the Romeo and Juliet playbook. The Untitled DanceShowPartyThing is a wild, immersive dance show. The late-night PJ parties are legendary as well. If you're not hungover, sunrise meditation classes await.
With Virgin, you get all that and itineraries like the Eastern Caribbean Antilles, an eight-night trip that sails from Miami to Puerto Plata, San Juan, St. Croix, and Bimini, before returning to Miami. In Puerto Plata, take your pick of adventures like a cable car ride up a mountain for epic views and lunch, rum tasting, or exploring villages, rivers, and waterfalls. In San Juan, it's all about experiencing the El Yunque Rainforest, gallivanting the cobblestone streets, hitting the bars and restaurants in Old San Juan, or horseback riding. You get the picture, big-people fun. With just over 2,700 passengers, Virgin Voyages isn't a mega-ship either, giving it a bit more of an intimate feel.
2. Viking
If you have the pleasure of sailing on Viking's West Indies Explorer, you'll know this is not a trip for the kiddies. You'll soak up knowledge from lectures like Explorers: The Age of Discovery, The Bayeux Tapestry, and Islands in History.
Spend 11 days in 9 countries. Start in San Juan and make your way to Tortola, St. Kitts and Nevis, St. Lucia, Barbados, Dominica, Antigua and Barbuda, St. Thomas, and back to San Juan.
Hike Sage Mountain and end your journey on the beach or tour historical sites. In Roseau, Dominica, a visit to Morne Trois Pitons National Park is a must, as is snorkeling in the much-ballyhooed Champagne Reef. A stop in Philipsburg brings opportunities to create your own fragrance in a perfume class, co-pilot a multi-million-dollar boat during a pretend "America's Cup" race, or enjoy a chairlift ride to the top of Sentry Hill.
3. P&O Cruises
This UK-based company's Aurora and Arcadia ships are adult-only ships. If you want a hefty dose of the Caribbean, set sail on the Aurora from Southampton for a 24-night adventure. Ports of call include Madeira, Portugal, St. Maarten, Guadeloupe, St. Vincent, St. Lucia, Barbados, Ponta Delgada, and Portugal, returning to Southampton.
Highlights include Kingstown, St. Vincent, with its rainforests, caves, waterfalls, and swimming holes. Or you can set off in a catamaran for snorkeling and Princess Margaret Beach. Get off your ship with a big appetite when you go on shore in Guadeloupe. Fill your belly with the spicy Creole food at Point-a-Pitre's restaurants. History buffs will get their fill of history in Bridgetown, Barbados. There's so much architectural and cultural gems that Bridgetown is a UNESCO World Heritage Site, with finds like the Georgian St. Mary's Church, the neo-Gothic Barbados Parliament, the Garrison, and more. Save time for the Harrisons Cave, which includes caverns and waterfalls.
On days at sea, relax in the Oasis Spa, workout in the gym, and enjoy the pools and whirlpools.
4. Saga
This is not only adult-only, but Saga is just for those 50 and older. While the Caribbean is the draw on this UK company's cruises, you'll hardly be bored in between excursions. There are lectures, theater productions, recitals, outside deck games, fitness classes, and exercise clinics where you can ask the pros fitness and mobility questions. For the crafty types, there are classes that could be anything from making jewelry and frames, creating mosaics, and more. There are culinary demonstrations from UK celebrity Chef Phil Vickery. The gymnasium has a swimming pool, hot tubs, sauna and steam room, and hydrotherapy pool.
Island Hopping in the Caribbean is a month-long romp in the Caribbean that begins and ends in Portsmouth, UK. The first port is Ponta Delgada in the Azores, and then it's St. John's in Antigua, Tortola, San Juan, St. Barts, Dominica, Grenada, Trinidad and Tobago, Barbados, Madeira, and back to Portsmouth.
The port in Gustavia, St. Barts, is the stuff of movies with its mega yachts, tony shops, and restaurants. Get ready to profile with the pretty people. In Tortola, the secluded beaches and coves are ideal for a cuddly couple. Your stop in Antigua won't be complete without a visit to a rum shop, either to taste or bring back gifts. A walking tour showcases the Colonial architecture, or maybe you'd enjoy a guided tour of the Cadres Reef. When you're in the Port of Spain in Trinidad and Tobago, street food from the market stalls are the way to go. Bird lovers won't want to miss the Caroni Bird Sanctuary. Independence Square and the botanical gardens should also top your list.
Adult-Centric Cruise Lines
While there are a handful of adult-only cruise lines, companies are increasingly offering adult-only spaces; be it adult-only pools, decks, quiet areas, and lounges.
Take, for example, Regent Seven Seas Cruises; it doesn't have adult-only itineraries, but as an uber-luxe line, the demographics tend to skew heavily toward grown folk. The lavish suites, upscale spa, multi-million-dollar artwork collections, foodie pleasing restaurants, and intellectually and culturally stimulating excursions won't captivate the young ones. You'll likely feel quite comfy on the Caribbean escape — Merengue, Salsa & Calypso cruise.
Celebrity Cruises also has adult-centric amenities. The Solarium is on the resort decks of all ships. It's an adult-only pool area covered by a glass dome, ideal for reading, napping, or lounging with a cocktail, or in the hot tub. The adult-only SEA Thermal Suite boasts eight therapeutic experiences as a place to connect with other wellness gurus before or after treatments at The Spa. You'll love the rainfall water therapy room, float room, and heated tile loungers. There'll be no kiddies at the sunset or martini bars. You'll vacay like a grown-up on Celebrity's Caribbean cruises.