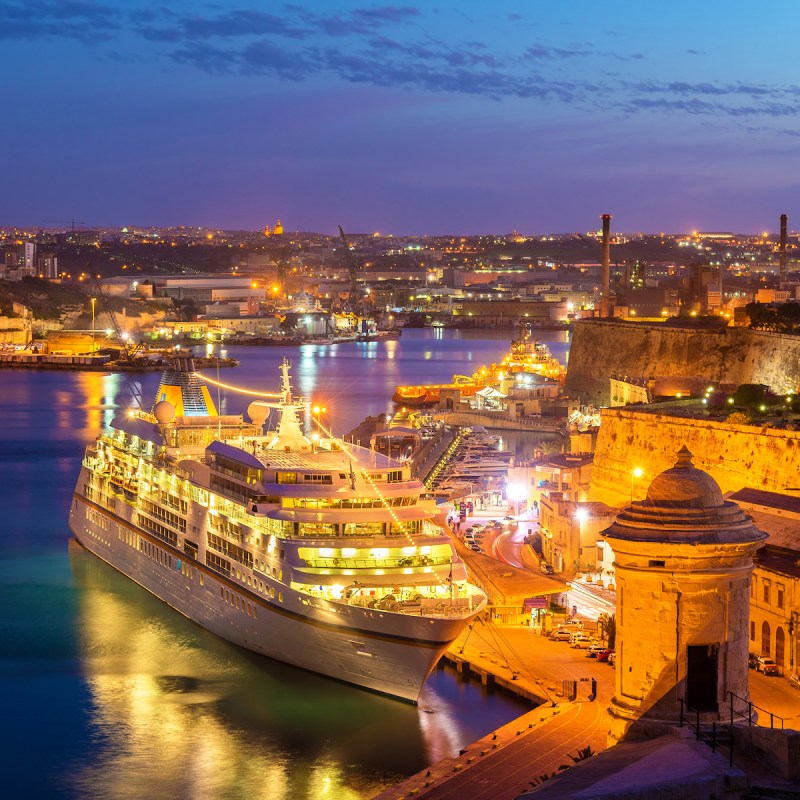 I'll be honest, since my children have grown and are now adults, I love nothing more than an adults-only trip. Where I once looked for kids clubs and splash pools, I now look for peace and quiet and good cocktails. And when it comes to cruising, I look for that relaxation and time away from kids, more so than on any other kind of trip.
I've been on family cruises and, while they are great, there's nothing like cruising in quiet and with adult company only. The Mediterranean is a beautiful place for cruising, full of lazy stop-offs, swim stops, and historical land excursions. Most kids wouldn't like these kinds of laid-back, low-key cruises anyway. All the more for us adults to enjoy!
To get you started on which Mediterranean cruises to try for an adults-only cruising experience, here's my pick of the seven best options.
1. Variety Cruises
Unexplored Greece
This is one of the most laid-back and casual cruises I've ever been on around the Mediterranean. This Variety Cruises exploration of the small, lesser-visited Greek Islands begins in Athens; stops off at Amorgos, Ikaria, Serifos, Lipsi, Iraklia, Patmos, and Kalymnos; and ends back in Athens. Aboard the Pan Orama, which has capacity for 48 guests, is slow-paced, and is easy going.
There's no dress code for dinner, no set place you have to sit for meals, and there's plenty of free time to wander around the islands or book an excursion if you want. There's a sun deck on board and a bar, but your time mainly revolves around swim stops and island life. These lesser-visited Greek Islands don't have ports big enough for large cruise liners, so there are fewer tourists around, which makes every stop peaceful and relaxing. Cabins are comfortable, if a little basic, but you don't spend much time in them; there's too much to discover on the islands and in the quiet little secluded bays where you'll stop off for a swim in each day.
2. Virgin Voyages
French Daze & Ibiza Nights
Beginning and ending in Barcelona, Spain, this seven-night Virgin Voyages cruise stops off at Marseille in France, Cannes, Mallorca, and Ibiza in Spain. Cabins range from the basic insider cabin to the mega rockstar quarters, though to be fair, the basic insider cabin is pretty rockstar as it is. These cabins sleep up to four people, with bunk beds, and are very comfortable and verging on luxury.
Don't let the bunk beds throw you off, though, Virgin Voyages is a strictly over-18s-only cruise line, so the four berth cabins are for four adults. The mega rockstar quarters is something else, with its own private hot tub and a taste of what life is like for a movie star. Ships have spas, swimming pools, fitness suites, running tracks, nightly entertainment, and even a tattoo parlor. The ships have everything you'd want from a top-class resort, so it's almost a shame there are no at-sea days on this cruise.
3. Emerald Cruises
French & Italian Rivieras
Setting off from the port of Rome, this 8-day cruise with Emerald Cruises takes you to Corsica, Calvi, Portofino, Menton in France, and ends in Nice. On board one of Emerald Cruises' luxury yachts, there's room for 100 guests in a range of very comfortable cabins. The terrace suite is stunning and includes your own little sun deck with loungers, but even the most basic stateroom is a cut above other cruise cabins.
Life aboard the yacht is a low-key affair that centers around the sun deck, bars and restaurants, and the swimming pool, but there is also a wellness area with a spa. What I found really impressive about this cruise is that almost all of your meals are included. All breakfasts, all dinners, and six lunches are provided on board, which is quite unusual for a cruise line.
4. Scenic Cruises
Authentic Andalucia
Beginning in Malta, this Mediterranean cruise with Scenic Cruises stops off at the island of Gozo, Trapani in Italy, Carloforte, Menorca, Formentera, Cartagena, Marbella in Spain, Tangier in Morocco, Portimao in Portugal, and ends in Lisbon. I liked the laid-back pace of this cruise and it stops at some glorious destinations. I also liked that flights to and from the UK were included.
This is an all-inclusive cruise, which I found unusual, but it's basically just like any all-inclusive resort on the sea. Each guest receives butler service while all food and drinks are included. Excursions are also included in the price of the cruise, which does mean you've paid for all excursions up front. This is an expensive cruise and if you don't like going on the land excursions, it isn't for you because you're paying for them no matter what. But for anyone who likes to do everything on offer on their cruise and likes to keep the drinks flowing, this is a great option.
5. Virgin Voyages
Adriatic Sea & Greek Gems
Virgin might just be the best-known cruising company offering adults-only cruises and one look at their ships shows you why. This cruise with Virgin Voyages begins in Athens and stops off at Split, Dubrovnik, Kotor, Corfu, and ends back in Athens. There are 2 at-sea days so you can make the most of everything the ship has to offer, from swimming pools and spas, to arcades and karaoke.
There's even a record shop on board so you can pick up some vinyls while you sail. It's all about relaxing and having fun adult-style — whatever that means to you. So if all you want to do is lounge in the sun on the deck, there's plenty of space to do just that, but if you want to sing karaoke and spend time in the casino, this cruise has you covered.
6. Viking Cruises
Ancient Mediterranean Treasures
This 8-day cruise around the Mediterranean with Viking Cruises begins its journey in Istanbul in Turkey before stopping in Troy and Ephesus and then moving onto Rhodes in Greece, Crete, and ending in Athens. Life aboard the Viking Ocean ship is geared towards adult entertainment and includes a spa, fitness center, shopping, a beauty salon, a theater, a cinema, and restaurants.
Cabins and suites are all comfortable, if a little basic. They are hotel standard, though, not quite luxury level. There's an indoor and an outdoor pool with plenty of sun deck areas for sunbathing. There's plenty to do on board the ship, but there are no at-sea days on this cruise, so unless you want to skip one of the land excursions, you'll be packing in the delights of the ship around your adventures. There's a strict no-under-18s rule on Viking Cruises, so you're sure of an adults-only experience.
7. P&O Cruises
Mediterranean 18 Nights
If you know anything about P&O Cruises, you'll know they are not a strictly adults-only cruise line, however, they do reserve a couple of their ships for adults-only voyages. This Mediterranean cruise is quite long at 18 nights, but it does depart and end in the UK, sailing you all the way to the Med and back. Because there's quite a way to sail from the UK, the first stop-off is on day 5 and is in Cadiz in Spain. From there, the ship stops at Valencia, Ajaccio in France, Genoa, Rome, Naples, Gibraltar, and Lisbon before heading back to the UK.
There are plenty of at-sea days to enjoy the spa, swimming pools, art gallery, theater, and restaurants and bars. Cabins are stylishly decorated and some have verandas. With a capacity for 2,094 guests, this cruise falls somewhere between small-boat intimacy and large-liner luxury.