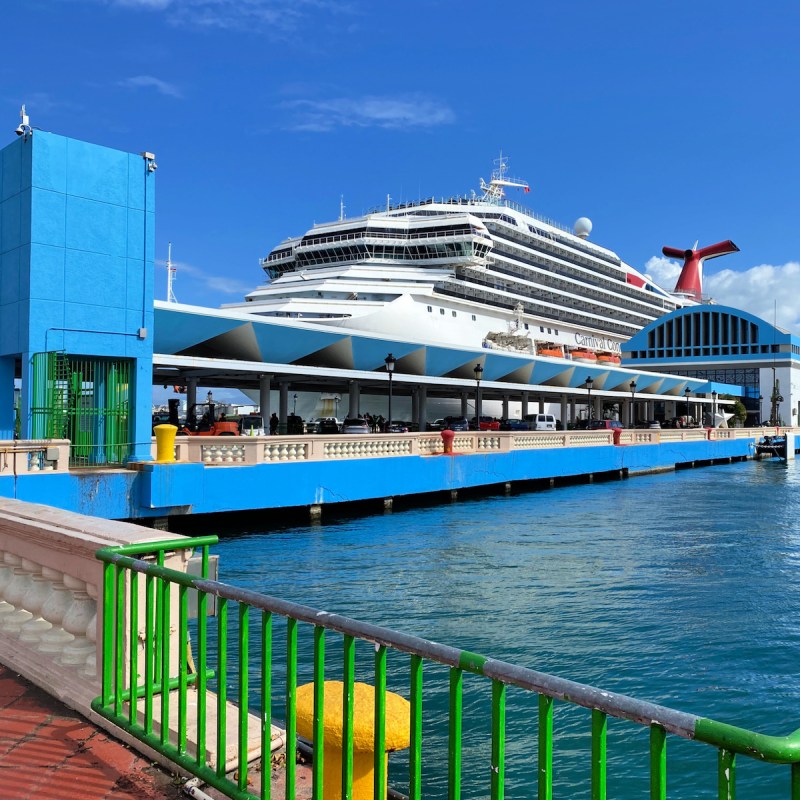 Experience the explosive growth of the cruise industry firsthand as we explore the major departure ports in the United States. Don't be left behind; join the millions of satisfied cruisers who have discovered the ultimate vacation experience. But we know that hopping on board can be intimidating, especially when choosing the right port, ship, and cruise line. That's why I'm here to guide you through it all.
Starting in the North Atlantic and working our way down to the South Atlantic, including the bustling ports of Florida, we'll cover everything you need to know. We'll then move on to the Gulf of Mexico and, finally, the beautiful Pacific. Learn about several American ports, from suggestions on getting to the port to a detailed list of all the cruise lines that sail from each location.
But that's not all — I'll also highlight each port's unique features and attractions so you can make the most of your vacation before and after embarking on your cruise. Get ready for a vacation that gives you the most bang for your buck — starting with the perfect departure port.
Buckle in and get your popcorn; this will be a long one.
North Atlantic
The North Atlantic region has quite a few ports. It primarily sails to Bermuda, New England, and Canada. However, they also do trans-Atlantic and other specialty cruises from a few ports.
Pro Tip: Always label and prepare your luggage for easy transport. When driving, simply drive to the cruise terminal and hand over your bags. No need to fret if you need tape or a stapler — the friendly baggage handlers will assist you. Remember to show appreciation by tipping them before parking or returning your car.
Boston Cruise Port – Raymond L. Flynn Black Falcon Terminal (Massachusetts)
Simplify your cruise parking experience at the Flynn Cruiseport in the Seaport District near Boston Harbor. Park easily at Congress Street parking or take a free shuttle from your hotel. Boston Logan International Airport is just a quick 10-minute drive away. The MBTA Silver Line bus stops within one block of the terminal for even more convenience.
Parking will cost you $27 per night.
Sailing From Here: Celebrity, Holland America, Norwegian, Royal Caribbean, Seabourn
Points Of Interest: Boston Fish Pier, Fenway Park, Paul Revere House, Old North Church, Boston Children's Museum, Boston Tea Party Ships & Museum.
Brooklyn Cruise Terminal (Red Hook Section, New York)
Discover the best cruise ports in New York. Brooklyn and Cape Liberty (in Bayonne, New Jersey) take center stage, with Manhattan playing a supporting role. As a premier cruise destination, New York offers voyages to Canada, the Caribbean, Europe, and beyond.
Parking at Brooklyn Cruise Port may seem challenging, but a constant flow of arrivals and departures keeps things moving. While the $45 daily fee offers stunning views of the Statue of Liberty, other convenient options are available, such as private taxis, Uber, shuttles, or the subway. For a unique experience, consider taking the train from Penn Station or Grand Central Station.
Sailing From Here: Cunard, MSC Cruises, Princess
Points Of Interest: Brooklyn Bridge, Brooklyn Botanic Garden, Prospect Park
Fun Fact: Per CLIA (Cruise Lines International Association), most cruise passengers arrive in a port city a day in advance and spend nearly $400 per person on food, hotel, and transportation.
Cape Liberty Cruise Port (New Jersey)
Parking is slightly cheaper here than at Brooklyn's cruise port and there are overflow lots during the busy season with free shuttles available. Cars run $30 per day and RVs $60.
Sailing From Here: Celebrity, Royal Caribbean
Points Of Interest: Teardrop Memorial, Hudson River Waterfront, The Mills at Jersey Gardens (outlet mall)
Port Of Baltimore (Maryland)
I find the Baltimore cruise port one of the most accessible places to embark in the country. Parking is $15 daily (cashless) and you can walk to the terminal after parking. There is also RV parking for $30–$40 daily, depending on the size of your rig. Royal Caribbean and Carnival both offer shuttles to and from BWI airport.
Sailing From Here: Carnival, Disney, Norwegian, Princess, Royal Caribbean
Points Of Interest: National Aquarium, Inner Harbor, Maryland Zoo, Fort McHenry National Monument & Historic Shrine
South Atlantic/Florida
Welcome to the sunniest region in the world, where cruise passengers flock in droves! With state-of-the-art terminals and buzzing activity, this destination offers an incredible array of choices. However, be prepared to master the art of patience, as navigating through crowds can be challenging. As someone who has been on 54 cruises, I can attest that more than half of my voyages have departed from these ports.
Port Canaveral (Orlando, Florida)
Prepare to be amazed! Contrary to popular belief, getting to Port Orlando (also known as Port Canaveral) requires a 48-minute drive, as Orlando is not on the coast. Despite the distance and expense of transportation (an Uber is $98), Port Orlando remains the country's busiest and most powerful cruise port. Your best option is to take the cruise shuttle from Orlando (airport or hotel) to save the hassle of getting there, traffic, and parking fees. If you decide to drive, however, keep in mind that parking costs $17 per day, including RVs.
Sailing From Here: Carnival, Disney, MSC Cruises, Norwegian, Royal Caribbean
Points Of Interest: Kennedy Space Center, Exploration Tower, Valiant Air Command Warbird Museum (in Orlando), Disney, Universal, Lake Eola Park, Harry P. Leu Gardens
Port Of Miami (Florida)
Discover the colossal cruise port just minutes away from Fort Lauderdale. PortMiami is a bustling hub, welcoming an impressive average of 12 cruise ships daily and 4.1 million passengers annually. Boasting 11 cruise terminals, it is the second busiest cruise port in the country.
While you can park at the port for $22 a day, I highly recommend avoiding the chaos by opting for Uber or a hotel shuttle. With my 10 years of experience living in Florida, I found navigating the port's parking confusing and lacking proper signage. Thankfully, there are much simpler alternatives to reaching your cruise ship.
But fear not! Despite the initial challenges, PortMiami (known as the Cruise Capital of the World) is renowned for its efficiency and seamless operation. Like a finely tuned machine, they ensure a hassle-free experience from start to finish. Indulge in the modern marvel that is PortMiami and embark on your dream cruise effortlessly.
Pro Tip: It is important to park in the garage that coincides with your terminal letter (example: Cruise Terminal B — Multi-Level Garage B); though terminals F, G, and V all use Garage G.
Sailing From Here: Azamara Club, Carnival, Celebrity, Disney, MSC Cruises, Norwegian, Oceania, Regent Seven Seas, Royal Caribbean, Seabourn, Virgin Voyages
Points Of Interest: Vizcaya Museum & Gardens, Bayside Marketplace, Wynwood Walls, Little Havana, Jungle Island
Port Everglades (Fort Lauderdale, Florida)
This one may throw you for a loop since Port Everglades is the cruise port you'll want for departing out of Fort Lauderdale. It is only 3 miles from FLL/Hollywood Airport and 25 miles north of Miami International Airport. Uber or Lyft is your best bet and is relatively inexpensive. Secure parking at Port Everglades (4,000 spaces) runs $15 per day or $19 for oversized vehicles.
Sailing From Here: Carnival, Celebrity, Crystal Cruises, Cunard, Disney, Holland America, Princess, Royal Caribbean, Seabourn, Silversea, Viking Ocean
Points Of Interest: Las Olas Boulevard and Riverwalk, Bonnet House Museum & Gardens, Hugh Taylor Birch State Park, Everglades Holiday Park
Port Tampa Bay (Florida)
Tampa is a treat to sail out of, as the cruise terminal and port are well-marked and laid out. It is secure and monitored 24/7. Parking is $16 per day, or you can use Uber or Lyft for getting dropped off or picked up. Tampa International Airport is 21 minutes from the Port Tampa Bay Cruise Terminal or 90 minutes from Orlando (MCO).
Sailing From Here: Carnival, Royal Caribbean
Points Of Interest: Busch Gardens, The Florida Aquarium, Historic Ybor City
Port Of San Juan (Puerto Rico)
Discover why San Juan, Puerto Rico, is the ultimate destination for incredible cruise lines. From its advantageous Atlantic Ocean location to potential cost savings, this place is a true gem. If you're planning a trip, I recommend arriving early and staying overnight to avoid airline hiccups.
While some hotels provide free shuttle services, taxis are readily available for a quick 8-mile journey to the cruise port. Don't miss out on the opportunity to set sail from Old San Juan, which is a vacation before the cruise vacation begins.
Sailing From Here: Celebrity, Crystal, Disney, Norwegian, Oceania, Regent Seven Seas, Royal Caribbean, Silversea, Viking Ocean, Virgin Voyages
Points Of Interest: Castillo San Felipe del Morro, Old San Juan, Casa Blanca Museum, Fortaleza Street
Gulf Of Mexico
Discover hidden gems and unbeatable prices on Gulf of Mexico cruises! Escape the crowds and embark on an adventure from Galveston, New Orleans, and Mobile. Immerse yourself in vibrant cities and soak up the magic of the gulf. Don't miss your chance to experience the best-kept secrets of these charming destinations! I plan to include these three embarkation ports in my cruising future over the next few months.
Mobile Alabama Cruise Terminal (Alabama)
While Carnival is the only cruise line that sails from Mobile, it is an excellent option for those seeking a quick vacation option between Texas and Florida. Parking will run you $18 daily, though the closest airport is Pensacola, Florida, an hour away. This is definitely a drive to the cruise port destination. Check out the Mobile Carnival Museum or the USS Alabama in your free time.
Port Of New Orleans (NOLA, Louisiana)
A boatload of ships departs the Port of NOLA, making it the 6th busiest cruise port in the country. It is in the heart of the city with a plethora of amazing things to see and do. It is also a port for the three major river cruises (my bucket list!), which adds a feature most cruise ports don't offer. Parking runs $25 daily at the Erato and Julia Street terminals.
Sailing From Here: American Cruise Lines, American Queen Steamboat Co., Carnival, Disney, Norwegian, Royal Caribbean, Viking River Cruises
Points Of Interest: New Orleans City Park, Jackson Square, Mardi Gras World, French Quarter, St. Louis Cathedral, National WWII Museum
Port Of Galveston (Texas)
Discover Galveston — the vibrant heart of Texas and the state's sole major port. With its convenient location, you'll have easy access to all the city offers. Enjoy hassle-free parking for just $18 per day (discounts available for prepaying) and take advantage of the close proximity to the cruise terminal from the lots.
Port of Galveston's only downside? The nearest major airport is 40 minutes away in Houston. However, worry not! Numerous shuttle services are available to whisk you directly to the cruise terminal.
Fun Fact: It is hard to believe that 2.2 million cruise passengers use this terminal annually.
Sailing From Here: Carnival, Disney, Royal Caribbean
Points Of Interest: Moody Gardens, Pleasure Pier, Seawall, The Strand
Pacific
The cruise ports on the West Coast of the United States offer a wide range of fabulous cities, diverse weather, and opportunities for sailing around the area, trans-Pacific crossings, and specialty cruises.
Port Of San Diego (California)
Experience the beauty and convenience of the exceptional Port of San Diego. Getting to the port is a breeze, with various parking options and a convenient cruise ship shuttle from the airport. And that's only some of it — many cruise lines even offer a complimentary pre-night hotel room.
I personally loved taking advantage of this option before setting sail from the Port of San Diego. Book your cruise now and let the cruise line shuttle take care of the rest. San Diego's weather is exceptional year-round and the flights are relatively quicker and smoother than in other parts of California. I call this a stress-free cruise port.
Sailing From Here: Celebrity, Disney, Holland America, Norwegian, Princess
Points Of Interest: San Diego Zoo, Gaslamp Quarter, Balboa Park, USS Midway Museum.
Port Of Los Angeles (California)
Discover the luxury and cruise lines variety at World Cruise Center at Port of Los Angeles (actually in San Pedro, California). Arriving at this massive port is a breeze, whether driving a car or using transportation options like shuttles, taxis, or Uber. Parking is $20 per day.
Avoid the high cost of taxis and enjoy a ride from LAX for just $40 with a rideshare service. From John Wayne Airport, expect to pay around $60, though nearly $100 for a taxi. Embark on your dream cruise effortlessly and at a great price from the World Cruise Center.
Sailing From Here: Azamara, Celebrity, Crystal Cruises, Cunard, Norwegian, Oceania, Princess, Seabourn, Silversea, Viking Ocean
Points Of Interest: Santa Monica Pier, Griffith Observatory, Universal Studios
Port Of Long Beach (California)
Discover the convenient and stress-free Port of Long Beach, just a stone's throw away from the Los Angeles cruise port. As a cruise port owned by Carnival Corporation, it offers an easier and more accessible experience than LA. Set against the backdrop of the majestic Queen Mary, this gem provides an alternative West Coast sailing experience away from the bustling cities. Located just 23 miles from LAX, you can park your car for only $23 per day. Plus, ample parking options exist for oversized vehicles adjacent to the covered garage.
Points Of Interest: Knott's Berry Farm, Long Beach Museum of Art, Aquarium of the Pacific
Port Of San Francisco (California)
For a city this big, I was surprised that the Port of San Francisco was not busier and bigger, but honestly, it is not one bit intimidating. Parking runs around $18 per day and there are many options for getting there, including bus, Uber, Lyft, and shuttles.
Sailing From Here: Crystal Cruises, Disney, Princess, Royal Caribbean
Points Of Interest: Alcatraz Island, Pier 39, Fisherman's Wharf, Golden Gate Park
Port Of Seattle (Washington)
The cruise port of Seattle is your gateway to Alaska, so hopefully in your lifetime, you'll explore this one for yourself. There are two terminals (Piers 91 and 66), with parking running $22–$27 per day, though shuttles and Lyft are the most popular ways to get there. The airport is 40 minutes away.
Sailing From Here: Carnival, Celebrity, Holland America, Norwegian, Oceania, Princess, Royal Caribbean
Points Of Interest: Pike Place Market, the Space Needle, Museum of Pop Culture, Chihuly Garden and Glass