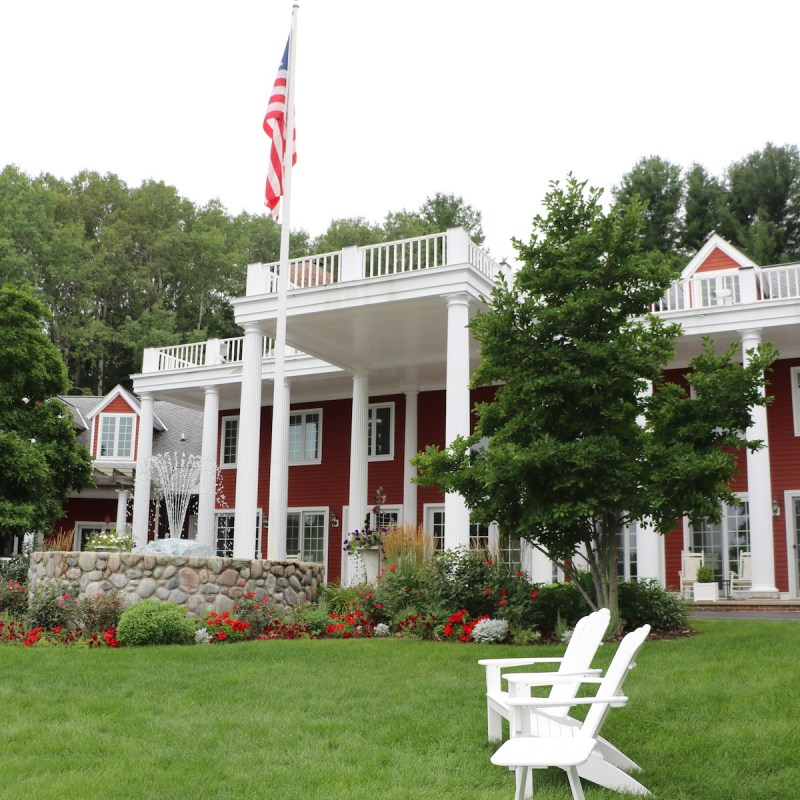 Black Star Farms on Michigan's Leelanau Peninsula is a 10-room equestrian-inspired inn in Michigan's wine country, situated among the rolling vineyards. The 160-acre estate is just 15 minutes from Traverse City, so you can choose to spend a short stay entirely on the inn's grounds or explore the region a bit longer.
Whether you plan your escape to decompress or explore new wineries, here are seven reasons why I love Black Star Farms, the equestrian-inspired inn and winery.
Thank you to Traverse City Tourism for hosting my visit. All opinions are my own.
1. The Inn
The bed-and-breakfast-style Inn at Black Star Farms features a stunning entryway with a grand staircase, high ceilings with chandeliers, and white polished floors sporting the Black Star Farms logo. When I arrived, they had a bottle of house wine waiting. The food and wine theme was prevalent throughout my stay, with the chef's fresh breakfast served in the dining room each morning and the nightly hospitality hour that included small bites and wine. Each guest also receives a complimentary wine flight or glass of wine in the tasting room.
The innkeepers have named each of the 10 rooms after a star. Many rooms feature fireplaces, sitting areas, or suites; perfect for a couples romantic getaway weekend. Plan ahead, as the inn has a no-pet policy, and all guests must be at least 18 years old.
Pro Tip: The inn doesn't have an elevator, so reserve the Polaris or Mira Rooms on the first floor if a grand staircase is a challenge.
2. Bistro Polaris
Even if you're not staying at the inn, Bistro Polaris is a perfect place to enjoy lunch while exploring the Leelanau Peninsula Wine Trail. When I visit Traverse City, I plan my wine-tasting stops at Black Star Farms around midday to have one of Estate Chef John Korycki's Mediterranean-inspired, farm-to-table lunches. Michigan is known for its fruit, particularly in the Traverse City area, where cherries are the star of the show. So, when deciding on dessert, I recommend the fruit crumble and cross your fingers that it's cherry.
What To Order At Bistro Polaris
Starter: The focaccia bites; the house-made rosemary focaccia with roasted garlic hummus, caramelized onion olive tapenade, and roasted red peppers with eggplant and basil
Entrée: A wood-fired pizza; consider the Salsiccia with San Marzano tomato, mozzarella fior di latte, fennel sausage, red onion, and Pecorino Romano
Wine: Bedazzled Sparkling wine; a dry wine with fresh apple and pear
If you're in town on Sunday, plan to purchase a ticketed three-course brunch. While walk-ins are welcome between 10 a.m. and 1 p.m., buying a ticket online is best to ensure you have a table.
Pro Tip: Black Star Farms has two tasting rooms at Suttons Bay and Old Mission Peninsula. This article describes the activities available at their Suttons Bay location.
3. Wine And Spirits
Black Star Farms offers award-winning wine and spirits from locally grown fruit. They provide more than 50 wines, spirits, and ciders. The winery features vineyards producing various grape varietals, including chardonnay, riesling, pinot noir, merlot, and cabernet franc. The region's unique microclimate near Lake Michigan provides an ideal environment for growing these grapes.
Their signature spirit is the pear eau de vie. Their fruit-based brandies, known as eau de vie-style, are a staple in some European countries. Eau de vie, French for "water of life," are clear spirits and characterize fermented fruits' pure essence. Additionally, they make barrel-aged brandies from cherries and apples aged in French and American oak. These brandies have the complexity of whiskey.
4. Progressive Food And Wine Tasting
A fun onsite activity offered in the winter and spring is the three-stop food and wine tasting. The tasting illustrated the magic of pairing food and wine. Our first stop was the equestrian-themed bar area at the inn. They paired the first course of parmesan crisps, smoked whitefish dip, and sweet potato cashews with a 2020 Arcturos Pinot Blanc. The wine was medium-bodied, tasting of lemon and green apple with a crisp finish.
Our second stop was the wine caves, where they barrel-age the wine. Here, we had a meat and cheese charcuterie board paired with a pinot noir. Finally, for dessert, we stopped at the Barrel Room to sample the 2018 Arcturos Winter Harvest Riesling, complimenting an apricot-topped custard. This progressive food and wine tasting adds a fun twist as it integrates a tour of the grounds. I loved the behind-the-scenes look at the wine cave in a romantic candle-lit setting.
Pro Tip: The progressive food and wine tastings are only from January–May.
5. Summer Music On The Terrace
The Suttons Bay tasting room has a terrace patio, where I enjoyed the best of Michigan's summer and the vineyard views while sampling one of Black Star Farms' cocktails made from their spirits. I have to admit the seasonal slushies are a favorite of mine. To add to the ambiance, they offer live music on Thursday evenings. They feature a variety of music types, including soul, folk, and rock. Music on the terrace is fun for people of all ages.
6. Hiking Trails
The inn offers four hiking trails to explore during your visit. At almost a mile and a half, the Green Trail takes you past the wine caves, barns, and stables, around the vineyards, and through the forest. In summer, you can hike, bike, and ride horseback, while in winter, you can use the trails for cross-country skiing and snowshoeing. You'll also find three shorter trails. The courses are the perfect ways to get out and enjoy the grounds while getting some exercise.
Pro Tip: The horses in the stables at Black Star Farms are privately boarded and aren't available for lessons or riding. You may wander by the paddocks but observe all posted signs.
7. Local Attractions
If you're staying longer than a couple of nights, you'll want to explore the area. Some of the region's must-see attractions include Sleeping Bear Dunes National Lakeshore, the Village at Grand Traverse Commons, and Dennos Museum Center.
You'll find a variety of activities at Sleeping Bear Dunes National Lakeshore, from hiking and beach time to the Dune Climb. The best times to avoid crowds are before 10 a.m. and after 4 p.m. Exploring the lakeshore and the Scenic Pierce Stocking Drive can take an entire day.
You can spend another half-day exploring the Village at Grand Traverse Commons, one of the nation's most extensive historic preservation and adaptive reuse redevelopment projects. Once the Traverse City State Hospital, today, the facility has become apartments, shops, and restaurants, creating a new community in this former place of healing.
After lunch, check out the Dennos Museum Center, on the campus of Northwestern Michigan College, known nationally for its collection of Inuit art.
Pro Tip: The Village at Grand Traverse Commons offers several tours that take you through the 1885 brick steam tunnels and the rest of the grounds, providing insight into the history of this facility.
For information on exploring other parts of the Traverse City area, check out these additional articles: