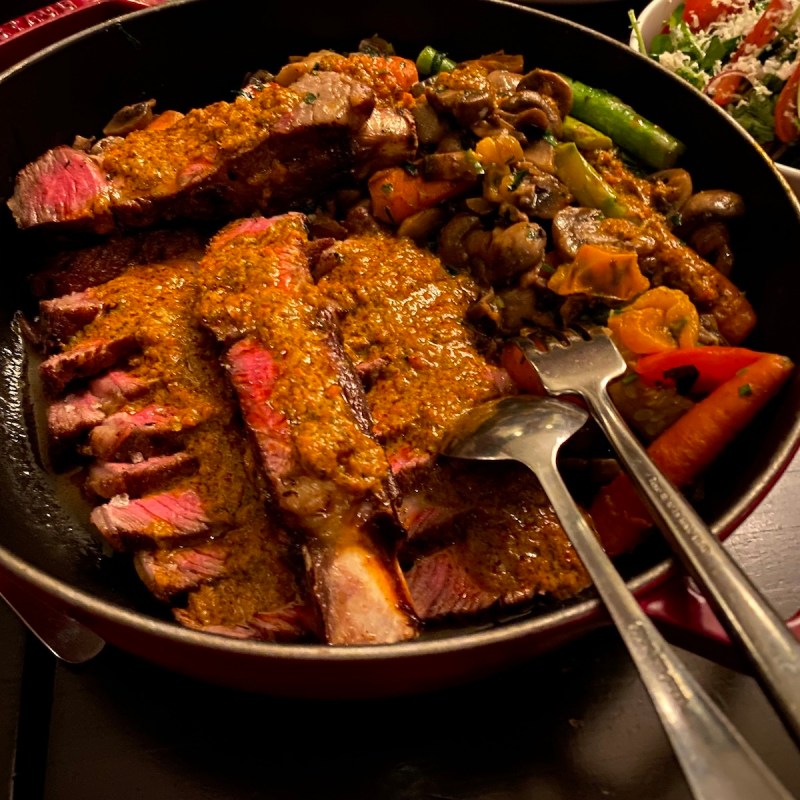 Thunder Bay, a small city at the head of Lake Superior in northwestern Ontario, Canada, is famous for the Persian pastries, Finnish pancakes, and Heartbeat Hot Sauce. The Persian is a local traditional favorite: a cinnamon bun topped with a sweet pink berry icing. Heavenly!
Finnish immigrants settled in the area in the 1870s to work on the railroads, the canal, lumber camps, and mines. There is still a robust Finnish population today, the largest anywhere outside Finland. You'll find Finnish pancakes and saunas across the area.
Heartbeat Hot Sauce Company was established in 2015 by Al and Nancy in Thunder Bay and features fermented peppers and various degrees of flavors.
The indigenous influence is evident throughout the Thunder Bay area. The mesa on the horizon across the bay from Thunder Bay is Sleeping Giant, resembling a man sleeping on his back. Indigenous Ojibway legend identifies the giant as Nanabijou, the spirit of the deep water protecting the silver mine at Silver Islet. You can hike to the top of the head of the giant, a rugged 10.5-mile round trip.
These are my 10 favorite restaurants and breweries in Thunder Bay, with some Finnish and indigenous hints.
Visit Thunder Bay hosted me; all opinions are my own.
1. Rooster's Bistro
A neighborhood family restaurant in Thunder Bay's Waterfront District since 2002, we felt right at home with the rustic décor, unique rooster collectibles, and home-style food with a modern twist at Rooster's Bistro.
The menu offers Finnish pancakes, a spicy sriracha omelet, lobster tail Benedict, and a bacon cheeseburger using only the freshest ingredients prepared to order.
What To Order At Rooster's Bistro
I chose the Greek Omelet from the three-egg omelet board with a Mediterranean twist — red and green peppers, onions, oregano, and feta cheese. It was yummy and full of protein.
Go for the tasty gluten-free Vegetarian Benny with poached eggs, asparagus, spinach, avocado, sun-dried tomato, and feta served on an English muffin with buttery hollandaise and a side of salsa. Or order the hearty Big Breakfast with two eggs, a choice of bacon, ham, sausage, toast and home fries, Finn pancakes, French toast, or waffles.
There were several healthy gluten-free choices like the ultimate breakfast bowl, the fried egg grilled cheese, or the rooster topper.
2. Red Lion Smokehouse
A barbecue restaurant and smokehouse in Thunder Bay's Waterfront District, Red Lion Smokehouse features homemade and home-smoked goods plus 100-plus craft beers to quench your thirst.
With a background from London, England, and Toronto, Chef John Murray opened Red Lion Smokehouse focusing on a combination of classic British Pub favorites with a smokehouse twist.
What To Order At Red Lion Smokehouse
I ordered the tender brisket poutine, triple-cooked frites, 8-hour smoked beef brisket, thunder oak cheese curds, and red wine jus. The barbecue pork belly with coleslaw, miso mustard, and maple bacon looked irresistible.
Go with the crispy fish or pulled pork with homemade sauces for tacos. Try the chicken Ceasar wrap or popcorn chicken wrap. We shared deep-fried olives, cheese curds, potato skins with smoked cheddar, tomato salsa, and barbecue sauce for savory bar snacks.
Choose from beef, chicken, or veggie burgers, salads, classic Philly cheese brisket, or your favorite mouthwatering fish and chips.
3. Tomlin Restaurant
We feasted on the Tomlin Restaurant family-style tasting menu that is a kitchen team collaboration, changing often to keep with seasonal ingredients and creativity.
What To Order At Tomlin Restaurant
Our first course of the family-style tasting menu featured fried green tomatoes, chickpeas, dill aioli, pork bellies, nam jam, watermelon, and cucumbers. A hearty plate of green beans seasoned with peppercorn butter sauce and cheese came with a dish of asparagus, eggplant, and chili sauce. The vegetables were fresh and full of saucy flavor.
The second course was a large dish of sauteed kale, peas, ricotta, and gnocchi; a succulent plate of zucchini, peas, and bacon blended with ricotta; and a rich cheese ravioli in Italian tomato sauce.
We devoured Argentine prawns, buttery sautéed potatoes, luscious dry-aged 45-day rib eye steak, microgreens, tomatoes, and purple onion salad for the main course.
Finally, we shared delicate desserts: sugar cookies, chocolate mousse, and cream puffs. We confirmed that our flavorful culinary experience was worth the wait.
4. Nomad Bakeshop + Sandwich Bar
Tucked on a side street, Nomad Bakeshop + Sandwich Bar hit the spot after perusing the museums and breweries in Thunder Bay. The sandwich selections ranged from the Nomad Cheesesteak, Cubano, Spicy Ruben, or Herbivore, all made with daily baked bread, crisp veggies, and freshly sliced deli meats.
What To Order At Nomad Bakeshop + Sandwich Bar
My hearty Nomad Greek on sourdough with turkey, garlic aioli, parsley pesto, sheep's milk feta cheese, tomato, kalamata olives, and spinach was one of my favorite sandwiches this year. Cut in half, the sandwich could have been two meals.
Try the Tyler Height's Sandwich (Sandwich of the Year Winner) made of Farmer's Rye, roast beef, horseradish, parsley pesto, gouda cheese, roasted red peppers, caramelized onions, and spinach. No wonder it's a winner. Rye bread is on the menu everywhere; it's a Finnish influence.
5. Bight Restaurant & Bar
Located at Prince Arthur's Landing in the Water Garden Pavilion, Bight Restaurant & Bar is set along the shores of Lake Superior in the heart of the scenic marina and within walking distance of our Delta Hotel by Marriott Thunder Bay.
What To Order At Bight Restaurant & Bar
I split the pear and radicchio salad with Asian pears, spinach, radicchio, seed and nut mix, gorgonzola, and maple dressing — a tasty option to get your greens.
The shrimp casarecce — sofrito made from peppers, onion, garlic, tomatoes, and chiles — was perfectly cooked and the sauce was not too spicy.
Others adored the bacon cheeseburger, duck breast with sweet potato and Brussels sprouts, and the short rib with fried polenta, rapini, cherry tomatoes, and green peppercorns.
6. Kangas Sauna – Little House Of Pancakes
Kangas offers 16 private small, medium, and large saunas with a change room, shower, and bathroom by reservation. The Finnish-influenced saunas are calming, stimulating, and great for the body. Learn about the health benefits, like improving overall health, wellness, and performance.
In addition to the sauna, you'll find a grab-and-go fridge and freezer offering pancake batter, soups, borscht, quiches, lunch and dinner items, cheesecakes, and butter tarts. You'll also find the Little House of Pancakes restaurant.
What To Order At Little House Of Pancakes
I ordered the protein-filled western omelet with ham, veggies, and cheese for breakfast. Others savored the famous Kangas Finnish pancakes served with strawberries and whipped cream, which are so traditional and delicious.
You can enjoy lunch sandwiches, burgers, and the delectable Kangas Burger topped with Canadian maple bacon, smoked gouda, sun-dried tomatoes, mayo, lettuce, tomato, and red onion.
7. Prospector Steakhouse And Brewing Company
The Brew Pub is the newest addition to Prospector Steakhouse, featuring home-brewed-style beer and a great atmosphere where patrons can enjoy live music, entertainment, or watch the game.
What To Order At Prospector Steakhouse And Brewing Company
Order a tasting flight of the Gold Rush Light Lager brewed with rice and malt and Padre Luchador Light Mexican Lager, a refreshing twist brewed with barley, rice, corn malt, and hops. Add the Founders Amber Ale, a rich hoppiness and malt character, and the Wild Blueberry Wheat, brewed with wheat, malt, hops, and blueberries.
For food, we loved the prime rib meatballs, baked brie, and buffalo cauliflower bites, or get a succulent 5-ounce New York strip with Creole shrimp and potato wedges. Take advantage of the savory lunch special, a soup and sandwich combo.
8. Sleeping Giant Brewing Company
Since 2012, Sleeping Giant Brewing Company has produced an inspiring group of full-flavored, easy-sipping brews influenced by Lake Superior's northern wilderness.
What To Order At Sleeping Giant Brewing Company
Delight in a flight of brews at Sleeping Giant Brewing Company, including the award-winning golden ale, the Northern Logger, and Mr. Canoehead — an award-winning red ale with malt and citra hops flavors. Additionally, imbibe in the caramel and toffee-flavored 360 Pale Ale and the fruity, hoppy, award-winning Beaver Duck.
9. Lakehead Beer Company
You get the freshest beer at Lakehead Beer Company, served right from the holding vessels or Brite Beer Tanks, where the beer matures and carbonates, ready for packaging.
They brew what they love to drink, an eclectic collection of beers and classic, malted lagers. The brewery is owned and operated by the brewers, putting the quality of the beer first.
What To Order At Lakehead Beer Company
Explore with a flight of pilsner, an IPA, a modern twist on a traditional German pilsner. Include a full-bodied light lager with mild peaches, pears, spicy and floral German hops, as well as Deep Cuts for a well-balanced, dry-hopped aroma.
For food, access Tomlin Subdivision, attached to Lakehead Beer Company, for Detroit-style pizza, tasty snacks, subs, salads, and fried chicken.
10. Dawson Trail Craft Brewery
Dawson Trail Craft Brewery has been brewing great beer over the years in Thunder Bay using fresh raw ingredients like local grain and fresh hops sprinkled with love and care.
What To Order At Dawson Trail Craft Brewery
Try a flight of Border Run Cream Ale brewed with malt barley and Bae's Haze with a New England IPA-style dry-hopping twice during the fermentation and condition. Add a Mad Carver West Coast IPA and Norwegian Wit — a witbier brewed with wheat oats, hops, and yeast.