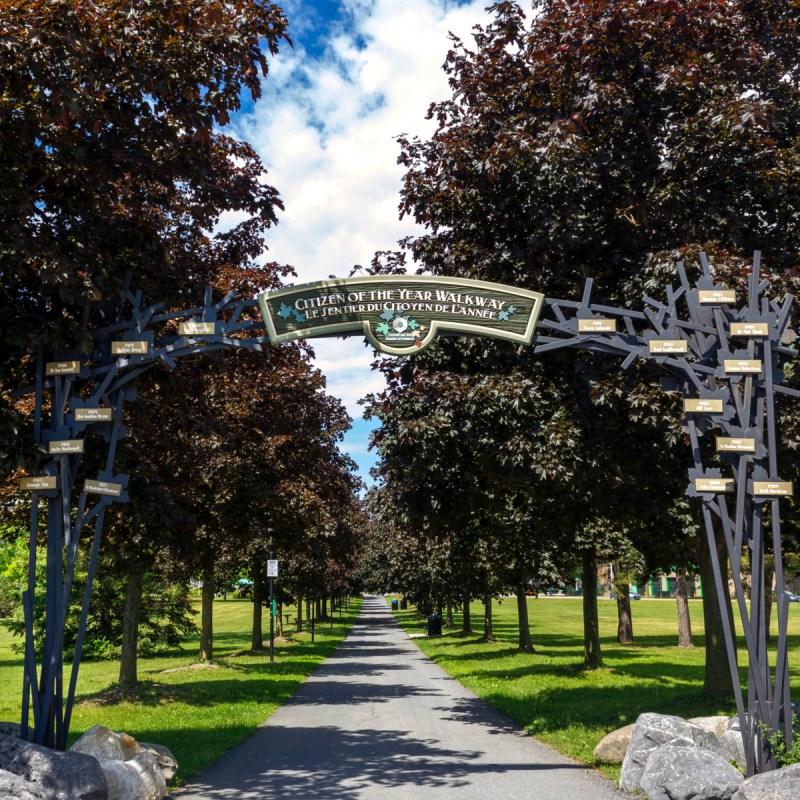 If you're looking for a tranquil destination to explore this autumn, you'll want to check out Cornwall, situated on the Canada-U.S. border not far from Plattsburgh, New York.
Like many border towns, the small Ontario city of Cornwall (population 47,000) is somewhat overlooked by road trippers. My theory is that border communities are often looked at as places you travel through, not places you travel to. But passing through Cornwall would be a mistake, as this destination is bursting with history, nature, and much more, making it a fantastic fall road trip destination. And the autumn colors are nothing short of spectacular!
So grab your pumpkin spice lattes and cozy sweaters — you'll want to explore Cornwall and its neighbors this fall. Here's what should be on your list.
1. Relax At Lamoureux Park
You don't need to leave town to find picture-perfect places to explore. Lamoureux Park is in the heart of Cornwall, running along the shoreline of the city beside the St. Lawrence River. When it's not busy hosting holidays like Canada Day celebrations, events like art-in-the-park, and foodie fun like Ribfest, this park is beloved by runners, hikers, picnicking families, and nearby office workers keen on getting some sun.
Lamoureux Park is home to an outdoor gym, the Rotary Eco Gardens, a splash pad and baseball diamond, an aquatic center, a marina, a playground, and the Cornwall Community Museum. The recreation trail is terrific for cycling (and, if you're keen, you can travel all the way to Upper Canada Village). Come Sunday mornings, the park hosts a farmers market.
2. Hike Through Gray's Creek Conservation Area
Just a few minutes east of downtown Cornwall, Gray's Creek is a spectacular autumn destination that hikers will love. Visitors will find almost 4 miles of hiking and bike trails (including the cozily named Acorn Avenue), which are excellent for spotting songbirds and waterfowl. Families will appreciate the picnic facilities (including a barbecue), horseshoe pit, and volleyball court. There's even a model aircraft runway! (Note: if you visit in winter, you can go sledding and even rent snowshoes on site.)
3. Explore St. Raphael's Ruins
Located about 30 minutes northeast of downtown Cornwall, St. Raphael's Ruins (a national historic site) might just have you thinking you're in Scotland or Ireland. Once upon a time, a church dating to the early 1800s sat on this site and was home to a thriving congregation. However, it was nearly destroyed by fire in 1970, leaving an eerily beautiful set of ruins that are now open for people to visit today. While all but the stone walls of the sanctuary were destroyed, this is very much a vibrant destination, and St. Raphael's regularly hosts outdoor weddings, concerts, and even golf tournaments. If you happen to visit during the summer, a curator is usually on duty to answer questions.
4. Meet The Wildlife At Cooper Marsh
A birder's paradise is located 30 minutes east of Cornwall. Cooper Marsh is part of the larger Charlottenburgh Marsh, one of Ontario's most significant wetlands. There, birders, hikers, and all fans of viewing fall colors will love exploring the wetland boardwalks.
More than 130 bird species like to hang out at the marsh, including osprey, American bittern, Virginia rail, sora, green heron, wood duck, pied-billed grebe, black-crowned night heron, sandhill cranes, and the least bittern. Visitors might also spot amphibians, turtles, fish, and even some endangered mammals. To get the inside scoop on identifying them and learning more about the marsh, educational programs are run by the River Institute, a non-profit science center. It's a beautiful, underrated spot that even non-birders will love.
5. Photograph South Lancaster Wharf
Located just a short trip down the road from Cooper Marsh, this colorful collection of buildings at South Lancaster Wharf will make you think of rural Newfoundland or Nova Scotia. They're cute and cheerful and perfect for photo opportunities. Who says that fall colors are only found on trees?
6. Hike Guindon Park
Just west of the city, Guindon Park is 500 acres of outdoor fun, including hiking trails, play structures for kids, and even a BMX track. Positioned along the St. Lawrence River, adjacent to the dykes of the power dam, the park slopes along the walls of the dam until the westernmost section tapers into a small boat launch and dock. A favorite among locals, it was a haven during the pandemic, providing people with a safe place to enjoy the great outdoors — big enough to socially distance yourself with ease, but small enough that you never felt you'd get lost.
7. Discover Upper Canada Migratory Bird Sanctuary
Cooper Marsh isn't the only bird hangout in town! If your explorations take you west of Cornwall as opposed to east, the Upper Canada Migratory Bird Sanctuary has you covered. More than 200 species of waterfowl, raptor, and passerine hang out here and the 5 miles of hiking trails is a good place to start your own birding search. An onsite interpretive center and special events will help you shore up your birding knowledge. The Sanctuary also offers camping in tents, mini cabins, and even a treehouse.
8. Explore Upper Canada Village
This historic village and living museum is just 30 minutes from Cornwall — and what a 30 minutes it is. The drive along the St. Lawrence River is gorgeous in fall, whether you're enjoying a water view or simply taking in the colors of the trees.
Upper Canada Village itself is a wonderful destination. This museum depicts rural life among English settlers in the year 1866, and during the summer months, it's home to ornamental gardens, heritage livestock, and friendly costumed interpreters. Come autumn, it hosts seasonal events like Pumpkinferno. Thousands of artificial carved pumpkins are arranged into creative and fanciful displays, from a spectacular homage to singer Freddie Mercury to an impressive take on life under the sea — representing everything from a giant shark and tiny little starfish.
History buffs will want to note that UCV is situated next to the War of 1812 Battle of Crysler Farm site, visitor center, and memorial.
9. Drive Through Scenic Long Sault Parkway
If you think the drive from the heart of Cornwall to Upper Canada Village is pretty, just wait until you explore the nearby Long Sault Parkway. The Parkway runs 6.3 miles and connects 11 islands in the St. Lawrence River, starting in the community of Long Sault and ending in Ingleside, and it's often described as one of the most scenic driving routes in the province.
The islands themselves are actually the highest points of flooded farmlands, which occurred as a result of building the St. Lawrence Seaway in the 1950s. As a driving experience, you'll be hard pressed to find a more beautiful autumn route. But it's important to remember that many communities were displaced as a result of the Seaway construction and weren't always treated with consideration by the powers of the day. The nearby Lost Villages Museum helps tell their stories.
10. Tour Historic SDG Jail
If you need a break from outdoor fun (or if the weather mandates it), there's plenty of indoor activities to enjoy in and around Cornwall. One of the most memorable is a visit to the historic SDG jail. This is one of the oldest public structures in Ontario. Built in 1833, the jail was active until 2002 and served as both a minimum and maximum security facility.
Today, visitors can partake in guided tours of the cell blocks and common spaces, like the exercise yard and visitation area, see the courthouse and governor's residence, and hear stories of prison life. The jail is often described as a hotspot of paranormal activity, with staff unable to keep up with the number of unexplained sounds and unusual occurrences. As such, it seems fitting that an escape room program also runs in this eerie and intriguing building.
11. Taste Cornwall's Breweries
Autumn adventuring is tough work and a reward or two might be in order at the end of the day. Cornwall's craft brewing scene is humming with activity. Some great places to try include Ruben Brewing (right in the city itself), Humble Beginnings Brewery (in Ingleside, many of their brews use only Ontario-grown products), and Wood Brothers Brewing Co. (50 minutes away in Glen Robertson and well worth the drive).
12. Enjoy Delicious Autumn Treats
If you're looking for sweet treats to enjoy while you explore, a local fave is Fairy Sweet. Look for their churro doughnuts, ginger molasses cookies, and cinnamon palmiers, and of course, grab some pumpkin spice lattes for your drive!
For more activities and destinations near Cornwall, check out these articles: