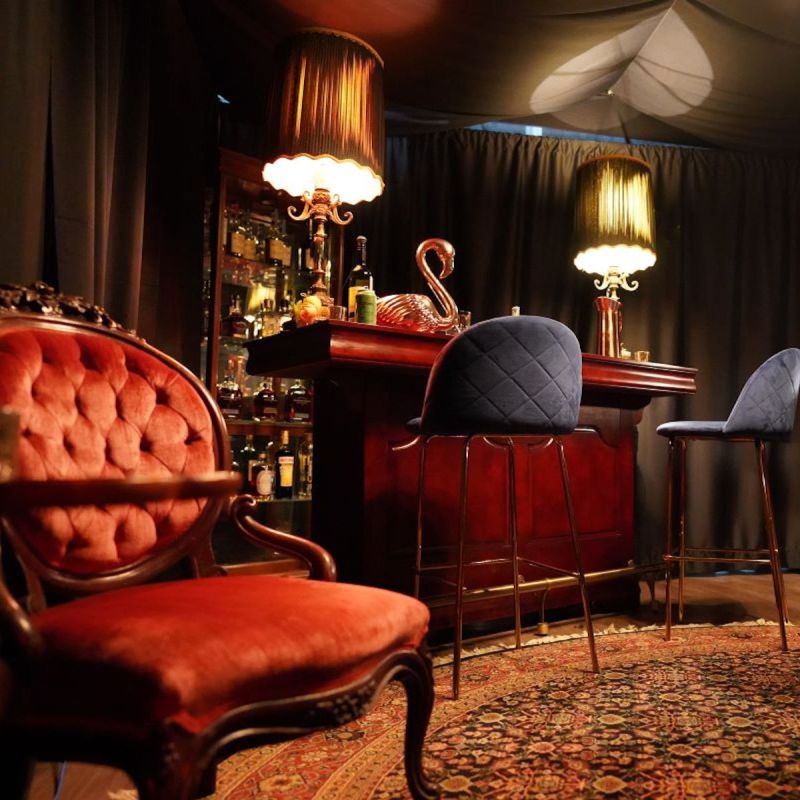 I often suspect I was a flapper in a previous life. As a teen, I was already obsessed with The Great Gatsby and another, more contemporary period book and movie called Thoroughly Modern Millie. It seems I have always owned a flapper dress all glittery with sequins and matching feathered headband and boa. I would break it out for Halloween or just anytime the mood hit.
Then, I discovered speakeasies and my '20s alter ego did a happy dance — the Charleston, of course. They were the perfect places to shake my sequins and lay on the rouge. Given their secretive mystique, speakeasies actually make the perfect excuse for Halloweening, but at any time of year, you can regress to the era of bathtub gin and the jazz age throughout Florida's lower half.
You just have to know where to look and how to gain entrance, so I'll let you in on a few secrets. But don't expect to find websites to give you information about most of Florida's speakeasies. What fun would that be? Speakeasies aren't always about boozing these days. This list leads you to some drinking-forward spots but also speakeasies where decadent dessert or kava tea are the thing.
I have been hosted by one of the following speakeasies, but all opinions remain my own.
1. The 86 Room
Fort Myers
The first time I stepped my high-heeled foot into The 86 Room, I had no idea why we were told to dress in '20s-style for this particular downtown birthday party. Then, I immediately got it. I'd been down this alleyway in Patio de Leon countless times, but always figured this slightly decrepit-looking storefront was boarded-up and abandoned.
Step inside and you are transported. Silent movies flicker on the walls of a space that dwells somewhere between a bar and living room of yore — red brick walls, an upright piano, and vintage chandeliers. Moonshine, retro cocktails served in coupes, and a Sazarac presented with the drama of the bar top set afire. It's no ordinary bar. Of course not, it's a speakeasy; my first speakeasy — in this lifetime anyway.
Besides drinks with names like Gin Rickey and Bees Knees, its lack of signage and eccentric ambience stamp the trademarks of a speakeasy. By day, it's highly miss-able. By night, the boarded-up door flings open and the crowds pour in and spill out into the courtyard for a one-of-a-kind night on the town.
2. Rouge
Naples
Florida's newest speakeasy I know of — and only because a friend let me in on it — hides in the back of The French Brasserie Rustique on downtown Naples's busiest street: Fifth Avenue South. I immediately loved the name, which I assumed came from my hussy makeup of choice for making the speakeasy scene. It turns out it's all about "red" from top to bottom. Plush, sexy, seductive red trappings stir a little French blood into the all-American speakeasy tradition. Red velvet-draped walls, red leather banquettes, dim lighting, and elegant table dressings make you feel like you've escaped the bright Florida outdoors for an intimate, dark, and sensuous place that keeps secrets.
Rouge seats only 16 for an exclusive dinner-and-drinks experience. Forget Resy or Open Table to make a reservation. You must text or call a secret number (shhhh, it's 239-315-3368) and then slip in the back door. It opens only four nights a week and serves a menu as lavish as its plush surroundings. Fine steaks are the stars, but its shared kitchen with The French means some composed continental specialties. A Coravin wine dispenser allows guests to sample the rarest, most highly desired vintages, such as Chateau Latour 2014. Classic cocktails like gin gimlet, vesper, and sidecar come served in cut-crystal, gold-rimmed glasses.
3. Room Nine01
Fort Lauderdale
Like Rouge, Room Nine01 has built a luxe, exclusive speakeasy that seats only 12. It earns speakeasy status with its clandestine location on the ninth floor of Hyatt Centric in downtown Fort Lauderdale. Furthermore, like the speakeasies of yore, a tantalizing bit of illegality lies in its backstory. The hotel decided to open the speakeasy secretively during the COVID shutdown to keep its bartenders and other staff employed. It didn't take long to get the word out.
Popularity has only swelled. Make your reservations well in advance. You will receive an email containing a password, which you must tell (or whisper, to really get in the mood) the front desk. You will receive a key to room 901, which opens the door to a subdued, lush, and intimate room set with the finest linens and tableware. Tufted velvet chair backs, romantic lighting, and an ornate dark-wood bar of its own with a dedicated bartender-server further the air of decadence. No bathtub gin here: "The Gin Is In" reflects Nine01's craft cocktail lean with hibiscus-infused gin, fresh raspberries, and foamy lemon juice aquafaba. The dinner menu is equally creative and slathered in ingredients like wagyu, caviar, and ganache.
4. Follow The Rabbit
Key West
It's no surprise Key West escalates the intrinsic "naughty" factor of the speakeasy model with its relatively new (opened May 2022) Follow the Rabbit. You don't exactly have to fall down a rabbit hole to reach the Alice-themed establishment, but it takes a little finding and opens only three nights a week. Book on the website and you will receive the address — on famed Duval Street — and password 24 hours before your reservation. Enter the restaurant at that address and look for a pair of pink neon bunny ears to enter through the curtain. A vintage "Drink Me" cocktail menu follows the pattern, including crystal bowl punches and modern interpretations on classics like Key lime gimlet and Sazarac with cognac, rye, absinthe, and bitters.
But then, Follow the Rabbit takes its own unique turn with pop-up burlesque entertainment performed by servers every 10–20 minutes. A grand staircase at the heart of the 60-seat lavish bar serves as a stage for singing, circuses, acrobatics, and some slightly risqué acts.
5. Spookeasy Lounge
Tampa
Particularly suited to Halloween speakeasy haunting, Spookeasy Lounge serves kava and botanical teas rather than alcoholic drinks. If you're not familiar, kava is a non-narcotic tea traditional throughout the Pacific islands. Made from the roots of the kava shrub, the tea leaves imbibers with a sense of well-being and relaxed calm.
At Spookeasy Lounge, the sense of calm comes, too, with its inclusive motto: "All Spirits Welcome." Located in quirky, historic Ybor City — Tampa's cigar-making quarters of yore — it occupies a 1905 building first used as a Russian synagogue. It later burned in the mid-20th century, killing six people including a nun and a priest. Mediums have registered 17 ghosts on the premises, including a surly-looking priest who guests often complained about, until the bar named its "Padre" non-alcoholic drink after him.
Downstairs from the kava bar, The Catacombs serves a full bar selection; both establishments also offer bar-food menus. They are known for their spooky-themed special events, especially at Halloween time but also year-round. For the events, they break out the "secret entrance" for a true speakeasy vibe.
6. Better Than Sex
Key West And Orlando
Subtitled "A Dessert Restaurant," Better than Sex takes the speakeasy concept to the sensual extreme based on decadent drinks and edibles. I remember feeling like I'd entered a dark and sensuous bordello my first time walking in the door in Key West — the original location of Better than Sex. The franchise has expanded to six locations throughout the South and California, thanks to its popularity with sweet-tooth types and couples. Most tables have partitions or walls to offer the sort of privacy and secret sinfulness "speakeasy" implies. Sexy photos, Baroque chandeliers, and red trappings carry the sexual theme.
Desserts have playful names such as "KINKY-er Cream Pie" and "Caress My Carrot." Same goes for the craft cocktails — "French Kiss Affair," "Sex Appeal," "G-Spot," and so on.