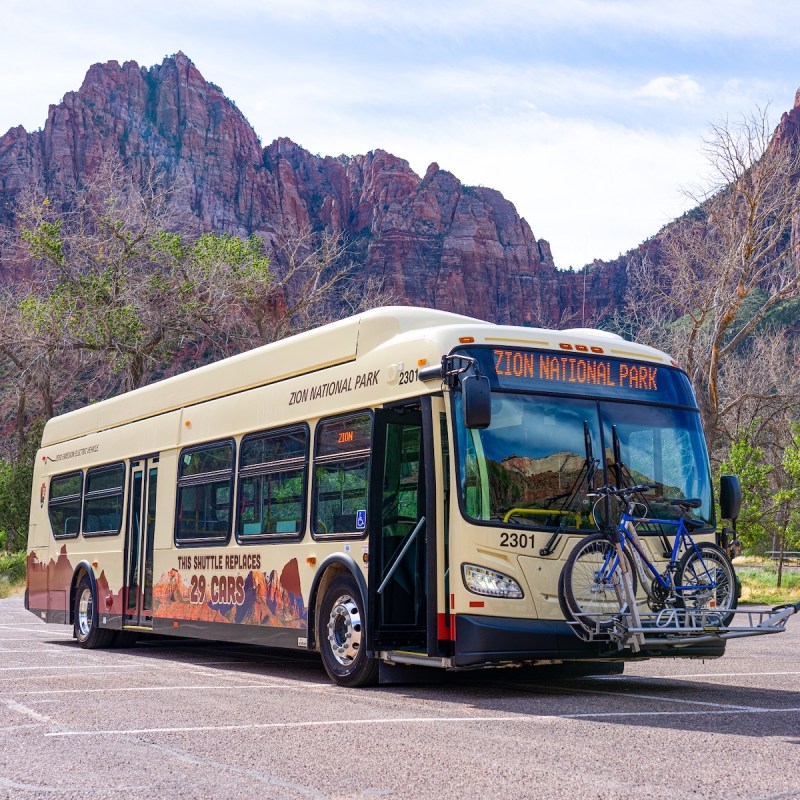 There's a new way for visitors to get around Zion National Park in southwestern Utah.
The park recently began using five new electric buses. The vehicles are replacing the park's fleet of propane-powered buses. Some of those vehicles have been in service for more than 20 years.
"The Zion Canyon Shuttle System has a bright future," Jeff Bradybaugh, superintendent of Zion National Park, said in a statement. "We are building on past successes that were enabled by the perspective and resources provided by partners like Zion Forever, the National Park Foundation, U.S. Department of Transportation, the Utah Department of Transportation, Utah Clean Cities, the Town of Springdale, and our neighbors in Washington, Kane, and Iron Counties."
The new buses were acquired using funds from a $33 million grant from the U.S. Department of Transportation. Ultimately, the park's new fleet will include 26 battery-electric buses and 27 charging stations that will replace Zion's aging propane-powered transit fleet.
"The existing fleet has served us well for 21 years but has started to deteriorate with age and use," Bradybaugh said in a statement when Zion announced it will receive the Department of Transportation grant. "The new equipment consists of quiet, zero-emission buses that will help to further improve the visitor experience and demonstrate National Park Service (NPS) leadership in environmental sustainability."
Zion's Rising Popularity
Zion National Park is known for rock climbing, river trips, and hiking trails because it's home to the spectacular 15-mile-long Zion Canyon. Two of the park's most popular hiking trails are the Narrows and Angels Landing — a 5.4-mile-long (one-way) trail that has an elevation change of 1,488 feet and offers a breathtaking view of the Zion Canyon 1,500 feet below.
In 2000, the NPS began providing free shuttle service in Zion Canyon and the nearby Town of Springdale. Plans for that service were developed in consultation with the Town of Springdale, engineers at the Federal Highway Administration, and the Utah Department of Transportation, as well as with state, county, and municipal partners' input.
Today, the shuttle buses provide service for millions of riders each year, and importantly, play a significant role in efforts to reduce traffic congestion and crowding at Zion Canyon. In fact, Zion recorded the system's 90 millionth boarding this summer.
If anything, though, the shuttle bus service has become even more important in recent years.
Indeed, in 2000, about 2.4 million people visited Zion. However, the number of visitors at the park has grown quickly over the years and a record 5 million visits were logged in 2021, according to the NPS. Nearly 4.7 million people visited Zion in 2022.
Know Before You Go
Zion National Park is located outside of Springdale, Utah. It's about 160 miles from Las Vegas and 40 miles from Saint George, Utah.
You can learn more about Zion, including maps and driving directions, a list of things to do, and information about camping and lodging, at the park's Plan Your Visit webpage.