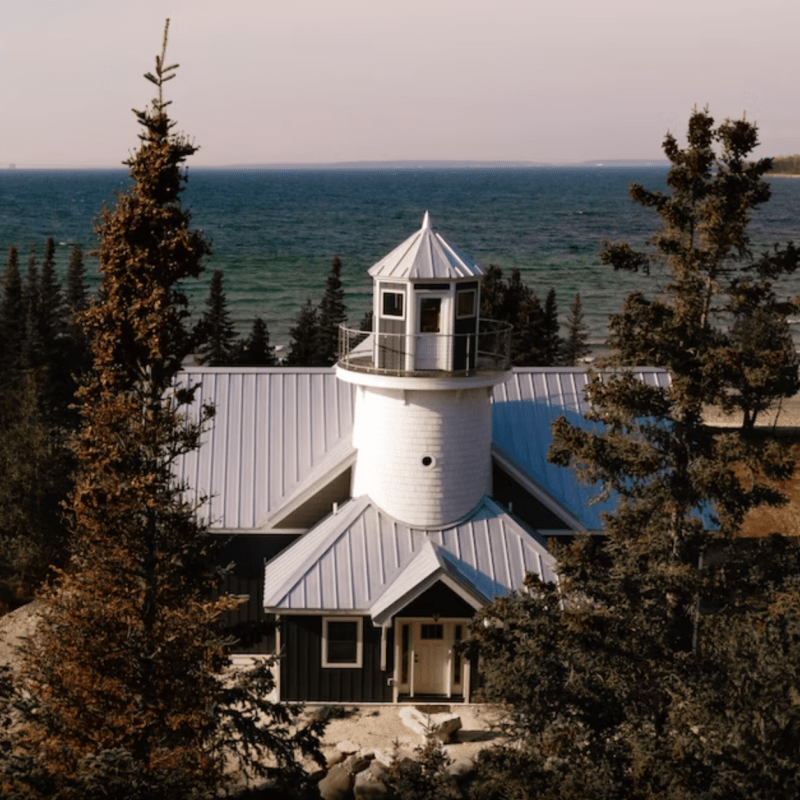 Welcome to a world of coastal enchantment with our curated guide to the finest lighthouse vacation rentals. Embark on a journey where picturesque landscapes and captivating maritime history offer a beacon of relaxation, adventure, and cherished memories. Panoramic views, soothing sounds of waves, and the charm of historic architecture converge to create an unforgettable getaway.
From charming coastal towns to remote island paradises, these lighthouse rentals promise not just a place to stay, but an experience that will illuminate your senses and rejuvenate your spirit. Join us as we explore these lovely lighthouse vacation rentals. Some offer lighthouse views, while others are lighthouse-like themselves!
Embark on an unforgettable vacation at The Amelia Blue, where nautical charm meets ultimate comfort. Exquisitely decorated, this vacation rental features a fully fenced yard with a covered patio, fire pit, and outdoor shower. Situated on the serene north end of Amelia Island, this coastal haven is just steps away from the beach, restaurants, and area attractions such as the Amelia Island Lighthouse.
Dreaming of Fernandina Beach – your dream vacation awaits you
New Smyrna Beach, Florida
Indulge in pure waterfront luxury at the exquisite Waterfront Island Condo. Situated near Ponce de Leon Inlet Light, this Vrbo can be found just south of Daytona Beach in New Smyrna Beach, Florida. Enjoy the spectacle of dolphins, sea turtles, and sailboats from the comfort of your sliding-glass doors or the nearby promenade boardwalk. Boasting breathtaking Indian River views, this exceptional Bouchelle Island property provides access to two heated pools, a hot tub, grilling areas, tennis/pickleball courts, a fishing pier, and more. Immerse yourself in the beauty and amenities of this special retreat for an unforgettable experience.
Dreaming of – your dream vacation awaits you
St. George Island, Florida
Discover the ultimate St. George Island escape at One Charleston Place B, just steps from pristine Gulf of Mexico beaches. Nestled within a private community of five homes, this charming three-story Charleston-style residence offers a shared pool, direct beach access, and a tranquil atmosphere. Featuring gulf views, this relaxing retreat is just minutes on foot from the St. George Lighthouse. Soak up some rays by the community pool. Dogs are welcome for a fee.
Dreaming of ST GEORGE ISLAND – your dream vacation awaits you
Top guest reviews
We had a wonderful stay at this house. The parking spots are a little tight especially when guests are staying in house A, to the left of this house. The cleanliness, location, and amenities are unbeatable on St. George Island. If you are looking for restaurants, skip the next door neighbor "blue parrot". Go check out the red pirate or paddy's raw bar instead. Staff at both restaurants were so much better than the blue parrot.
Lusby, Maryland
Discover the epitome of serene living on the Chesapeake Bay at Coastal Oasis On The Chesapeake. An 11-minute drive from Maryland's Cove Point Lighthouse, this idyllic retreat offers a modern haven perched atop a cliff with breathtaking sunrises and enchanting starlit nights. Just 4 miles from Solomon's Island, you'll relish the tranquility and natural beauty, while convenient access allows you to bring your boat or jetskis. Enjoy the entire updated home for your stay, enveloped by peace and privacy, while attentive hosts are nearby for your needs. Escape to this coastal sanctuary for a truly rejuvenating experience.
Dreaming of Lusby – your dream vacation awaits you
Top guest reviews
Nice location, beautiful view, Excellent hospitality! Very clean with all needed amenities
Fishing Creek, Maryland
Make memories on the beach at this pet-friendly four-bedroom vacation rental on Hooper Island, one of three barrier islands off Maryland's Eastern Shore. Revel in views of the open water, sunsets, and The Hooper Island Light in the Chesapeake Bay from your perch on the island's highest ridge. Enjoy shared access to the water from the manmade beach/dock area. Kayaks and paddle boards are available upon request. Explore the nearby town of Fishing Creek and visit the restaurant and tiki bar just a few doors down.
Dreaming of Fishing Creek – your dream vacation awaits you
Top guest reviews
From the moment we pulled up to this gorgeous bay-front home we were wowed! The shell lined walkway up to the man-made sandy beach area and dock were just beautiful. The huge front porch was warm and welcoming and the perfect space to sit, relax, dine and watch the unparalleled sunsets. When we entered the property our children exclaimed, "Mom, it's even better than the pictures!" Every detail was considered, from the heartfelt note and generous gift for the local general store, to the well-stocked and family friendly kitchen and dining area, to the gorgeous, comfortable and spacious bedrooms. There was never a dull moment on this peaceful and quaint island. The home is well-stocked with games, books, water-sport equipment, outdoor games, and more to keep even the most busy kiddos entertained. We loved exploring the dock area and found an abundance of seashell and sea-glass treasures as mementos of our stay. Old Salty's was just across from the house and offered up an incredible local menu as well as a conveniently located tiki bar and awesome live music to add to our weekend fun. We will definitely be back again to enjoy this gorgeous property with our entire family. Thank you so much Kelly and Billy for making this an unparalleled vacation experience!
Clean place, good location with nice access to water activities. Host is very accommodating and helpful. She seems to have the guests best interests in mind for an enjoyable stay.
Read Less ∧
Read More ∨
Rock Hall, Maryland
Discover the charm of Rock Hall, Maryland, situated on the Chesapeake Bay. This enchanting three-bedroom lighthouse retreat is three floors, but there is an elevator. Step onto the expansive wrap-around deck to take in panoramic vistas of Swan Creek and the serene Blue Huron Park. Enjoy 360-degree views, explore nearby Rock Hall Beach, indulge in fresh seafood, and visit the bustling marinas and delightful Sunday farmers market in historic Chestertown.
Dreaming of Rock Hall – your dream vacation awaits you
Top guest reviews
Our family used the Lighthouse as our "home base" during the Rock Hall triathlon weekend and it exceeded all of our expectations! It has a perfect location, and the house was perfect for our short stay. It was my wife's first race and this beautiful house just added to a very special weekend.
This property was great! We really enjoyed our stay. Thank you for making this such an easy process.
What an amazing place! Clean, bright and cheery home! Any questions I had were answered in a timely manner. We would definitely stay there again!!
This was a long weekend trip to celebrate our 44th Wedding Anniversary. The house is located within walking distance of all of Rock Hall. Everything in the was clean and it was well stocked with kitchen basics, including plenty of pods for the Keurig. The fill your own pod with filters was also available. A great place to get away from everyday life.
Beautiful location and a wonderful house. Can see pride in ownership and upkeep on property.
Read Less ∧
Read More ∨
Bois Blanc Island, Michigan
Accessible only by car and passenger ferry, this exceptional waterfront retreat boasts breathtaking Bois Blanc Island vistas. This one-of-a-kind lighthouse home features over 1,000 feet of private Lake Huron beachfront, panoramic views, and a Foucault Pendulum for charting the Earth's rotation. Soak up sunset views from the house, the deck, the lighthouse, or the beach and watch Great Lakes freighter traffic pass under the Mackinac Bridge. Surrounded by natural beauty, this newly constructed all-season haven comfortably sleeps 12. This island escape guarantees an unforgettable experience amid nature's wonders!
Dreaming of Bois Blanc Island – your dream vacation awaits you
Top guest reviews
Beyond impressed. Excellent experience and best views of Mac bridge. Very relaxing and the island was amazing.
Bois Blanc Island is a treasure, and this house is spectacular. Communication with Wendy and Michelle (Caretaker) was superb. They thought of every detail. The home is gorgeous, comfortable, and the scenery is stunning. We want to come back over and over!
Our stay at Bonum Est was incredible. The house is beautifully designed with large open spaces and an amazing view of the Mackinac Bridge. The sunsets were phenomenal. We rented kayaks and took trips to Round Island (just .3 mile from the house) and other parts of Bois Blanc, including Bible Beach (about 4 miles from the house).We stayed for a week with our family of 14. We were a bit concerned that we wouldn't have enough to do given there are only two restaurants on the island, but the week flew by just having fun on the beaches, hiking, and bike riding. We all watched the full moon rise from the "lighthouse" and saw lots of shooting stars.Michelle the property manager was very responsive to questions and with local info, as were Wendy and Mike. The house was well stocked with kitchen stuff, TP, paper towels, beach chairs, and beach toys for younger kids.Can't really say enough about how great the house is. We're looking forward to coming back next year!
Just gorgeous. This is one of the most beautiful and unique properties we're ever stay at. The owners were very helpful and quick to response. The property manager was great and very helpful during our stay. The inside of the home is more beautiful than the pictures portray. Everything in the home is well thought out with much detail.We came we'll prepare with all of our food and beverages. The kitchen was VERY well equipment to make any meal. It was perfect.
My family and I (a group of 23) stayed comfortably here for a week. The experience of getting to the home was a lot of fun starting with the ferry ride and ending with the short winding car ride to the home itself. Once we got to the home we were greeted by Michelle, the property manager, who gave us a tour of the home and helpfully answered any questions we had. Also, Wendy, one of the property owners, was extremely helpful in answering all our questions in incredible detail before the trip began. The view from the home of the bridge and neighboring Round Island were simply amazing. I am trying to think of there is a better view of the bridge that can be had at any other location — the pictures don't do it justice. Some in my group as well as myself had said we could have probably sat in the "wine barrel" chair that was nestled under a tree next to the water for the entire week. The cool breeze on shore was a great relief when the sun got hot. Watching the kids play in the water and waves from that perch was a pleasure, especially since young kids could go out quite a long way without the water getting too deep. Just make sure to bring water shoes. There were a couple days where the flies were biting but they weren't out all the time. Bring bug spray.The home itself is large and furnished appropriately to comfortably accommodate our large group. The "lighthouse" is a fun addition that provides a 360 degree view of the area. Care should be taken when going up and down the ladder to the top floor. The owners advise that children not go up there without adult supervision. This is good advice.Outside the property, we biked as well as explored the island in the side by side we trailered on the ferry. There were lots of trails, though sometimes the labeling on the trails/roads were a little confusing and didn't quite match up with what we were seeing on the map. This made it harder to distinguish what was private property and what was not. We went fishing at the large dock at lake Thompson. It would have been nice to have a boat since most of what was caught were very small panfish or perch. The kids loved it, but I imagine an uninhabited lake like that would have some larger fish beyond the dock. There was also plenty of room for campfires and yard games which we took advantage of. Overall we were very pleased with our stay and would highly consider coming back next year if the place is available.
Read Less ∧
Read More ∨
Harkers Island, North Carolina
Discover the perfect coastal retreat at The Island House on Harkers Island, offering waterfront serenity with private beach and boat dock access. Immerse yourself in panoramic views of the sound and the iconic Cape Lookout Lighthouse.
Enjoy activities like boating, kayaking, biking, and fishing from the dock, or venture to Cape Lookout Lighthouse and Shackleford for further exploration. The private beach and yard games make this five-bedroom oasis perfect for family fun. Cap off your days with sunset cocktails and on the spacious deck while keeping an eye out for dolphins and pelicans.
Hilton Head Island, South Carolina
Perfect for two couples, a family, or a group, Harbour Town Ketch Court Gem offers unparalleled views of the Yacht Basin, Harbour Town Lighthouse, and the Calibogue Sound. Enjoy morning coffees and sunset moments on the balcony, and immerse yourself in the vibrant surroundings of Harbour Town. Golf enthusiasts will appreciate the proximity to Harbour Town Golf Course.
While this three-bedroom, two-bathroom villa is located on the third floor, there is elevator access so you don't have to schlep your luggage up three flights of stairs. A community pool is not available, however, a nearby option can be found at the South Beach Inn.
Dreaming of Hilton Head Island – your dream vacation awaits you
Gig Harbor, Washington
Once a summer retreat for an affluent family, these two extraordinary beachfront homes in Gig Harbor can accommodate up to 14 guests. Located on Lighthouse Point, these homes offer a low-bank waterfront on three sides, surrounded by sand beaches and stunning views. Relax by the fire pit or on one of the three decks while observing seals, otters, and the occasional whale. Enjoy mesmerizing sunrises over Mt. Rainier and sunsets over the harbor's yachts. Explore the Gig Harbor Lighthouse, kayak to Tides Tavern, or take a romantic gondola ride from your private dock. Fall asleep to the soothing sound of waves and wake up to serene water views from your comfortable bed. Mooring is available, so you can even bring your own boat!
Dreaming of Wissant – your dream vacation awaits you
Goleen, Cork
Experience unparalleled coastal beauty and history at this remarkable lighthouse retreat, where a beautifully refurbished 1843 cottage and a stunning glass-walled "longhouse" unite to create an unforgettable haven. Nestled on the entrance to Crookhaven's natural harbor, this property holds a rich maritime heritage. The cottage, once home to Lightkeepers' families, now boasts two double bedrooms, an additional room with a double pull-out bed, and a spacious living area, preserving the original layout. Across the yard, the mesmerizing longhouse captivates with its panoramic 270-degree views, an upper-level kitchen, a dining area, a wood-burning fireplace, and a balcony that overlooks Crookhaven's harbor and beyond.
Accessible via a picturesque lighthouse roadway, the location offers tranquility while being close to Goleen's amenities and the vibrant Crookhaven sailing village. Embark on scenic walks, savor seafood delights, and absorb the rugged coastline's beauty. Note that the property may not be suitable for small children due to its cliffside positioning. Your retreat to coastal enchantment awaits.
Dreaming of Goleen – your dream vacation awaits you
Top guest reviews
A modern glass wing and an old Victorian cottage make up this listing. As it was just my friend and me, we stayed in the modern glass wing and as we didn't used the old Victorian cottage, this review is mainly about the modern part. Incredible views from the upstairs living room. The downstairs bedrooms have doors which open onto the courtyard. You fall asleep and wake to the sound of the ocean. The property was clean, although some of the upstairs seating and the general paintwork was just starting to feel a little tired. But that said, your eyes are taken to the stunning 270 degree views out to sea and across the peninsulas.The beds were comfy. The water was hot and the shower pressure was good.A couple of things to know. To reach the lighthouse you have to drive down a very narrow walled lane – amount a mile long ( at least it felt like a mile). I clipped the wing mirrors on our car twice – soooo before you go down the lane, bring your wing mirrors in, and if you're renting a car, don't rent a wide one.The second thing is that the modern wing is essentially a green house and on warm days, with the doors shut, the interior heats up (to 34 c !!) – even with the shades pulled down. We would return from a day out and fling open the doors. There is a small terrace and a gantry/balcony off the upper living room which a wonderful for enjoying the sea breezes.Beaches, walks, restaurants are all nearby. Would recommend.
Unique, comfortable, on the sea
Our overall experience staying at this location was a 10 out of 10. The facilities were magnificent and the view was simply stunning. From the very first contact with the owner on booking this exquisite accommodation to the very pleasant experience with Rose the caretaker made us feel right at home. Our family are originally from West Cork and all agree that this is perhaps the single most impressive accommodation location that they have ever experienced. I would highly recommend this property to anybody interested in experiencing Ireland in all of its glory. Thanks to Margaret for allowing us the opportunity to stay in your spectacular property. We will book again, that is a certainty.
This property and its location actually exceeds the pictures and description online; it is a spectacular venue in and out and I would love to go back!It has everything you might require for home from home comforts, the views of and exposure to the sea are second to none. The lighthouse fils the West wing window and the sunrise the east. It's a special place without a doubt.
We had an absolutely wonderful time in the property. The views from the long house were exceptional and all the bedrooms are lovely and cosy! Would definitely recommend!
Read Less ∧
Read More ∨