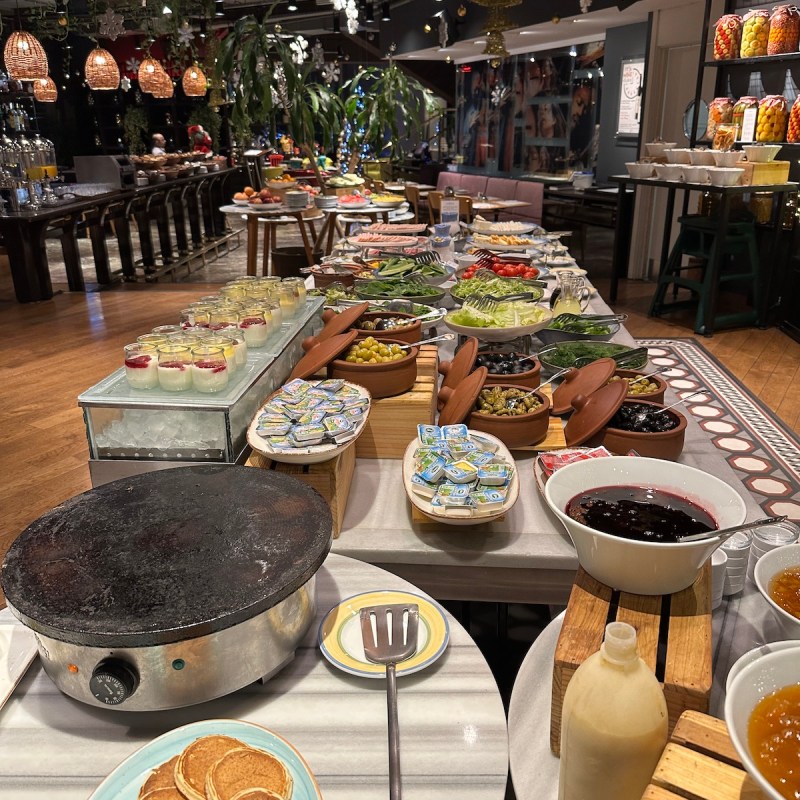 I have always loved Turkish food. Fortunately, I live in New York City where Turkish restaurants are plentiful and I have traveled to other cities, like Berlin, where Turkish street food is a late-night staple. But, when invited by Go Türkiye to the country formerly known as Turkey, I was excited to satisfy my Turkish food cravings with the real deal in situ.
My 7-day visit was spent entirely in Istanbul, perfect for a multicultural immersion into Turkish food. With its vast Roman, Byzantine, and Ottoman heritage, the city once called Constantinople is a mélange of street treats, Michelin-star recipients and hopefuls, and homestyle dining. Beyond the magic of its mosques, monuments, and hammams, Istanbul is the only city that spans two continents, Europe and Asia, separated by the thin Bosphorus Strait. And, while a modern city in current parlance, Istanbul evidences its 2,500-year history throughout.
The intrepid foodie traveler in me took to this city of contrasts like a bee to lokum, and happily, my thousands of steps balanced out the thousands of calories I ingested on this delicious eating trip.
Here are some of the best foods I ate in Istanbul and where to find them:
1. Lokum
The delicious candy known as "Turkish Delight" comes in a variety of flavors and consistencies. Jellylike and soft, made with nuts, fruit, and nougat, lokum appears in tempting displays. Merchants will give you a sample if you aren't sure whether pistachio or fruit is better, and you can ask to have a box vacuum-sealed to take home. You'll also find mountains of lokum at specialist HazerBaba in both the Spice Bazaar and on Istiklal. For an alternative, try their halva. It's creamy, soft, and completely different from the dry version you might have had at home.
2. Dondurma
If you're a fan of TikTok, you might have seen the teasing theatrical presentation of elastic Turkish ice cream that combines entertainment with deliciousness. Dondurma's consistency is different from customary ice cream or gelato; you can pull it out almost like eating a piece of taffy. On Istiklal Caddesi, the vendors have fun with customers, proffering ice cream in cones and quickly pulling them away, multiple times, in a sort of ice cream dance you'll want to capture on video. If you're on the Asian side of the city on Bağdat Avenue, Mado offers a café setting where you can sample the Turkish dessert made chewy with ground-up orchid tubers.
3. Fresh Juices And Drinks
Enticing displays of oranges and pomegranates pop up not just on Istiklal Street but also among the cobblestones of Balat and elsewhere, where a refreshing juice break takes the place of a Coke or maybe even Turkish coffee or tea. More unusual, pickles are an important part of Turkish cuisine, and so is pickle juice. But unlike the alcohol-laced pickleback you might know, made with pickle juice and whiskey, this drink is a pinkish mix of pickle juice and pickled vegetables with a salty, sour overtone. During colder months, sahlep is a popular warm libation of orchid root, milk, sugar, and cinnamon. Think of it as an eggnog you might enjoy at Christmas. It's available at dedicated stands and at Mado cafés throughout the city.
4. Tea, Coffee, And Sweets
If cold beverages aren't your thing, Turkish tea (çay) and coffee are cultural mainstays in Istanbul. Çay is served in small tulip-shaped cups, made with black tea from the northern region of the country. A Turkish coffee experience in Istanbul is just that — an experience. You'll want to select a traditional "coffee bar" where you can observe the coffee-making process in brass pots, deciding whether you'd like it sweet, medium, or strong. Coffee is served black in a small ceramic cup with a layer of grounds on the bottom. Modern versions of these coffee shops, more akin to Starbucks or Paul, have coffee machines that brew an equally satisfying version of the beans in much less time.
If you're in love with the coffee, you can buy a bag of grinds for home preparation from the Spice Bazaar. For the perfect accompaniment, Turkish baklava with pistachios or honey is de rigueur at Gulluoglu Baklavacisi. Suit up with a hair net, gown, and slippers to watch the preparation of the multi-layer pastry, and then visit their family-run café to indulge and buy some to take home if it's at the end of your trip. (The shelf life is limited and baklava is better eaten when fresh.)
Fun Fact: Did you know that tulips were originally cultivated in Turkey and then exported to the Netherlands? Think about that as you sip tea from your adorable glass.
5. Breakfast
I don't usually eat a huge breakfast when I'm home, but in Istanbul, the kahvalti meal is one that you don't want to miss. You have choices from an expansive buffet, as served at many hotels like the Marmara Pera where I stayed, to the fast-food type which might include pastries or bagel-like creations that may fit better with your style of eating.
If you opt for the breakfast spread, you'll enjoy many of my favorite Turkish treats — from cheeses, olives, breads, and fruit to yogurt, tahini, halva, simits (more on that later), and black tea. A truly special experience, the art gallery/restaurant Perispri in the hip Balat quarter features a home-cooked buffet of small breakfast plates from ceramicist-restaurateur Cahide Erel.
When I didn't feel like stuffing my face early in the day, I stopped for a tea and simit, the Turkish equivalent of a bagel-pretzel. Flatter and covered with sesame seeds, the simit can be filled with cucumbers, meat, cheese, and other items, making it the perfect hands-on breakfast sandwich. Simit stands are ubiquitous in Istanbul or you can choose a dedicated simit shop like Tarihi Galata Simitçisi and watch as they're individually baked.
Pro Tip: If you enjoy the artwork at Perispri, you can purchase a piece to have shipped home. Unfortunately, the beautiful antiques in the dining area are not for sale.
6. Seafood
With Istanbul's proximity to the Mediterranean, Aegean, and Black Seas, wonderful seafood is a given in this bustling city. Along the side streets near Istiklal, you'll find curious stands selling mussels (midye dolma) stuffed with seasoned rice and served in their shells. It sounds odd to eat mussels while standing up but it was a delicious treat. At the Michelin Bib Gourmand Alaf, Anatolian-style grilled fish was a highlight, adorned with onions and cilantro. The fish was presented in gastro-gourmet fashion on newspaper rather than on plates and paired with high-end Turkish wines like Junus, a blend of syrah, cabernet sauvignon, and merlot from the Aegean.
If you opt for a cruise on the Bosphorus from Galataport — and you should — there are restaurants nearby that specialize in local seafood like anchovies, sea bass, and red mullet. At the waterfront Ringa Balik in the wealthy Oligark neighborhood, a display greets you to show you the catch of the day. Served along with meze, fish was a healthy choice, particularly after filling up on lokum and baklava.
7. Meze
While on the topic, meze is a way of life in Turkish restaurants. At the variety of sit-down restaurants that I enjoyed, an elaborate spread of small plates kicks off your meal. Made up of traditional Turkish dishes, your appetizers can include variations of Ankara pickles, hummus, aubergine, fava beans, calamari, vegetable salads, and yogurt. For truly chic dining, meze set a beautiful stage for the vast wine selection and the meats from the open grill at Michelin-starred Mürver in the Novotel Istanbul Bosphorus.
Pro Tip: At Çiya Sofrasi, leave room for lamb dumplings and the chef's sinful pumpkin dessert. Striving to preserve Turkish culture through regional food, the restaurant has been the darling of the media for many years. You can find Chef Dağdeviren in Season 5, episode 2 of Chef's Table.
8. Meat Snacks
I always search out beef döner when I travel and Istanbul gave me many ways to enjoy it. At Sütiş Kebap Dünyasi, a casual restaurant, and Nişantaşki Başköşe, a more formal eatery, I had thin slices of the rotisserie-cooked meat served to me, tender and flavorful to be eaten along with cacik — Turkey's version of tzatziki or raita. An alternative to döner, cağ kebap at Şehzade Erzurum Cağ Kebabi was my favorite street snack after visiting the Grand Bazaar and the Spice Bazaar. The spit-roasted lamb skewers wrapped in lavash bread had the DIY option of adding onions and tomatoes, unlike the döner which is generally served plain. You can also top it with ezme — a traditional Turkish sauce made with tomatoes, peppers, and olive oil.
9. Pide
Pizza lovers, rejoice! Istanbul has something for you, too, and you may never look at pizza in the same light again. Served without tomato sauce on oval-shaped flatbread, Turkish pide is served at pideci — fast-food pizzeria-like restaurants — and even at the airport. Cheese and minced lamb and beef versions are offered spiced with chopped peppers, tomato, and onion.
10. Raki
I'd be remiss if I didn't mention Turkey's national alcoholic spirit, raki. Similar to Greek ouzo but more aromatic and less sugary, the aniseed-based liquor is mixed with chilled water and ice to your preference. Drunk at celebrations or even at a gathering for lunch at a meyhane (tavern) along with a meze spread. As I experienced at Agora Meyhanesi 1890, raki is quite strong. My suggestion is to begin gingerly with a 50/50 raki-water ratio. Find it at cafés throughout the city or, for a treat, visit the sultry Orient Bar in the Pera Palace Hotel — the glamorous 19th-century hostelry where Agatha Christie is said to have written Murder on the Orient Express.
My wonderful guide, Eser Sedef, told me to be sure to look down every turn and walk through every pasaj (passage) that one encounters. "You'll be surprised at every turn," she smiled. This was certainly the case on the extensive Istiklal Caddesi pedestrian avenue in the Beyoğlu area, which leads from the Galata Tower to Taksim Square — Istanbul's version of Shibuya. Along the road are narrow side streets and passages that revealed treasures both culinary and cultural. Combined with the many street-food options here, the restaurants that span two continents offered a non-stop invitation to explore and try new foods.
Pro Tip: Be careful where you walk, though, as Beyoğlu's "historic" red trams do travel along the street.
Related Reading: