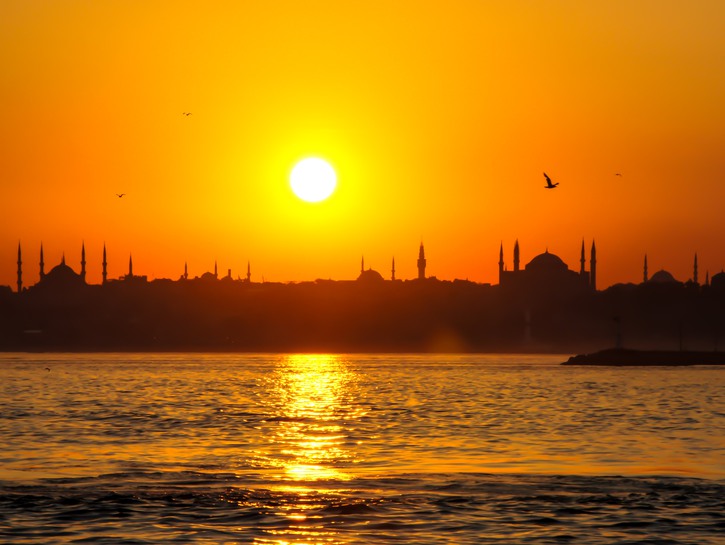 Istanbul (nee Constantinople) is one of the liveliest and most historically rich cities in Eurasia. The interesting things you'll find on your travels in this city will make for great dinner conversation when you get home. Here are the activities on offer we think are strangest and most appealing!
1. Turkish Elvis
Are you a fan of Elvis Presley? The King of Rock and Roll left behind many fans, as did his Turkish counterpart, Baris Manco.
The mustachioed Manco was a rockstar more geared towards children, and sadly, the father of Anatolian rock passed away in his sleep in 1999.
The natural next step? Turn his home into a museum, obviously! You might be thrown off by the life-sized statue of Manco that will greet you at the gates of the museum, but there are also statues of children playing in the gardens that nostalgically pay tribute to Manco's children's TV show.
You might not have known who Manco was before your visit to Istanbul, but the museum will take you through his life and leave you enthralled with the Turkish rockstar.
2. Go Mushroom Hunting
The Belgrade Forest in Istanbul is one of the most popular nature preserves in the area, and it's flush with a variety of mushrooms.
Jilber Barutcuyan is a mushroom expert, and he regularly takes groups on tours in the spring when mushrooms are ripe for the picking.
The tour comes complete with a picnic where some meatballs and mushrooms get barbequed up for hungry hikers.
Don't forget your camera — Belgrade Forest is full of beautiful scenery that makes for great photo opportunities!
3. Have A Drink At An Ancient Tavern
For a throwback to ancient days, grab a drink at Safa Meyhanesi. It's one of Istanbul's oldest taverns and as soon as you step foot inside, it'll transport you to another age.
Its design is simple yet grand, and with a stunning chandelier hanging from the ceiling and vintage raki bottles, you'll be ready to enjoy some classic Turkish meze, an assortment of small dishes served alongside alcohol. Can't get much better than that!
The tavern has stayed in the same family for its entire 130-year history and this unusual bar is sure to leave an impression.
4. The Spooky Basilica Cistern
You might walk on top of the Basilica Cistern for days without knowing it, as it's buried underneath the city of Istanbul.
When you enter the Cistern, you'll walk through an inconspicuous doorway, descend down a dark set of stairs, and then explore a water reservoir that dates back to the sixth century.
You'll be forced to walk across wooden planks to explore the cavernous cistern, and as you see koi fish swimming in the water and here drips echoing faintly in the background, you'll feel like you're on the set of a horror film!
A tour guide will explain the rich history of the cistern and you'll see statues with Medusa heads on them among other artifacts. It might be a little spooky, but it'll be a memory you won't soon forget!
5. Visit A Real Turkish Bath
Turkish baths, or hammams as they're authentically known, have become popular, but not all that you'll find will be authentic. A Western brand of Turkish bath has been introduced for visitors looking for a more lavish experience, but the real baths are much different.
For thousands of years, Turkish hammams were intended to be a place for local communities to cleanse and socialize amongst themselves.
A legitimate Turkish bath will separate men from women, have hot steam rooms of varying temperatures, and even attendants that will give you a rough exfoliating scrub.
Old Town has more options, but the Çemberlitai Hamami is one popular choice along with Cagaloglu. You'll leave knowing what a truly authentic Turkish bath feels like, even if your skin feels a little raw at the end of it…
6. Buy Fresh Fish From A Fisherman
Take a walk (or taxi) down to Galata Bridge and witness what has become a local tradition: dozens, perhaps hundreds, of men forming a row along the bridge and fishing.
You'll be amazed at how many people engage in this, and while some seem to do well, others don't appear to catch anything at all; they're just there for the experience!
Some of the fishermen will sell you their catches right away, but if you don't have any luck, try the fish market at the base of the bridge. You won't find any fresher fish!
7. See The City From A Less Common Vantage Point
Istanbul is a busy city, but one lesser-known way to avoid the crowds while still seeing the sights is by ferry.
Many boats offer paid tours of the Bosphorus Strait, but there are regular ferries that offer rides or a much cheaper fare. The average ferry ride will take you past landmarks like Bosphorus Bridge, Topkapi Palace, and an assortment of castles, mosques, mansions, and more.
Hop off at any time to grab some food or explore a sight in more depth and then hop back on to complete your unofficial tour.
All of this and more awaits the adventurous explorer taking a trip to Istanbul, one of the most historical and culturally significant places on earth!