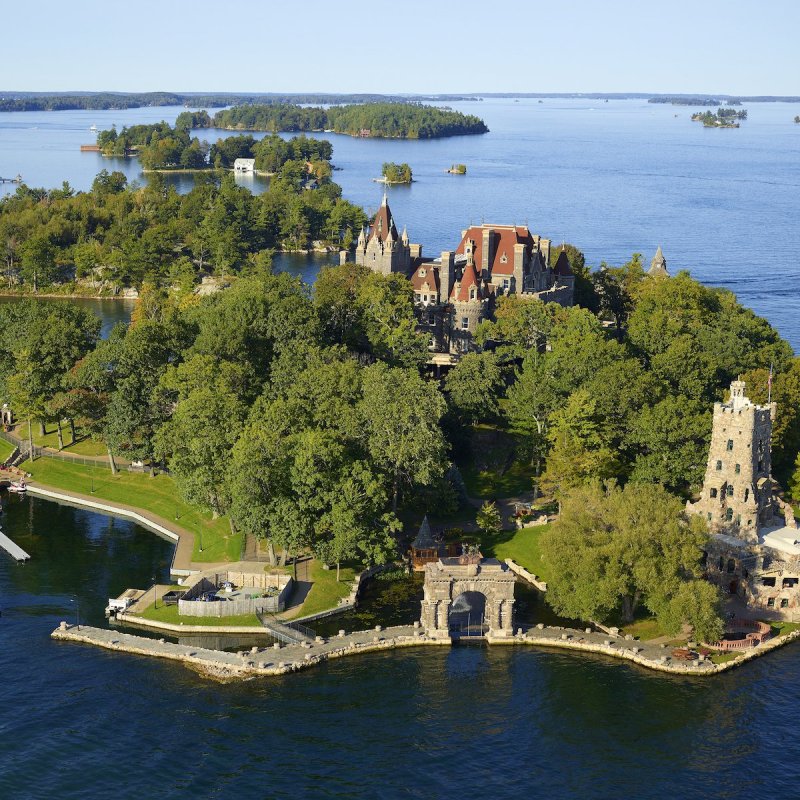 Stunning views of the St. Lawrence River, Lake Ontario, and adjoining waterways beg you to sit, take a deep breath, and simply enjoy the scenery. The relaxed pace of a 1000 Islands road trip, motoring along scenic byways past snug harbors and charming villages, is a wonderful way to wind down and venture off the grid.
We anchored our trip to 1000 Islands in Clayton; it is central to the other stops along the 1000 Islands coastline, affording easy access to all the wonderful adventures along the route. From Clayton, it was easy to head south to Henderson Harbor, Sackets Harbor, and Cape Vincent. When we ventured north and east, we encountered Alexandria Bay.
My favorite stops along our 1000 Islands road trip are grouped together by town and are in no particular order.
Note: Some information in this piece was obtained during a sponsored press trip, but all recommendations are my own.
1. Antique Boat Museum
Clayton
If you love boats and boating, you will be enchanted by the Antique Boat Museum. Its collection has amassed over 320 boats along with thousands of boating artifacts. You can visit multiple exhibits including the National Motor Boat Show displays. Showcasing the evolution of pleasure boating in North America, the exhibit is filled with historic runabouts, cruisers, and other beautiful boats you will want to own. You'll be quipping "she's yar" when you get a look at some of these antique gems.
When you are ready to hit the water, you can enjoy a sunset cruise on the famous country music star Alan Jackson's 30-foot Chris Craft Cruiser, Flat Top. Bring a small cooler with snacks and your favorite beverage for 2 hours of on-the-water relaxation. Sit back, pretend you are the star of your New York road trip, and enjoy the ride. Other boat experiences include a 45-minute Ride The River trip in a 30-foot, triple cockpit Hacker Craft; a 20-minute ride on the Pardon Me, a 48-foot custom runabout; and assorted rowing and sailing experiences. Reservations are required to enjoy these boating adventures.
2. Thousand Islands Art Center
Clayton
If you love creating, you will enjoy taking an art class at the Thousand Islands Art Center. Explore your creative side by taking a class on bookbinding, basic knitting, weaving, drawing, painting, and other hands-on crafting classes. The class on my list is Expressive Textiles: Painting and Printing on Fabric — right up my alley.
The center also has two galleries displaying stunning handwoven textiles, a variety of artisan exhibits, and curated shows.
Classes are open to non-members, so why not make your own 1000 Islands souvenir?
3. Southwick Beach State Park
Henderson
Every vacation deserves a beach day and Southwick Beach State Park is ready for your blanket, picnic basket, and beach book. Like many wonderful state parks, Southwick offers a wide variety of services including campsites, cabins, pavilions, and bath facilities. In addition to swimming, you can enjoy fishing, hiking, and cross-country skiing in the winter.
4. Westcott Beach State Park
Henderson
Another great stop along Lake Ontario is Westcott Beach State Park. The park has a small beach, lots of green spaces, camping sites, pavilions, and bath facilities. A small boat marina adjacent to the beach is perfect for campers and day-trippers who want to put their boat in the water to drop a line and hook a black bass or two.
5. Sackets Harbor Battlefield
Sackets Harbor
Sackets Harbor Battlefield State Historic Site is a must-stop on your 1000 Islands road trip. The rolling green gives way to harbor views and imparts a peaceful stroll in the park. However, the battlefield history is quite different than what you experience today.
During the War of 1812, Sackets Harbor was the upper St. Lawrence River Valley and Lake Ontario center for U.S. military activity. It was a bustling community of militia, sailors, and shipbuilders constructing a large fleet to patrol the waterfront and prepare for the invasion of Canada.
Self-guided tours, with the help of strategic signage, impart the military history and battlefield maneuvers of this historic sight. In-season, guided tours are led by docents dressed in period military clothing to bring the area to life.
Sackets Harbor Battlefield is a picture-perfect spot to get out and walk, enjoy the pretty scenery, and learn a little history.
6. Tibbetts Point Lighthouse
Cape Vincent
Lighthouse hunters will love the charming Tibbetts Point Lighthouse. Built in 1827, Tibbetts Point Lighthouse is at the juncture of where Lake Ontario meets the St. Lawrence River. The lighthouse features an original Fresnel lens, one of approximately 75 still in use across U.S. coastlines today. Unfortunately, the active lighthouse is not accessible to visitors. However, guests are free to enjoy the grounds and scenic views.
When you need a coffee break, pop into Cup of Joy Cafe and grab one of their house lattes. Don't forget to order a delicious pastry to go with it. My favorite latte, the Angel Rock, is made with white chocolate and raspberry — satisfying the sweet tooth hangries.
There is a lovely little park across the street where you can enjoy your pastry and coffee with a water view.
7. Boldt Castle
Alexandria Bay
Boldt Castle is one of the major attractions along the New York State 1000 Islands road trip. The castle, only accessible by boat, is situated on Heart Island. It was built as a summer home for George and Louise Boldt. Sadly, Louise passed before the castle was completed and the magnificent home sat empty and unfinished for over 70 years. Today, the Thousand Islands Bridge Authority operates the beautifully appointed castle and accompanying Boldt Yacht House.
As soon as you enter, the foyer and grand staircase set the tone for the home's elaborate décor and opulent furnishings. The library, billiard room, and ballroom will take your breath away with the beautiful craftsmanship. I find summer homes of bygone days, built to resemble European Castles, intriguing. They represent an affluence few of us will ever achieve.
After your visit to Boldt Castle, stop by Thousand Islands Winery for a tour and a taste of their exceptional New York wines. The beautiful farm, surrounded by lush grape vines, is a perfect backdrop to enjoy a glass of your new favorite wine.
Great Lakes Seaway Trail
The Great Lakes Seaway Trail offers road trippers four different segments to explore the shores of Lake Erie, Lake Ontario, the St. Lawrence River, and the Niagara River. If you have the time, explore all four sections; most of our trip was on the scenic 1000 Islands/St. Lawrence River section. Three other routes make up the entire trail: Lake Erie/Buffalo/Niagara Falls, Rochester/Central Lake Ontario, and Eastern Lake Ontario.
Boating The Thousand Islands Region
One of the main draws of 1000 Islands is boating. Whether you tow your own, rent, or hire, getting out on the water will enhance your visit.
The Antique Boat Museum offers several boat tour options. An extensive list of boat rentals and boat tours is available on the 1000 Islands website. No matter what town or village you find yourself in, there is most likely a marina, boat launch, or captain available for you to enjoy some time on the water.
1000 Islands Harbor Hotel
In the center of your 1000 Islands road trip is the town of Cayton, the perfect spot to anchor your adventures. The beautiful 1000 Islands Harbor Hotel, perched on the banks of the St. Lawrence River, offers easy access to everything you want to see and do.
We loved the balcony view while enjoying a cup of morning coffee. Every morning, on each floor, the staff sets up a coffee station with freshly brewed coffee and tea options. I appreciated not having to figure out yet another hotel room coffee maker that spits out a marginal morning beverage. Offering brewed coffee on each floor is genius! Grab one of the cozy hotel robes, pad down the hall, pour an exceptional cup of coffee or tea, and enjoy it on your deck with a view of the morning water activities. Every hotel should get on board with this trendsetting idea.
The Best 1000 Islands Road Trip
One of my favorite things about visiting 1000 Islands is the proliferation of benches. Pretty little parks pop up along the route offering beautiful views and spots to sit and take it all in.
Pro Tip: Many of the spots I've listed are open seasonally; be sure to check the locations' websites for opening and closing dates.
Related Reading: