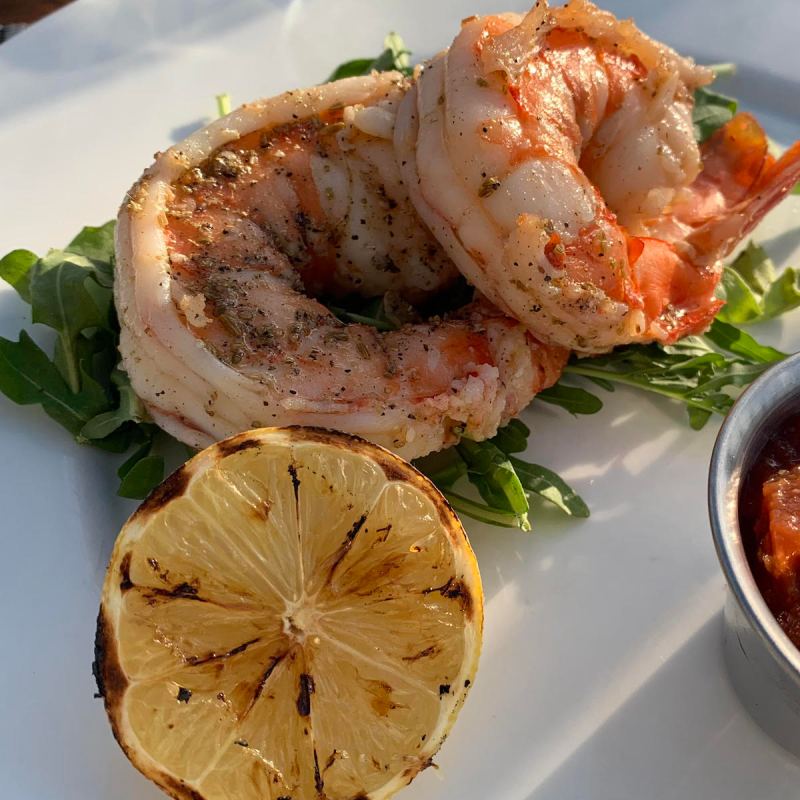 One of the best parts about a getaway is dining out. You can happily explore unique flavors and local ingredients without the muss or fuss of cooking and cleaning up. When you add interesting dining experiences with amazing water views, it is a delightful foodie-lover win.
Choosing where to eat can be a challenge when visiting a new-to-you destination. I have always had the best luck when I chat with local residents and find out where they like to enjoy a great meal. After spending some quality time in the beautiful Lake Placid region — and chatting with many locals — the waterfront restaurants below are my favorite ways to enjoy the local cuisine while soaking in stunning views of the area's lakes and rivers.
My list of Lake Placid's most popular restaurants with a water view is in no particular order.
Note: Some information in this piece was obtained during a sponsored press trip, but all recommendations are my own.
1. Boathouse Saranac Lake Pub
Alfresco dining on the deck of the Boathouse Saranac Lake Pub overlooking the picturesque Lake Flower sets the vacation mood on chill. With a casual lakeside vibe and delicious menu, you will love this fabulous #LakeLife restaurant.
What To Order At Boathouse Saranac Lake Pub
The Colossal Shrimp Cocktail is the perfect starter. They are huge — bigger than big — and you can order as many as you would like to share with your dinner companions. For a hearty meal, the Boathouse Burger is a decadent and delicious option. It features locally raised Donahue beef, pulled pork, applewood bacon, Vermont cheddar cheese, pickled peppers, and a three-cheese béchamel sauce served on a brioche bun with a side of perfectly cooked French fries.
Pro Tip: The Boathouse Saranac Lake Pub is connected to the Saranac Waterfront Lodge — a new lakefront hotel. It is tucked away from the downtown hustle but easily walkable to the Saranac Lake restaurants and attractions.
2. The Cottage Restaurant And Cafe
The Cottage Restaurant and Cafe sits on the edge of peaceful Mirror Lake. The view from the outdoor seating area and window seats in the dining room are a breathtaking panorama of Mirror Lake with the Great Range of the Adirondack High Peaks lining up to showcase a multi-peak backdrop. The Cottage Restaurant and Cafe offers the best combination of casual dining, great food, friendly service, and stunning lake views.
What To Order At The Cottage Restaurant And Cafe
I devoured the mildly spicy Thai shrimp tacos; they were so delicious. Three bountifully filled flour tortillas piled high with shrimp, a crispy slaw, and a spicy aioli. Another great option is the Cottage Style Reuben. It's served open-faced on marbled rye bread, piled high with smoked meat, Swiss cheese, and coleslaw, and topped with Thousand Island dressing.
Pro Tip: The charming Cottage Restaurant is located across the street from the prominent Mirror Lake Inn. The inn offers guests expansive panoramic views of beautiful Mirror Lake.
3. Fusion Market
A lakeside picnic is one of the best ways to enjoy a beautiful day, a gorgeous lake view, and great food. At the Fusion Market, located across the street from the Lake Flower Boat Launch, you can order a grab-and-go lunch for a picnic on the lake. There are benches, picnic tables, and plenty of green grass where you can sit, relax, and enjoy your lunch.
What To Order At Fusion Market
Build your own cold sub with all the fixins or enjoy one of their hot dishes. Classics like mac 'n cheese bites, a Philly cheesesteak, or a good old-fashioned grilled tuna sandwich are quick and simple — just what you want for a nosh by the lake.
Pro Tip: Fusion Market also has a nice selection of craft beers, hard ciders, and hard seltzers.
4. Lakeview Deli
Lakeview Deli, also across the street from the Lake Flower Boat Launch, is another great spot for a picnic basket lunch. Lakeview's eclectic menu and easy access to the lake are perfect for a casual getaway outdoor dining adventure.
What To Order At Lakeview Deli
Order from their daily menu and treat your tastebuds to an explosion of flavors. The bahn mi sandwich — dressed with chili garlic mayo and Asian slaw — is a blast of flavor. The smoked gobbler is a trifecta of ham, turkey, and bacon, with Swiss cheese, Russian dressing, and cranberry sauce; delicious. When the pie-of-the-day is chocolate peanut butter pie, make sure you save room for a slice.
Pro Tip: The line of locals ordering sandwiches to-go at Lakeview Deli tells the whole story: They serve exceptional and delicious food.
5. the breakfast club, etc
There is always a line out the door at the breakfast club, etc during the high season, and for a good reason. Open for breakfast and lunch, this casual joint is constantly filled with happy guests enjoying the lakefront view and munching on plates filled with delectable food.
What To Order At the breakfast club, etc
Famous for their mouthwatering röstis, you won't need to eat lunch after you devour a cast-iron skillet of their corned beef and cheddar rösti. Made with homemade corned beef hash, sharp cheddar, two eggs, and home-fried potatoes all drizzled with hollandaise and served with a side of sour cream, it is a hearty vacation breakfast.
Pro Tip: If you are traveling during the off-season, your wait shouldn't be too long since you will be dining with more locals than tourists. If you go during the summer months, be prepared to queue up, but it is definitely worth the wait.
6. Lisa G's
Tucked a little ways off the main drag, Lisa G's is the restaurant all the locals love. Highly recommended by several shopkeepers, it is easy to see why Lisa G's holds a special place in their hearts. Excellent food, locally owned, and far enough away from the tourists to be too crowded, Lisa G's is only a secret to visitors who won't venture off the main drag.
What To Order At Lisa G's
If you love chicken wings and some variety, you will have a difficult time choosing what to order. The Truffalo wings have a medium heat with notes of truffle and blue cheese. Other options include a Greek-style wing, Bayou Buffalo with Cajun spice, salt and vinegar style, and of course, the classic Buffalo wings. Pizza, sandwiches, and plated entrées round out the simply delicious menu.
Grab your friends, order your favorite beverage, and select all the wings options to share and compare.
Pro Tip: Lisa G's offers a pet-friendly deck and porch so your fur baby can join you while you dine and enjoy views of the Chub River waterfall.
7. Big Mountain Deli & Creperie
In the center of downtown Lake Placid are the Paul White Memorial Shell and a beautiful green park along the banks of Mirror Lake. It is a lovely spot to enjoy Lake Placid's natural beauty and have an al fresco picnic. It's where Big Mountain Deli & Creperie comes into play. Located on Main Street, it is perfectly situated for a grab-and-go, top-notch lunch.
What To Order At Big Mountain Deli & Creperie
Big Mountain Deli & Creperie offers classic sandwiches with an intriguing twist. Try the Rocky Peak made with maple honey ham, smoked cheddar, apples, and apple butter. Perhaps the Esther is more your style — filled with liverwurst, provolone, and red onion topped with cracked pepper mayo and spicy brown mustard.
It is a creperie too, and there is a tantalizing selection of sweet and savory crepes. I love the key lime pie crepe made with their homemade lime custard and graham cracker crumbs topped off with whipped cream and raspberry sauce. A wonderful savory take is their pastrami hash 'n egg crepe filled with homemade pastrami hash, melted cheddar, and fried eggs.
Pro Tip: Lake Placid has a walkable downtown area, including the Lake Placid Olympic Museum. With a little patience, you may find free on-street parking, however, Main Street has lots of spaces offered at a reasonable fee. You can park, walk, look around, and picnic in one easy park.
Lake Placid Area Water View Restaurants
Lake Placid and Saranac Lake are filled with beautiful lakes and some of the best restaurants for water-view dining. Whether you prefer a fine dining experience, a rustic and friendly pub meal, or an afternoon picnic by the lake, you will find great options in the Lake Placid area.