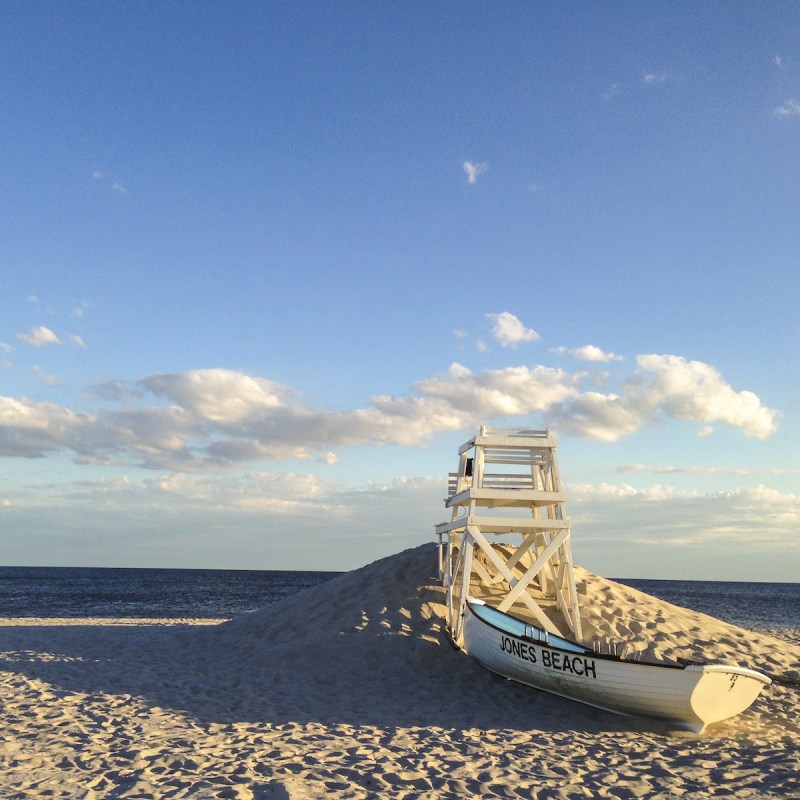 Okay, I'll admit it: I'm biased (in a good way) about Long Island. You see, I grew up there, about 20 miles from "the city." While writing this article, I discovered I had much to learn about what Long Island offers. Now, as an "ex-pat," I want to go back to experience it fully. The following list hits the highlights of everything to see and do, even if you're just looking for a day trip from New York City.
Beaches
1. Jones Beach State Park
Wantagh
Summer days at Jones Beach are fabulous! Along with its iconic water tower, this park offers 6.5 miles of white sand and 2,400 acres of ocean environment on Long Island's South Shore. You can "lay out," fish, and eat yummy concession stand treats. Its hours are 8 a.m.–8 p.m. daily. The entrance fee is $10 per vehicle.
Pro Tip: Stroll on the boardwalk at Jones Beach. It's 4 miles of fabulous beach views, with lots of people-watching. You can enjoy the free game area, play miniature golf, grab meals and snacks, and shop. Park and enter at Field 4.
2. Ocean Beach
Long Beach
Long Beach has the longest boardwalk in New York State. Pair that with its white, sandy beaches, and you have a must-do, year-round attraction. Daily passes are required from Memorial Day to Labor Day.
Pro Tip: You'll especially enjoy the boardwalk, which stretches past more than 2.5 miles of beachfront. Visitors can rent bikes or roller skates, eat at eclectic restaurants, window shop at boutiques, or take a stroll.
3. Robert Moses State Park
Fire Island
On the western end of Fire Island, Robert Moses State Park boasts a shoreline of about 5 miles. It's easily accessible by car, and parking (for a fee) is plentiful. There is no entrance fee, but parking is $10 per vehicle. Be sure to read up on what you need to know about fees and passes on Fire Island.
Pro Tip: You can swim at any of the four lifeguard-staffed fields. Each offers concessions, shops, first aid, restrooms, and outdoor showers. In addition, lovely picnic areas (including grills) are available at fields 2, 3, and 4.
4. Coopers Beach
The Hamptons (South Fork)
With its stunning views, Coopers Beach fronts the Atlantic Ocean for about 500 feet. It's open from May through September, with a lifeguard on duty. It's a perfect place for a quiet getaway, sunset views, or a picnic. You can even rent a chair and umbrella! Parking permits are available for purchase.
Historic Mansions On The Gold Coast
The North Shore is known for its turn-of-the-(20th)-century affluence. This affluence earned the North Shore's moniker, "The Gold Coast."
5. Oheka Castle
Cold Spring Harbor, Huntington
Otto Kahn built Oheka Castle in 1919. The 109,000-square-foot, French-style mansion on 443 acres inspired F. Scott Fitzgerald's The Great Gatsby.
6. Old Westbury Gardens
Westbury
Old Westbury Gardens, on 200 acres of landscaped grounds, woodlands, and lakes, is home to Westbury House, a Charles II-style mansion listed on the National Register of Historic Places. The former home of John S. Phipps and his family, the house was completed in 1906 by English designer George A. Crawley. Visitors have their choice of tours. Plan your visit today!
7. Sagamore Hill
Oyster Bay
This National Historic Site is home to the preserved summer estate of President Theodore Roosevelt. The Sagamore Hill property includes more than 80 acres of woodland, wetland, trails, and gardens. Guided tours are available. Stay updated on information about tickets, tours, parking, and more.
8. Sands Point Preserve
Sands Point
Sands Point Preserve, on the original Guggenheim Estate, reflects the grandeur and lavish lifestyle of the early 20th century. The Sands Point peninsula was the famed "East Egg" in The Great Gatsby. Today, visitors can tour the 216-acre park and its historic mansions: the 50,000-square-foot, Tudor-style Hempstead House; and Castle Gould, built in 1902 and modeled after Ireland's Kilkenny Castle. Find out about hours and tours at Sands Point.
Museums
9. Long Island Aquarium
Riverhead
You'll enjoy the Long Island Aquarium's collection of thousands of animals inhabiting 100 exhibits. Look for the amazing Amazon Rainforest habitat and the Lost City of Atlantis Shark Exhibit. Check out the aquarium's website for hours and admission fees.
Pro Tip: To avoid crowds, visit the aquarium after 1 p.m. on weekdays during the school year.
10. Nassau County Museum Of Art
Roslyn Harbor
The Nassau County Museum of Art is set on a 145-acre preserve featuring fields, woods, ponds, and formal gardens. The outdoor sculpture collection, more than 40 pieces, is spread throughout the preserve. This museum features works by artists of several significant movements, including abstract expressionism, La Belle Epoch, pop, and expressionism.
11. Cradle Of Aviation Museum
Garden City
It's amazing how those old aircraft could get off the ground! The Cradle of Aviation Museum's collection takes you back to some of the earliest flying machines, then brings you to the present with contemporary space exploration exhibits (including an Apollo rocket). Buy tickets now to the Cradle of Aviation Museum.
12. Vanderbilt Museum And Planetarium
Centerport
A visit to the Vanderbilt Museum and Planetarium warrants a guided tour of the Vanderbilt family's living quarters in the mansion and a visit to Reicherts Planetarium to learn the secrets of the universe. Evening offerings include live presentations, laser light shows set to music, and night sky tours.
Pro Tips: Before you go, visit the museum's website for mansion schedules as well as admission to the planetarium.
13. Long Island Children's Museum
Garden City
Are you looking for an outing with your kids or grandkids? The Children's Museum is a must-see destination offering interactive art, science, culture, history exhibits, and live theater. In addition, young visitors will enjoy the Pattern Studio, the Tool Box building room, and the Sound Showers music section.
14. Sag Harbor Whaling & Historical Museum
Sag Harbor
Benjamin Huntting II, a whaling ship owner, originally owned this home. He built it in 1845 for $7,000. Today, it's home to the Sag Harbor Whaling & Historical Museum. The museum, a certified national treasure, is listed on the National Register of Historic Places. Be sure to check out its hours and admission fees.
15. Watermill Center
Watermill
The Watermill Center, founded in 1992 by avant-garde visionary Robert Wilson, offers year-round artist residencies and educational programs. Its 10 acres of grounds and gardens are home to an expansive exhibit reflecting its founder's life and work. For information about programs and tours, visit the center's website.
Hiking And Nature Trails
Many hikers and nature lovers think only of Long Island's parks. Still, there are lots of hidden-gem hiking trails and natural wonders. You may need a GPS for some of these.
16. Sunken Forest Nature Trail And Sailors Haven
Fire Island
The Sunken Forest Nature Trail is a globally-rare ecosystem and New York State's only Federal wilderness. The 16-hectare (39.5 acres), holly-dominated Sunken Forest is one of only a few mature maritime forests in New York. The trail hike, mainly on the boardwalk, is about 2 miles from point to point. There are no entrance fees, but you will have to pay for parking.
17. Cold Spring Harbor State Park Woodland Trails
Huntington
This hike has some hills, but it's suitable for experienced hikers. Cold Spring Harbor State Park offers birdwatching, views of the harbor through the tree line, and large, preserved trees. There are two woodland trails. Be sure to check out the admission information before you go.
Other Activities
18. Fishing
Historically, fishing has been a popular Long Island experience. You can board a fishing boat with other enthusiasts or charter a private fishing trip. Viking Fleet in Montauk is among the best boat tour companies. If you don't want to travel all the way to Montauk, check out Captain Lou Fleet in Freeport, which has provided fishing tours since 1956.
You can also pull up a chair and use your own gear for fishing off the beach or pier. Popular fishing spots include Hempstead Lake State Park, Jones Beach Fishing Piers, Magnolia Pier, and Seaford Town Dock.
19. Whale Watching
It's hard to believe that you can spot whales within a few hours of New York City. These marine animals are most likely spotted from the Long Island Sound or along the South Shore. Viking Fleet and Captain Lou Fleet offer whale-watching tours in addition to their fishing excursions.
Pro Tip: Summer is the best whale-watching time (June, July, and August).
20. Lavender By The Bay
East Marion
Lavender by the Bay is one of Long Island's most popular lavender farms. The best time to visit is early July to catch both English and French lavender blooms. The farm raises more than 20 varieties of English lavender.
Pro Tip: The farm's hours are dependent on weather and staffing.
21. Wineries
Long Island has three wine-growing areas, including 57 distinct wine producers. Alex and Louisa Hargrave planted the first Long Island vineyard in 1973 in Cutchogue. Fifty years later, Long Island wines are rising stars of the winemaking world.
Among these rising stars is Paumanok Vineyards in Aquebogue. Paumanok is the Native American word for "Long Island." This vineyard is best known for its chenin blanc and great views! Another great vineyard is RGNY in Riverhead. RGNY, a certified sustainable winery, is known for its rosé-style blends. Rose Hill Vineyards & Inn in Mattituck is known for its intimate tastings and offerings like Broadway in the Vines and Brunch & Bubbly.
22. Southampton And East Hampton
South Fork
The Hamptons, at the eastern end of Long Island, includes the towns of Southampton and East Hampton (both on the island's South Fork). This area is a well-known seaside enclave home for the rich and famous during fabulous summer sojourns.
Southampton is known for its growing arts scene, luxury shopping, and fine dining. East Hampton, founded in 1648, has miles of pristine sand beaches, fine dining, and high-end shopping. Its five beaches have something for everyone. Amenities and parking availability vary.
Pro Tip: Take a break from shopping and dining to check out the iconic Montauk Point Lighthouse. The Lighthouse and museum, commissioned by President George Washington in 1792, offers fantastic 360-degree views. Be sure to check out the lighthouse's parking and ticketing information before you go.
Interested in other New York experiences? Explore these TravelAwaits articles: