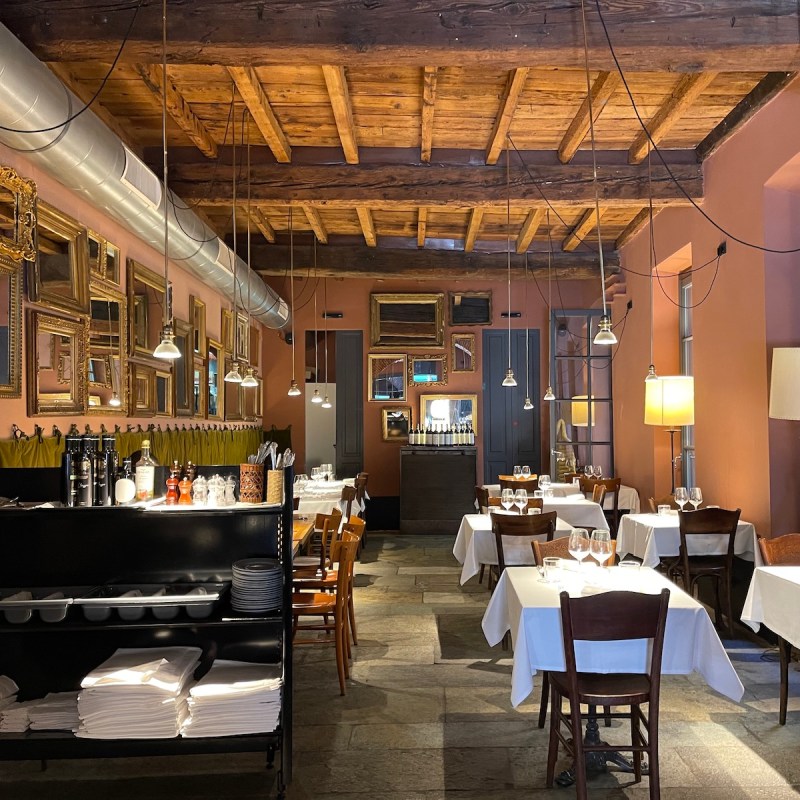 Is there anything better than Italian food? Pizza, pasta, risotto, truffles, and all that wine make it what is most likely the most loved cuisine in the world. I mean, do you know a city without an Italian restaurant? Of course not. But eating Italian food in Italy is even better. The pasta is more al dente, the ingredients more authentic and fresh, and, chances are, there is actually a nonna in the kitchen cooking away.
Every region in Italy has its own specialties, which shine more there than anywhere else, but overall, it is quite certain that you will eat well wherever you go. And that is as true in Milan as it is in the rest of Italy.
Here I have listed some of my tried-and-tested places to enjoy a drink, breakfast, lunch, and dinner. They vary from a café inside a mall to a lovely restaurant in a gorgeous hotel, from a little place locals frequent to a terrace loved by tourists but still serving great food. In no particular order, you will not be disappointed by any of these.
1. Terrazza Aperol
Let's start with my favorite first thing to do in a great city: sit on a terrace with a great view and a local cocktail in hand. In Milan, this leads you straight to Terrazza Aperol, literally next door to the fabulous Galleria Vittorio Emmanuele II and right by the Duomo. On the second floor, the terrace has simply the most spectacular views of the cathedral, you can sit in the sunshine, and the oh-so-Italian spritz is perfectly refreshing. There is simply no better place to start your visit to Milan.
What To Order: The clue is in the name, and the Aperol spritz is perfect, but there are also other choices of cocktails, spritz, prosecco, wine, or non-alcoholic drinks. A must-do is to order an aperitivo: a platter of nibbles that accompanies your drink. This is a typical pre-dinner antipasti tradition, and, if you are not too hungry, it is large enough to count as dinner. You get little sandwiches, meatballs, dough pockets, and there is also a vegetarian option.
Pro Tip: Downstairs, at ground level, have a look at the sandwiches in the vitrine of the Mercado del Duomo. These are substantial and really good, perfect for a cheap snack or picnic on the go.
2. Naviglio 48
Right by the canal in the Navigli neighborhood, there are countless restaurants, most with seating outside and most offering typical Italian pizza and pasta for the hungry visitors that come to the district for its charm, markets, and restaurants. It is often very much hit-and-miss trying to find a decent restaurant when visiting abroad, as with everywhere unless you have local knowledge, but usually, the guests give you a clue.
Naviglio 48 is frequented by more Italians than foreigners, and that is always a good sign. You can sit outside in the sunshine or inside in the quirkily decorated dining room, complete with piano and historic champagne cases. But my favorite spot is in the open window, technically inside, but so close to the outside that you can see everything going on from your slightly higher vantage point while benefiting from the inside shade.
What To Order: I always make a beeline for anything to do with truffle and/or mushrooms, and here, the pappardelle al funghi porcini e tartufo hit the spot. Start off with a mozzarella salad or the tartare di tonno al pistacchio tuna tartare and you can't go wrong.
Pro Tip: Don't forget to read the daily specials on the blackboard; always fresher than anything else.
3. Bebel
Napoli has its pizza, Rome its cacio e pepe, and Milan its risotto. You'll find it on pretty much every menu, but, as with everything, it always depends on who is preparing it and for whom. Head away from the touristy spots to a local restaurant such as Bebel, which is in fact steps away from Il Caffe Ambrosiano mentioned below. Here you have no fancy décor, but each table is filled with families from the neighborhood, and you always have people already standing outside when they open at 7 p.m. Bebel is one of those places without a terrace, without anything to advertise it from the outside, but with all the charm of a typical Italian neighborhood eatery on the inside.
What To Order: For starters, have the grilled vegetables, which come with some grilled Scamorza cheese, a smoked cheese not unlike halloumi but without the squeak. And then, try the risotto alla Milanese, a simple plateful of yellow rice. Looks boring, but as it is flavored and colored with saffron, the taste is subtle and very good. And when in Milan…
Pro Tip: Order the house wine; it's very good, very affordable, and available by the glass.
4. Il Caffe Ambrosiano (Bar Tavola Fredda)
When it comes to breakfast, the Italians like it sweet and light. So, what better than a traditional café with a vitrine full of croissants, biscuits, cakes, and all sorts of other sweet things, most of which I made my research project to try? Il Caffe Ambrosiano — right next to the National Leonardo da Vinci Science and Technology Museum and steps away from my hotel — is a little haven with superb coffee. Here, locals all know each other and take half an hour to order their drink because they all chat so much. Ambrosiano truly has the best croissants I have eaten in a very long time, and, having lived in Paris for years, that is saying something.
What To Order: Order the plain croissants, the shortbread biscuits, the canestrelli, the prussianes, and basically everything they have. Eat the croissants with your coffee and take a bag full of other goodies with you for the day.
Pro Tip: This is a family-run café, and despite the popular museum next door, they are closed on Sundays.
5. Bugandé
Part of the lovely Hotel Maison Borella, a historic place to stay right on the canal Naviglio Grande, is the Bugandé restaurant. Beautifully set tables inside and out, it is the ancient setting inside that is a must-see. There are wooden beams on the ceiling, stone walls, and they employed a quirky way to decorate the ancient surroundings and make them stand out even more by placing ceramic plates on the ceiling and covering one wall with small mirrors. There are small details everywhere, from ceramic birds to small displays of fresh flowers. It might all sound crazy and too bohemian for an elegant restaurant, but it really works. The food is traditionally Italian — maybe slightly more upmarket but no more expensive than other restaurants along the canal — and the ambiance is wonderful.
What To Order: Whatever their daily pasta special is; just trust me.
Pro Tip: Tables by the canal get the full sunshine and can get very hot, if you prefer outside to inside. Ask if the cute little courtyard is open.
6. Glacomo Arengario
Do you want something quite special with a stupendous view? Head straight to the Museo de Novecento, opposite the Galleria Vittorio Emmanuele III and Terrazza Aperol. Head up either elevator or along the spiral ramp, which is very Guggenheim, and marvel at the floor-to-ceiling windows. They are a sight to see in themselves. But look through them and there is the galleria straight ahead and the Duomo to your right. The views really do not get any better. The inside is a mix of early 19th-century design and cozy English country club, but sitting by the windows and the slightly dark setting gives way to incredible light. Book ahead to get a table in the front row.
What To Order: Start with the sea bass ceviche and then dive into the pasta, gnocchi, or risotto primi piatti, followed by the monkfish. The good thing about this restaurant is that it might look like it would be tourist bait with its views, but it serves Michelin-guide-recommended food at doable prices. And the wine list is extensive.
Pro Tip: Don't miss the museum shop — and the museum, of course — on the way out. They have some fun souvenirs to take home.
7. Peck
My last choice is a nice little delicatessen restaurant where you not only get a choice of great coffees and wine but also a selection of lunchtime options in CityLife mall at Tre Torri. Peck is a great place to go after some shopping; to rest and recharge. Other than in most Italian restaurants, where you tend to overeat and even the smallest plate of pasta makes you feel a little too lethargic to continue sightseeing, here you can have something light and healthy and keep going.
What To Order: Either a plate of charcuterie, Italian meats, and/or cheeses with some fresh focaccia, or the sandwiches, which are stuffed with fresh ingredients.
Related Reading: