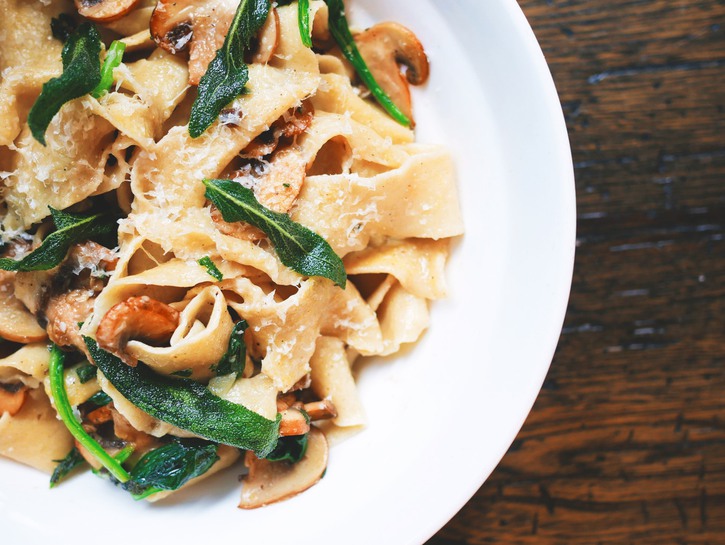 Cooking With Nonna Means Cooking With Heart
With a seasoned eye, Nonna Antonella studied the young American rhythmically kneading and shaping what would soon be the perfect ball of pasta dough. Through a translator, she inquired if he had ever worked in a bakery — his technique was that good, that steady. Nonna didn't seem disappointed to learn that he actually worked in finance. She simply gave an approving nod to the young man's newlywed spouse and carried on with her instructions for the perfect ravioli con spinacie ricotta (ravioli with spinach and ricotta).
Warm guidance and a reverence for food is the perfect combination in any cooking mentor but they're also the ideal qualities for an evening spent with a grandmother. And, should you find yourself in Rome, a cooking class is the ideal substitute for your own family gathering.
The chance to learn about authentic Roman cooking from a local is a travel dream come true, and cooking classes are nothing new in the Eternal City. But Eating Italy's private cooking class was the kind of experience that keeps guests coming back for more and makes a vacation unforgettable.
Set in an authentic old-fashioned apartment in the working class neighbourhood of Trastevere, the journey up the stairs to the third floor is also a voyage back in time. But Nonna herself doesn't live here — in fact, there is actually more than one Nonna!
The apartment was chosen for its authenticity and slightly renovated to make it suitable for teaching the culinary arts. A team of several Nonnas and their co-hosts, the translators, take turns hosting and instructing the private, upon-request classes. And they are as eager to answer the cooking questions (How does that coffee percolator work? What kind of basil is that?) as the personal ones, making the kitchen feel as warm and as intimate as any home.
Good-natured gossip abounds, with occasional serious moments as members of the class share intimate stories while the dough is pulled and the meat tenderizes. Our sweet, slightly shy Nonna was able to set a community spirit from the beginning — and welcome glasses of prosecco didn't hurt at all!
Eggs, Cream, and Love: Nonna Knew Cooking And Family
Nonna Antonella simultaneously managed both to defy and embrace all my pre-class stereotypes of what a typical Italian grandmother would be like. She was quiet, studious, and at peace with the unpredictable nature of cooking. She waved away the notion of marinara sauce needing to simmer for hours on end with a flick of her hand, deftly finishing her own concoction in 10 minutes. And she led us in an intense discussion about the superior quality of our pasta dough versus that of the previous class. But it wasn't so much about giving praise as it was about having correctly assessing the effects of the fluctuating summer humidity.
The beautifully restored vintage apartment wasn't always the backdrop for Nonna's cooking. As one of 13 children, her childhood memories include beds covered with drying pasta noodles, as well as the challenges of early refrigeration. One of Nonna's most endearing practices — and helpful cooking lesson — was her habit of smelling every single thing she cooked with, from the green beans and olive oil to the cheese and even the freshly laundered tea towels on standby to cover the pasta dough.
Of course, that list included eggs — the fresh eggs used in the filling of our tiramisu cream, as well as the yolks being added to the pasta dough. The eggs were carefully sniffed before and after being cracked open, and Nonna even daintily tasted the raw eggs prior to folding them into the tiramisu crème. ("I wouldn't go that far," observed our wry translator).
Of course, a lengthy conversation about the pros and cons of refrigerating eggs soon followed. Nonna's verdict: keep them on the counter unless they were previously refrigerated at the store, in which case you should continue to chill them in order to avoid thermal shock.
An Unforgettable Meal With A Side Of Fantastic Travel Advice
Nonna's assessment of our pasta dough was spot on. Our ravioli was beyond reproach. As we feasted on delicacies ranging from the simple (a rustic bruschetta) to the sublime (saltimbocca allaromana — tenderized and floured veal wrapped with prosciutto and sage leaves and pan-fried in butter with lemon and wine), we marvelled at all we had created under her guidance.
One self-admitted fussy eater cautiously, then eagerly, ate raw tomatoes for the first time! I kept stealing extra helpings of the fagiolini, baby green beans dressed in lemon and olive oil. And throughout the meal, Nonna pondered more of our questions, such as how to substitute key ingredients for allergic friends back home and the easiest way to reach her husband's gelato shop. (It's the oldest and one of the most famous in Rome, Giolitti a Testaccio.)
With some stern parting advice on how to identify quality gelato from tourist-intended knockoffs (hint: The pistachio should be a muted, muddy green, never brightly-colored and the most basic flavor, vanilla, should always be top shelf), Nonna sent us on our way with warm embraces, full stomachs, and happy hearts.
Rome suddenly didn't feel so massive, nor its traffic so overwhelming. It was a city of people who loved pasta and loved their Nonnas, just like us.