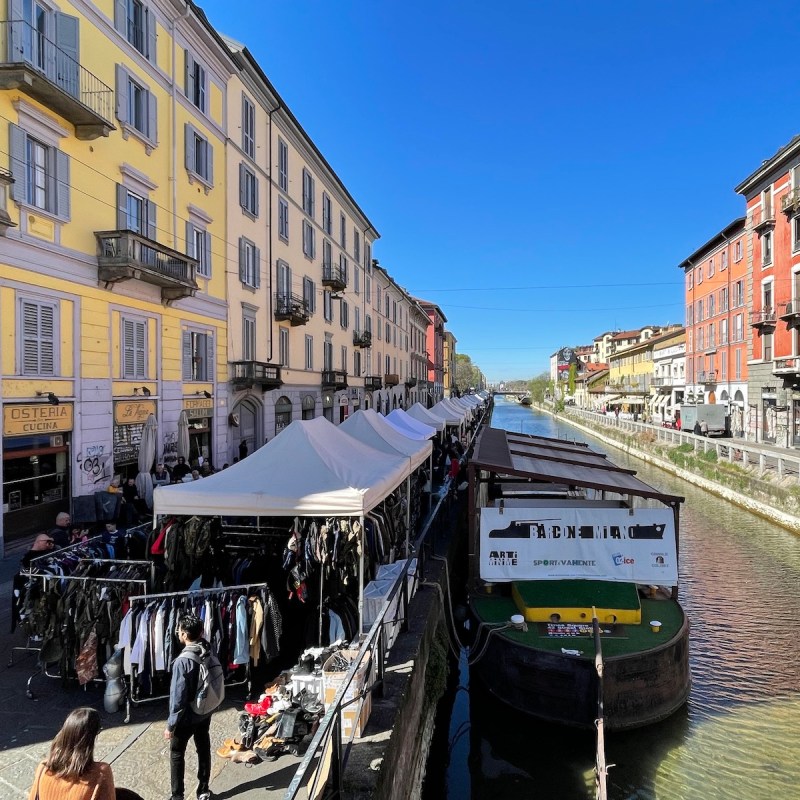 Milan is second only to Paris when it comes to being a superbly fashionable city, with annual fashion weeks and some seriously great shopping. And, even better, there are all the luxury labels present and they are generally much cheaper than back home, especially with tax rebates at the airport. In addition, there is also fabulous window shopping and plenty of affordable yet unique ways of snagging something a little special.
I have to admit to being a sucker for buying at least one piece of day-to-day wear when traveling to a foreign city — something that stands out a bit and that people might ask me about. Then, I go straight back in my head to where I bought it and the memories come flooding back, as well as being able to drop the name "Milan, Italy," into the conversation. On my most recent trip to Milan, I bought a gorgeous scarf, nothing high-end-designer, but an Italian brand. As such, it is probably unlikely that someone else has the same one in my hometown.
Here are some great places in Milan where you can hopefully find your special souvenir, or at least have a wonderful time sauntering along and enjoying what's on display.
1. Galleria Vittorio Emanuele II
Whether you are after some luxury shopping or not, you will certainly find yourself in this absolutely stunning covered arcade at some stage. This is Italy's oldest shopping arcade, designed in 1861 and opened in 1877. The four-story galleria with a domed-glass roof and tiled floors has the most-coveted fashion labels in the world housed within its hallowed halls. It is a sight to behold and a must-see on everybody's Milan itinerary. Shop at Gucci, Prada, Louis Vuitton, Dior, and more, or simply head to the lovely historic Bocca bookstore.
Don't Miss: For a bit of luck during your visit to Milan, try to spot the bull motif on the ground near the center of the galleria — a symbol representing the city of Turin. Put your heel on the bull's private parts and spin around three times for good luck. It was once thought to bring fertility, but at our age, we should be safe enough.
Pro Tip: Next door to the galleria, you'll find the Terrazza Aperol. It is the place for an aperitivo with the best views.
2. Corso Vittorio Emanuele II
For labels that are more high-street than haute-couture, head to Corso Vittorio Emmanuele II, just past the Duomo. The pedestrianized street is wide and glamorous, housing Italian labels as well as international stores. There are cafés with terraces from where you can watch the stylish shoppers and plenty of small boutiques as well as global names. Even if you are not keen on shopping, the location, with the Duomo peeking out behind you, and the grand buildings make this a great street to explore.
For a perfectly rounded trip, head to Piazza San Babila at the end of Corso Vittorio Emmanuele II and turn into Corso Giacomo Matteotti, which runs back into the center. Here, under beautiful colonnades, high-end Italian brands lie hidden. It is a shaded walk, perfect for window shopping. You'll end up walking past La Scala Opera House and will find yourself back in the center.
Don't Miss: You might have a Spanish store, Zara, in your hometown, but I bet you the store doesn't look anything like this one. The interior of the Zara in Milan is more akin to a luxury hotel.
Pro Tip: The Basilica San Carlo al Corso, toward the piazza, has a beautiful dome worth seeing.
3. CityLife
Piazza Tre Torri
As those who read my stories regularly will know, wherever I travel, I am always on the hunt for architecture from the late Dame Zaha Hadid, or Zaha Hadid Architects.
In Milan, there is a stunning example, or even three. One is the tall, slightly twisting Generali Tower, which you can see from nearly everywhere in Milan. Next to it are some chic apartment blocks designed by the architects. But between the two, and this is why this fits here, is a shopping mall.
CityLife is a nice shopping mall with plenty of cafés, lunchtime options, and a variety of Italian stores selling fashion, accessories, and pretty much everything else. And the ceiling, columns, and escalators are held in Hadid-typical wavey-wood paneling, making for a great architectural — as well as shopping — location. It's also an option for a rainy day or a day with too much sun.
Don't Miss: Have lunch at the Piadineria, where not only the coffee is good, but the typical flatbread sandwiches come with various fillings and are light as well as satisfactory.
Pro Tip: To get to the Tre Torri, or the "Three Towers," hop on the purple metro line 5 or the red M1 to Amendola from the center.
4. Navigli Markets
The neighborhood of Navigli is a gorgeous, must-see quarter with restaurant-lined canals, colorful old houses, plenty of artsy spaces, and individual boutiques. But, more importantly, every Saturday, a flea market takes place alongside the canals, spilling over into neighboring alleys. It is great fun to walk along the canal with the beautiful reflections of the surrounding buildings while browsing the countless stalls. I love the flea market because this is where you can spot all sorts of treasures, from old toys to homewares. But you can also find a lot of vintage clothing, from stalls selling leather biker jackets and vintage Tweed coats to countless stalls with costume jewelry, handbags, and other unique goodies. While there are plenty of tourists, the main crowds are hip locals searching for vintage clothing.
Then, if you find yourself in Milan at the end of a month, every last Sunday of each month, an antiques market takes over the same area for more up-market finds.
Don't Miss: Get there early, especially for the antiques market. It starts at 9 a.m., but it pays to get there even before then — if you are serious about finding treasure.
Pro Tip: Even though easily walkable from the center, hop on the green metro line 2 to Porta Genova FS to beat the crowds.
5. The Italian Department Stores
I don't know about you, but sometimes, I simply cannot be bothered to enter small boutiques with a shop assistant waiting to jump up to ask me questions; only for me to leave again a couple of minutes later because there was not much to see. On the other hand, I love meandering through department stores, especially those that offer local brands and a choice of clothing, accessories, and even home décor to browse through. And, I can do so without being bothered and be able to stop and start as I prefer.
In Milan, you will notice the rather swanky Rinacente Milano next to the Duomo. It is a beautiful building and a delight to explore the numerous departments ranging from Italian brands to international names, beauty to fashion, and décor to furniture. The façade even lights up at night and according to specific events.
For a more day-to-day store, head to Coin, a department store whose branches you will find dotted across the city. I like the one in the Navigli neighborhood; it has the perfect size to browse but not get overwhelmed.
Don't Miss: I love the accessories downstairs. From scarves that double as sarongs to travel-friendly bags, it offers designs you will not find at home; mostly Italian quality but not overpriced. And, if you are staying in Italy a little longer, there is a sales page on their website and they deliver to your hotel.
Pro Tip: I don't know about you, but I enjoy foreign beauty stores, such as Parisian pharmacies, Boots in the UK, and a German Drogerienmarkt — where beauty and health products are different from home. Next door to Coin on Viale Coni Zugna, you'll find dm Italia, selling a variety of German brands, health products, healthy snacks, and various Italian goods. It's the perfect place if you've run out of toothpaste or just want to browse for that perfect facial cream.