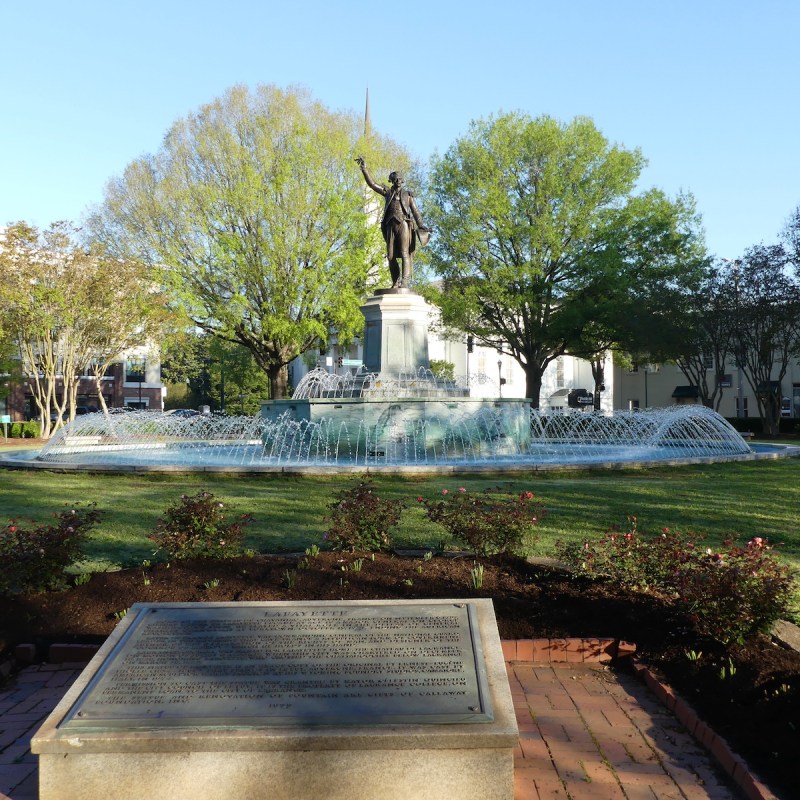 During the American Revolution, Marquis de Lafayette was visiting and remarked that the Troup County countryside of Georgia reminded him of his home, LaGrange. The town, just about an hour from Atlanta, and its surrounding areas are some of West Georgia's hidden gems. These are 10 things to do when visiting LaGrange.
I was hosted on this trip by Visit LaGrange, but all opinions are my own.
1. Lafayette's Statue And Fountain
While you are in the square, there is the famous Lafayette statue and fountain there. The statue is a replica of the Lafayette statue in LePuy, France. At night, the fountain is awash with colored lights.
2. Biblical History Center
LaGrange's history goes back to the Revolutionary War but one location in town will take you further back. The Biblical History Center is a unique attraction, detailing anthropological finds in the Middle East on the Empty Tombs Tour. Our guide, Emily, dressed in biblical costume, walked us through Good Friday to Easter Sunday based on biblical records. She took us into the Biblical Life Artifacts Gallery which gave a glimpse of life in ancient times. It is one of only eight museums in the world of its kind and the only one in the southeastern U.S. that has a collection from the Israel Antiquities Authority. There are 250 artifacts from the collection on display.
3. Hills And Dales
One of the most graceful homes and gardens you can visit in LaGrange is Hills and Dales, the former residence of textile magnate Fuller Earle Callaway and his family. Unlike most mansions, Fuller Callaway, Sr. built the grand Italian villa to complement Ferrell Gardens, a formal boxwood garden dating to 1832. As a boy, he visited then-owner Miss Sarah Ferrell, who built the garden, and he fell under its spell and bought the estate after her death. Today, the formal boxwood garden is among the best-preserved 19th-century gardens in the southeastern U.S. I loved the orchids in the greenhouse. Be sure to look for their cat mascot, Mickleberry.
My guide in the mansion pointed out what was original and the things that had changed in the home over the years.
4. A Walk Through Callaway Mills History
You can take A Walk Through Callaway Mills History with Hills & Dales Foundation Executive Director Carleton Wood and see how Fuller Callaway's heritage still lives on. He made his fortune mainly with cotton mills. Unity Cotton Mill began in 1900 and was his first mill. As his fortune grew, Callaway Mills Company provided jobs to over half the population of LaGrange. He created housing and offered recreational opportunities, healthcare, and education for his workers.
Carlton led us on a 3-mile walking tour through the mill villages of the Unity, Elm City, and Hillside Mills. We were able to enter the old Unity Mill building and Elm City, which is now repurposed to provide storage space for multiple businesses. Carlton pointed out sites of former hospitals, schools, and communal gardens for the workers.
It's a fascinating tour, but do wear comfortable shoes and be prepared for uneven terrain.
5. LaGrange Art Museum
Jail and art don't seem to be synonymous, but in LaGrange, the art museum is housed in an iconic 1892 jail. The exhibits change, so when you visit, it may be different. But my favorite exhibit was Picture This, showing contemporary art featuring happenings in everyday life.
6. Legacy Museum On Main
The museum is home to exhibits featuring the history and development of western Georgia. Artifacts range from a piece of steel from the World Trade Center Twin Towers to the world's oldest cotton bale that was on display at the 1904 World's Fair. The building itself is a work of art with a huge two-story showroom that has ceilings so high they hang timeline banners telling Troup County history from the ceiling, and the banners still float high above your head.
7. Bellevue
Built between 1852 and 1855 by Benjamin Harvey Hill, a Confederate veteran and U.S. Senator, Bellevue is a Greek Revival-style treasure that played host to many influential people, including Confederate President Jefferson Davis. As you walk around the home, there are massive carved wood cornices above the doors and windows, black Italian marble mantles, and plaster ceiling medallions. Much of the home is original, but my guide told me about visiting it as a child when the home was in disrepair, and she was frightened to go into it. Today, it is the home of the LaGrange Woman's Club and is beautifully well-maintained.
8. Wild Animal Safari
Located just south of LaGrange in Pine Mountain, Georgia, Wild Animal Safari features an array of wildlife from all over the world. Get up close and personal with over 550 animals and 70 different species while driving through the 500-acre park. I got to drive one of the safari rental vehicles and it was a blast. The van is painted white with black zebra-like stripes and bars on the windows to keep the residents from climbing aboard with you. There were zebras, buffalo, deer, donkeys, emus, camels, the cutest mamma pig with babies, and so many more animals. Most of them shoved their mouth sideways between the bars to beg for food.
You have other choices to drive through: You can take your own car or the safari bus. Do make sure you get lots of food for the animals when you start. They will not be happy if you don't feed them as you go through. Don't miss the Walkabout Adventure Zoo as well. It's more of a traditional zoo setting and is included with admission. There's a restaurant and souvenir shop on site.
9. Hillside Historic Neighborhood
Hillside neighborhood was the site of many of the mills years ago. Today, it's an artsy community with great food and shops. I visited Home and Thread, a cute consignment shop; Tournesol, filled with unique items that make great souvenirs; Beacon Brewing Co., named after the newspaper circulated for the mill workers years ago; Rock Salt Milk Bar, which serves one-of-a-kind ice cream; The Oink Joint for barbeque; and more.
Pure Life Studios is a live music venue housed in a former warehouse that offers an intimate listening experience with local, national, regional, and international artists. It's a bring-your-own-bottle place.
Pro Tip: If you visit in mid-April, check out the Taste of the Town. It is a blend of music, food, and fun. Maggie MacDonald, co-owner of Pure Life Studios, helps set the music for the event.
10. Great Wolf Lodge
Great Wolf Lodge in LaGrange, Georgia, is a resort for kids and adults. It has kid-friendly activities, dining choices, and an adult-friendly wine-down service. Besides lodging, there are so many things to do here from Magiquest (a gamer's dream) and Ten Paw Alley (a mini bowling alley) to a rock-climbing wall. Kids will think they are in heaven. Adults will enjoy Northwood Oasis, an adults-only indoor waterpark. Of course, there is a waterpark for every age as well.
Where To Eat In LaGrange
From breakfast at Campfire Kitchen and lunch at Hungry as a Wolf Pizza to nighttime cocktails at the Outpost, there are lots of food and drink choices. I had breakfast at the Campfire Kitchen. It's a large, well-stocked buffet. While not cheap — $24 for adults and $12 for kids — it has just about any breakfast food you want.
Taste Of Lemon
For a unique dining choice, try Taste of Lemon, housed in a restored 1892 church. They serve traditional southern dishes, meat, and two or three veggie choices. It's a second-generation family-owned restaurant.
Pro Tip: I loved the roast pork and their special pineapple casserole.
Nutwood Winery
Nutwood Winery sits on a 10-acre farm where you can stroll the vineyard while dining in the Tasting Room & Vineyard Café. They offer light dining, including fruit and cheese boards, salads, and sandwiches. The wines are pretty special with choices including Felicity Raspberry, white zinfandel, Silas Green Apple made with a riesling grape, and Plantation Peach 36. But more than just wine, it's their Nutwood Peach wine blended with Muscadine Moonshine to create a strong 36-proof wine that stands out. There is also relaxing music while you dine.
Pro Tip: My choice here is the quiche and side salad. The quiche has bacon, spinach, and sun-dried tomatoes. I chose a side salad served with our homemade refrigerator pickles.
Gus's Grill
If you want to dine with locals, try Gus's Grill. It's housed in an unpretentious little building just about a block off the square, but the food is fabulous.
Pro Tip: Try the French toast; it is fresh and tasty.
Charlie Joseph's
Charlie Joseph's is just a takeout or counter-order place, but the hot dogs are fabulous. They've been in business since 1920, so you know they've been doing things right.
Mare Sol
If you are in the mood for upscale dining, try Mare Sol. They are locally owned and have been here for over a decade. They locally source most of the food. There is a chalkboard by the bar that shows the local providers. There are lots of craft beers on tap — including ones from Beacon Brewing Co. — over 100 wines, and a full bar for cocktail choices.
Pro Tip: I couldn't resist their shrimp and grits and did not regret it.
Where To Stay In LaGrange
I stayed at the Courtyard LaGrange by Marriott. It was comfortable and had all the amenities I needed, plus free parking. It's right on the square.
Related Reading: