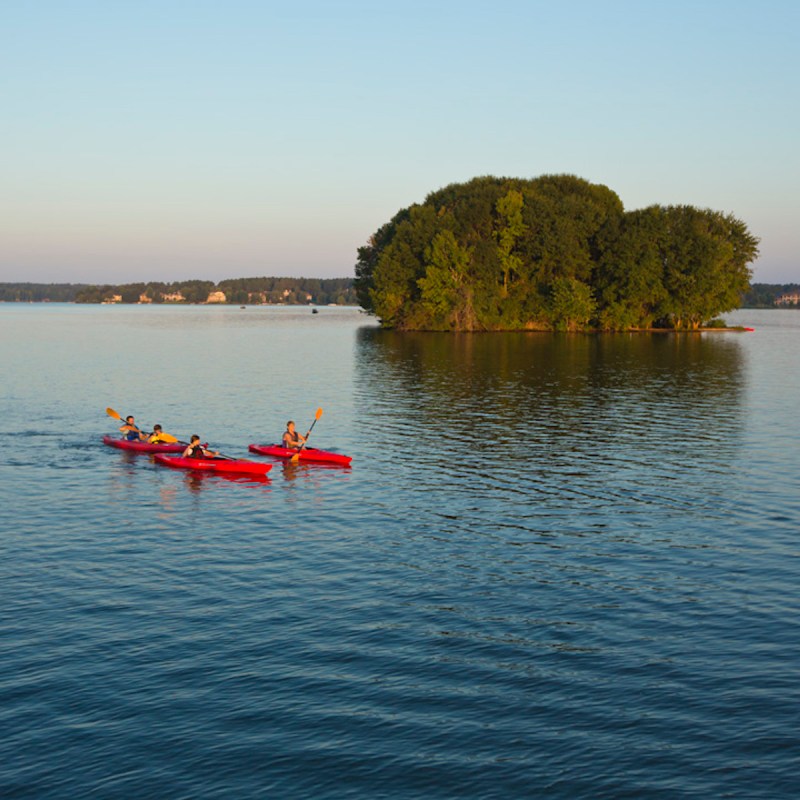 Deep in the piney woods, surrounded by the Oconee National Forest, Lake Oconee feels extremely remote, despite being only an hour and a half from Atlanta. This oasis, in shades of green and blue, contrasts harmoniously with the bright red Georgia clay; the beauty of both the natural landscape and premier golf courses charms visitors and locals alike.
Things To Do In Greensboro, Georgia
Lake Oconee is the second largest lake in the state with 400 miles of shoreline. Swimming, fishing, boating, paddling, and more are part of the fun at Lake Oconee. Several companies rent jet skis, kayaks, pontoon boats, or ski boats. Young Harris Water Sports or Oconee Wild Watersports are the two options that were recommended to our group.
1. Oconee Classic Boats
For a truly luxe experience, check out Oconee Classic Boats located at the Ritz-Carlton Reynolds, Lake Oconee. But you don't have to stay at the Ritz to have access — they will pick you up almost anywhere on the lake. This is a one of a kind experience in a 1930s-era classic wooden boat.
2. Championship Golf At Reynolds Lake Oconee
Lake Oconee has always been a premier golf destination with six championship courses designed by some of the most notable names in the game. Two of the courses consistently rank in America's top 100, and five in Georgia's top 10. The courses encompass 117 holes and are each distinctly different. There's on-site instruction, club fitting, and club building at The Kingdom at Reynolds Lake Oconee.
3. Sandy Creek Sporting Grounds
The Sandy Creek Sporting Grounds is a 100-acre sporting facility designed by world champion shooter Justin Jones. Activities include clay shooting, an air rifle range, and an archery range. State-of-the-art equipment and professional instruction increase your odds of hitting the target, though I definitely could have used a bit more practice with the bow and arrow.
Other ways to enjoy the Sporting Grounds include kayaking, canoeing, or off-roading. The Sporting Grounds is a hilly, wooded area, and a beautiful place to discover your more athletic, adventurous self.
4. Fishing
Sandy Creek empties into Lake Oconee which is groomed for fishing if you don't want to try your marksmanship. It's catch and release of course.
5. Spa Time
I recommend taking some time out at the Ritz-Carlton Spa, a full service retreat with an indoor pool and fireplace, cold-plunge pool, nail salon, barbershop, and beautiful women's lounge area. My masseuse asked me enough questions to expertly judge the type of pressure and massage technique I was accustomed to. As relaxing and therapeutic as my massage service was, I also enjoyed the women's lounge which was just dim enough. It was the perfect place to begin decompression before a service.
Best Restaurants In Greensboro
Most of the fine-dining options in Greensboro are located within the Reynolds Lake Oconee development.
6. The National Tavern
The National Tavern has a casual pub-like environment and golf course views. The same menu is served at lunch and dinner, along with an extensive list of spirits, beer, and wines. The tavern is located on Bluff 9 of the National Golf Course.
7. Gaby's On The Lake
Gaby's serves casual fare poolside with a gorgeous view of the lake at the Ritz-Carlton. Try the lobster grilled cheese, a pizza, or a healthy salad. There is no reservation required.
8. Eighty8 Kitchen And Cocktails
Eighty8 Kitchen serves southern-style cuisine and is open for brunch, breakfast, dinner, and cocktails. Try the traditional cheese grits and buttermilk biscuits. The dinner menu includes fried green tomatoes, fried chicken, and other southern classics. Go hungry. Eighty8 Kitchen is located at Reynolds Lake Oconee.
Beyond Greensboro's Restaurants
What the small town of Greensboro lacks in size, it makes up for in history and southern charm. Dedicate a half-day for lunch and shopping or an evening visit to the local brewery.
9. Ripe Thing
Ripe Thing is a local market with fresh produce, local jellies and jams, and a few gift items. Go for lunch and have whatever they are grilling outside. The menu changes daily. Or have one of their delicious deli sandwiches.
10. Yesterday Cafe
A short walk from Ripe Thing is Yesterday Cafe, serving down-home southern food and their famous buttermilk pie. Yesterday Cafe was featured in Southern Living Magazine.
11. Oconee Brewing Company
Oconee Brewing Co. is located in an old warehouse space near the railroad tracks. The beer is made from the waters of Lake Oconee, minus the chlorine. Though I'm not a beer drinker, I will vouch for Oconee Brewing Company. I also enjoyed the hard cider. The brewery is open Thursday through Sunday.
12. Bend The Trend
If you're seeking some contemporary design advice or furniture for your home, you'll enjoy Bend The Trend. In addition to hand-painted furniture and one-of-a-kind decorative pieces, they carry smaller items like nest candles, soaps, and diffusers. Their motto is, "We want your home to be uniquely you."
Best Hotels In Greensboro
For a luxury weekend in Greensboro, you can choose from the Ritz-Carlton on Lake Oconee or the Reynolds Lodges at Lake Oconee.
13. The Ritz-Carlton, Reynolds Lake Oconee
Ritz-Carlton Hotels are synonymous with luxury throughout the world. The first, and still the only luxury hotel on the lake, the Ritz-Carlton Reynolds, Lake Oconee is ideal for a romantic weekend, a golf getaway, or a family vacation. There are 251 guest rooms with lake or resort views, lakeside cottages, a spa, tennis courts, a marina, and three restaurants. You could easily unpack at the Ritz-Carlton and never leave. You'll also have access to five award-winning golf courses, and the Sandy Creek Sporting Grounds.
14. Reynolds Lake Oconee Accommodations
If you prefer more independent lodging, Reynold's Lake Oconee offers well-appointed condominiums and cottages that will accommodate families or small groups. Various floor plans are available — you can choose between two, three, or four-bedroom cottages with fully-equipped kitchens, entertainment areas, and a view of either the forest, golf course, or lake.
I stayed with a group at the National Club Cottages, a four-bedroom, four-bathroom property located on the National Golf Course. All of the rooms were spacious and furnished in neutral colors and each had a ceiling fan and plenty of natural light. Our cottage had two living areas, one upstairs and one downstairs, plus a porch view of the golf course. We were within walking distance of the National Tavern and the practice facility. I loved getting up early and watching the sun come up on the golf course with a cup of tea in hand.
Pro Tip: There's a nice trail for walking and running that parallels the golf course but diverts you through the pine trees. It's another great way to start the day.
Lake Oconee awakens you to the luxury of nature without being a world away.
Don't miss some of Georgia's premier destinations, including: