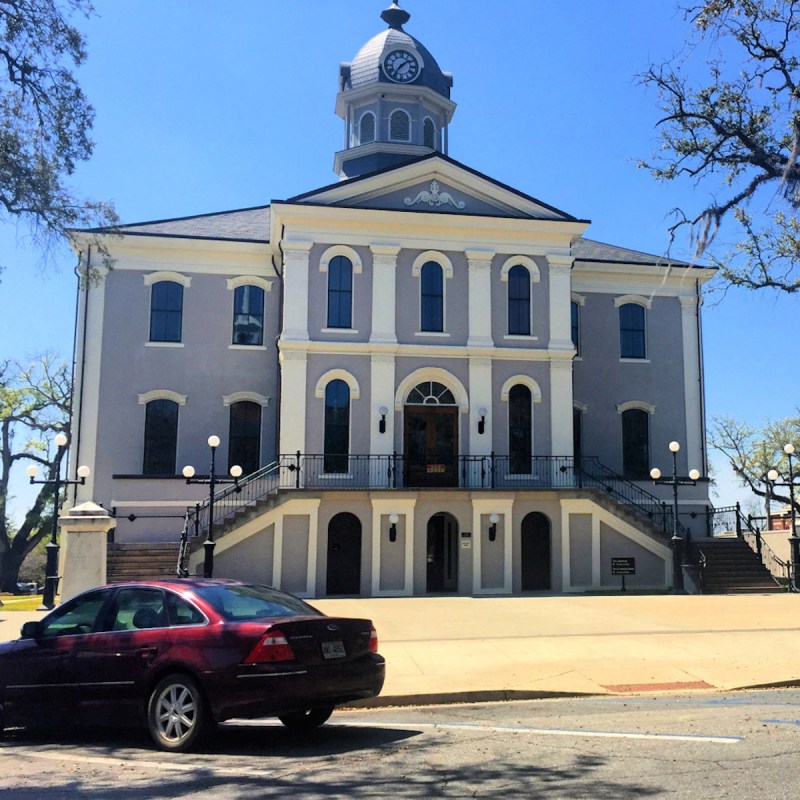 Experience the charm of Thomasville, Georgia, a hidden gem located just a short drive from Tallahassee, Florida. This picturesque city is the perfect embodiment of southern tradition and hospitality. Step into history as you explore the beautiful historic downtown area and stroll down the iconic Broad Street, known as one of the finest main streets in the South.
In the past, Thomasville attracted the wealthy who sought the rejuvenating benefits of its clean, pine-scented air. The city became a popular winter resort, with grand plantations and Victorian mansions adorning its landscape. Those who visited enjoyed the sporting life and opulent country living.
To truly appreciate all that Thomasville has to offer, we recommend traveling by car. This charming southern town has something for everyone and then some. Get ready for an unforgettable experience with these 12 must-do activities in Thomasville, Georgia.
I was hosted by the Taste of Thomasville Food Tour, but all opinions are my own.
1. Thomasville Rose Garden
Come and experience the beauty of Thomasville's renowned rose garden! Known as the "Rose City," it boasts an impressive collection of over 1,500 breathtaking rose bushes. Prepare to be amazed by the diverse range of roses, including unique varieties like Sugar Moon, Belinda's Dream, and Scentimental.
Best of all, admission to the Thomasville Rose Garden is free! Capture stunning photos amidst the vibrant blooms before heading to the nearby park. Take a leisurely stroll along the boardwalk surrounding Cherokee Lake for a perfect day out. Don't miss out on this sensory delight!
2. Sweet Grass Dairy
Discover the finest cheese in the nation at Sweet Grass Dairy, nestled in the heart of downtown Thomasville. I stumbled upon this gem in the pages of Southern Living years ago and have been a passionate supporter for nearly a decade.
Sweet Grass Dairy boasts a charming little shop offering an impressive selection of cheeses, meats, and luxurious packaged goodies. However, the real treat lies in their restaurant and bar area, where you can indulge in an unforgettable charcuterie platter.
I recommend the Taste of Thomasville, featuring Green Hill, pimento, Thomasville Tomme, and Asher Blue cheeses; roasted pecans; artisan crackers; house-made bread-and-butter pickles; and Blackberry Patch preserves. It is sensational! Pair your board with a creative cocktail from the "Liquid Courage" menu or a glass of vino.
3. Historic Downtown Thomasville
Come and discover charming downtown Thomasville! Step back in time as you wander through historic buildings that date back to the 1880s. What awaits inside are over 100 locally owned boutiques, restaurants, coffee shops, and dessert spots, just to name a few.
Uncover a world of unique finds at Fuzzy Goat, where you'll discover a treasure trove of yarn and knitting supplies. Bring some warmth and style into your home with the delightful home accents and children's gifts at Firefly Home. Gear up for outdoor adventures at Kevin's, your go-to for upscale outdoor clothing. Let your imagination run wild at the toy haven, Imagination Emporium. And culinary lovers won't want to miss Relish, where you'll find gourmet food products and top-notch cookware.
Make a pit stop at The Bookshelf, a must-visit for any book lover. And for a truly unique experience, be sure to check out Harden's Taxidermy, the most fascinating shop in the area.
Pro Tip: If you need a unique gift for the man in your life, the feathered bow ties (think pheasant and turkey) at Kevin's Fine Outdoor Gear & Apparel are spectacular.
4. Taste Of Thomasville Food Tour
Discover the mouth-watering experience of the Taste of Thomasville Food Tour. With nearly 15 years in the business, this tour promises to be the best you've ever taken; and that's compared to dozens around the country!
Led by the knowledgeable and friendly owner/operator, Debra Smith, you'll not only indulge in delicious bites from local eateries like Empire Bagel, George & Louie's Seafood Restaurant, Grassroots Coffee, and AJ Moonspin Pizza, but you'll also learn fascinating facts about the town's history and colorful locals.
The walking food tours typically last about 3 hours, covering approximately 1.2 miles. It's the perfect combination of satisfying your taste buds while taking in the charming sights of Thomasville. In addition to the original food tour, other options include the Victorian Sweets, Children's Food Tour, and Taste of Thomasville After Hours. There's something for everyone to enjoy!
5. Farmer's Daughter Vineyards
Farmer's Daughter Tasting Room is a lounge-style space that serves award-winning small-batch wines. The ambience of the tasting room is friendly and welcoming, and the staff is knowledgeable about the products.
Discover the delightful wine selection at Farmer's Daughter, including the flavorsome Saltwater Gypsy, Hellraiser, Knockout, and Bombshell. Trust me, I've personally tried and enjoyed them multiple times. Flights of the complete award-winning lineup will cost you $20.
For the perfect pairing, indulge in the artisan chocolates or savor a cheese and charcuterie board with crackers, honey, jam, and pecans. For an extra treat, don't miss out on special sangria weekends.
6. Lapham-Patterson House
Step inside Thomasville's Lapham-Patterson House, a true gem of Georgian history. This captivating state historic site, cared for by the Georgia Department of Natural Resources, is a must-visit destination. Originally constructed in 1885 for C. W. Lapham, the house boasts eye-catching fish-scale shingles, beautiful inlaid pine floors, and a striking cantilevered balcony.
Prepare to be entranced by the secrets this enigmatic house holds, including an astounding 50 different exits and breathtaking stained-glass windows.
7. South Eden
Indulge in a lavish stay at the enchanting South Eden, a prestigious wedding venue in Georgia that has been standing since 1825. Whether you're seeking a rejuvenating weekend escape or a peaceful retreat, this property offers an array of exquisitely adorned suites and cottages to suit your desires.
Immerse yourself in the charm of South Eden's 1939 pool house, delightful café, ornate gardens with a mesmerizing koi pond, and well-maintained horse stables. Don't miss the chance to visit the iconic Showboat Theater, where the classic movie Gone with the Wind had its exclusive premiere. Experience luxury at its finest and create unforgettable memories at South Eden.
8. Jonah's Fish & Grits
Experience the best of southern cuisine at Thomasville's finest restaurant, Jonah's Fish & Grits. Indulge in Georgia's beloved shrimp and grits, a dish that has garnered multiple accolades and widespread acclaim. Begin your culinary journey with the delectable hush puppies and fried green tomatoes.
For your main course, choose from mouth-watering options like parmesan-crusted grouper or Jonah's chicken alfredo. Don't miss the opportunity to savor their signature white cheddar grits and collard greens. And of course, make sure to save room for a delicious slice of Florida Key lime pie.
Looking for a great spot to relax and enjoy delicious food and drinks? Look no further than Liam's right next door! Whether you're in the mood for a quick bite, a refreshing drink, or a gourmet meal inspired by talented chefs, Liam's has got you covered. Don't miss their amazing artisan cheese boards and mouth-watering quarter sourdough boule with sea salt butter. And make sure to save room for their irresistible lime semifreddo dessert!
Pro Tip: Happy hour is from Tuesday–Saturday, 5–7 p.m. Please note that Liam's is closed on Sunday and Monday.
9. Pebble Hill Plantation
Step back in time at the beautifully preserved Pebble Hill Plantation. Originally a cotton and rice plantation in the 1930s, this historic site is now a fascinating museum. Operated by the Elisabeth "Pansy" Ireland Poe Foundation, the 3,000-acre property and stunning white-washed-brick home offer a glimpse into the area's rich history.
Explore the plantation and immerse yourself in its captivating past. Admire the impressive art collection and marvel at the luxurious Louis Vuitton trunks. But it's not just the interior that will leave you in awe — the grounds are equally breathtaking, surrounded by magnificent magnolias and tall pines.
Once used for cultivating crops like cotton, sugar cane, corn, and tobacco, this former working farm was transformed into a winter home and shooting plantation for the Hanna family from Cleveland, Ohio.
Pro Tip: Pebble Hill Plantation is closed on Mondays, but tours of the house and grounds are available for $20 for adults and $19 for those aged 65 and above and military personnel with ID.
10. Thomasville's Museums
Two significant museums in Thomasville are the Jack Hadley Black History Museum and the Thomasville History Center.
Jack Hadley decided to share his private collection with locals and tourists alike by opening the Jack Hadley Black History Museum, and it has been very well received. The collections on display (covering military history, religion, sports, education, Civil Rights, etc.) include photographs, memorabilia, exhibits, and firsthand accounts by local and regional figures.
The Thomasville History Center was founded in 1952 to share the town's exciting history — the museum opened in 1972. There are thousands of items on display in the museum, and seven historic buildings have been moved there, including an 1896 bowling alley, 1870 log cabin, and 1892 courthouse. You can take a guided or self-guided tour of the museum as you explore the great history of this charming Southern city. I would allow an hour or a little more for this tour.
11. The Big Oak
Come take a memorable photo with President Eisenhower's favorite tree, the majestic Big Oak in Thomasville! Standing tall since 1685, this impressive tree has a massive circumference of 26 feet. To capture your perfect shot, simply dial (229) 236-0053 and strike a pose in front of the Big Oak while the camera clicks from across the street. Afterward, visit the Big Oak's website to download your picture, sorted by the month of your visit.
12. Thomasville's Spas
You'll find a few noteworthy spas in Thomasville, perfect for relaxing and unwinding. Downtown's Metta Day Spa offers the works for spa treatments, including Thai massage, which is a great stretch and unique offering. Blush Salon & Day Spa is another reputable choice, with body treatments, cupping, waxing for men and women, and several types of massage, including neuromuscular and deep tissue.