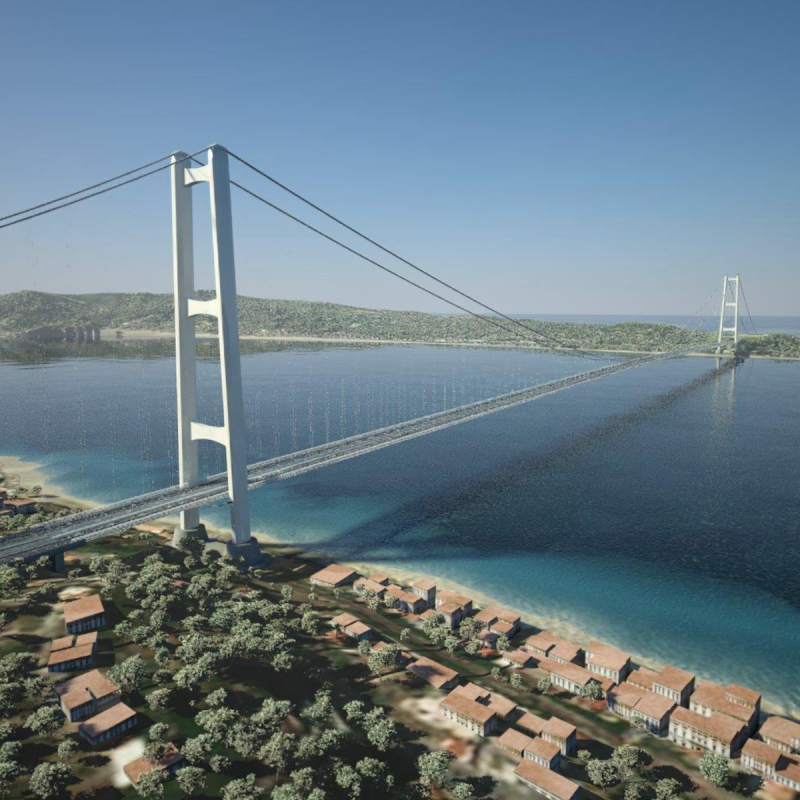 Sicily just got one step closer to being physically connected with southern Italy.
Plans to connect Sicily and the Italian mainland with a bridge across the exceedingly turbulent sea in the Strait of Messina date back to Roman times. In modern times, while technology is available to complete such a bridge, the cost has been considered too expensive.
That is, until now.
Italy's Council of Ministers recently approved a decree based on a proposal from President Giorgia Meloni and Minister of Infrastructure and Transport Matteo Salvini. The decree "introduces urgent provisions" for the construction of a bridge between Sicily and Italy's Calabria region.
Those plans call for building what will be the world's longest suspension bridge, which will have a total length of 3,660 meters (2.27 miles) and a span of 3,300 meters (just over 2 miles).
"The Strait of Messina Bridge is a huge technological challenge," Pietro Salini, CEO at Webuild, an Italian construction and civil engineering company, said in a statement. "Three kilometers of the bridge will be suspended in the strait, a magical place where it will be possible to meet the Magna Graecia."
Magna Graecia, or "Greater Greece," is what the Romans called the coastal areas of southern Italy.
Why The Bridge Is Needed
Although it is currently possible to travel from Sicily to Italy's Calabria region by ferry, Sicily is, for all intents, cut off from Italy and Europe.
Building a suspension bridge would change Sicily's economic status by increasing its amount of global trade as well as making it easier for tourists to visit from Italy and Europe.
Once completed, the new Strait of Messina Bridge will improve the interconnection of Italian roads and rail infrastructure while connecting Sicily's ports with Italian logistics hubs. Importantly, it will also be another step forward in creating a Scandinavian-Mediterranean corridor that connects Finland, Sweden, Norway, and Italy, while passing through Germany and Austria, so people and goods can move through Europe by rail, Webuild explains.
According to feasibility studies from Webuild, once the bridge is completed, an estimated 60,000 trains and 6 million vehicles will travel across the bridge each year. Consequently, the bridge will boost the local economy, but also significantly increase Italy's GDP by increasing both tourism and Mediterranean global trade.
A Massive Engineering Feat
For the project, Webuild leads an international group of companies known as Eurolink Consortium. Webuild itself has a proven track record of completing bridges and viaducts such as those in Italy and Turkey.
"The midpoint of the bridge would have a maximum height of approximately 74 meters (242 feet) above sea level," Michele Longo, Webuild's engineering director, told Italy's Parliament.
"That would guarantee a navigation channel 600 meters (1,968 feet) wide with a clearing of 65.5 meters (215 feet) compared with the world standard of 65 meters (213 feet)," Longo also noted. "So, it would allow for the safe passage of all ships that cross the Mediterranean today."
Longo also explained that the bridge will be built to withstand winds at speeds up to 300 kilometers (186 miles) per hour. The bridge will also be built to withstand the shock of an earthquake measuring 7.5 on the Richter Scale.
The expected cost is also massive.
"The cost of the construction of the bridge — just the structure — is approximately €4.5 billion, which is about 40 percent of the total value of the infrastructure network that would include the bridge and all the related works," Longo continued. "The remaining 60 percent is in fact related to a series of works related to the crossing as well as the upgrading of the road and rail networks in Sicily and Calabria. It also includes a considerable amount of work to prepare the terrain and reduce hydrogeological risks."
Then again, the expected positive impact on the economy is equally impressive.
Approximately 100,000 people will be needed to build the Strait of Messina Bridge, as well as some 300 small- and mid-sized companies. Most of these people will come from regions of Sicily and Calabria where unemployment rates are high, Longo explains.
"The project will have a strong impact on the economy and employment in the region," Longo notes. "It is expected to boost the national GDP by €2.9 billion a year, equal to 0.17 percent of the national GDP."
While you're thinking about it, be sure to read all of our Italy and Sicily content, including: