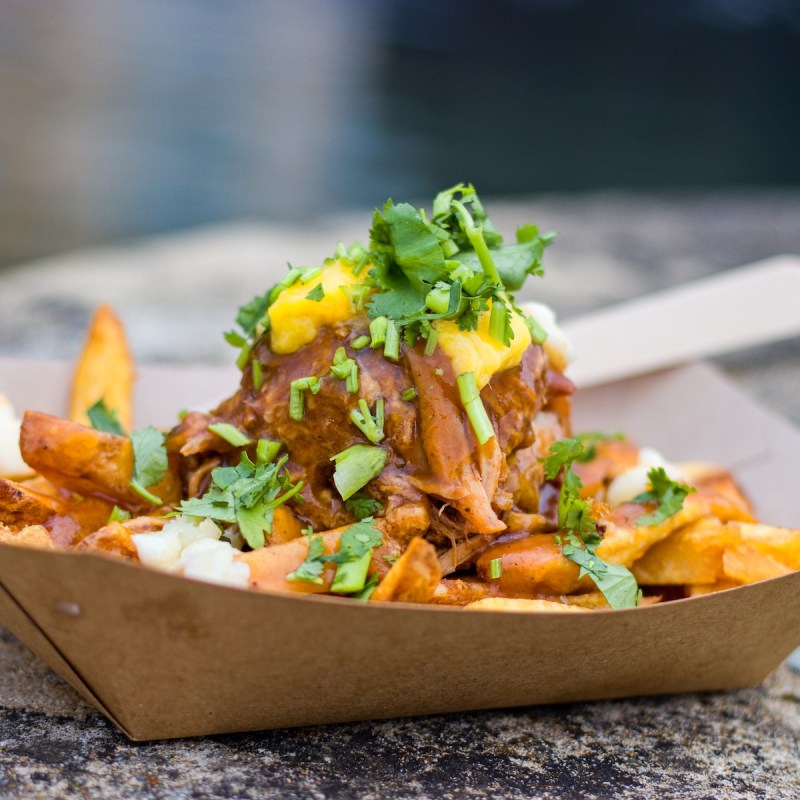 Canadian food is diverse, creative, and utterly irresistible. While some of these dishes might have funny names or unusual origin stories, you can count on one thing: They're going to be delicious! From poutine to pouding chômeur, here are 23 foods you'll have to try when you visit Canada.
1. Poutine
Arguably the most popular dish on this list, poutine originated in Quebec and is now found across Canada. This simple meal of French fries, cheese curds, and homemade gravy is pure Canadian comfort food.
2. Fries-Dressing-Gravy
Newfoundland's answer to poutine is fries-dressing-gravy. Just like poutine, French fries and delicious gravy are used, but instead of cheese curds, the dish is topped with dressing (the kind of dressing or stuffing you'd have with your Thanksgiving turkey). All dressing in Newfoundland is flavored with summer savoury and you can find the herb everywhere. It's even sold at gas stations!
3. Fries-With-The-Works
This is Prince Edward Island's answer to poutine and it's a delectable, messy experience. Fries-with-the-works is a comabination of French fries (always made with PEI-grown potatoes) with gravy, ground beef, and canned peas.
4. Rappie Pie
More of a pie than a casserole, rappie pie is popular throughout Acadian communities in New Brunswick, southern Nova Scotia, and Prince Edward Island. Simmered meat (usually chicken) is topped with potatoes which have been grated, dehydrated, and then re-hydrated with meat stock to form a pudding-like main dish.
5. Jigg's Dinner
This Newfoundland classic is a one-pot boiled dinner that consists of salt beef, turnip, cabbage, potato, carrot, pease pudding, and sometimes even blueberry duff (a kind of blueberry bread that cooks on top of the pot in the steam). No Sunday family gathering in Newfoundland is complete without it.
6. Digby Scallops
Arguably the finest scallop in the world, the Digby scallop comes from the deep, cold harbor of Digby, Nova Scotia. The powerful tides here mean that the scallops have plenty of food coming at them twice a day and they're getting a workout in the churning water. The result is large, sweet, tender seafood that's as fresh as can be.
7. PEI Oysters
You can't go to a serious fine-dining establishment in North America without seeing oysters from Prince Edward Island on the menu. Restaurants across the island offer "buck a shuck" deals at happy hour and are eager to show off their best regional catches.
8. Smoked Salmon
Whether it's from Nova Scotia or British Columbia, Canadian smoked salmon is delicious and affordably priced. Keep an eye out for "salmon candy", strips of smoked salmon that are almost jerky-like in texture and lacquered with maple syrup. It is highly addictive.
9. Montreal Smoked Meat
A deli meat made by salting and curing beef brisket with spices, Montreal smoked meat is sometimes compared to corned beef or pastrami, but the result is more flavorful, with less fat and sweetness. It's usually served up on light rye bread with mustard and some pickles on the side.
10. Tourtière
A thick, hearty meat pie, tourtière is usually made with minced pork, veal, beef, or even wild game and potatoes. It's a traditional part of Christmas and New Year's Eve celebrations in Quebec and there are regional variations across the province, as well as the country. Tourtière is also especially popular in New Brunswick and Manitoba.
11. Bagels
Sorry, New York. If you want a proper bagel, you'll have to come to Canada. Montreal-style bagels are sweeter, thinner, and denser than their American counterparts. They're boiled in honey-sweetened water before being baked in a wood oven. And they're phenomenal!
12. Ketchup Chips
Yep, these are potato chips that are flavored with a ketchup-esque seasoning. Beloved by most Canadians, the flavor is strong, tangy, sweet, and salty. They're a national classic.
13. All Dressed Chips
You didn't think that snack-obsessed Canadians would have just one chip flavor that's all their own, did you? All dressed chips are a mix of ketchup, barbecue sauce, sour cream and onion, and salt and vinegar flavorings. Fans say that they're even better than the ketchup chip.
14. Bakeapples
Known in Scandinavia as cloudberries, bakeapples look a bit like a golden raspberry and they're the most-prized food in Newfoundland. You'll find bakeapples in jam, jelly, sauces, cheesecake, marinades, and so much more. But the one place you likely won't find them is in the wild. Newfoundlanders guard their favorite bakeapple patches with fierce secrecy.
15. Moon Mist Ice Cream
An "out of this world" combination of banana, grape, and bubble gum ice cream, Moon Mist is an Instagram-worthy colorful treat that's absolutely dreamy. It's been famous in eastern Canada for decades and is now just slowly starting to make its way to the rest of the country.
16. BeaverTails
Never fear! No rodents are involved in the making of BeaverTails. This whole wheat pastry treat, which originated just outside Ottawa, requires the dough to be stretched into a flat, oblong shape before it's deep fried and covered with yummy toppings like cinnamon sugar or chocolate and banana. If you use your imagination, the shape looks a bit like the tail of a beaver. You can find them across Canada but they're best enjoyed while skating on Ottawa's Rideau Canal on a crispy February afternoon.
17. Saskatoon Berry Pie
The Saskatoon berry is a bit of an enigma. Native to western Canada, Saskatoons look like blueberries, are classified in the apple family, and taste a tiny bit nutty. They're wonderful no matter how you eat them but perhaps the best way is to indulge in a large slice of Saskatoon berry pie. Maybe even add in a big scoop of vanilla ice cream on the side.
18. Nanaimo Bars
These non-baked layered bar cookies are named for the British Columbia city of Nanaimo, where they are believed to have originated. With a bottom layer of butter, cocoa, graham crumbs, nuts, and coconut, a middle filling of thick custard, and a chocolate ganache topping, Nanaimo Bars are incredibly sweet, gooey, and intoxicatingly tasty. No wonder they often top lists of the best desserts in the country.
19. Butter Tarts
These rich, ultra-sweet, and sticky tarts feature a buttery crust and a filling that's very similar to pecan pie or treacle tart. (Nuts and raisins are optional and, depending on who you talk to, controversial.) They're especially popular in southern Ontario, where there's a Butter Tart Trail.
20. Blueberry Grunt
Blueberry grunt is a stick-to-your-ribs concoction of cooked wild blueberries topped with biscuit dough. Imagine a sweet version of chicken and dumplings and you'll get the idea! They're the perfect dessert to bring to a late summer potluck. Rumor has it that the funny name came from the sound the fruit makes as it cooks.
21. Pouding Chômeur
Emerging from the heart of the Great Depression in Quebec, pouding chômeur is a simple, self-saucing cake that's flavored with maple syrup or caramelized sugar. In especially frugal times, stale bread would stand in for the cake batter. The magic in this humble dish is the preparation. The sauce is poured over the cake batter before the dish goes into the oven. As things cook, the sauce slowly sinks to the bottom of the pan where it becomes a gloriously sticky mess and the now-flavored cake batter rises to the top.
22. Fat Archies
The funnily named Fat Archies are thick, soft molasses cookies from eastern Canada. Don't confuse them with gingerbread. Fat Archies are thicker, have few spices, and are designed to almost be a meal when served alongside a strong, milky cup of tea.
23. Maple Syrup
Sure, you can find maple syrup in many countries but Canadians argue that we make it best! In early spring, visit a sugar shack (maple syrup-making cabin in the woods) to try fresh syrup, taffy, maple-baked beans, maple-glazed ham, all the pancakes you can eat, and more.