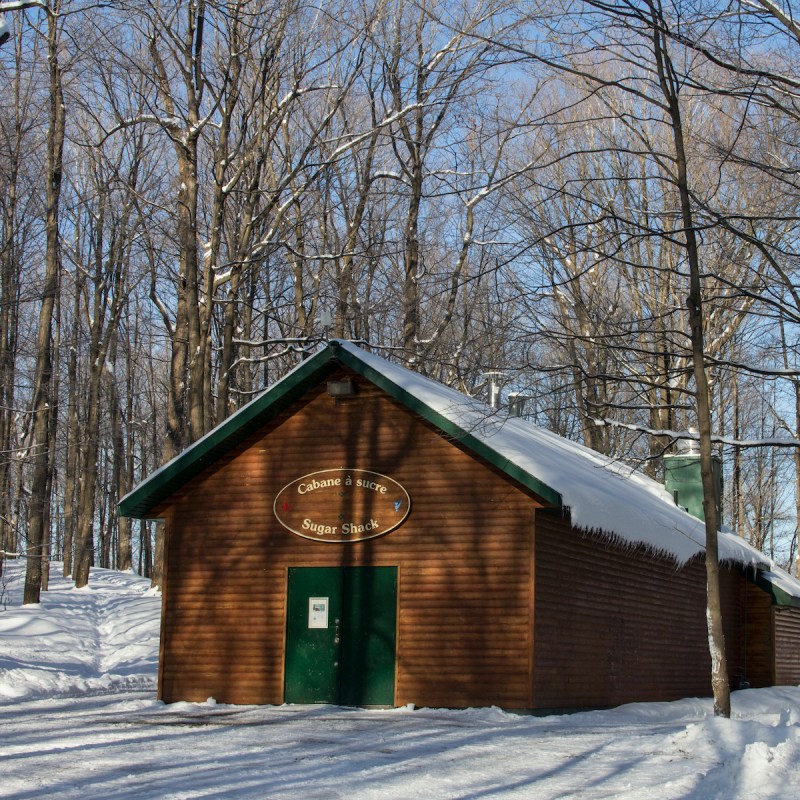 It might sound like a silly name, but visiting the sugarbush is something that Canadians take very seriously. A sugarbush (also known as a sugar shack or cabane a sucre in French) is where maple syrup is made and sampled, and for many Canadians, an annual visit is as much a springtime rite of passage as seeing the first flowers or hearing the first bird sing.
Maple trees are a big deal in Canada. This hearty, handsome species features prominently in the country's culture. A red maple leaf is Canada's symbol, as seen on the flag and in thousands of logos, designs, and pieces of art across the country. 10 of the world's 150 different maple tree varieties can be found in Canada, and the sugar maple — located primarily in central and eastern Canada — is responsible for the majority of maple syrup production in the country.
What Is A Canadian Sugarbush?
Serious business takes place in a sugarbush building. This is where the sap collected from maple trees is transformed into maple syrup and maple sugar. The thin, clear, watery sap is distilled and evaporated until a thick, golden, concentrated syrup remains. It takes 40 liters of sap to get just one liter of maple syrup. At a few sugarbushes in Canada, all this excess evaporating liquid is actually captured to make a kind of drinking water with a light maple flavor, which proponents claim has less sugar and more electrolytes than coconut water. However, while it has a growing fan base, maple water is still a relative rarity at sugarbushes. The main focus is on the finished product, maple syrup.
In its most basic form, a sugarbush is a place where you can watch maple syrup being made and purchase the finished product for home use. But that's just the beginning of the experience!
Where Are Canadian Sugarbushes Located?
If you asked a group of Canadians to describe a typical sugarbush, they'd describe a humble looking building, maybe resembling a log cabin, that's situated in a rural area surrounded by forest. And, for the most part, they'd be right! But there are sugarbushes located in urban centers and there are sleek, modern sugar shacks that don't resemble "shacks" in the slightest. But for the most part, the look is rustic and rural.
One remarkable sugarbush embraces a traditional setup in a very unexpected spot. The Vanier Sugar Shack (in the process of being rebuilt as of May 2022) has the distinction of being the world's most urban sugar shack. It's located in downtown Ottawa, Canada's capital city, and is only about 2.5 miles from Parliament Hill. It's part of a non-profit museum complex, and scores of volunteer maple farmers collect the sap and produce maple syrup. I've also read about sugarbushes set up in provincial parks, city parks, government estates, and more.
The classic Canadian sugarbush experience that travelers and locals alike enjoy is most commonly found in Ontario, Quebec, and New Brunswick. However, there are sugarbushes in every Canadian province, even out west where the prized sugar maple tree is rare. Producers there rely on the Manitoba maple and the bigleaf maple.
Sampling Sweet Syrup
You better bring your sweet tooth when you visit a sugarbush. You'll have the chance to sample maple syrup and to purchase a number of maple delicacies to try. Most sugar shacks offer taffy-on-snow. Fresh maple syrup, often still slightly warm, is poured on clean snow that's been prepared on a tray or table. Staff move quickly to wrap the rapidly-cooling syrup around a popsicle stick and the result is the consistency of taffy — albeit with some crunchy ice crystals. Taffy-on-snow is amazingly delicious, and I suspect it's easily the most popular treat at a sugarbush.
Bigger sugarbushes often have an on-site restaurant. These range from a collection of picnic tables under a tent where all-you-can-eat pancakes are offered (complete with maple syrup, of course, and usually breakfast sausages or maple-glazed hams) to full-scale operations. The biggest sugarbush restaurants offer a huge breakfast buffet, complete with pancakes, waffles, French toast, sausages, ham, bacon, a variety of eggs, maple baked beans, and regional specialties (like tourtiere meat pies in Quebec or Acadian-style crêpes râpées in New Brunswick). More and more sugarbushes are embracing creativity, and you'll occasionally see spots that offer vegan and gluten-free options.
Exploring The Farm
As you might imagine, sugarbushes are large properties, and there are ample spots to explore. Many offer hiking trails, snowshoeing excursions, play areas for children, and horse-drawn sled rides. There might also be property tours, heritage demonstrations, petting zoos, and sledding zoos. These activities range from free to having small a la cart charges to being all included with one general membership fee. There are often one or two weekends during the maple season (which typically runs from mid-February to mid-April, depending on the region and weather conditions) which are designated as extra festive and there'll be special activities, like face painting for the kids.
Shop For Maple Goods
Syrup and maple water are just the beginning when it comes to maple-flavored products that Canadians love. Most sugarbushes have an on-site shop that sells a long list of maple products, including homemade fudge, maple butter (which is a whipped maple syrup product whose consistency is somewhere between butter and frosting — try it once and you will never be able to eat crepes without it), maple sugar, and hard candies. Depending on the property, you might also see their own farm's baked goods and jams, jellies, and preserves. There are often maple products from other companies — sometimes other small sugarbushes and sometimes large brand names.
Everyone has their own opinion about what's the best value purchase, and I personally tend to go for larger containers of maple syrup in plain packaging. You'll pay a lot less per ounce for a big container in a plain plastic bottle than you will for a small amount in a decorative glass maple leaf bottle. Another excellent purchase is maple sugar. It makes for a good travel-friendly gift. You don't have to worry about luggage leaks, and it can be used for baking, making sauces and glazes (even savory ones), and adding extra zip to coffee and cocktails. Personally, I'm not a huge fan of maple-flavored teas or coffee, as the underlying coffee beans and tea leaves never seem all that exceptional to me. I'd rather have a classic tea or coffee and then add in my own maple sugar, but that's just my own preference.
What's Next For This Classic Canadian Tradition
I recently spoke with the team at Fulton's Sugar Bush and Maple Shop, which is located just outside Ottawa. Not long ago, they made the difficult decision to close their long-established Pancake House Restaurant and convert the space into a larger retail store that includes many of the items you'd need to have the classic sugarbush breakfast at home (like frozen maple baked beans). You can still enjoy lots of yummy things on site, just not in the classic restaurant format. They told me, "We have some picnic tables on the property, and invite you to add your own lunch/snacks as well." I suspect that their story is one that many sugarbushes will soon share. Operating a restaurant is a challenging business at the best of times, and the pressures of the pandemic have led many established sugarbushes to turn to new models.
However, in some cases, the pandemic has also allowed some sugarbushes to increase their customer base. In Quebec, some sugarbushes actually credit pandemic restrictions with saving their business as it forced a new service model in the form of takeout, a version of classic Quebec "cabane a sucre" in a box. Customers can enjoy the traditional, maple-laden foods they adore beyond just the maple sugar season (and they could do so without having to bundle up their entire family for the journey).
For more to see and do in Canada, explore these articles: