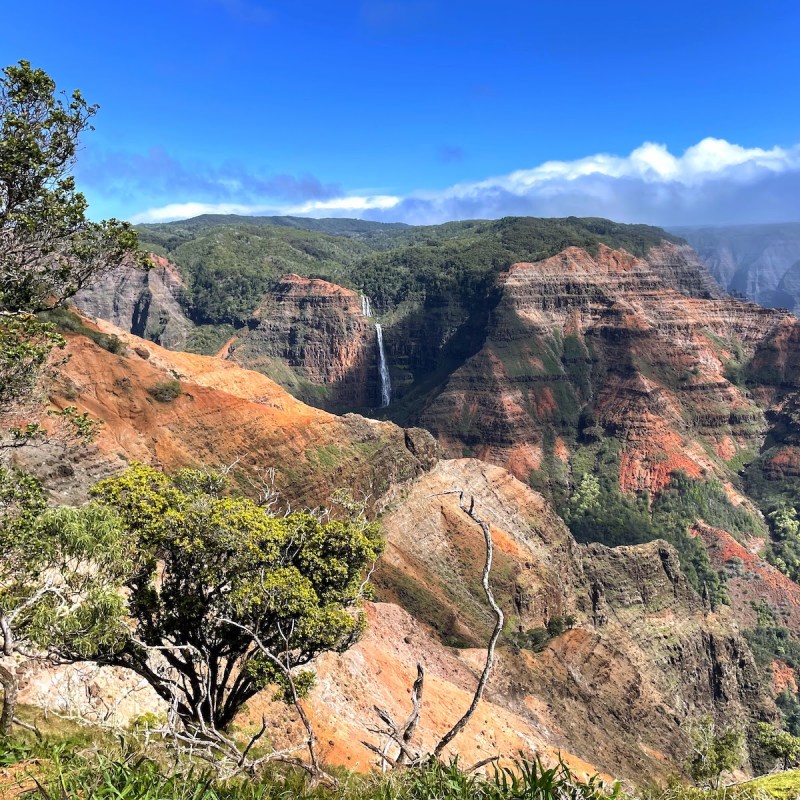 Spending your whole Hawaiian vacation in Oahu is perfectly fine, but what if you want to visit another island? Which one should you choose?
While I love Oahu and have plenty to do there, I had been curious about visiting Kauai. Kauai is known as the "Garden Isle" and for good reason. Its plush and absolutely breathtaking scenery offers a whole different experience from Oahu. You'll find Kauai much less congested and less commercialized. You won't see any major highways here.
The desire to see the majestic Waimea Canyon — labeled the "Grand Canyon of Hawaii" — and experience the easygoing vibe and natural landscape pushed my daughter and me to take a day trip from Oahu to Kauai.
Things To Do In Kauai
Kauai is a small island. The speed limit is 55 and there are only two-lane roads, so getting around takes time. You also need to consider the time it takes to deal with your rental car and get to and from the airport.
These suggestions are things you may be able to squeeze in your full day depending on your time frame.
Waimea Canyon
Waimea Canyon may not be as old as the mainland's Grand Canyon, but Hawaii's version is no less distinguished and awe-inspiring. I consider this a must-see.
It's 14 miles long, a mile wide, and 3,600 feet deep. There are many places to pull off along the road to witness its fascinating color palette. Take your time to admire its beauty.
The drive from Lihue to Waimea Canyon is about 1.5 hours, depending on traffic. Resist the urge to stop at every lookout point going up. Instead, drive all the way to the end of Highway 550 to Pu'u O Kila Lookout first, and stop at the lookouts going back down. Getting up to this lookout early in the day will help with your chances of having a clear view down to the coast. Bring a jacket along. As you drive up the mountain, it can get chilly and very windy.
Now that you've been to the top, you can make your way back down. There is a fee of $5 per person, or $10 per car, payable at a kiosk at the main parking lots. Keep your ticket on your dashboard. The main stops are Kalalau Lookout (restrooms available), Waimea Canyon Trail, Waipo'o Falls Lookout, and Waimea Canyon State Park. Some lookout sites have ramps and some have stairs.
Don't miss the other pull-off sites along the road. Some have better views than the main points and all offer a different vantage point of the canyon.
The last stop on the way down was to see the small but photogenic Red Dirt Waterfall. It's hidden, but you can enter it into Google Maps. You have a better chance of spotting it on the way up the canyon, so remember where it is.
Pro Tip: Plan about 4 hours once you pick up your rental car and head to the canyon to come back to Waimea town after. Add more time if you want to do any short hikes.
Waimea Town
It took us almost 2.5 hours to make our way back down to Waimea from our first stop at Pu'u O Kila Lookout, including all our stops on the way back down from the canyon. By this time, you'll want to stop and enjoy a little exploring in Waimea.
You'll probably need a refreshment and JoJo's is the ideal spot to find shave ice in Waimea. Chances are there will be a line. It's small inside but worth the wait. They have some great original flavors. If you need a chocolate fix, order JoJo's Special.
My favorite store in Waimea is the Red Dirt Shop. This is one of the best concepts ever. The popular t-shirt shop takes plain white shirts, dies them with the famous red dirt found in Kauai, screen prints them with fun designs, and sells them. They also sell lots of souvenirs and other items.
Wailua Falls
You may fit in a quick drive to Wailua Falls to cap off your day in Kauai. It's only about a 15-minute drive from Lihue. You can see the waterfall from the road, so this may make a fabulous quick stop. This double falls is one of the most beautiful on the island.
By now, it's probably time to head back to dropping off your car and going back to the airport. Taking a day trip from Oahu to Kauai is so easy to do. You get a little taste of the "Garden Isle" with some inspiration to return to explore more next time.
Kaua'i Coffee Company
On your way back to the airport, take a detour and stop at Kaua'i Coffee Company if you are a coffee fan. Hawaii is famous for fabulous coffee and here you can walk through the orchards and taste some from their own brand.
Poipu Beach And Puka Dog Hawaiian-Style Hot Dogs
Poipu Beach is a great spot to dip your toes in the surf before you catch your plane back to Oahu.
While you're here, head across the street to the famous Puka Dog. The name comes from the distinctive Hawaiian-style sweet bread bun with a hole in the center for the dog, which is called a "puka." Add your choice of sauce, the dog, and your choice of six relishes. I recommend the coconut relish; it's a fun flavor explosion. We figured if Anthony Bourdain featured it on his No Reservations show and Travel Channel named Puka Dog one of the "Top 10 Best Hog Dog Stands In America", it is certainly worth a stop.
How To Get There
There are two main choices to fly between the islands of Oahu and Kauai: Hawaiian Airlines and Southwest. Hawaiian offers more choices for departure and return flights daily and is generally cheaper than Southwest. Also, they have earlier and later flight choices as well, with the last flight leaving Kauai after 8 p.m. That gives you plenty of time to see some fabulous sights. To give you an example, my daughter and I flew out from Oahu at 7:30 a.m. on a Thursday, landed at 8:10 a.m., and returned from Kauai on the 8:25 p.m. flight for only a little under $170 round-trip for both of us.
Getting Around Kauai
Kauai has very limited public transportation options. There is a taxi service, Uber, some shuttle options, or private driver options. I feel the best way to get around Kauai for a day's visit is to rent a car. I rented through Turo, but you can rent through a major rental company. I chose Turo because of the price, availability, and ease of pick-up and drop-off.
Turo is like the Airbnb of car rentals. Look for an All-Star Host with excellent reviews. You can narrow down your search by price. I would suggest renting a car with unlimited miles included so you don't have a chance of added fees. You will add a level of insurance once you reserve. The total price cost me around $90 including the extra insurance.
Pro Tip: Be sure to return your rental with a full tank and a clean interior to avoid extra fees.
Related Reading: