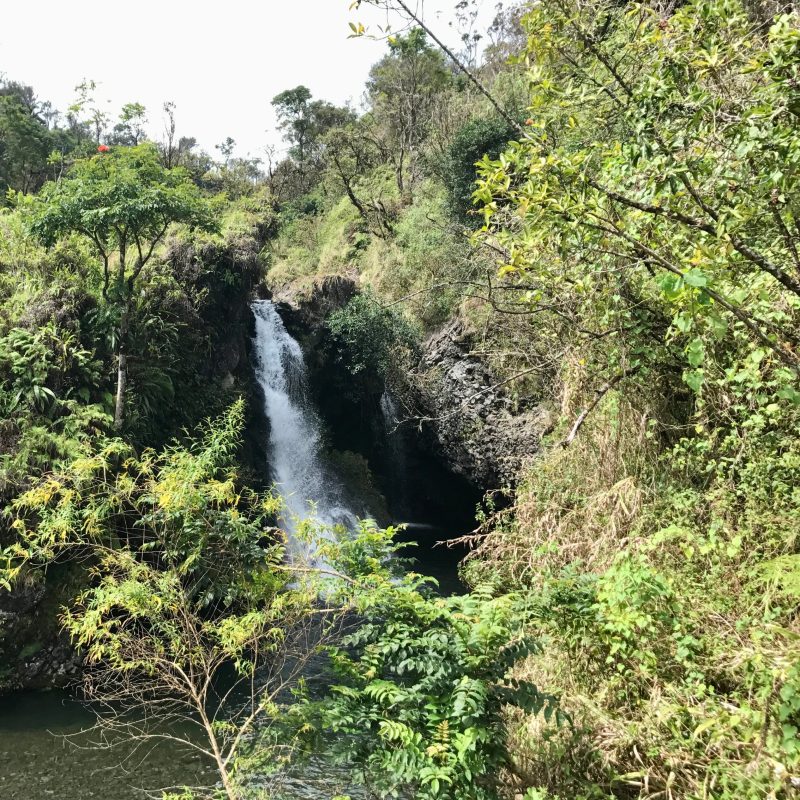 Dreams of Hawaii conjure images of tropical paradise, romance, adventure, endless holidays, long walks on white or black sand beaches, palm trees swaying in the breeze, surf crashing against rock, and waterfalls. Waterfalls' magnificent power and majesty mesmerize both young and old. When visiting Hawaii, it often feels like there's a waterfall around every bend, whether spontaneous drainage following rainfall or the rushing water from a spectacular height. Hawaii runs the gamut of waterfalls across its islands, from drizzles to deluges, and many of them are named.
It may not surprise you to learn that the best time to visit waterfalls is after the rain. When chasing waterfalls after the rain, make sure you take appropriate rain gear and wear closed-toe shoes with good tread.
Best Maui Waterfalls
Maui is of the most popular islands for accessible waterfalls, and taking the 53-mile road to Hana allows you the opportunity to visit and experience several waterfalls in one day.
1. Upper Hanawi Falls
Hanawi Falls, a 200-foot waterfall located past mile marker 24 in the Ko'olau Forest Reserve, flows particularly well following a good rainfall. The waterfall flows into the first pool, then continues as a second, lower waterfall. It's easily accessible by foot, and many enjoy spending time here. If you plan to get in the water, brace for the cold.
2. Makapipi Falls
On the road just a little past Hanawi Falls, Makapipi Falls flows beneath the bridge at mile marker 25. What most people remember about this waterfall is the opportunity to look down over the cascading stream from the bridge or to take photos from the road.
3. Seven Sacred Pools Falls (Ohe'o Gulch Pools and Falls)
Once you reach Hana, after a reported 617 twists and turns, you may want to stop by and see Charles Lindbergh's grave at the Palapala Ho'omau Church cemetery. It's said that when he received a terminal cancer diagnosis, he said he'd rather spend 2 days here in Maui than he would 2 months in a New York hospital.
Above the Seven Sacred Pools at the head of Ohe'o Gulch lays Waimoku, dropping 400 feet into a boulder-laden pool.
Don't expect to swim here in the Seven Sacred Pools. In addition to the risk for Leptospirosis, rockslides are a very real concern and have caused multiple deaths.
4. Honokohau Falls
With water falling up to 1,100 feet, Honokohau Falls is considered the tallest of Maui's waterfalls. It's best accessed on a helicopter tour as it's tucked deep in the West Maui Mountains.
The Big Island
The largest island in the Hawaiian chain, the Big Island was created by five volcanoes. Three of them are considered active today, and one volcano is still flowing. The Hilo side of the island is most popular for waterfall sightings, while the Kona side is more popular for coffee stops and shopping.
5. Rainbow Falls
One of the closest waterfalls, just 1.5 miles from historic downtown Hilo, Rainbow Falls' 80-foot waterfalls cascade over a basalt ledge into the Wailuku River, said to be Hawaii's longest river. From the parking lot, it's easily accessible for wheelchairs, an easy 0.2-mile walk to the lookout.
6. Pe'epe'e Falls (aka "PeePee" Falls)
Just past Rainbow Falls at mile marker 1, take the right fork for about a mile. These are sweet little falls, and it always makes newbies laugh to see there are restrooms at the park.
7. Akaka Falls
One of our early stops off the cruise ship in Hilo, the 442-foot Akaka Falls plunge into a gorge with room to swim and laze. While it's only 0.4 miles from the parking lot, the stairs make it less accessible than many of the other waterfalls on the island.
8. Hi'ilawe Falls
Hi'ilawe Falls, inside Waipio Valley, are best viewed by helicopter.
9. Onomea Falls
Onomea Falls are multiple small, tiered waterfalls nestled in the Hawaii Tropical Botanical Garden just 4 gorgeous miles from Onomea Bay. If you're interested in a leisurely drive with a nice photo opportunity at the end, this is the place to stop.
Kauai
On the "Garden Isle" among the Hawaiian chain, it's difficult to see waterfalls from Waimea Canyon without a strong photographer's lens. You'll find many taking the river trip up to the Fern Grotto or checking these others out.
10. Wailua Falls
Wailua Falls may be the most famous of all the island's waterfalls as it was featured in the 1977-1984 television show, Fantasy Island. Watch for "da plane" as the falls split into two and plummet 173 feet into their pool of sparkling, clear water. Many people remark they wish that Ricardo Montalban – either as himself or his mysterious, mystical character, Mr. Roarke – would suddenly appear and make their wishes come true. With Wailua Falls right next to a parking lot a big hike isn't needed. What more can you wish for in paradise?
11. Waipo'o Falls
To reach Waipo'o Falls, you'll head over to the Halemanu Canyon rim, take a 2-mile hike along the Waipo'o Falls trail, and witness the stunning Kokee Rainforest. You may smell this 800-foot waterfall prior to hearing or seeing it. Awapuhi ginger and wild goats are native to the area. Do not approach or feed the goats.
12. Kalihiwai Falls
How about a horseback ride to a waterfall? Kalihiwai Falls, with an 80-foot drop, is a multi-tiered waterfall on the north-central coast of Kauai on the Kalihiwai River. Most easily accessed from the Princeville Ranch (which has library-worthy information on the area), hike or ride for another great and unique Hawaiian experience.
13. Opaeka'a Falls
From Wailua River State Park, follow the Opaeka'a Stream to the eponymous falls. At 40 feet wide, these appear to me to be the "rectangular" type of waterfall, and, at 151 feet tall, the cascade into the hidden pool captures the imagination. What makes the kids laugh (children and grandchildren alike) is the story behind the name. In Hawaiian, Opaeka'a translates to "rolling shrimp." This was a quite literal name for the falls as freshwater shrimp once lived in this river and would tumble over the falls.
14. Mount Waialeale Waterfalls
The truly fit – especially for those staying on the island overnight with the ability for an early start and a 4×4 vehicle – may be interested in these waterfalls, which cascade nearly 3,000 feet and require a nearly 5-mile trip in and out (most recommend leaving 12 hours for the hike itself). Be sure to read the most recent online reviews to confirm the end of the path is passable before you go.
Those of us that are not quite that fit or don't have the time to spare can take a helicopter to Mount Waialeale (elevation 5,148 feet), one of the wettest spots in the world (372 inches of rain annually, which equates to 31 feet of rain) and one of the highest places on Kauai.
The famous Na Pali Coast helicopter tour takes you to two stunning waterfalls not easily accessible by land, Hanakoa Falls and Hanakapiai Falls.
15. Hanakoa Falls
Hanakoa Falls is the taller of the two Na Pali Coast waterfalls at 1,000 feet. You won't be able to see that entire length though, as the natural environment and elevation changes allow you glimpses in partial tier sections.
The falls are located about 6 miles down the Kalalau Trail if you decide to make the hike. Be sure to have sturdy boots and a permit in hand before you go.
16. Hanakapiai Falls
Hanakapiai Falls, a 300-foot waterfall that drops into an emerald pool unlike any other I've seen in Hawaii, has a bit of branching of water at its base. I couldn't quite see if this was due to a rock outcropping, but the wind wasn't too high, so I suspect so.
If you're on a private helicopter tour, see if the pilot can take you past Hanakapiai Beach and see if there are any surfers on its gnarly waves.
Molokai
Off the path of most cruise ships, you'll have to make a special effort to visit these waterfalls in the Halawa Valley.
17. Moa'ula Falls
Near Kalaupapa, this challenging nearly 4-mile hike is popular for those that seek active beauty. The double-tiered, 250-foot waterfall is on private property, so for peace of mind and a better chance at not only reaching the falls but learning more about Hawaii's culture and history, schedule a tour. They leave every morning, except Sunday, at 9 a.m.
18. Hipuapua Falls
Hipuapua Falls, a 4.5-mile roundtrip hike, is more difficult to access than Moa'ula. You must join a guided hike with a local tour operator to access this private land. If you don't want to take the hike to see these 500-foot cascading falls, check for the lookout points along Highway 450.
Oahu
Many people arrive and depart from the island of Oahu. With more than one million people in Honolulu and Waikiki, it's the most populated of the islands. You needn't leave this island to find fabulous waterfalls, but it's wonderful to come back and see still more.
19. Waimea Falls
The sound and smell of Waimea Falls draw you in. The falls are like a fresh rain and frequently sport a rainbow, which makes sense considering the natural rain-fed 45-foot waterfall showers into the 30-foot deep pond. Swimming, while allowed, requires a safety status check depending on the weather. Call (808) 638- 7766 before your visit.
20. Manoa Falls
Manoa Falls, with its 150-foot waterfalls, is found about 15 minutes from Honolulu at the end of a shaded 1.6-mile walk. Like many in Hawaii, it's the horsetail waterfall type where the water doesn't lose contact with the underlying rock until nearly the end. Don't swim there, though, due to the risk of Leptospirosis. The Manoa Valley is a rain forest, so even if it's dry and sunny in Waikiki, expect the path to be damp and muddy and wear closed shoes with tread.
Before your next adventure in Hawaii, check out these articles: