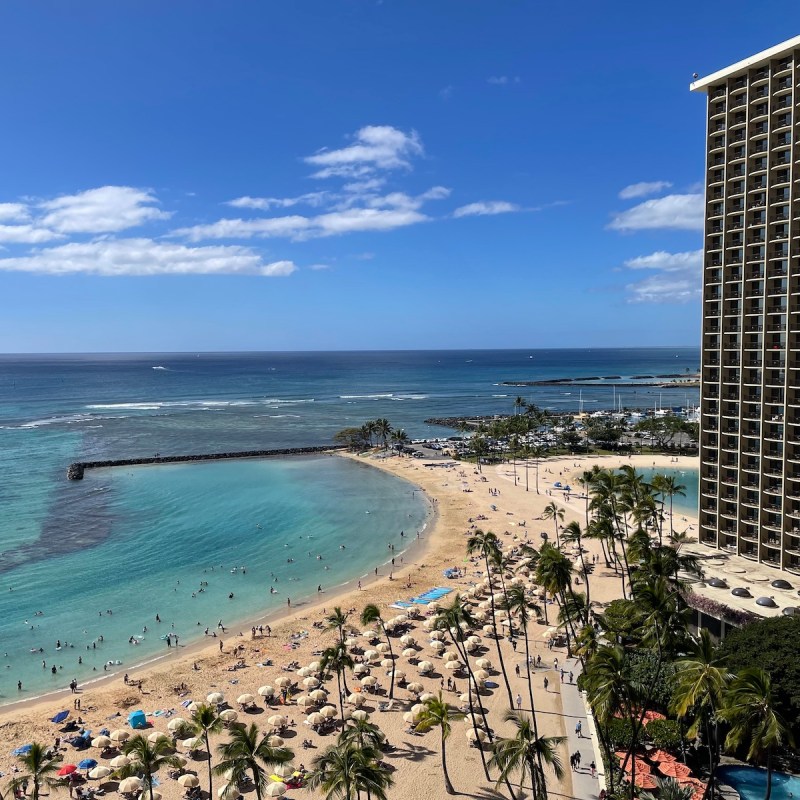 Elvis Presley was born in Mississippi and lived in Tennessee, but for many fans, this musical legend is known as "the last Hawaiian king."
As Jerry Hopkins, author of Elvis In Hawai'i, states: "Elvis Presley, son of a sharecropper from Mississippi, whose Graceland mansion in Memphis, Tennessee, is the second-most visited home in the United States (behind the White House), may be the single personality most closely identified with Hawaii, excepting those who were born and raised here."
Presley visited several times for personal vacations, but he's best remembered for his professional appearances. He filmed three movies in Hawaii: Blue Hawaii (1961), Girls! Girls! Girls! (1962), and Paradise, Hawaiian Style (1966). He also made history with several concerts. They included a benefit for the USS Arizona memorial at Pearl Harbor and the 1973 Aloha From Hawaii show, the first concert by a solo artist broadcast around the world.
Elvis's legacy and spirit are alive and well on the island of Oahu, and music lovers can easily put together their own Elvis-themed tour. I experienced it for myself this Christmas when my husband and I put together an Elvis-focused trip for my mother, a huge Elvis fan. Based on our experiences, here's what you shouldn't miss.
Honolulu's Elvis Statue
The 1973 Aloha From Hawaii concert was a moment of musical history. Up to a billion people across 40 countries watched the show, a benefit for a local cancer fund honoring Hawaiian artist Kui Lee. Presley's performance from what was then the Honolulu International Center (now the Neal S. Blaisdell Center) was the first time a solo entertainer was broadcast live via satellite.
In honor of this landmark event, a statue of Elvis is situated in the Blaisdell parking lot. The rendering is complete with a studded jumpsuit, guitar, and microphone. More often than not, "Elvis" has a fresh flower lei around his neck. During my visit, my family added to the blooms and left our leis on the statue's hand and microphone.
Waikiki Beach
Visiting Honolulu's most famous beach is an essential part of any Hawaiian visit, especially for Elvis fans. Waikiki Beach is visible in all three Hawaii-based movies Elvis took part in, and Elvis was photographed here dozens of times during personal and professional appearances.
Waikiki Beach is much more than a gorgeous destination of surf and sand. It's filled with rich history and culture, and this DIY walking tour of Waikiki will help you explore all the different sites.
Ala Moana Beach Park
This loved-by-locals beach park is just a short drive from Waikiki Beach and boasts great jogging paths, tennis courts, and picnic facilities, as well as tremendous swimming and paddling conditions. Movie fans will be interested in exploring Ala Moana's western end (at Kewalo Basin) and the eastern end (near the AlaWai Yacht Harbor), as scenes from Girls! Girls! Girls! were shot at both.
Tantalus Lookout/Diamond Head
One of the most iconic photos from Elvis Presley's career shows him sitting on a ledge with a ukulele in hand, a view of Diamond Head crater in the background. You can recreate the photo for yourself (or at least take in the views of Diamond Head) by driving up to the Tantalus Lookout. Take care as you go, as the route involves some sharp turns, but you'll be rewarded with some of the best views of the city. Highly recommended at sunset!
Pearl Harbor
Taking a solemn moment to pay respects at Pearl Harbor is an essential part of any Honolulu visit, something that Elvis Presley (a U.S. Army veteran, having served from 1958 to 1960) knew well. When fundraising efforts to construct a memorial to the USS Arizona were faltering, he stepped in and staged a benefit concert in 1961. Not only did he raise significant funds, but he also raised the project's profile, clearing the way for other fundraising efforts. The memorial remained an important site for Elvis, who returned for a personal visit years later while filming Paradise, Hawaiian Style.
Hanauma Bay Beach Park
Even if you've never heard of Elvis (impossible!) Hanauma Bay Beach Park should be on your Oahu travel list. This is one of Hawaii's best snorkeling spots. The pretty area was featured in Paradise, Hawaiian Style and had a big cameo in Blue Hawaii, as Presley's character embraced his love interest by the bay while wearing his military uniform.
Dole Pineapple Plantation
Fans of the film Blue Hawaii will remember a scene in which Elvis takes the girls on a tour of Oahu and swings by a pineapple plantation. I can't say for sure which pineapple plantation it is, but the Dole location is a fun place to check out. It's the perfect spot to learn about pineapple production, try some delicious fruit, and maybe create some dreamy, movie-worthy moments of your own in the gardens.
Polynesian Cultural Center
The Polynesian Cultural Center is another Oahu must-do. Visitors tour replicas of Pacific Island communities, participate in cultural lessons (like hula dancing), and enjoy traditional music. It's an experience Elvis would be familiar with, as the location was featured in both Blue Hawaii and Paradise, Hawaiian Style.
For photo ops, ask the staff to direct you to the spot near the Rapa Nui exhibit, under the bridge between the Samoa exhibit and the Hawaiian Mission Settlement, where there's a famous palm tree. This is where Elvis sang a scene in Blue Hawaii.
The North Shore
Oahu's North Shore is an amazing place to watch pro surfers hone their skills and offer incredible scenery, something the crew of Paradise, Hawaiian Style knew well. They filmed Elvis at one of the area's most famous landmarks, the small island of Mokoli'i by the Kualoa Regional Beach Park in Walahole. In the film, it's the setting for an important plot point that included a helicopter and a lost key.
Listen To "Elvis" Live In Honolulu
Rock-A-Hula is a nightly Waikiki-based variety show that features a mix of popular music, Hawaiian-inspired dancing, and rock 'n' roll tributes. At times, it feels quite cheesy and touristy, but that doesn't mean it's not a fun experience. "Elvis" steals the show and puts in a solid performance. All his hits are covered, and there's a genuine effort to connect with the audience. A highlight of the show was when "Elvis" crooned Suspicious Minds while walking through the audience, offering handshakes and kisses, full of charm. Keep an eye out for a replica of the beaded Aloha From Hawaii concert jumpsuit, which is on display in the lobby.
Stay At This Elvis-Approved Hotel
The Hilton Hawaiian Village was Elvis Presely's hotel of choice in Honolulu. He stayed there during personal and professional trips on seven occasions. Today, the gorgeous property clocks in at 22 acres, but during Elvis's first visit in 1957, its proportions were more modest. In fact, it wasn't even part of the Hilton until 1961! You can absorb the many changes that Elvis witnessed at the hotel by checking out the history wall by the Tapa Tower. This detailed time capsule showcases decades of change and evolution throughout the property and Waikiki Beach (and includes three panels dedicated to you-know-who).
For the ultimate Elvis experience, you can stay at the resort's 2,000-square-foot King Suite in the Ali'i Tower. This is where Elvis stayed. The staff was kind enough to give me a tour of the suite, and it was an extremely moving experience. The view is absolutely stunning, the kind of drop-dead gorgeous scenery that every Hawaii vacationer dreams of. But it's also a bit sad when you imagine how Elvis was essentially trapped by his fame. I took comfort in learning that the hotel staff obeyed a strict rule to never bother or fuss over Elvis and that he would sneak out after dark to enjoy the beach and resort amenities.
The room has one tasteful photo board memorializing Elvis's history at the property, but if you stay here, you won't be bombarded with rock 'n' roll or tons of memorabilia. I like this approach. It acknowledges Elvis's important relationship with the room but also lets you make your visit your own.
Pro Tip: You'll want to order a Blue Hawaii cocktail at Tropics, a popular eatery and bar on the property. This classic local cocktail actually predates the Elvis movie of the same name and was invented on site in 1957 when a sales rep from the Dutch distiller challenged head bartender Harry Yee to create a drink using their Blue Curacao liqueur.
Eat One of Elvis's Favorite Foods At This 50s-themed Diner
Elvis Presley famously loved peanut butter and banana sandwiches (sometimes with bacon added in for good measure). You can enjoy his favorite food with a visit to the Rock Island Cafe. This 50s-themed diner invites guests to "Step back to a time when Elvis was King, Marilyn was Queen and they both drank Coca-Cola." Menu items (mostly burgers and fast food fare) are named after celebrities, there's a long list of soda fountain favorites, and you can feast on peanut butter and banana to your heart's content.