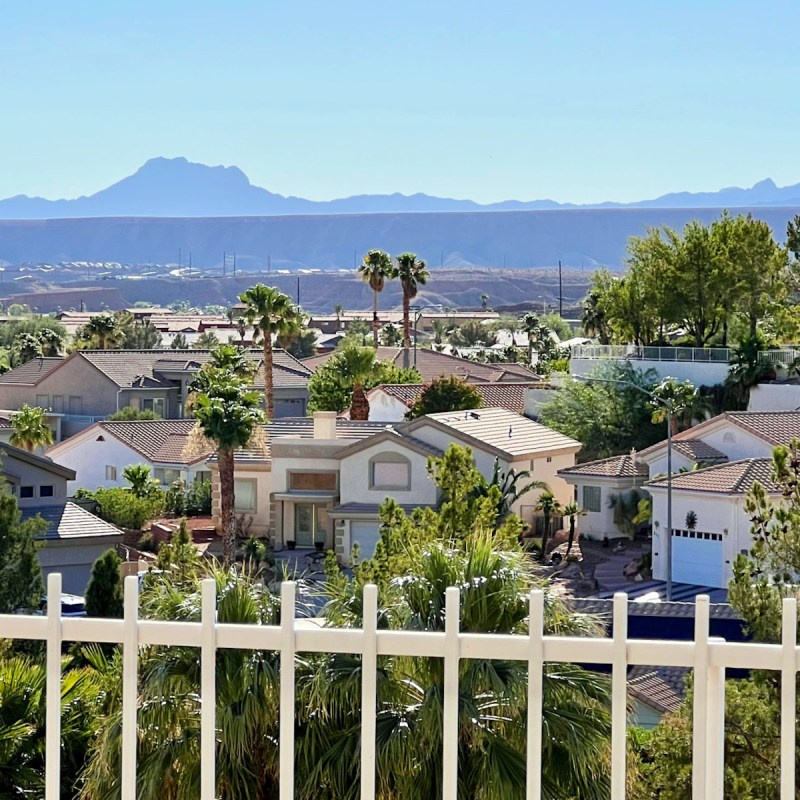 My husband, Eddie, and I sold our Vero Beach home a year ago because it was a seller's market and our property was worth more than we could have dreamed. We decided to do what many people across the country are doing. We bought a Ram 3500-dually truck, a fifth-wheel, and hit the open road for great adventures in RVing. RV life was super fun, and we loved going wherever the urge took us, meeting people from all over the country, and seeing the most epic scenery imaginable.
After a full year of exploring seven states and making incredible memories, the increasing gas prices made us look at our next three-month plan. Here is why we quit RVing full-time and moved to Mesquite, Nevada. It was as much a surprise to our kids and us as it will be to you.
Why We Quit Full-Time RVing
Eddie and I would sit down and plan a two to three-month stretch of trips. We would RV to some destinations for only three or four days (Carlsbad and Texarkana, for example). While in some places, we would get a discounted monthly rate so we could make day trips and see a good chunk of the area. Albuquerque is one that was perfect as a base camp, and then side trips to Santa Fe, and so forth.
Our three-month summer plan was to ultimately make it to Montana and get out before the temperatures got cold. There is a small window to do so, and since RVing and road trips are so trendy, there were no consecutive dates to camp. We checked several cities throughout the state, and since we were flexible in our travel plans, we reversed the three-month loop and decided to start with Nevada, continuing into a small part of California, Oregon, and Washington.
Reaction To Inflated Gas Prices
Our truck gets 17 miles to the gallon, not too bad for its size. However, with the weight of the fifth wheel, changes in altitude, and high mountains, we were reduced to around 7 miles to the gallon. Diesel was $7 per gallon when we figured out the gas expense for our upcoming trip. We concluded that it would take $4000-$4300 just to get to the campsites. That left nothing for day trips, and it would be nothing for us to drive round-trip two to three hours a day to sightsee.
It should be no surprise that my response to the whole situation was, "I don't need to go anywhere for $1 per mile."
Sometimes you have to adjust and adapt to current situations beyond your control, and sometimes you just have to "pivot" and do something else. Eddie and I didn't know how different that would be until we road-tripped with friends from Utah to see a retirement town they were checking out. Mesquite, Nevada, caught their eye years ago due to the famous golf scene, climate, and growth streak.
Mesquite is the fastest-growing city in Nevada, so we hear. It is a small town with an old-Vegas vibe that is booming as retirees and second-home seekers are moving here in droves.
Keep Your Options Open
We realized gas prices were going to affect our RV travels for the next few months, so we planned to enjoy slow travel across Nevada and maybe dip our toe into a few California National Parks until it was time to winter in the south. We had campground reservations, ideas, and an alternative plan.
Recognizing A Good Investment Opportunity
I returned to Salt Lake City after midnight on a Saturday from about a month of international cruising and seeing my dad in West Virginia. We had been RVing in Ogden, Utah, for several weeks to enjoy time with the friends mentioned above. They invited us to see the town they had an interest in, so my husband committed us to join them on Sunday morning, six hours after I got home.
Half asleep, we made the six-plus hour trip to Mesquite, Nevada, driving through the impressive Virgin River Gorge en route. If you've never heard of or driven Interstate 15 from Utah through a tiny sliver of Arizona and then into Nevada, I recommend it. I'm surprised it isn't mentioned as one of the prettiest drives for road trippers.
We arrived in Mesquite, which immediately reminded us of Albuquerque's scenery, Vegas for its popular casino scene, and David, Panama, where we have homes nearby, for the cultural, shopping, and business scene. We checked into our hotel, went to a high-end dinner, and called it a night.
The following day, at our friend's urging, we met a realtor and looked at four properties to see what was available. Eddie and I were both surprised at how affordable the real estate was here compared to the part of Florida we were from. We also loved the feel of Mesquite, the laidback vibe, and the incredible mountain scenery.
The first property we looked at was a townhome; the owner was moving into assisted living. One step inside the door, and we both felt like we were home. It didn't hurt that it had a garage (a bonus for townhomes in this area), a beautiful entryway, just the right amount of space, and the most adorable covered back patio and yard overlooking spectacular mountain views. We were in love.
Going With Our Gut
On that day, Eddie and I had not intended to fall in love with a property, make an offer, and have it accepted within 24 hours, but here we are. There was a bit of negotiating, but we got the townhouse for a fair price and have the choice to rent it out when we return on the road in the RV for winter and spring if gas prices drop. Regardless, we felt like we could make Mesquite our new home, 2,400 miles from our previous one, and we did just that.
When we sent pictures to our kids back in Mississippi and Florida, they were as shocked as we were — then even more shocked when our offer was accepted and we were to close in nine days. We also inherited the owners' furniture and things we needed to live day-to-day while we wait for our pods to be shipped from Florida. We resumed our regular life one day after moving and now look forward to making day trips from Mesquite, exploring the hiking trails in our town, embracing casino life almost in our backyards, and the newness that comes with living in a small town, something we've never done.
I'm reiterating that we both felt a special feeling when we looked at this property. The following three properties were total duds; overpriced, unattractive, and nothing special. That helped solidify our draw to the townhouse, and we didn't let it get away from us. If you have that feeling, a strong one that gives you hope for the future and excitement for what could be, don't miss it. Make it happen.
Pay Attention To The Signs
I firmly believe that the universe will send you signs when things are right or wrong, but you have to be open to them. My husband is more of a skeptic, but when we both felt a sense of belonging after arriving in Mesquite, we couldn't dismiss that pull, if you will.
During our four-day visit, things happened that "spoke" to us. We both love gambling and now have three fantastic casino properties within a short drive. Not being "buffet" people, we are now in love with the ridiculously affordable and good casino buffet meals and prices.
We found one last covered parking spot for our RV, which we felt was meant to be. We inherited all the furniture and home items (dishes, bedding, TVs, etc.), making our home a "home" the first day we moved in. We found an endless list of workers eager to be hired for fair wages to do whatever needs to be done (painting, electrical work, cleaning, etc.). We have found a great HOA. It's our first time living in an HOA community. We've found fun things to do, people who are friendly and helpful, and stunning sunsets.
Online articles say that people move to Mesquite for more than 300 days of sunshine, low crime rates, and the proximity to many great state and national parks.
The biggest sign that we were meant to be here is the relaxing sense of calm we feel here. Perhaps it is from the surrounding mountain ranges, the extreme temperatures (111-116 degrees since we got here), and the mountains I see from my back porch and living room windows that I can't keep my eyes off. Whatever it is, I'm here for it and embracing this new, simpler lifestyle. It should be no surprise that it has already piqued the interest of several friends and family members.
Here's to a new plan and a new beginning in keeping up with the times.
For more information on traveling via RV, check out these articles: