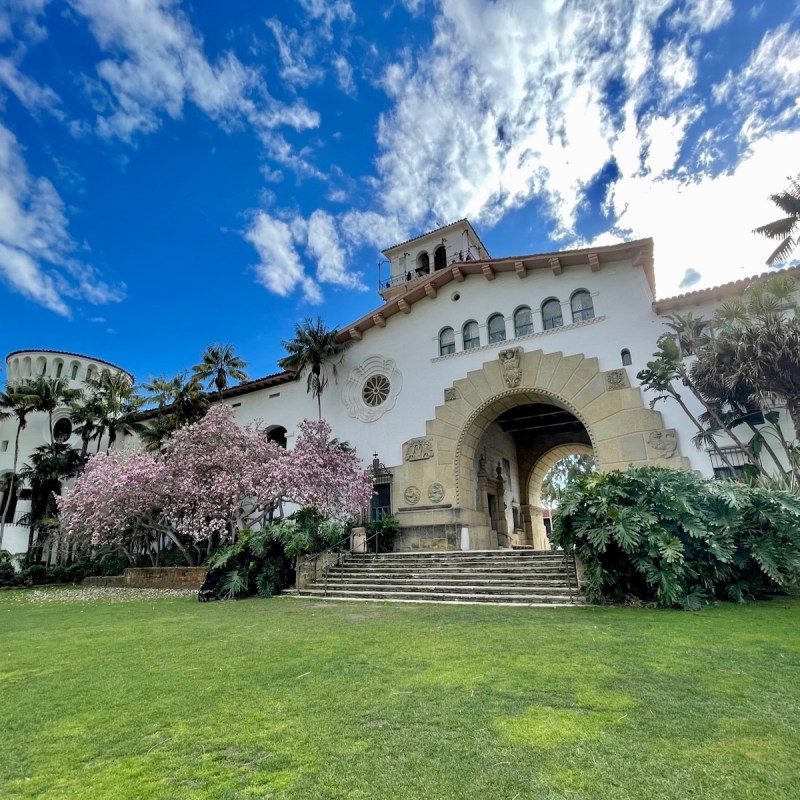 Spanish-Moorish architecture, the Pacific Ocean, and the Santa Ynez mountains define the beauty of Santa Barbara, located just an hour and a half north of Los Angeles, California. This charming coastal city with a laid-back ambiance entices visitors to enjoy the sandy beaches, museums, galleries, fine dining, and wine tasting. From the moment you take a breath of fresh salty air or stroll storied State Street, you'll understand why it's often referred to as the American Riviera.
My trip was partly sponsored by Visit Santa Barbara.
1. Santa Barbara Harbor & Stearns Wharf
Miles of sandy beach and surf beckon visitors to Santa Barbara. Surfing, swimming, and working on a tan are all part of the fun, but Santa Barbara has a lot more to offer. Head to the harbor to catch a whale-watching excursion, rent a sailboat; go kayaking, stand-up paddleboarding, or rent jet skis, fishing charters, and more. Almost all water sports and rentals are going to leave from the harbor or Stearns Wharf.
The Santa Barbara Harbor is also a lovely spot to take a walk along the breakwater, admire thousands of yachts, relax over a waterside drink, or dine with a view.
Santa Barbara Water Taxi
For a fun and affordable narrated tour around the harbor, take the Lil Toot Water taxi between the Santa Barbara Harbour and Stearns Wharf. Rides are one-way only and are on a first-come-first-served basis. Lil Toot serves the public on weekends but is available for private rentals during the week.
Brophy Brothers
Brophy Brothers is a perennial favorite with both locals and visitors to Santa Barbara. Take a seat at the bar and soak up the view of the harbor, while chatting with whoever is sitting next to you, though there is table seating too. Brophy's is always crowded so prepare to wait for a table. Order one of their signature Bloody Marys with oysters on the half shell. The ceviche is also a solid choice.
Pro Tip: If you're staying near the beach, leave your car at your hotel and walk to the harbor.
2. Stearns Wharf
The most visited tourist attraction in Santa Barbara, Stearns Wharf has had a tumultuous history, imperiled by many traumatic events, both natural and manmade. The oldest working wooden wharf in California, a walk along the wharf comes with fantastic views of the Pacific Ocean and the Santa Ynez mountains.
You'll find a variety of restaurants, wine-tasting rooms, and tourist shops. Enjoy an ice cream from The Great Pacific Ice Cream Co. while strolling the wharf and don't miss the dolphin sculpture, which marks the entrance to the wharf and is a popular spot for photographs.
Pro Tip: Every Sunday the Santa Barbara Arts and Crafts Show lines Cabrillo Boulevard from Stearns Wharf to East Beach. The show features 200 local artists working in every medium imaginable from jewelry making to painting, to ceramics, and digital art. I always attend this show if I'm in town on a weekend and never fail to find something to bring home.
3. Beaches
Hendry's Beach
Hendry's is also known as Arroyo Burro Beach Park. It's a lovely sheltered beach and you can walk for miles, which many people do with their dogs. Hendry's has a grassy area with picnic tables and barbecue grills, and there's a place to rinse your feet after a walk in the sand.
I usually go to Hendry's to eat brunch at the Boathouse At Hendry's Beach. It's casual but the food is fantastic. There's usually a wait but that allows you time to work up an appetite with a  nice walk on the beach. Try the huevos rancheros.
Pro Tip: Parking is very limited, so if you plan to dine there, arrive early.
Leadbetter Beach
Leadbetter is just south of the harbor. It's a wide sandy beach with tall palm trees, volleyball nets, picnic tables, grills, and public restrooms. There's also a café called Shoreline Cafe where you can eat lunch and dinner. 
Pro Tip: The Santa Barbara visitor's center has three locations and one is just a stone's throw from Stearns Wharf at the intersection of Garden Street and Cabrillo Boulevard.
4. State Street Promenade
State Street cuts through the heart of Santa Barbara for ten blocks and runs to Stearns Wharf. It's the perfect place to wander in and out of unique shops like Lewis and Clark. You can also visit galleries, stop for a coffee or a bite, and go wine tasting at one of the tasting rooms located in El Paseo. Part of the street has been closed since 2020 allowing restaurants to expand their outdoor dining options. Upper State Street is home to the historic Granada Theater, a beautiful venue for the performing arts. Check in advance to see who or what is on.
Pro Tip: Be sure to wander down the many side streets and alleys off State Street where you'll discover pretty fountains and hidden courtyards.
5. Santa Barbara Museum Of Art
The Santa Barbara Museum of Art opened in 1941, in a building that had been a post office. The collection includes textiles, photography, ceramics, prints, paintings, and ceremonial art. A recent renovation includes expanded galleries and the Luddington Court, a captivating introduction to the wonderful museum. We especially enjoyed the photography exhibition and paintings included some of the most notable names in art history.
6. The Santa Barbara County Courthouse
Across the street from the Santa Barbara Museum of Art is the Santa Barbara County Courthouse, a major landmark in a city known for its architecture. The Spanish-Moorish style, colorful tiles, and wrought iron work make the courthouse a popular place for photo shoots, and the sunken gardens are prime for romantic weddings.
Completed in 1929, it is a working courthouse but visitors are welcome to explore. Be sure to visit the bell tower for sweeping views of Santa Barbara. In the summer there are movies, concerts, and various events on the lawn.
7. Old Mission Santa Barbara
Often referred to as the Queen of the California Missions, this is certainly one of the prettiest missions with its signature rose gardens and fountain. The Old Mission Santa Barbara was established on the feast day of St. Barbara in 1786 by Franciscan Friars. One of twenty-one missions established in California, it is the only mission that has been under the continuous guidance of the Franciscans since it was founded.
There's an expansive lawn in front and you'll often find visitors camped out there enjoying a bit of sun. The mission is still active and may close at times for services and funerals. Be sure to check the website for hours. You can also take a self-guided tour.
8. Wine Tasting
When I first became a regular visitor to Santa Barbara, we always went wine tasting in Santa Ynez, forty minutes away. Today there are over 20 tasting rooms in Santa Barbara representing some of the best producers in the area for excellent pinot noir, chardonnay, sparkling wines, and more. You no longer need to drive to Santa Ynez, you can simply follow Santa Barbara's Urban Wine Trail to one of the many excellent tasting rooms.
The Presidio
The Presidio (which means fort in Spanish) is the heart of old Santa Barbara. El Paseo, California's first shopping center is located in this neighborhood. Tucked away in the many side streets are several tasting rooms, each with its own charm and wine style. Grassini, Jamie Slone, and Au Bon Climat are all located in El Paseo. Kunin Wines is just a block away. While you're sipping fine wine, admire the Spanish architecture and learn the history of Santa Barbara.
Grassini Family Vineyards
Grassini Family Vineyards specializes in Bordeaux varietals, especially cabernet sauvignon and sauvignon blanc. The tasting room is cozy and it's a good idea to reserve a table. Try the Reserve Cabernet Sauvignon and chocolate pairing.
Au Bon Climat
Au Bon Climat is known for its pinot noir and chardonnay and keeps an extensive library collection. Founder, the late Jim Clendenen, is largely responsible for putting Santa Barbara County wines on the map. Anything you try here will be excellent, but of course you must try one of the outstanding bottlings of pinot noir.
Kunin Wines
Kunin Wines is a small production winery making Rhone-style wines plus zinfandel, syrah, and viognier. The indoor tasting room can be loud when it's full but if the weather is nice, there's an outdoor patio. Kunin also has a tasting room in the Funk Zone. Try the 2019 Grenache Alisos Vineyards.
La Paloma Café
For a taste of historic Santa Barbara head to La Paloma Café, just a few blocks off State Street in the Presidio. The original stucco building opened in 1915 as an Italian bakery. In 1940 it opened as La Paloma Café and was an instant success.
Enter through the bar downstairs and stop to admire the circa 1941 mural above the bar and the original barstools, now recovered with cowhide. The food is casual, the portions are ample and delicious. Try a Mezcalita cocktail if you like smokey flavors or the hibiscus margarita for something more refreshing. We ate the pork shoulder carnitas, which had a complimentary smokiness with the mezcal… a good pairing.
Where To Stay
Eagle Inn
The Eagle Inn is an attractive bed and breakfast property that looks like it might have been someone's home. This is an excellent location if you want to stay close to the beach in a quiet area.
The Eagle Inn has a variety of king and queen rooms, some with in-room spa tubs and balconies. If you need more space you can book a casita, which is like a small condo with a private entrance. Room amenities include Wi-Fi, a coffee maker, a fridge, a complimentary refillable water bottle, wine glasses, and a corkscrew. Note that the Eagle Inn is pretty low-fi and not all rooms have USB ports. Bikes are available and there is plenty of free, off-street parking. A convenient and affordable location for a beach holiday.
Ramada By Wyndham
Ramada By Wyndham is an older property that has been tastefully updated. The rooms are spacious and comfortable. They have high-speed Wi-Fi, a microwave, coffee makers, and a fridge. Most rooms have a full-size balcony as well and some face a pretty inner courtyard. There's also a solar-heated pool and hot tub.
Located just off of Highway 1, the address is Santa Barbara but you're basically in Goleta, home to the University of Santa Barbara. It's only a five to ten-minute drive to Santa Barbara Harbor. The Ramada offers a Santa Barbara Value Pass with discounts on all sorts of activities like golf and wine tasting.
Santa Barbara is a beautiful destination that's convenient to the big city (Los Angeles) but feels worlds away. Anyone who enjoys nature and fine food and wine in a casual setting will love Santa Barbara.