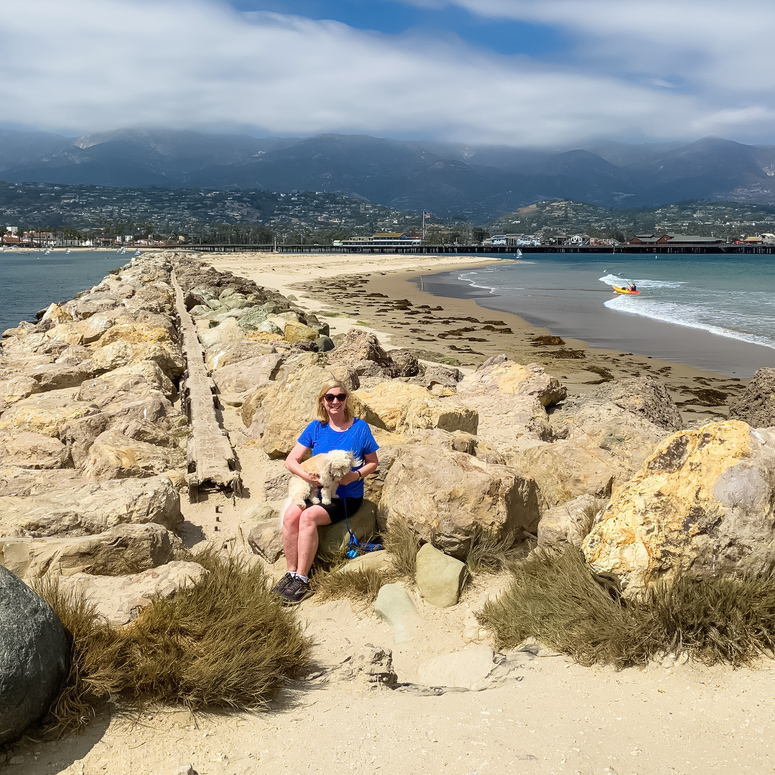 Santa Barbara, known as the American Riviera, offers beaches, rolling foothills, vineyards, and historic California buildings, all in a laid-back setting with lawns and parks and wide swaths of waterfront walks.
Just a 2-hour drive north of Los Angeles and a 4-hour drive north of San Diego, Santa Barbara is perfect for a relaxing getaway. You're certain to return home refreshed.
Another plus of Santa Barbara? It's dog friendly. Your pup is sure to be welcomed with attention and treats. Not only was my dog a happy adventurer on our recent trip to Santa Barbara, but also I found that many locals and other visitors stopped to greet us and chat about our dog. Little Bailey served as a goodwill ambassador throughout our visit.
Here are a few fun experiences to enjoy in Santa Barbara — with or without a pup in tow.
1. Stroll Along The Harbor
Begin your time in Santa Barbara with a leisurely walk along the harbor. A wide, paved path called The Fisherman's Walk takes you past countless bobbing vessels. You will pass a "museum" of older fishing boats on the water. Santa Barbara developed due to its fishing industry, and those early boats are a fascinating reminder of the city's history.
As you reach the ocean, the path turns onto the breakwater. At the breakwater's end is a moving memorial to those lost at sea. From here, you can look across a small bay to the wharf, and you may happen on surfers to watch before you head back.
After your harbor walk, you'll reach the sidewalk that cuts through the sand and continues on to Stearns Wharf.
2. See Iconic Stearns Wharf
A symbol of Santa Barbara, Stearns Wharf just doesn't quit. It's suffered four major fires, including one that closed the wharf for nine years. Every time, the city has rebuilt and reopened the destroyed restaurants and shops. Today, the wharf is thriving. It's at the water end of the main street, jutting out at an angle into the surf. It's a sight you won't want to miss.
The wood slats move a bit as you walk and as cars drive by. If you are with your dog, take it slow at first to make sure the movement isn't upsetting to them. My dog was fine, but people told us that some dogs get nervous. You can always take in the view of the wharf from the firm ground of the beach walkway.
3. Explore Nature At The Santa Barbara Botanic Garden
Tucked into the foothills just 3 miles from downtown, the Santa Barbara Botanic Garden will surprise you with the wonders of nature. I finally ventured here on my latest trip to Santa Barbara, and I can't believe I passed it by for years. You can spend a most pleasant half day wandering through the various sections of this 78-acre preserve. And your dog will love exploring the paths with you.
Enter through a meadow of flowers and continue on to the redwood grove, with its winding trails shaded by tall trees. The grove, planted 95 years ago, is relatively young for stands of redwoods, a successful experiment in growing these stately trees outside their native habitat farther north.
More than 1,000 plants, trees, and flowers thrive in the garden, and all are native to the state of California. The diversity is astounding. Other features of the garden include an authentic Japanese teahouse and garden and the historic Mission Dam, built in 1807 to provide water to the nearby Old Mission Santa Barbara.
Be sure to admire the sweeping views at different places in the gardens, especially on the Porter Trail. You can look one way at the Santa Ynez Mountains, and then look out to the ocean and pick out the Channel Islands.
Take along water and a portable dog bowl for your pooch. The day grew quite hot on my visit, and I stopped for frequent breaks. Benches dot the area, so it's easy to find a place for your dog to rest.
4. Chill Out At Beautiful Butterfly Beach
Santa Barbara hugs the coast and boasts seven distinct beaches. Butterfly Beach is just a short distance south of the busier East Beach, and dogs on leashes are welcome. This proved to be the perfect place for a walk on the sand, since I'm not comfortable with my rescue dog off-leash. Park on the street near the elegant Four Seasons Resort and go down one of the cement stairways along the banks. The sunset from the angle of this beach is especially lovely.
If your dog handles off-leash freedom well, head to the dog beach at Shoreline Park or Arroyo Burro Beach.
Another option is to stay on the walkway that winds along East Beach. While dogs aren't allowed on the sand, everyone is welcome on the paved path, and you'll be just feet from the water, with beautiful views, lawns on the other side of the path, and palm trees swaying above.
5. Experience The Ambience Of Downtown
The heart of downtown Santa Barbara is State Street, where you'll be immersed in a world of quaint shops, sidewalk cafes, and historic buildings. What makes this walkable downtown especially fascinating is its alleyways. One of my favorites is La Arcada Courtyard, with its art galleries, stone fountain, and tile stairways. A statue of Ben Franklin rests on a bench, and a ship's cannon hangs on a wall. This is eclectic Santa Barbara at its best. It's also a great place to sit and rest your weary feet after a day of sightseeing.
The cafes here welcome dogs, providing dishes of water for them as you eat. And at an antique store downtown, I prepared to wait outside, but the manager waved me in and offered Bailey a treat. In Santa Barbara, people go out of their way to shower dogs with affection.
6. Visit The Grounds Of The Historic Courthouse
Just a few blocks off State Street downtown, you'll find the Santa Barbara County Courthouse. This National Historic Landmark looks like a castle. It was built in 1929 in the Spanish colonial revival style; the artists copied tile patterns from Italy and Spain. The white adobe walls topped by red clay roofs sit amid lush gardens of palms and pines.
You'll need to save the inside tour for a trip when you aren't with your pup, but be sure to visit the grounds. Graceful arches, red-roofed tile turrets, and a clock tower surround the sunken garden. Look around at the many varieties of palms.
If you arrive during open hours, venture up into the clock tower and marvel at the 360-degree view of Santa Barbara and the ocean. You can take the stairs or the elevator — whichever you and your dog find more comfortable.
7. Travel Back In Time At The Old Mission Santa Barbara
You can travel back in time to the early days of the Spanish settlements when you venture to the Old Mission Santa Barbara. One of a string of missions founded by Spanish Franciscans along the California coast, this one is known as the "Queen of the Missions" due to its beauty. Founded in 1786, it features double bell towers and an expansive front lawn set against a backdrop of foothills. Turn around, and you can enjoy vistas out across the blue waters.
A small park across from the mission is a good place for a picnic lunch while your dog roams the grass.
8. Sample Notable Wines
Indulge in Santa Barbara's award-winning wines at a convenient downtown winery. Many wineries welcome pups, too, and offer treats and bowls of water. While the vineyards line the hills around the city, wineries with decorated outdoor patios offer the best of their fruits, right in the middle of the sightseeing areas.
The historic El Paseo Courtyard downtown is home to Jamie Slone Wines, which specializes in small-production, handcrafted wines. The Grassini Family Vineyards tasting room is also in El Paseo.
The Funk Zone, a few blocks of former industrial complexes adjacent to downtown, now hosts "funky" restaurants, shops, and wineries. Here you'll find the Santa Barbara Winery with its charming outdoor venue.
Sit back and relax in the fresh coastal air and sample your favorite wines as your dog naps in the shade at your feet.
9. Take The Red Tile Walking Tour
Are you intrigued by Santa Barbara's Spanish architecture? If so, leash up your furry friend and follow the self-guided Red Tile Walking Tour. You can download the map before your visit to check out the tour. It starts at the courthouse and covers 12 blocks of the downtown area, going past the Presidio and ending back at the courthouse. Along the way, you will find points of interest such as historic houses, a grand old theater, arcades, the post office, and a library. You can stop for a cold drink at a cafe at any point, and then carry on. You and your pooch will enjoy this walk, and you'll get a good dose of Santa Barbara's ambience.
Pro Tip: You'll have no trouble finding an outdoor restaurant with delicious food. And most of them are dog friendly. Highest marks go to Chad's Cafe, right across from the water with amazing views. The server quickly brought out a water bowl for Bailey. The breakfast foods, especially the pancakes, are delicious. And here, Bailey enjoyed his first plate of bacon. You can't go wrong with a breakfast on the beach at Chad's.
Santa Barbara is charming, quiet, and friendly. With beaches, the harbor, foothills, and historic buildings, Santa Barbara is ready to welcome you and your furry best friend to explore and enjoy this peaceful place.