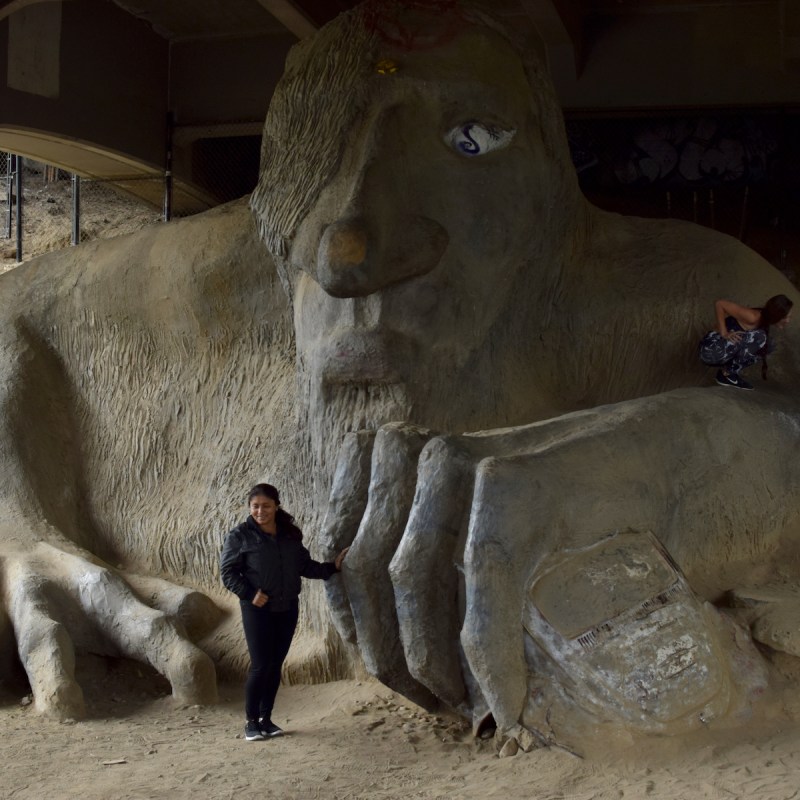 If you're making your way through Seattle, you're bound to visit places like the Space Needle and Pike Place Market. But if you're heading north past the Aurora Bridge, you'll find yourself in Fremont: Home of the mysterious but world-famous Fremont Troll sculpture.
History Of The Fremont Troll
Created by Steve Badanes and fellow University of Washington architecture students — Will Martin, Ross Whitehead, and Badanes's then-girlfriend Donna Walter — the Fremont Troll is an 18-foot-tall concrete sculpture grasping a real Volkswagen Beetle with a California license plate.
Revealed on Halloween in 1990, the troll and his hubcap steel eye have been made a staple of Seattle culture. His birthday is celebrated every year on October 31, otherwise known as Troll-o-Ween, with performances and an all-day celebration.
"The troll was constructed in 1990 after winning a Fremont Arts Council competition for designs to improve the freeway underpass, which then was a dumping ground," explains Atlas Obscura.
While many believe the troll represents a protest against "outsider development" in the northern Seattle area, according to Roadsideamerica.com, the sculpture has not survived without outsider complications over the years. The sculpture has been vandalized and spray painted, and the Beetle in his clutch has been stolen from, including both the car's license plate and the former Elvis Presley memorabilia time capsule inside (which has since been removed).
How To See The Fremont Troll
Just a few blocks after crossing the Aurora Bridge, also known as the George Washington Memorial Bridge, take the Bridge Way North exit on Aurora Avenue and find street parking around Troll's Knoll Park. Under the end of the bridge is where you'll meet the 1990 troll sculpture holding onto a once-red Volkswagen Beetle.
With attractions to the north (like Puget Sound and the Woodland Park Zoo) and downtown Seattle to the south, a stop at the Fremont Troll serves as the perfect break during a jam-packed Seattle day trip.
Pro Tip: Since the area surrounding the Fremont Troll is residential, street parking can be tough. You might have to park a few blocks away and walk to the sculpture.
Related Reading: