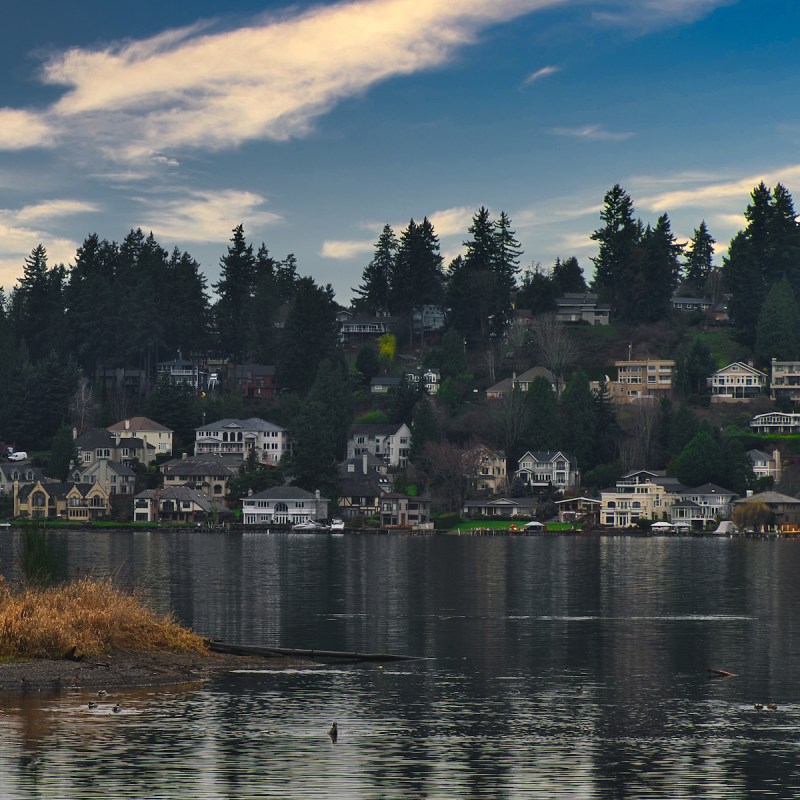 For many people, the name "Kirkland" conjures visions of a trip to Costco. And, well, it should. The shopping club picked "Kirkland Signature" as its house brand to honor the city that once housed its headquarters. But Kirkland, Washington, is much more than a retail namesake.
Founded about 150 years ago by English settlers on what was once Duwamish tribal land, Kirkland began as a lakeside trade center to connect iron mining and steel production to the east and an easy freshwater passage to the sea in the west.
Nowadays, the steel industry has moved on, but this Seattle suburb offers fabulous outdoor activities to take advantage of the mild climate, a welcoming gateway to the blue waters of Lake Washington, and, at the end of the day, some real treats for lovers of the northwestern beer scene.
1. Cross Kirkland Corridor Trail
One of the best ways to get a feel for this Pacific Northwest city is to travel this nearly 6-mile-long trail, traversing the city from south to north. The crushed gravel surface makes for easy biking or walking along the trail as it takes visitors through a variety of neighborhoods along a former rail line from the city's glory days as an industrial power in the Seattle area. Visitors can expect to see a variety of natural beauty along many parts of the trail, including several city parks. Don't miss the so-called "Truck-Eating Bridge" where the trail crosses Kirkland Way.
Pro Tip: If you prefer to travel by bike, stop by Kirkland Bicycle near the south end of the trail for a rental to power your trip.
2. Bridle Trails State Park
If the Cross Kirkland Corridor Trail proves to be a little too urban for your liking, give Bridle Trails State Park a try. This park, just off I-405 in the south part of the city, has more than 28 miles of walking trails nestled under towering cedars amidst a blanket of ferns. The park's main clientele comes on horseback, but hikers are welcomed, too. The park is even dog-friendly, so long as any four-legged companions are kept on a leash. This park, however, does not allow bicycles. All the walks here are easy, with gentle changes in terrain and a firm surface on which to walk. Don't miss the 1.6-mile interpretive trail to find out more about the vegetation and wildlife in the area.
Pro Tip: All Washington state parks require an admission fee. Daily fees run around $10 and an annual pass runs around $30.
3. Juanita Bay Park
Kirkland was built to take advantage of the waters of Lake Washington to its west, and after checking out some of the inland nature options, be sure to head over to Juanita Bay Park on the lake shore to see the nature where land meets water. Considered an urban wildlife habitat, the park provides visitors with a chance to see 200 species of birds, along with beavers, minks, nutria, snapping turtles, salamanders, and more. Along the park's trails, you'll cross six different plant communities, ranging from marshland to open water. The park is open from sunrise to 11 p.m. daily, inviting visitors to see and hear the variety in wildlife during different parts of the day.
Pro Tip: The parking lot for the park is fairly small, just off 98th Avenue near Forbes Creek Drive. Public transit may be a better option to arrive at the park with the King County bus system serving a stop right at the park's southern entrance.
4. Doris Cooper Houghton Beach Park
Another city park that makes the most of Kirkland's Lake Washington location is Doris Cooper Houghton Beach Park, located in the center of the city's lakefront expanse. The park's main feature is a swimming beach open from sunrise to 10 p.m. The swimming area is clearly marked so swimmers can stay in a safe area patrolled by lifeguards. The park has picnic tables and playground areas for the whole family to enjoy. The city routinely samples the water in the swimming area during the warmer months and will close it to swimmers if the bacteria count gets too high.
Pro Tip: If you don't bring your own picnic lunch, check out the clam chowder at local landmark Ivar's Seafood Bar just across Lake Washington Boulevard.
5. Carillon Point
Those looking for a little more sophistication in their waterfront experience should visit Carillon Point, where Lakeview Drive meets Lake Washington. The main attraction here is the commercial development boasting some of Kirkland's best hotels, restaurants, and spas. Highlights include Italian restaurant Como and the French-American cuisine of Bistro Le Grand. For a spa experience, try the Woodmark Hotel.
Pro Tip: The development features a dock that extends into Lake Washington, giving anyone who walks out to the end a terrific view of the Kirkland waterfront and the shores of Lake Washington extending north and south.
6. Yarrow Bay Marina
By this point, maybe you've had enough of looking at the water and it's time to get out on it. Power boat rentals to explore Lake Washington can be had for hourly and daily rates. One marina with a lot of options is Yarrow Bay Marina on Lake Washington Boulevard. Rentals start at less than $200 for a 2- to 3-hour trip, with full-day rentals around $1,000. Easy-to-drive pontoon boats are a good way to get a group of people out on the water, as they hold up to 12 passengers. Once rented, boats aren't confined to just Lake Washington. Passages from the lake can take you all the way to Lake Union in Seattle.
Pro Tip: You do not need a formal boating license to rent and pilot a boat in Washington State. You do need to complete a Motor Vessel Rental Safety Checklist before departure, which serves as your permit to captain the craft.
7. Kirkland Sailing Club
If a power boat is louder and faster than you'd like to experience the lake, your alternative is to go sailing. Lake Washington is dotted with sailboats all year long. Kirkland offers an excellent opportunity to try out the sailing life for yourself at the Kirkland Sailing Club. The club offers 2-hour sailing trips on Lake Washington from its base at the Kirkland Homeport Marina on Lake Street South. For right around $100, the club will not only get you out on the lake on a sailboat, but trained instructors will let you try your hand at taking the helm and mastering the sailboat yourself. The trips are only offered on Tuesdays and Thursdays, so plan ahead to reserve a spot.
Pro Tip: Even though Kirkland weather is typically quite mild and enjoyable, it's a good idea to take a jacket or windbreaker on board any sailing trip as the wind off the waves can get pretty brisk!
8. Chainline Brewing Company
A day or two of outdoor activities around the Kirkland area could leave you a bit parched. The Pacific Northwest is known for having just the right beer to quench your thirst and Kirkland is no exception. One notable brewery is the Chainline Brewing Company, which has two locations in Kirkland. If you're traversing the Cross Kirkland Corridor Trail, you'll find the Chainline Station location right on the trail near Feriton Spur Park. This railroad-themed location has all the brewery's most popular beers, along with coffee and ice cream. The Kirkland Urban taproom off Central Way has the beer, along with pizza and pretzels. Check the hours of either location before you go, as taprooms typically operate on more limited hours than bars and restaurants.
Pro Tip: The signature beer of the Pacific Northwest is the India Pale Ale, or IPA. This bitter, hoppy brew is the signature of the Seattle-area beer scene. At Chainline, try the All Together IPA, the brewery's most popular India Pale Ale.
9. Savage Brewing Company
One brewery is not enough when visiting the Pacific Northwest, so you might also want to try the popular Savage Brewing Company on 124th Street. This brewery has IPAs, of course, but if you want something a little less hoppy, try one of its fruited or sour beers. Or if the wet weather is soaking through your clothes, warm up with a heavier brew, like Queen Anne's Stout.
Pro Tip: Savage Brewing is open just 5 days a week, so don't make plans for a Sunday or Monday visit. The beer will be tantalizingly out of reach behind those locked doors.
Related Reading: