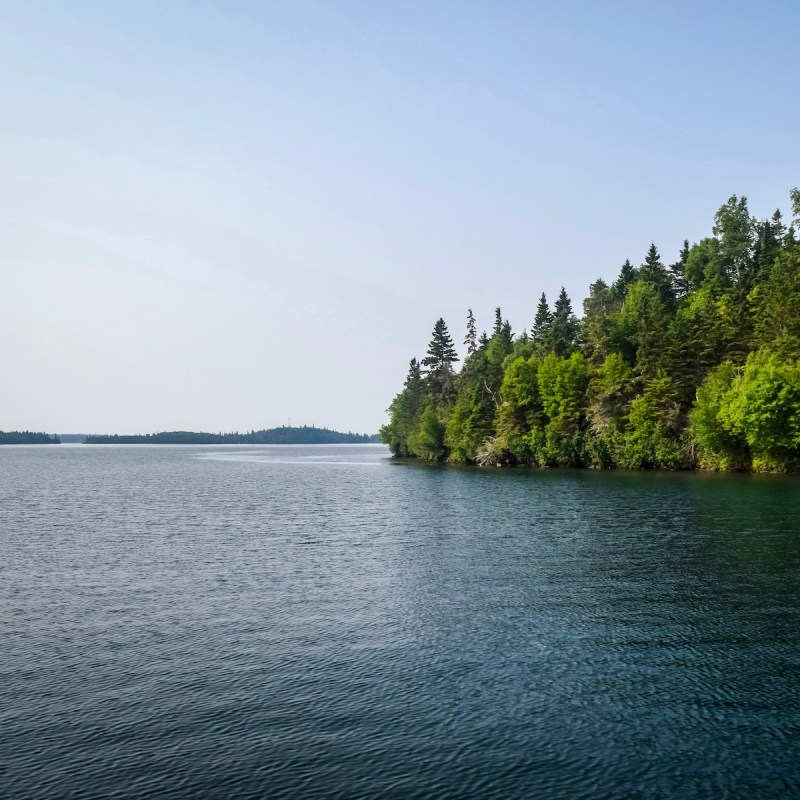 Attendance at most U.S. national parks was up noticeably in 2022.
Indeed, as the National Park Service 2022 Visitation Report notes, "visitation to America's national parks continued to rebound toward pre-pandemic levels."
A breakdown of National Park Service data shows that 312 million recreation visits at U.S. national parks were recorded in 2022, compared to 297 million recreation visits in 2021, which is a 5 percent increase. What's more, 9 parks had more than 5 million recreation visits while 3 parks received more than 10 million recreation visits, the National Park Service reports.
On the other hand, despite what Chuck Sams, National Park Service director, calls efforts to increase visitation to "parks that are less well-known," not all national parks saw a surge in attendance.
The good news is that if you're looking for a true getaway to somewhere remote where you won't encounter crowds, the National Park Service data also highlights national parks that logged low visitation numbers. Perhaps not surprisingly, five of those national parks are in remote locations in Alaska.
So, with all that in mind, let's jump to it. Here are the top 10 least visited U.S. national parks in descending order.
10. Great Basin National Park
Nevada
Great Basin is known for its broad range of diversity because its expanses include hot desert valleys, mountains with peaks higher than 13,000 feet, and everything in between. Along the way, visitors can see Lehman Caves, the 13,063-foot Wheeler Peak, and even Wheeler Peak Glacier situated at the base of Wheeler Peak. Considering that range of ecosystems, it's only natural that the park and neighboring valleys are home to 11 species of conifer trees, 73 species of mammals, 18 species of reptiles, 238 species of birds, 8 species of fish, and more than 800 species of plants.
In 2022, 142,115 people visited the park. That number was slightly down from the visitor count of 144,875 for 2021.
9. Dry Tortugas National Park
Florida
In 2022, 78,488 people visited Dry Tortugas National Park, which is about 70 miles west of Key West, Florida. That number also was down from the visitor count of 83,817 logged in 2021.
Dry Tortugas, a 100-square mile park, is mostly made up of open water — although it also includes seven small islands. One reason for the park's low visitation number is that it is only accessible by boat or seaplane. Then again, divers find the journey well worth the effort because Dry Tortugas' colorful coral reefs and crystal-clear water is home to numerous species of fish, lobsters, sponges, sea stars, and anemones. It's also home to Fort Jefferson, a 19th-century fort originally intended to protect the Gulf Coast and eastern seaboard shipping lanes.
8. Wrangell-St. Elias National Park And Preserve
Alaska
Wrangell-St. Elias, with its 13.2 million acres, is America's largest national park. As the National Park Service notes, it's the same size as Yellowstone, Yosemite, and Switzerland combined.
Interestingly, the Wrangell and St. Elias ranges contain some of the largest volcanoes and the highest concentration of glaciers in North America. What's more, thousands of lava flows and some of the highest peaks in North America are found in the Wrangell Volcanic Field. It even includes Mount Wrangell, one of the largest active volcanoes in the world.
Last year, 65,236 people visited Wrangell-St. Elias. That number is up noticeably from 2021, when 50,189 people visited the park, though it still falls short of the 74,518 visits recorded in the pre-pandemic year 2019.
7. Katmai National Park And Preserve
Alaska
Katmai, which was established in 1918, may be open year-round, but the remote spot is not accessible by car. Instead, visitors need to fly some 300 miles via commercial plane from Anchorage, or they can make the journey on a private or chartered boat.
Last year, 33,908 people made the trek to visit the park. That number is up from the visitor count of 24,764 in 2021, however, it remains well below the 84,167 visits to Katmai in 2019.
Here's why people make the journey. There are hundreds of miles of rivers and streams in the park, which is made up of more than four million acres. Katmai is also home to thousands of brown bears, so it's an ideal place to study the bears. Why so many bears? The park is also known as an important spawning and rearing ground for Bristol Bay sockeye salmon.
6. North Cascades National Park
Washington
North Cascades, about 3 hours from Seattle, only had 30,154 visits last year, which is still up considerably from the 17,855 visits the park logged in 2021. One reason for those numbers is that North Cascades is remote and rugged. In fact, the park is known for its jagged peaks, more than 300 glaciers, and water running through heavily forested valleys.
The flip side of the coin is that North Cascades can seem like paradise to hikers, backpackers, and wilderness mountaineers because it links Washington's interior wilderness with the Cascade Mountain Range. North Cascades is also known for its bird and wildlife watching, camping, biking, boating, and fishing for five salmon species as well as steelhead and cutthroat trout.
5. Isle Royale National Park
Michigan
There's a reason why a trip to Isle Royale National Park is on the bucket list for many people who love wilderness and seclusion. For starters, the park has wolf and moose populations, the deep North Woods forest, and cool weather that can change in a heartbeat, not to mention miles of the rugged Lake Superior shoreline.
If you're wondering why Isle Royale is so remote and wild, it's because the park actually is a freshwater archipelago that includes Isle Royale — the largest island in Lake Superior — and more than 400 smaller islands as well. Isle Royale, which is only accessible by ferry, seaplane, or private boat, has 165 miles of scenic hiking trails and 36 campgrounds used by backpackers and paddlers.
In 2022, just 25,454 people made the trek to Isle Royale National Park. Interestingly, that number is nearly the same as 2021's attendance, when 25,844 people visited Isle Royale.
4. Lake Clark National Park And Preserve
Alaska
Another national park in Alaska accessible only by plane or boat and referred to as a "stunning wilderness" by the National Park Service, Lake Clark is located north of Katmai and about 120 air miles southwest of Anchorage. Like Katmai, Lake Clark is known for its brown bear and Bristol Bay sockeye salmon populations. The rugged park is also home to Crescent Lake, which is known for its superb fishing and bear-watching opportunities. The bears and humans alike fish for sockeye and silver salmon.
As was the case with Isle Royale, Lake Clark's 2022 visitor tally was nearly the same as 2021's count. In 2022, 18,187 people traveled to Lake Clark. That number is marginally down from the 18,278 visitors who traveled to Lake Clark in 2021.
3. Kobuk Valley National Park
Alaska
Kobuk Valley is, bluntly, extremely remote. Simply getting to the park in the summer generally requires plane or boat trips, and reaching the park in the winter typically requires planes or snowmobiles. What's more, there are no roads, entrance gates, or campgrounds, and Kobuk Valley, which is open year-round, doesn't even offer any services. There are, however, 1,795,280 acres of remote backcountry.
In 2022, 16,925 people visited Kobuk. That count is up noticeably from that of 2021, when 11,540 people visited the park, and even the pre-pandemic year of 2019, when 15,766 people visited Kobuk.
Those visitors tended to be "skilled backcountry explorers familiar with surviving wind, rain, and snow — and that's in the summer months," the National Park Service explains. "Winter visits are recommended only for outdoors people experienced in arctic camping and winter survival techniques. For visitors with the right skills and gear, it's a trip of a lifetime."
2. Gates Of The Arctic National Park And Preserve
Alaska
By now, it isn't surprising to see that many of the least visited U.S. national parks are located in Alaska. And as you may expect considering its spot on this list, fewer than 10,000 people visited Gates of the Arctic last year. Indeed, in 2022, 9,457 people visited the park, up from just 7,362 people in 2021.
Gates of the Arctic, an 8.4-million-acre wilderness, is what the National Park Service calls "a vast and essentially untouched wilderness park." Simply put, there are no roads or trails. That means most visitors access the park by air taxi, however, it is possible to hike in from the Dalton Highway or from the village of Anaktuvuk Pass.
On the one hand, visitors are able to watch rivers pass through valleys carved by glaciers and caribou herds as they migrate. Then again, visitors "must have the knowledge and skills to be truly self-sufficient in the remote location and demanding climate and terrain of the Brooks Range," the National Park Service explains.
The upside is that visitors who are prepared for "one of the last truly wild places on earth" will find opportunities for "recreation, and for natural quiet, solitude, and wilderness enjoyment," the National Park Service continues.
1. National Park of American Samoa
American Samoa
National Park of American Samoa may not be in Alaska, but traveling there requires an even longer journey for most U.S. residents. Located in the U.S. territory of American Samoa, the park is approximately 2,600 air miles southwest of Hawaii.
The national park includes sections of three volcanic islands: Tutuila, Ta'ū, and Ofu. Importantly, about 4,000 acres of the national park are underwater, and many of the park's visitors travel there for diving and snorkeling opportunities. In fact, the American Samoa islands are home to more than 950 species of fish and more than 250 species of corals.
The National Park of American Samoa has seen extremely low visitation levels in recent years due to American Samoa's strict COVID-19 travel restrictions that essentially closed its border.
With that in mind, it makes sense that only 1,887 people visited the National Park of American Samoa in 2022. That number is a fraction of the only 8,495 who visited in 2021. To put those numbers in perspective, in the pre-pandemic year 2019, the National Park of American Samoa had 60,006 visitors.
Be sure to read the rest of our U.S. national parks content, including