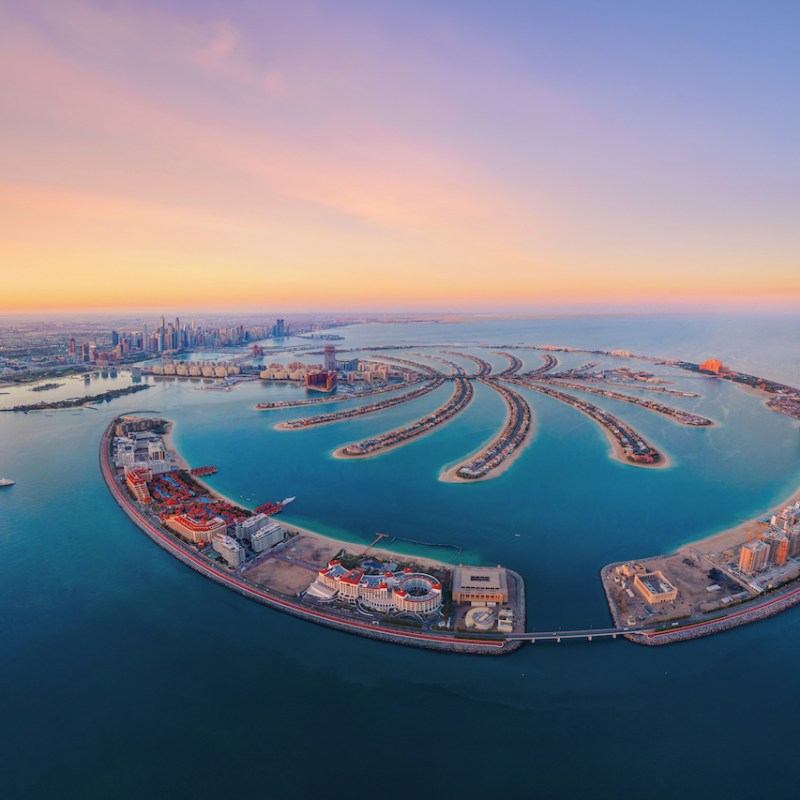 A little April getaway serves as a wonderful reward for making it through winter. TravelAwaits writers have been all over God's green earth at all times of the year, so when considering warm destinations to travel to in April, we turned to them for advice. Here are their top picks.
1. Anguilla, British West Indies
"Anguilla is paradise on earth. The resorts are incredible, offering views of the azure blue water and sugar-white sand. There are several beaches to explore, including ones you can only get to by boat.
"The ocean temperature in the Caribbean Sea hovers around eighty degrees, and the water is so clear, with visibility of up to 100 feet. This is perfect for swimming, paddle boarding, and snorkeling, or just taking in the breathtaking views from a lounge chair.
Anguilla is also the foodie capital of the Caribbean with fabulous restaurants from beach shacks to five-star establishments, all serving the freshest seafood and local specialties. It's the perfect place to restore and relax, especially at this time of the year." — Jeanine Consoli
2. Antigua, Antigua and Barbuda
"If you are looking to enjoy some warm Caribbean weather in April, Antigua — half of the twin islands of Antigua and Barbuda — is hard to beat.
"Temperatures on the island average around 84 degrees in April, and April has the second lowest amount of rainfall (after January). It's also the tail end of peak season, meaning the crowds begin to thin out.
"Antigua boasts 365 beaches — one for every day of the year. Ask a resident, and they'll tell you that in a leap year, you can probably find that 366th beach!
"Plenty of boating activities take place in Antigua during the month of April. They include the Oyster Antigua Regatta (April 5–8) and the Peters & May Round Antigua Race (April 29). Antigua Sailing Week runs from April 28 through May 5.
"Landlubbers will enjoy the Antigua and Barbuda International Kite Festival (April 10), and Antigua and Barbuda Art Week (April 16–22)." — Stan Thomas
3. Bermuda
"Contrary to some belief, Bermuda is not in the Caribbean. It's actually a tiny island in the Atlantic, off of North Carolina. The weather is glorious, but not really before April. I was last there in January, and it was a tad chilly. But in the spring months, Bermuda becomes the perfect spot for a 4-day getaway.
"Flying there from the East Coast is an absolute breeze. In under 2 hours, you're on the pink sand beaches that lead to the clear turquoise sea.
"Bermuda's food scene is amazing; unsurprisingly, the seafood and fish are outstanding — some of the best I've ever had. There's also excellent golfing, shopping, and fascinating, lesser-known history, all of which add up to a perfect April escape." — Karen Burshtein
4. Dubai, United Arab Emirates
"If you're thinking of visiting Dubai, April is a great time to go. It's the city's transitional month, when the mild days of winter are replaced by long, hot, sunny days. You won't face the blistering heat of summer, but you will get 10 hours of sunshine a day — perfect for exploring the city.
"Some of the best things to do in Dubai in April include
a visit to the Burj Khalifa (the world's tallest building)
taking a dhow cruise (for a unique perspective of the city skyline)
visiting the Dubai Aquarium (home to more than 30,000 marine animals)
joining an early-morning or evening desert safari
attending the Dubai Food Festival
"Visiting the iconic Palm Jumeirah man-made island should also be on your to-do list. Anantara The Palm Dubai Resort is found here and is a great place to stay.
"Note that April can coincide with the Holy Month of Ramadan, which may result in limited opening hours for some shops and attractions." — Sarah Kingdom
5. Tahiti And The Tuamotu Islands, French Polynesia
"A Tahiti and Tuamotu Islands small-ship cruise with Windstar Cruises is the perfect April getaway. I cruised aboard the Wind Spirit, a romantic sailing yacht, last April and have never experienced better swimming or snorkeling anywhere in the world. You'll embark in Tahiti and your ship will stop at remarkable islands like Bora Bora, Motu Mahaea, Moorea, Riaiatea, and Huahine in the Society Islands, and the ultra-remote Tuamotu islands of Rangiroa and Fakarava. You can even choose to stay in one of the over-water bungalows during the cruise.
"When it comes to hotels, consider the fabulous Pearl Resorts in Tahiti and Raiatea and the ultra-luxurious Vahine Island Resort, a boutique Small Luxury Hotels private island resort near Taha'a.
"Between your resort stays and a Windstar Cruise, French Polynesia in April promises fine dining, comfortable accommodations, and outstanding excursions in and on the pristine turquoise waters. Bonus: Flying direct from San Francisco or Los Angeles to Papeete, Tahiti, is simple and straightforward. I slept almost the entire flight!" — Judi Cohen
6. The Maldives
"Lying in the Indian Ocean, to the southwest of India and Sri Lanka, the Maldives is a wonderful, warm, April destination. With a tropical monsoon climate, temperatures are pretty high all year round here, but April tends to be calm, with plenty of sunshine — perfect for enjoying beach activities during the day and cool enough to spend balmy evenings out under the stars. This is the end of the Maldives' official dry season, so the occasional tropical rain shower is possible.
"With calm tides, clear skies, and great water visibility, April is the perfect time for fantastic snorkeling and diving experiences, and the reefs are at their best at this time of year. As a bonus, whale sharks are year-round residents in the Maldives, and seeing them is definitely something to add to your bucket list.
"Boasting breathtaking beaches and a plethora of water adventures, Anantara Kihavah Maldives Villas is my favorite place in the Maldives. Surrounded by a turquoise lagoon and white sand beaches, this is a gorgeous place to be." — Sarah Kingdom
7. Victoria Falls, Zimbabwe
"Summer starts winding down in Africa in April, and the continent pauses before winter, so it's not quite summer, not yet winter, and travelers get to experience that magical moment in between. It's a quieter time, perfect for visitors who want to avoid peak-season crowds and prices but still enjoy warm temperatures.
"On the border of Zambia and Zimbabwe, the Zambezi River, Africa's fourth largest river, is at its powerful peak in April, fully charged with 5 months of summer rain and pouring thunderously over the world-famous Victoria Falls. As the water surges over the mile-wide precipice, rumbling and tumbling 360 feet down into the gorge below, vast clouds of mist rise into the air — and can be seen from 30 miles away.
"If this is one of your bucket-list destinations, April is the time to see it, especially from above. Take the helicopter ride aptly named the Flight of Angels. At full moon, an ethereal lunar rainbow, a phenomenon only seen in a few places around the world, is visible in the gorge.
528 Victoria Falls Guest House is a great accommodation option. For activities, dining, and accommodation suggestions, check out Africa's Eden's Victoria Falls page." — Sarah Kingdom
Editor's Note: See fellow writer Vanessa Chiasson's Best Things To See And Do In Victoria Falls, too.
Related Reading: