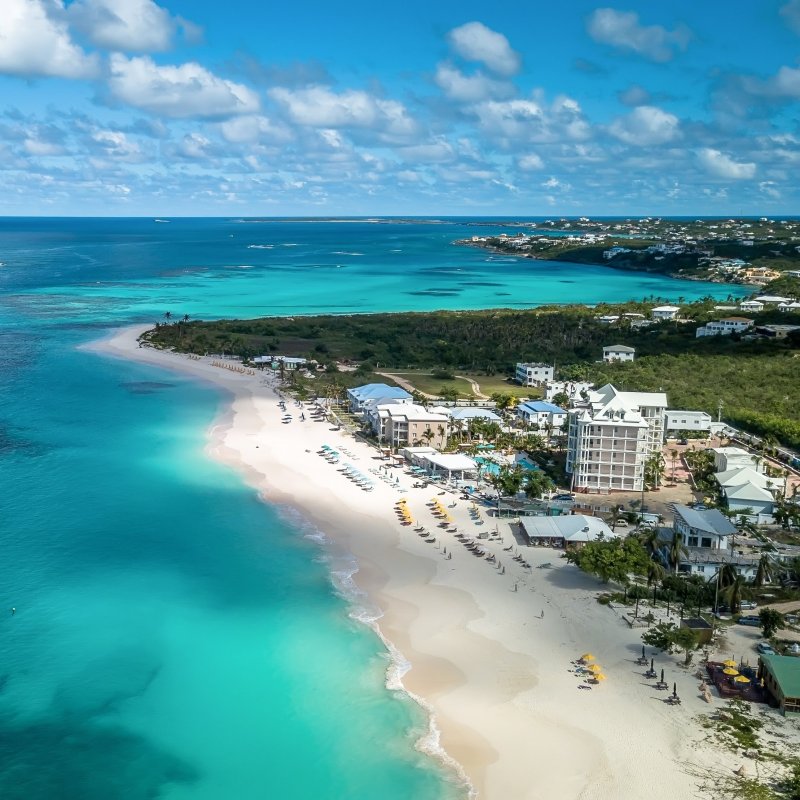 I live on the West Coast now, but I grew up heading to the Caribbean, and although I am a huge fan of Hawaii, Tahiti, and the Cook Islands, there is just something about the clear blue waters of the Caribbean, their history, yachting culture, and the Caribbean commitment to relaxation and the good life.
The island of Anguilla kind of flies under the radar and, in my opinion, that is what makes it one of my favorite places in all of the islands of the Caribbean. Anguilla is not easy to get to, but once you are there, you will be spoiled by exceptional beaches, luxurious properties, and excellent seafood.
There is a small airport in Anguilla with flights daily from San Juan but probably easier (and you get to experience two islands) is to fly into St. Maarten, spend a couple days before or after Anguilla, then take the small ferry over and back. The water is gorgeous and a perfect way to start or end your visit. Private boats are also available and sometimes can be booked through resorts.
Currently, a negative COVID test and an application to the government to visit the island is necessary whether visiting for work or pleasure. The island wants to make sure that visitors understand the requirements for keeping the islanders and other visitors safe and also requests proof of health insurance.
Don't forget sunscreen and snorkel gear as well as an underwater camera and plenty of room for cell phone photos. This is one stunning island once you get there.
Best Things To Do In Anguilla
Maybe one of the best things to do in Anguilla is just relax, walk the white beaches, and read a good book. But, after a few perfect days of nothing, I always need to do something with a bit more excitement.
Snorkeling
Snorkeling is fantastic here and the waters are warm, clear, and full of colorful fish, coral and conch shells no matter where you duck in. Either walk in from the beach or head out for a tour with a local who knows where to go. The best "off beach" snorkeling is considered Shoal Bay Beach, but I have had plenty of good snorkels off Meads Bay Beach.
Take A Tour
Combine a few adventures and head to Sandy Beach Island where not only is snorkeling fantastic right off the beach but the entire beach, although small, is magnificent. Two restaurants make sure the local lobster and rum punch flow. A half-day or even full-day tour here is memorable. Take Rum and Reel Boat Charters and Tours or charter your own boat.
Boats head out from Sandy Ground, a hub of beachside restaurants and bars with a definite island vibe, so multiple charter companies offer tours to both Sandy Beach Island, Scilly Cay, and Prickly Pear Island, all of which have a restaurant or two and beach facilities. These are quiet beaches and, even at their busiest, never feel crowded.
Set Sail
Want to be on the water yet not quite in it? Check out the turquoise waters around Anguilla as well as the scattered cays (or islands) that offer activities as described above or simply an exploration of the birds and foliage that makes up these rarely visited swaths of nature. Book a sailboat trip through Tradition Sailing to Prickly Pear Island for a lobster lunch, or spend a couple hours on a sunset sail.
Tradition Sailing uses traditional West Indian sloops and, while cruising, maybe a guide will point out the traditional fishing boats which participate in the annual Anguilla Regatta celebrating the traditional sport of the island, boat racing.
Golf On Anguilla
The Cuisinart Resort Golf Club has a Greg Norman-designed PGA 18-hole Championship course with challenging holes, a dramatic layout, and stunning views.
Best Beaches In Anguilla
There are 33 beaches on the small island of Anguilla, so it may take a couple trips to visit them all. The good news is that, most likely, your hotel or resort sits on, or close to, at least one of them.
As mentioned before, one of the nicest white sand, calm beaches is Shoal Bay East, continually rated one of the best beaches in the world by travelers who know. The Zemi Beach House, recently transformed into a Hilton luxury property, puts you right on the sand.
Two memorable beaches are joined at the juncture where the Four Seasons Anguilla sits prominently on a bluff. It was The Viceroy Resort when I came to Anguilla the first few times and, like many properties, changes hands from time to time. Barnes Bay and Meads Bay Beaches are stunners and perfect for walking from the famed Malliouhana Resort to the Frangipani Beach Resort.
Little Bay is a remote beach on a little cove accessible only by boat or climbing down a steep cliff. Perfect for those who want ultimate privacy. Sandy Ground Beach and Sandy Island Beach, separated by a 5-minute boat ride, could not be more different. Sandy Ground has an urban vibe and plenty of bars and restaurants, and the boat that takes you to Sandy Beach for a snorkel and lobster lunch.
Rendezvous Bay is host to the CuisinArt Golf Resort and Spa as well as fantastic views of St. Maarten across the water. Another famous resort, Belmond Cap Juluca, sits on Maundays Bay, with its smiling shoreline and clear, walkable waters.
Best Hotels And Resorts In Anguilla
I mentioned many of the top resorts when talking about Anguilla's beaches, which makes sense. Wouldn't you want to wake up to a view over the beach or sleep with the sounds of the water lapping the sands? I know that is my favorite part of Anguilla, in addition to being pampered, eating fresh seafood, walking white sands, and snorkeling clear blue waters.
Much of what you may do on the island depends on your hotel. CuisinArt Golf Resort and Spa, as you may imagine, is focused on food and well-being. There are classes throughout the day, including cooking and garden exploration, as well as exercise, meditation, wellness, and spa treatments. The resort also offers the only 18-hole golf course on the island.
The Malliouhana Resort, now an Auberge property, juts out from a point between Turtle Cove and Meads Bay and is the historic queen of the island. Recently reopened after an $80 million refit and expansion, the resort's elegance remains.
Belmond Cap Juluca is new branding for the longtime favorite hotel of early Anguilla converts. As mentioned, the resort sits on spectacular Maundays Bay. Luxury starts immediately upon your private island transfer from St. Maarten, and there is also a package that includes a private jet if you book five suites. Dreamy!
Four Seasons Anguilla and the Zemi Beach House, a Hilton LXR Resort, are two more five-star resorts that both offer the luxury their brands are known for as well as unique pools, beach activities, and world-class spas.
The Frangipani Beach Resort is family-owned and has a huge following among those that know Anguilla. Understated but still luxurious, it is a bit more affordable, sits on a gorgeous swath of Meads Bay, and offers tennis courts and a gym in addition to a pool, which is a given at almost any place you may stay.
There are boutique hotels and less pricey options on Anguilla, although the island's lodging is considered some of the most expensive in the Caribbean. Turtle's Nest Anguilla on Meads Bay offers pristine condos with plenty of space and fully equipped kitchens. CeBlue Villas and Beach Resort offers three- to six-bedroom villas and a wealth of beach activities, two resort restaurants, and a kids' club.
Best Restaurants In Anguilla
Dining is fantastic in Anguilla. The seafood, the fruits, the spices, and the West Indian culinary approach is fantastic at the most simple joints and elevated to enviable presentations in the more upscale restaurants. Fresh is the key here, and it defines everything you eat be it morning mango, conch chowder, fish and chips, grilled snapper, or local lobster.
Your hotel or resort will likely have fantastic choices for cuisine but truly try to get to at least one beach shack or local hangout to experience what the locals eat and why they are so happy.
Pro Tip: Be patient with the kitchen and servers; they are on Caribbean time and tend to shuffle rather than hustle. A rum punch is the perfect cocktail to take any edge off — after a couple days, there will be no more edge!
Mango's Seaside Grill is a long-time favorite with fresh specialties like the Barnes Bay lobster cake and the ginger creme brulee. Blanchards Restaurant and Beach Shack is down the road on Meads Bay and, like Mango's, has a long reputation for fine dining and an excellent wine list. The addition of a beach shack means there is the opportunity to grab great grub quickly for breakfast and lunch right on the beach. Cocktails, too!
Johnno's is considered one of Anguilla's original beach bars and no trip there is considered complete without a stop here at Sandy Ground's first restaurant. The grilled snapper with rice and peas is considered a Johnno's standard.
Like Johnno's, Tasty's is a local institution, catering to both tourists and locals since 1999. Here one popular dish is coconut-crusted fish and the conch fritters are an appetizer must-have.
Coconos is true Anguillan cooking from the kitchens of a local family, with specialties like stewed oxtail, fried chicken, kingfish, the island favorite, snapper.
Pro Tips: Try roadside stands like Kenny's in Sandy Ground or the food truck Papa Lash if you are in The Valley or the busier business and government center of the island. Still not sure where you want to spend your next vacation? Consider our Hawaii Vs. The Caribbean Guide: 8 Key Differences To Help You Decide.