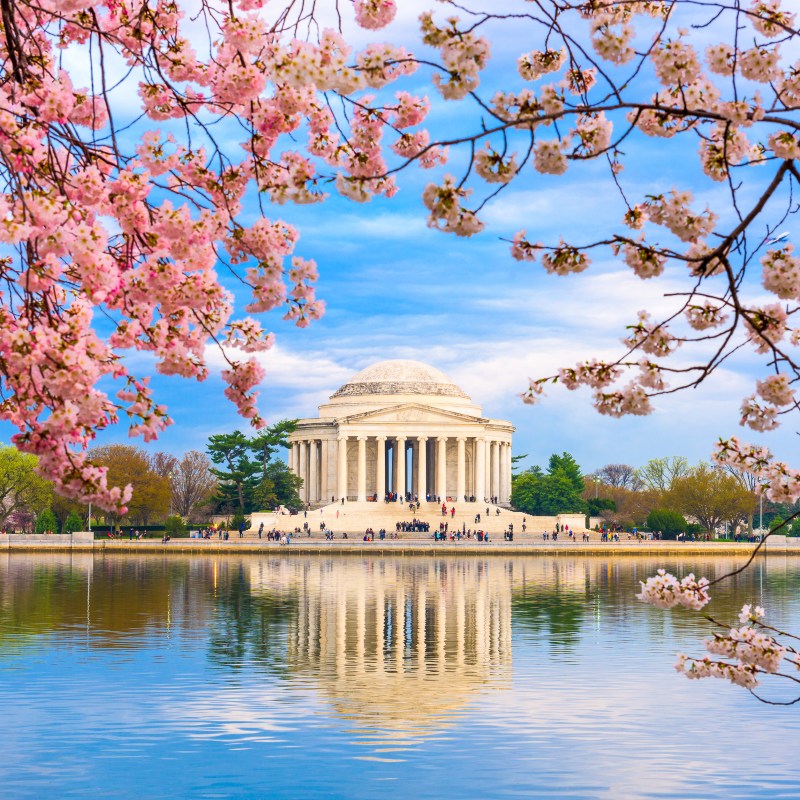 The first few months of the year can be brutal. You've made it through the holidays, you've filed your taxes, and you're planning out the rest of your year — it's a stressful time, and sometimes you need a vacation to get your bearings.
You'll want to go someplace warm, and you'll want plenty of activities to add to your itinerary. You've got a pretty good idea of what you want from a vacation, but no particular destination in mind. If that sounds familiar, we've got a few suggestions.
Here are some ideal spots for an April vacation, along with insider tips for making the most of your visit.
1. Palm Springs, California
Palm Springs isn't the first town most people consider when planning a Californian vacation, but that's part of the allure. This mid-century modern town is hip, chic, and consistently sunny with clear skies and minimal rain (hey, it's in a desert). When visiting in April, you'll get plenty of sun without the full-force summer temperatures.
The city center is active, with plenty of boutique shops and restaurants to explore. Check out the Indian Wells Arts Festival, which typically takes place in the first week of April, or stroll the Artwalk at the Backstreet Art District on the first Wednesday of the month. If you love the great outdoors, Indian Canyons offers wonderful trails, some of which are accessible on horseback.
The downside? April is the peak season for desert tourism, for obvious reasons. Still, Palm Springs isn't a beach town, so tourist traffic shouldn't be a huge issue (we'll note here that Huntington Beach, Newport Beach, and Laguna Beach are only a few hours away if you're up for a day trip). If you're able to book early, you'll have your choice of boutique hotels or vacation homes to rent as accommodations.
2. Tokyo, Japan
The weather in Tokyo is typically moderate in April, with averages in the 60- to 70-degree range. Granted, you might encounter some rain, but you'll still be able to stay comfortable while exploring the streets of Japan's capital.
Here's the real reason why Tokyo makes this list: In April, the cherry blossoms are in full bloom. Take a stroll through Yoyogi Park or a moonlit boat ride down the Sumida River to see why the fragile sakura blossoms are the national flower of Japan. Cherry blossom trees are common throughout the city, but when you're surrounded by dozens of them, it's difficult not to feel a sense of awe and reverence.
Travel to Tokyo in April, and you can go to a baseball game (as we've covered, it's a completely different experience from an American game), explore the open-air fish markets, and dine at some of the world's finest restaurants. Tokyo is home to more Michelin-starred establishments than any other city, so if you're a foodie, you'll be in Heaven.
3. Washington, D.C.
If you're looking for a cultural trip with plenty of historical relevance, you can't do much better than Washington, D.C. Our nation's capital is delightful in April, as thousands of cherry trees come into full bloom; the city even holds a celebratory festival, which is delightful for tourists and a great way to enjoy the cherry blossoms if you're not quite ready for a trip to Japan.
You've probably got a decent idea of the capital's many landmarks, so we won't go into them here — but if you think that the only way to see the city is to stand in line at the museums, think again. Why not take a guided night tour, a ghost tour, or a Segway tour, or take in a meal at upscale eatery Elle (the pastrami is unbelievable, but there are plenty of vegetarian options on the menu)?
4. Honolulu, Hawaii
When choosing your springtime tropical getaway, don't forget about the island of Oahu. With the winter rainy season long past, April means sunny skies and pleasant temperatures. Spring months are also considered the off-season for Hawaiian tourism, which means fewer people on the beaches and cheaper rates for accommodations in Honolulu.
April water temperatures are a warm 76 degrees on average, so snorkeling, swimming, and other water-related activities will be perfectly pleasant. You'd be forgiven for spending all of your time on the beach, but for a more active vacation, hike to Diamond Head State Monument or Maunawili Falls. The Honolulu Museum of Art is a great respite from the outdoors when you've had enough of Oahu's perfect weather (if that ever happens).
5. Charleston, South Carolina
Charleston is a beach town full of Southern charm, but it's painfully hot during the summer months. Beat the sweltering temperatures by planning a visit for April, when the high temperatures range from 71 to 77 degrees.
Milder temperatures aren't the city's only springtime draw. The magnolia trees begin blooming in mid-March, creating an exuberant display through April. The city celebrates this horticultural marvel with a monthlong home and garden event; purchase a ticket, and you can walk through some of the area's most beautiful historic houses and private gardens, then partake in concerts and other events that showcase Southern traditions.
Charleston offers a significant number of museums and historic sites, along with beautiful parks, fantastic restaurants, and convenient access to the Atlantic Ocean. The city tends to draw tourists in the spring, so to ensure a stress-free trip, book accommodations as far in advance as possible.
6. Marfa, Texas
One of the least well-known names on this list, Marfa is a tiny art haven located about an hour and a half from Texas's Big Bend National Park. Yes, it's in the middle of nowhere, but that's part of the draw — and if you love traveling for cultural experiences, Marfa is certainly worth your time.
So, how'd Marfa become a hidden jewel of the Lone Star State? Artist Donald Judd started purchasing property in the town to showcase his personal art installations in 1973. Since then, Marfa has become a center for artists and tourists alike, with permanent and seasonal art installations, gallery shows, and annual music festivals.
The town's also popular with paranormal investigators thanks to a strange phenomenon known as the Marfa Lights; occasionally, glowing orbs mysteriously appear in the sky. Even if you're not fortunate enough to catch the Marfa Lights, you can enjoy an unobstructed view of the Texas sky, and Big Bend is close enough for a day trip.
7. Seville, Spain
With an average April temperature of around 64 degrees, Seville is cool enough to make walking tours pleasant and enjoyable. The summer months can make the Andalusian capital difficult to navigate, but you'll avoid sweltering temperatures by visiting in the springtime. Dive into Spanish culture by exploring the city's stunning Catholic churches and dining at one of the city's many tapas bars, or walk the gardens of Casa de Pilatos with your camera in hand.
When arranging your visit, remember that Seville takes the siesta tradition seriously, so don't plan on visiting any smaller shops in the afternoon (siesta generally runs from about 2 to 4 p.m.). With that said, you'll have no trouble visiting museums, hailing taxis, or finding eateries during these hours, provided that you check hours of operation when planning your itinerary.
8. Amsterdam, Netherlands
Springtime is enchanting in Amsterdam, though the season can be unpredictable. The Dutch have a saying that sums this up: April doet wat hij wil, or "April does what it wants." Make sure your plans are flexible in case you run into rain or temporary drops in temperature (the lows generally hover around 40 degrees).
With that said, Amsterdam makes our list for several reasons. First, April isn't a peak tourist season, so you won't be battling huge crowds in town. Second — and most importantly — there's no better time to see the tulips.
Dutch tulip fields are a sight to behold, and the city's Tulip Festival is a great way to celebrate the flowers' arrival while exploring one of the world's most intriguing cities. The King's Day celebration also occurs in April, an all-out party featuring music and food. If the festivals leave you slightly exhausted, take an afternoon canal cruise or a leisurely bike ride through town.
9. Lima, Peru
Lima, Peru, has average high temperatures of 74 to 78 degrees in April. It's a growing tourist destination, and for good reason — Lima offers an incredible variety of experiences. If you love the ocean, you can find affordable accommodations near the City Beach, but if you're not the type of person who wants to spend an entire trip lounging at a resort, you'll find plenty to keep you occupied.
Take a ride out to Islas Palomino, where you can swim with sea lions (or, if you're like us, admire them from a safe distance). Considered Peru's Galápagos, Islas Palomino has incredible biodiversity and is a must-see for any nature lover.
To gain a greater appreciation of the city's historical landmarks, take a free walking tour, or jump on one of the city's double-decker buses to see the capital city from a different perspective.
Oh, and we can't write about Lima without mentioning Kennedy Park, a serene public park that's home to more than 100 friendly cats. Picture yourself relaxing in one of South America's greatest cities on a warm April day with a cup of coffee and about a dozen cats by your side — we're not sure vacations get much better than that.
If you're ready to book your April getaway, start your search below: