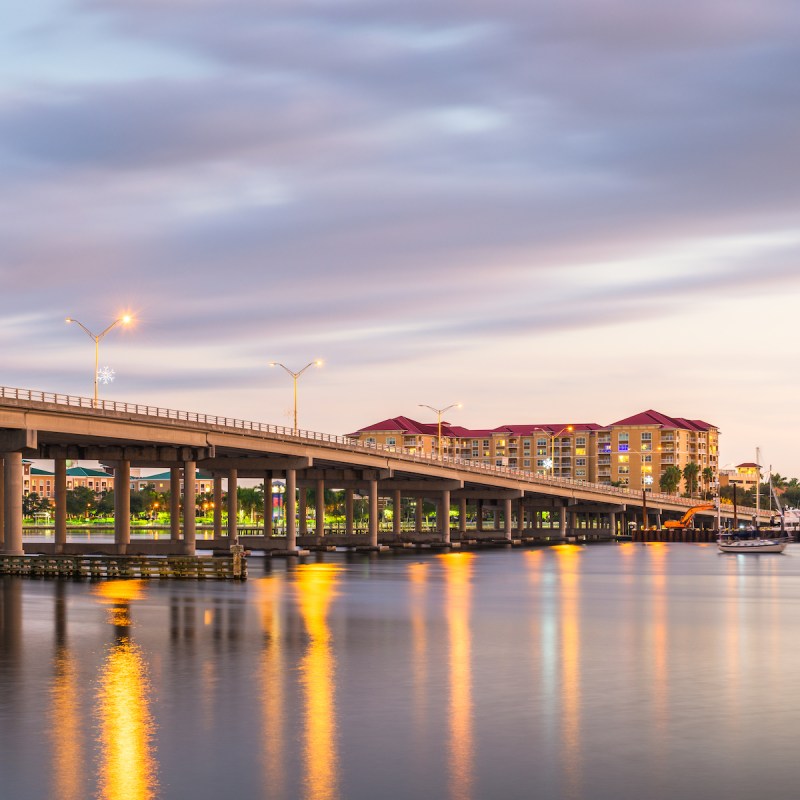 I love seafood! For several days in and around Bradenton on Florida's west coast, south of the Tampa Bay area and north of Sarasota, I indulged in the best restaurants in Bradenton featuring the freshest gulf shrimp, crab cakes, gumbo, calamari, scallops, oysters Rockefeller, and fresh fish. And I found that I liked mussels.
I just had never had excellent fresh mussels until my adventure in Bradenton. Here are 10 coastal Bradenton area restaurants that specialize in the freshest seafood available, in no particular order, but with a very particilar culinary grace.
Note: Visit Bradenton and several restaurants hosted me; however, all opinions are my own.
10 Best Restaurants In Bradenton, Florida | Foodies' Heaven
1. Mar Vista Dockside Restaurant
Chef Aaron Kulzer prepared a locally sourced four-course dinner with wine pairings for our group at Mar Vista Dockside Restaurant & Pub. Initially built in 1912, this old Florida-style waterfront eatery — part of the Ed Chiles Hospitality Group — is one of the oldest structures on Longboat Key, spared when a 1921 hurricane wiped out large areas of the Island.
We started with Red Snapper Wings: snapper fins cut with a bit of belly meat which was panko battered and fried then topped with a spicy buffalo sauce, blue cheese crumbles, and carrot. Our wine pairing was Emmolo Sauvignon Blanc, dry and fresh with crisp, fruity flavors.
Our second course featured Burrata cheese, arugula pesto, and flavorful marinated heirloom tomatoes with a balsamic reduction and crispy croutons that paired nicely with a Lola Rose.
For an entree, a Lola Russian River Pinot Noir beautifully complemented the locally sourced Shogun Farms pulled pork topped with a whiskey barbecue sauce and served with a fried grits cake and pickled oyster mushrooms.
Dessert was a Lola Pinot Noir poached pear topped with delectable chocolate sauce, whipped cream, and fried mint leaf. I practically licked the bowl to get all the incredible chocolate sauce. The Kung Fu Girl Riesling finished the night.
What To Order: Shrimp and grits or the fresh seafood paella from the dinner menu.
2. Star Fish Company
Star Fish Company Dockside Restaurant is a seafood restaurant and market serving the freshest Florida seafood: fried, grilled, blackened, or sauteed. Add sides of cole slaw, cheese grits, French fries, or the best hush puppies.
Starting in the early 1920s as a wholesale fish company, Star Fish Company in Cortez Village became a retail market in the '60s. When Karen Bell purchased it in 1996, she opened the eatery with a small kitchen and eight picnic tables on the back dock.
Order small bites like peel-and-eat shrimp, calamari, or conch fritters. For main dishes, try the grouper, gulf shrimp, swordfish, or oysters. Enjoy domestic, imported, and draft beer or wine.
And for dessert, don't pass up Karen Bell's Key Lime Pie or baklava cheesecake.
Check out the seafood market for grouper, snapper, sea scallops, shrimp, or stone crab by the pound.
This company only takes cash.
What To Order: Anything that is Gulf shrimp or oysters.
3. Mattison's Riverwalk Grille Downtown Bradenton
Award-winning and celebrated local Chef Paul Mattison offers a comfortable dining atmosphere under the covered patio at Mattison's Riverwalk Grille in downtown Bradenton. Indulge in all-natural, fresh, sustainably-sourced ingredients, fresh seafood, and locally-grown produce for brunch, lunch, dinner, and happy hour.
Choose from calamari, shrimp Rangoon, fish tacos, or the tuna poke tower with fresh tuna, mango chayote slaw, avocado, and rice noodles, a new and tasty combination of flavors.
Chef Paul has an Italian heritage and grew up cooking with his Italian grandmother, so you'll find a variety of Italian and Mediterranean cuisines, including a Mediterranean frittata, Tuscan marinated chicken, or grilled Norwegian salmon salad. The menu offers a wide selection of wine, beer, and specialty cocktails.
Pro Tip: Save room for the Key lime pie with raspberry coulis or the flourless chocolate espresso torte topped with raspberry sauce for chocolate lovers.
In Sarasota, three other locations include Mattison's City Grille, Mattison's Forty-One, and Mattison's Catering, famous for wedding catering.
What To Order: The Tuna Poke Tower and the Key lime pie.
4. Beach House Restaurant
A climate-friendly outdoor deck featuring 650 feet of beautiful oceanfront, the Beach House Restaurant, one of three Ed Chiles Hospitality Group restaurants, boasts a unique toes-in-the-sand environment. Sea turtle-friendly lighting and beach-friendly native landscaping are the settings for magnificent Anna Maria Island sunsets and award-winning seafood.
The theme of sustainability and eco-consciousness surrounds the restaurant, including locally sourced farm-to-fork vegetables and locally sourced seafood.
The oysters Rockefeller — baked in a cast iron skillet and topped with creamed spinach, bacon, and Romano cheese — was my favorite. The Gamble Farmhouse Salad features veggies and lettuce grown locally at the farm and topped with Manchego cheese and tropical vinaigrette.
I don't know which was better; the Gulf fried shrimp or the seafood gumbo, full of rich andouille sausage, a variety of seafood, and the trio of veggies topped with a mound of crawfish Beach House rice. The sharable fried green tomatoes with Sriracha mayo were like Mom used to make, only the spicy mayo made it better.
What To Order: Oysters Rockefeller.
5. Pier 22
The landmark waterfront restaurant, Pier 22, is dedicated to creating a memorable guest experience with lunch and dinner daily and breakfast and brunch on weekends. Dock your boat and enjoy dinner on the waterfront terrace or the happy hour sushi bar at 3 p.m. on the patio with seating at the full bar or around the fire pit.
Start with the chunky crab cake with creole remoulade or the mussels in white wine, garlic butter, spinach, bacon, and bleu cheese. The fish tacos feature tempura fried cod, and the ahi tuna nachos include seared yellowfin tuna and wakame salad.
Enjoy sake mirin glazed sea scallops, grouper piccata, or scampi Florentine for the main course. The Fresh Catch offers black grouper, tuna steak, stuffed salmon, or shrimp served with two sides. The "Landfood" menu features steakhouse tenderloin, chicken chevre, or Italian pork osso bucco.
Pro Tip: Save room for Key lime meringue pie or tiramisu.
What To Order: Grouper Piccata.
6. Floridays Woodfire Grill & Bar
What better place to watch a rainstorm in the distance, backlit with a golden sunset, than Floridays? This old Florida Fish House with an indoor-outdoor patio overlooking Anna Maria Sound is located right next door to our Compass by Margaritaville Hotel.
A manatee was hanging from the ceiling on one side of the tiki bar, and the other hosted a giant shark, adding to the casual fish house atmosphere.
I wasted no time selecting from the menu, zeroing in on the lump crab cake served with avocado, corn relish, and a bowl of traditional gumbo.
We shared tastes of the tender mussels in wine and garlic butter and the seasonal catch grouper served with two sides. I could have ordered "one each, please" of the barbecued shrimp skewers, calamari, peel-and-eat shrimp, or fried green tomatoes.
Pro Tip: Don't pass up the Key lime pie or the peanut butter chocolate bar, a brownie topped with peanut butter mousse and chocolate peanut butter pieces.
What To Order: Lump crab cakes.
7. Anna Maria Island Beach Café
Located right on the beach with gorgeous gulf views, Anna Maria Island Beach Café is popular with visitors and locals. We were there for the all-you-can-eat pancakes and sausage. I ordered the veggie omelet with grits, and others requested the pancakes, French toast with strawberries, eggs Benedict, and a Belgian waffle.
Order American dishes for eat-in or takeout like fish, chicken, beef tacos, Island salads, or the shrimp platter or seafood platter served with fries and slaw. Sandwiches include burgers, turkey clubs, tuna wraps, or island fish wraps, either grilled, fried, or blackened.
They specialize in buying a drink, keeping the glass, and enjoying discounted refills all day. Anna Maria Island Beach Cafe is open for breakfast, lunch, and dinner, and live music starts at 4:30 p.m. daily.
What To Order: All-you-can-eat pancakes and sausage.
8. Swordfish Grill
Swordfish Grill is on the water's edge in Cortez, one of the last fishing villages on Florida's Gulf Coast. Enjoy waterfront fine dining and outdoor seating overlooking Sarasota Bay and eat fresh seafood that arrives daily. I ordered the Bahamian conch fritters served with remoulade, a secret recipe from the islands.
The oyster sampler was superb and included four of each preparation: the Rockefeller with spinach, cheese, and bacon; garlic parmesan oysters; and bacon jalapeno oysters. I wanted to design a taster platter to include coconut shrimp, Florida crab cake, calamari, bacon-wrapped scallops, and firecracker shrimp.
How can you resist lobster mac and cheese, shrimp scampi, or shrimp and grits for dinner? Order the seafood platter and indulge in grilled fish, large shrimp, sea scallops, and a Florida crab cake.
We had Key lime pie here also, and it was delicious.
What To Order: The Oyster Sampler Platter and shrimp scampi.
9. Compass Bar & Grill
Located inside the Compass by Margaritaville Hotel, Compass Bar & Grill offers a place to chill out and have a quick bite. Enjoy Compass Nachos, quesadillas, or a bacon cheeseburger. The Power Bowl features spinach, romaine, quinoa, chickpeas, feta cheese, and Roma tomatoes with lemon-tahini dressing.
Pro Tip: For dessert, order the Key lime pie, chocolate cake, or warm cookies and cold milk.
Try a specialty margarita like the Top-Shelf Uptown Margarita or the Finns To The Left with blue curacao. The 5 O'Clock Somewhere® features silver rum, passion fruit tequila, rum, orange and pineapple juices, sweet and sour mix, and a splash of grenadine.
What To Order: The Power Bowl and a cocktail.
10. Anna Maria Oyster Bar On The Pier
After a wildlife Paradise Boat Tour, we gathered for lunch at the award-winning Anna Maria Oyster Bar On the Pier, overlooking the Intracoastal Waterway on the historic Bridge Street Pier. We got the party started with appetizers of fresh mussels and baked oysters, fixed Rockefeller style, and garlic parmesan, the best we'd tasted.
I ordered a shrimp salad with large gulf shrimp and fresh veggies. Others requested the grouper, spicy kaboom shrimp, the pier poke bowl served with yellowfin tuna, and traditional North Atlantic Pollock fish and chips.
There were plenty of boat drinks, including the pink flamingo, Key lime margarita, and for fun, the Florida Viagra, vodka, bloody Mary mix, horseradish, and a raw oyster.
Besides the Bridge Street Pier, other locations include Landslide, Cortez, and Ellenton.
What To Order: Baked oysters and mussels in wine sauce.
While I didn't get a chance to visit, some other popular Bradenton's best restaurants to consider are the Sage Biscuit Cafe, known for a fabulous breakfast; Ortygia, boasting authentic Sicilian, French, and Mediterranean fare; and Chateau 13 Restaurant And Wine Bar, renowned for serving Western European-style dishes.
Final Word on the Best Restaurants In Bradenton, Florida
With so many amazing restaurants in Bradenton FL, it's really hard to choose. From the picturesque Anna Maria Island to the historic Cortez Village, this town's culinary scene is like a playlist of greatest hits.
Whether you're visiting with the family or with a partner hunting for a romantic spot and distinctive flavors, this town's got it. You can see this diversity in the restaurant landscape of the city by tasting freshly caught seafood with an unobstructed view of the Gulf, or gathering a group of friends and spending the afternoon listening to live music at a laid-back local restaurant. As a melting pot of cultures and people, the amalgamation of diverse communities makes Bradenton a unique place.
No matter what you choose, you won't be disappointed in Bradenton. Each spot breathes in its own rhythm and groove. With Sarasota right around the corner, many people pass by this little piece of paradise, but they really do have some of the best restaurants around.
This town may be a bit of a hike from Tampa Bay, but it's worth it. Right now, the Bradenton area has never had so many fantastic dining options.
FAQs
What Food Is Bradenton, Florida Known For?
Bradenton has a reputation for offering delicious fresh seafood, with a special emphasis on stone crab and grouper. Thanks to its proximity to the Gulf of Mexico, visitors will get some of the freshest catches around. Local restaurants and bars also serve Southern classics like fried chicken and barbecue.
Are There Any Budget-Friendly Restaurants In Bradenton, Florida?
Yes. Anna Maria Oyster Bar is renowned for its affordable seafood and relaxed atmosphere. Danny's Pizzeria is a local favorite for mouth-watering pizzas on a budget, while Back Alley Treasures is for an icy cold refreshing drink and world-class cinnamon rolls and donuts.
Is Bradenton, Florida A Good Place For Seafood Lovers?
Yes, Bradenton is amazing for seafood aficionados. PIER 22 is a local favorite, offering fresh catches right by the Manatee River. There's everything, from sushi to grilled fish, making it a must-visit for those who don't eat red meat or poultry.
Are There Any Chain Restaurants on Anna Maria Island In Bradenton, Florida?
No, You won't find chain restaurants or anything resembling big cities on Anna Maria Island. The island boasts seven miles of uninterrupted beach and its Pine Avenue was named "The Greenest Little Mainstreet in America".
What Is The Best Restaurant in Bradenton, Florida To Enjoy Sunset?
Beach House Waterfront is one of the best restaurants in Bradenton to enjoy fine dining at sunset. The outdoor patio opens right up onto the shore, so you can admire the sweeping views the location offers.