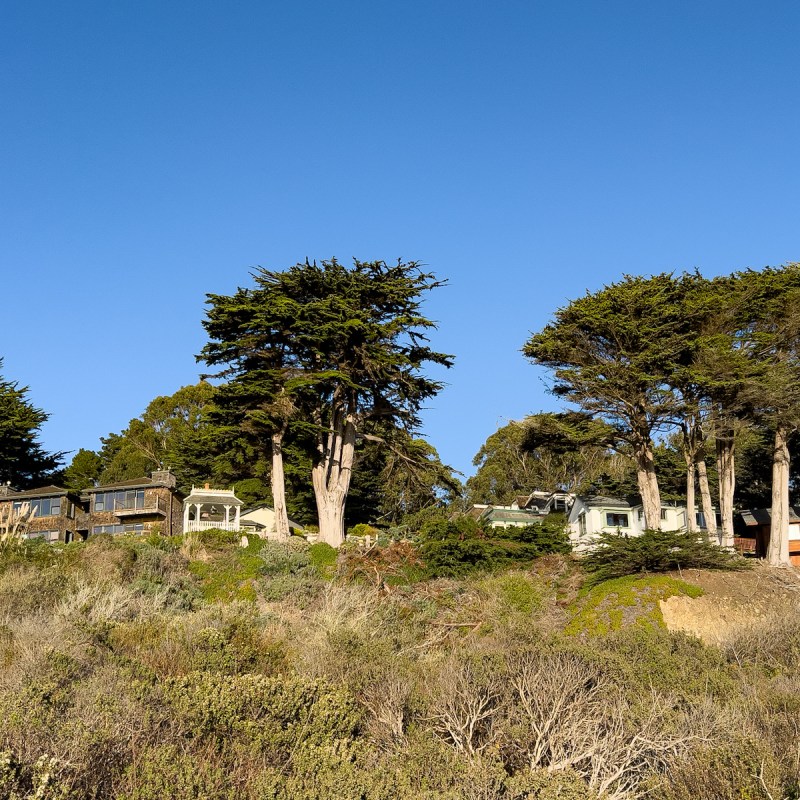 The rugged, magical Mendocino coast draws me to Northern California every year. The setting for one of the most romantic inns in Mendocino County is on a bluff overlooking the relative calm of a cove with a stunning view of rock arches, teal and cerulean water, and tangerine sunset skies. The power of the Pacific Ocean splashes waves over the sea stacks, and seagulls vie for seats atop the jagged stone.
You should consider visiting Elk Cove Inn if you want to escape for a weekend, eat great food, drink memorable wines, relax, and gain respite from your everyday life. It is the perfect weekend getaway on the West Coast.
While I was hosted at the Elk Cove Inn on this visit to Mendocino, all opinions are my own.
The Comfort And Hospitality
Our room key for the George Burk Suite was waiting on the outdoor clipboard at the Mansion for our touch-free check-in.
Sunlight streamed through the enormous picture windows of the ocean-view room upon our arrival and a soundscape was playing quietly in the background on the flatscreen TV, setting the mood for our stay.
A fluffy comforter on the queen bed cradled the wine and gift basket that all guests receive at the Elk Cove Inn. Port wine, crystal goblets, and chocolates on the sideboard made a sweet end to a memorable day on the coast. The fireplace kept us cozy throughout our stay. TV trays made it easy to arrange our in-suite dining with a view inside our room or on the balcony.
Spa services are available in the European-style day spa on the mansion's ground floor. The library and game room are upstairs, along with overstuffed chairs and couches to relax and read.
The History
Elk Cove Inn, a pet-friendly bed and breakfast, is a craftsman-style mansion that was the mill superintendent's home, dating back to 1883. It became one of the first bed and breakfast inns in Mendocino County in 1968.
Nestled amongst native trees, Elk Cove Inn is popular for honeymoons, girl's trips, couples, singles, and weddings. The gazebo is a textbook ceremony setting, and benches built into the side of the hill below offer unobstructed viewing.
Sheltered between pastures for cattle, redwood forests, and ocean bluffs, the property is ideally situated for beach walks and beachcombing. Driftwood litters the beach along with shells and flat rocks that are perfect for constructing cairns.
A hidden stairway below the buildings leads in two directions — to the beach and the town. A short walk up the hill connects to Greenwood State Beach and Park and the small town of Elk.
The Innkeepers
Melissa and Victor, the co-owners and general managers of Elk Cove Inn, are kind and friendly hosts. Sharing how they came to co-own the property, they told us about their life's journeys and the pride in how much they've accomplished in the two years since owning the inn.
Rabbits, goats, hens, roosters, and gardens that provide farm-to-table produce come directly from their grounds. We learned that they are self-sustaining when they gave us a tour of their farmyard and nursery.
Chef Victor brings years of experience and accomplishments to Sibo, Elk Cove Inn's in-house restaurant. Trained in Québec and Switzerland, he worked in multiple countries and owned many restaurants. During a 25-year stint in Miami, Florida, he was appointed to the Miami Culinary Institute advisory board, where he made significant contributions to the institute.
While "retired," Victor prepares the daily gourmet breakfasts and dinners for guests and the public at Elk Cove Inn.
Sommelier Melissa, born in France, educated in Texas with a journalism degree, completed all four levels of the WSET (Wine & Spirit Education Trust) program. She met Victor when she moved to Miami, where they managed and owned a high-end wine distribution company. They specialized in French and Spanish wines catering to American tastes.
The Menus
Elk Cove Inn offers vegan, vegetarian, and gluten-free options. Victor is the only chef in the kitchen and strives for zero waste. He only prepares ordered meals, which you select by noon on the day of your reservation.
Gourmet breakfasts, ordered by guests the night before from an extensive menu, are prepared and delivered to the guest suite between 8:30 a.m. and 10:30 a.m.
I ordered the brouliette, which is scrambled eggs with Parmesan cheese, truffle oil, shallots, and créme fraîche. The potato casserole is gluten-free and is made with eggs, cream, cheese, and herbs. These two dishes were so delicious that I ordered them again on the second day of our stay.
For dinner, I selected the râble de lapin, a homestead rabbit. My husband ordered cassoulet de canard, a duck leg confit, and smoked pork belly in a rich, delicious sauce. As an appetizer, I was fortunate to have sauteed champignons, locally-harvested fresh mushrooms.
Our meal started with a light consumé, followed by appetizers, entrées, dessert, and homemade plum wine.
The entire Sibo experience was memorable and we enjoyed exceptional service in the dining room.
The Town
Elk, California, with a population of less than 250, is 22 miles south of Fort Bragg. Originally, the 19th-century logging community was named Greenwood for the brothers, who were early homesteaders.
Today, historic buildings remain along Highway 1. Matson Mercantile, established in 1901, is still owned and run by the family. Everything from ear drops to olive oil, unique gift items, gardening tools, and hardware are on sale.
Greenwood State Beach Visitor Center Museum houses the late 19th-century post office, photos of early settlers, period furnishing, and lumber camp artifacts. Because of their limited hours on Fridays and Saturdays, they weren't open when we were there.
Old Hospital House is purportedly where Jack London wrote Call of the Wild. No accounts of Jack's life support this tale but the locals promote it.
Elk Store is a grocery store and a deli with humor. Their handcrafted sign warns motorists, "Danger Treacherous Road Ahead, Stop Get Sandwich."
How To Get There
Mendocino County is about three hours north of San Francisco on US 101 or almost three hours south of Leggett along scenic Highway 1.
The closest airport is Santa Rosa, a two-hour drive from the south, with a small municipal airport in Little River that serves Mendocino County. Driving is required no matter how you get to this Northern California destination.
The two roads from US 101 leading to Coastal Mendocino, Highway 128 at Cloverdale, and Highway 20 from Willits, are curvy and best navigated during daylight hours. Route 128 intersects Highway 1 and continues the curves on the two-lane road down the Coast to Elk.
Pro Tip: We visited Mendocino County in the spring and the fall. It's breezy most of the year but we enjoyed most days with sunshine and occasional fog on both visits. The sunsets are spectacular and last for an hour.
For more information on traveling to California, check out these articles: