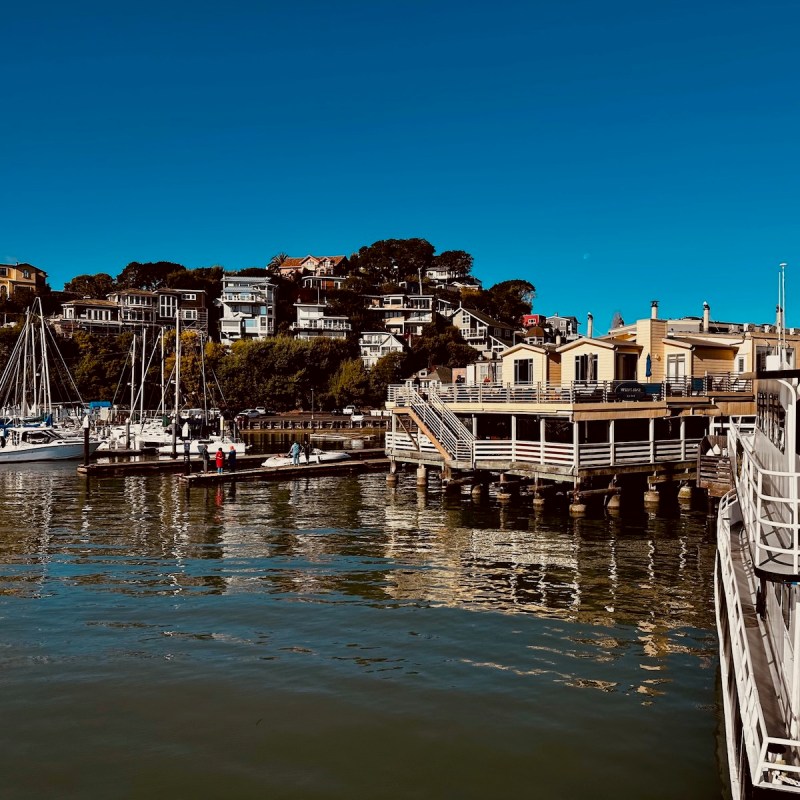 As part of a central California road trip along the picturesque and winding Highway 1 hosted by Visit California and Highway 1 Road Trip, we aimed for the bedroom community of Tiburon, a boutique little town of roughly 9,000 people. Tucked just across the bay from the hustle and bustle of San Francisco, Tiburon By The Bay offers a relaxing pace and small-town vibe that was a welcome end to a week of driving, exploring, and outdoor adventure.
That's not to say we didn't have our own outdoor adventures in this town, which is known for its hiking, biking, water sports, and walkable streets. But Tiburon is more than a place that made native Californians scratch their heads in bafflement when I mentioned I was visiting there — it's full of charming little restaurants and shops, an impressive culinary scene, and easy access to islands, outdoor trails, and yes, even San Francisco.
Here are four reasons you'll fall in love with the quaint Northern California town.
1. Angel Island State Park
On our first morning of exploring Tiburon, we walked from our home base for the next few days at The Lodge At Tiburon, a newly renovated property located on three acres in the heart of Tiburon's quaint downtown area, to grab a quick latte and ham and cheese croissant from Caffe Acri to gear up for our adventure that day at Angel Island State Park. A local's favorite, Caffe Acri is chef Angelo Servino's homage to his hometown cafe in Calabria, Italy.
Located a short distance across waters packed with sailboats on the Angel Island Tiburon Ferry, Angel Island State Park is San Francisco Bay's largest island. Besides boasting some of the best views of the Bay area, this island has 12 miles of trails and roadways for hiking and bicycling and even a white sand beach.
Military And Immigration History
It's full of history too. Originally used by the Coast Miwok as a seasonal hunting and gathering location, Angel Island became the U.S. Immigration Station from 1910 to 1940 for hundreds of thousands of immigrants, mostly from China. It served an important role during The Civil War with Camp Reynolds, but it also had a dark chapter when Japanese and German POWs were housed and detained on Angel Island during World War II.
Although it became a state park in 1954, Angel Island's military and immigration history can be explored at the U.S. Immigration Station, approximately a 1.5-mile walk from the ferry dock at Ayala Cove along Northridge Trail. The station includes outdoor interpretive displays, as well as the USIS museum and its restored detention areas and Chinese poetry engraved on the walls.
If you're taking this trail, be aware that the 144 steps to Perimeter Road may be the shortest way to the Immigration Station, but it will get your heart pounding and your legs screaming. There is a shuttle available, but it wasn't running the day we visited.
Hiking And Biking
Full of Civil War, military, and immigration history, Angel Island also has beautiful natural areas full of eucalyptus groves, wildlife, and great views. Hiking and biking are popular on the island, and while some trails are a little more challenging, the views of the bay are worth the sweat.
If you'd rather have an easy paved hike, the 6.2-mile Perimeter Loop trail will take you about 2 hours to complete. Dogs are not allowed on the trails.
Pro Tip: Taking the ferry really is the best and easiest way to access this island. Fares on the ferry include entrance into the state park, and you'll spend less than $20 for it all. Toddlers can ride the ferry for free, and if you're taking a bicycle with you, expect to pay $1 extra.
2. Charming Downtown Tiburon
Boutique Shops
If you're staying at The Lodge at Tiburon, you won't need a car. The downtown vibrant area of Tiburon is a short 5 to 10-minute walk and includes boutique shops, local and chef-inspired restaurants, and waterside strolls.
Ark Row
If you're looking to stay within Tiburon for a day, you'll find plenty to do. Besides shopping on Main Street, Ark Row is a unique area of downtown Tiburon that shouldn't be missed. Ark Row is located at the base of Corinthian Island, and the shops are mostly former ark boats that remained in the area after the area was filled in.
This area has plenty of art galleries, home goods stores and even the new The Local Spicery, which sells more than 200 varieties of all-natural spices, herbs, and salts.
Other things to do in Tiburon proper include peeking at history on the Old Rail Trail, relaxing with a spa or salon treatment, or walking to Lyford's Tower to take in those famous California sunsets and the Golden Gate Bridge.
Pro Tip: Tiburon has plenty of bike paths, and you can even rent a bike at The Lodge at Tiburon. If you want to explore the area on two wheels, take the bike paths along Shoreline Park, Blackie's Pasture (named for a swayback horse named Blackie), or the Tiburon Historic Trail. You can start your path along the shoreline off of Paradise and then continue down the bay through the Tiburon historic trail.
3. The Marin Loop
Tiburon is a convenient place to call home base if you're planning to do what's called "The Marin Loop," which includes such destinations as Muir Woods, the edge of the North American continent at Muir Beach Overlook, Stinson Beach, or the views of the Pacific Ocean at the Marin Headlands.
Because Tiburon is a short drive across the Golden Gate Bridge, taking a jaunt to San Francisco to visit the hopping and shopping family playground of Fisherman's Wharf or San Francisco's Chinatown (the largest Chinatown outside of Asia) is easy to navigate.
We had a few hours free, so we visited the colorful rainbow Victorian houses and hippie-era Flower Power streets of the Haight-Ashbury District before returning to Tiburon for a dinner that would rival any we had in California.
4. Local Dining
Bungalow Kitchen
As we beat the late fall chill by cozying up at the warm and intimate Bungalow Kitchen by Chef Michael Mina in Tiburon's Main Street area, sipping on gut-toasting old fashioned, a waiter walked past our table with what looked like pot pie made for a giant. The air carried the scent of warm, buttery bread mixed with the tang of seafood and spices, and I, like so many others, turned around to see what this oversized, heavenly-smelling dish was.
The lobster pot pie, one of Chef Mina's signature dishes, is so big because it's stuffed with a whole Maine lobster, a truffle-infused lobster bisque, and hearty root vegetables, but it's not the only entree that makes the mouth water and the tastebuds cry out for more. I dined on the miso-broiled sea bass with king trumpets, complemented by sugar snap peas topped with watermelon radish and finished with ginger dashi while my companion savored his perfectly-cooked ribeye steak.
Sam's Anchor Cafe
Tiburon may be a little bedroom community, but it's big league when it comes to its dining scene. Like Chef Mina of the San Francisco-based MINA Group, big-name chefs and culinary rockstars are opening smaller or stand-alone eateries in this Marin County community.
From cozy coffee shops with homemade pastries like Caffe Acri to succulent seafood dishes at the famed Sam's Anchor Cafe and its stunning views of Angel Island and the Bay, Tiburon has a quality culinary experience for all tastes.
Salt & Pepper
Salt & Pepper, a comfortable casual American fare eatery serving up tender steaks, pasta, seafood, and burgers, is worth a stop-in for lunch.
Petite Left Bank
For a truly luxurious romantic dinner visit the traditional French bistro Petite Left Bank. When you tuck into the intimate space, I recommend the Boeuf Bourguignon, a rustic bowl of love made with red wine-braised boneless short ribs, bacon, baby carrots, mushrooms, pearl onions, and fingerling potatoes.
Next time you're in the San Francisco Bay Area, consider Tiburon as your home base. You'll miss the loud bustle of the city without giving up easy access, and the views alone are enough to make you fall in love with the quaint Northern California town.