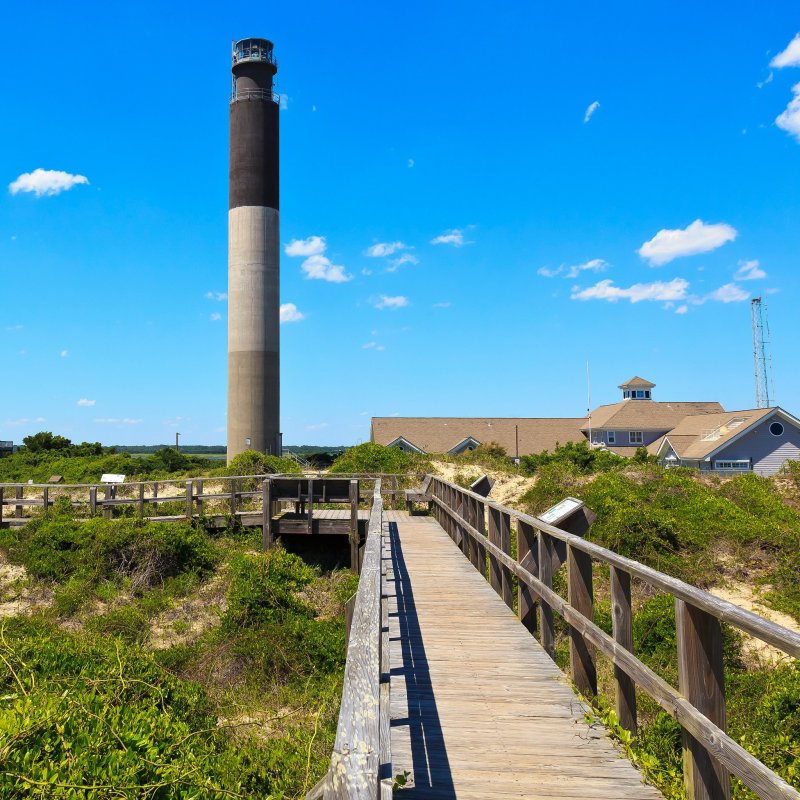 Are you yearning for a classic beach vacation but don't want to deal with the crowds? I've discovered just the right place. North Carolina is known for its coastal vacation spots. It boasts mainly of a lively, high-spirited, "school's out" type beach scene. Being a mature traveler, sometimes you just want to enjoy the beach at a slower pace.
On the southern shores of North Carolina, located just south of Wilmington, lies Oak Island. Part of the Brunswick Island chain, this 12-mile-long island is scenic and serene, with the Atlantic Ocean to the south and the Intracoastal Waterway (ICW) to the north. White sandy beaches, blue-green waters as far as the eye can see, and sand dunes covered with tall beach grass gently swaying in the breeze — idyllic for a quiet beach vacation away from the hustle and bustle of more touristy beaches and towns.
Oak Island is the quintessential piece of paradise: the perfect mix of quiet, lazy beaches and fun sightseeing activities. Here are some of the best reasons to visit Oak Island.
Things To Do On Oak Island
1. Oak Island Area Beaches
The number one reason people flock to the North Carolina coast is relaxation. You can relax plenty on Oak Island. Bring a book, spread out a beach blanket, and stab an umbrella in the soft, white sand. Go for a walk or bicycle ride on the beach. Search for seashells or watch the birds dive and dip into the water for their next meal.
If you are not staying right on the water, Oak Island has over 100 public beach accesses to both the beach and the ICW. You can find a list of these access points here as well as locations of restrooms and rinse stations.
Pro Tip: There are 20 handicap-accessible beach entry points, 10 of which are equipped with Mobi-Mats. The town of Oak Island's Parks and Recreation Department offers beach wheelchairs for island visitors' use. Reservations should be made well in advance as they fill up fast.
2. Watch The Sunrise Or Sunset
This is one of my favorite beach activities. With Oak Island being a south-facing island, it is one of the few places on the East Coast where you can catch amazing sunrises over the Atlantic and, on the same day, watch the sunset over the ICW.
I've found the best place to witness the sunrise or set is at, on, or under a pier. Oak Island has two piers: Ocean Crest and Oak Island Pier. Both are great for fishing or just taking a stroll. They both are excellent spots to watch the sun rise or set and capture the moment on film. You might even catch a glimpse of sea life swimming in the waves.
Pro Tip: Both piers are available for sightseeing and fishing, and both have restaurants. Oak Island Pier boasts Ruby's Coffeehouse, and KoKo Cabana, a full-service restaurant. At Ocean Crest Pier, you'll find Seahorse Eats and Drinks, a beer and wine bar and grill.
3. Oak Island Lighthouse
A must-see on any lighthouse lover's road trip list is the Oak Island Lighthouse. Completed in 1958, it is North Carolina's newest lighthouse. Oak Island Lighthouse is the first in the U.S. to use rotating LED technology. When the old light system motor failed, it gave them the perfect opportunity to explore a new cost-effective solution. The new LED system was installed in December 2020.
For amazing views, visitors can climb the 131 steps to the top via a private tour. Top Tours are limited and reservations must be made in advance (4–6 weeks in advance during the busy summer months). Free public open house tours, of the first floor only, are also available. Please see the lighthouse website for open house and Top Tour information and reservations, as well as Lighthouse hours and other pertinent information.
Pro Tip: The lighthouse has ship-ladder steps. Be sure to wear sturdy sneakers. Even without climbing to the top, visitors can easily spend an hour here and across the street on the boardwalk and observation deck. There are no restroom facilities.
4. Fort Caswell
Just past the Oak Island Lighthouse, out on the point of the island, lies the historic ruins of Fort Caswell. Constructed between 1826 and 1838, Fort Caswell played an important part in the Civil War and both World Wars. It was decommissioned in 1946.
Visitors can wander the grounds of the coastal fortress through ruins of buildings, and dungeon-like rooms of the old batteries. The old gun mounts, slit trenches, and other properties of maritime days are still to be found. It's a great place for kids to run around and is wheelchair accessible.
Pro Tip: Today, this beautiful property is privately owned and used as a retreat and conference center. When retreats are not in session, it is open to the public for tours of the ruins and overnight stays. Reservations need to be made in advance online or by calling ahead on weekdays between 8 a.m. and 5 p.m.
5. Water Sports
The crystal-blue waters of the Atlantic Ocean on one side and the ICW on the other make Oak Island the perfect spot for water-sport enthusiasts of all sorts.
Bring your own kayak or stand-up paddleboard (SUP), or you can rent on the island. At Long Beach Paddle Company, you can rent equipment and head out on your own, or take a guided tour.
Local Call Surf Shop, Oak Island's only "true surf shop," is where you can find all your surfing needs, from surfboards and skimboards to boogieboards, bathing suits, flip flops, sandals, glasses, and much more.
6. Golf
If golf is your game, you're in the right place. Rated one of the Top 30 Hidden Gems of North Carolina, the Oak Island Golf Club is an 18-hole, 6,720-yard, George Cobb-designed course that meanders through Oak Island and Caswell Beach overlooking the Atlantic Ocean. This is coastal golf at its finest for any golfer.
Also in Brunswick County, just 27 miles from Oak Island Golf Club, is the renowned Rivers Edge Golf Club. Designed by Arnold Palmer, this course runs along the bluffs and tidal marshes of the Shallotte River. Rated as a Top 10 Golf Course in North Carolina, Rivers Edge is one of the most spectacular courses you'll ever play.
Want more golf during your getaway? Read up on the nine best public golf courses in North Carolina.
7. Fishing
Fishing is abundant on Oak Island. Enjoy fishing from one of two ocean-side piers, the Intracoastal Waterway, and sloughs. Bring your own gear or rent.
Go out with the professionals on an Oak Island Fishing Charter boat or try your hand at surf fishing right on the beach. Oak Island Pier House, the bait and tackle shop, offers everything you need for a day of fishing.
Pro Tip: Oak Island Recreation Center offers surf fishing lessons. For more information and reservations, click here.
8. Oak Island Nature Center
This is a nice cool getaway from the beach. The grounds include a butterfly garden, animal exhibits, fossil exhibits, walking trails, a beautiful view of the Intracoastal Waterway, covered picnic areas, and a fishing dock.
Pro Tip: The Nature Center is small and the building may not be open, but you can still walk the trails and sit down by the water. Pack a picnic and have lunch in the shaded picnic area.
9. Scenic Ferry Rides
A great escape from the beach, for a few hours or a day, is to take a scenic ferry ride. Two ferry terminals are located about 20 minutes from Oak Island in Southport.
The Bald Head Island Ferry is a 20-minute, passenger-only ferry. The Fort Fisher Ferry carries vehicles and travels 35 minutes, one way, up the Cape Fear River. Both terminals have public restrooms, concessions, and plenty of local area information for newcomers.
10. Bald Head Island
If you take the ferry to Bald Head Island, enjoy a guided nature outing or ride along on a sea turtle patrol at the Conservancy Center. Hike through the Bald Head Woods Maritime Forest Preserve or golf at the Bald Head Island Club.
"Old Baldy" is the oldest standing lighthouse (circa 1817) in North Carolina. The breathtaking view from the top is undoubtedly worth the 108-step climb to get there.
Pro Tip: I suggest planning a whole day exploring the island because the ferry fee is a bit high (to me) — over $20 for adults and over $10 for children (plus parking). Once there, you can rent a bike from Riverside Adventure Company, or a golf cart at Cary Cart Company. Both are located a short distance from the ferry landing.
11. Fort Fisher And Carolina Beach State Park
Fort Fisher State Historic Site is where the largest land-sea battle of the Civil War was fought. The tour trail is about a quarter-mile long and includes exhibits, a visitor center, and a small gift shop.
Did you know that the only place in America where the Venus flytrap grows in the wild is North Carolina? At Carolina Beach State Park, Venus flytraps and other wildflowers can be found along the easy, half-mile Flytrap Trail. It is part natural surface, part wooden boardwalk, and is handicap-accessible.
12. Shop In Historic Southport
Spend the afternoon shopping in Southport's quaint, picturesque downtown. Stroll the ancient oak-lined streets admiring Victorian homes, coastal cottages, and historic buildings. Take in the sights and sounds of a true waterfront village by strolling along the boardwalk from the riverfront to the Southport Marina.
13. Swamp Park
Have you ever wanted to ride on a swamp boat? See alligators in their natural habitat? How about zip-lining through the treetops or getting muddy on an ATV? Adventure has no age limits! You can experience all this and more at Swamp Park, which is roughly 30 miles from Oak Island Beach.
Pro Tip: You could spend several hours here. Wear sneakers and bring a change of clothes. Chances are you will get wet or muddy.
Best Restaurants On Oak Island
One of the biggest reasons I like to travel to new places is to eat. If you are a seafood lover like me, you'll love Oak Island. Not into seafood? You'll find plenty of other options, including barbecue, burger and pizza joints, and more. Two of my oceanfront dining favorites are Island Way and The Lazy Turtle Oceanfront Grille. Other Oak Island favorites include Shagger Jacks, Salt 64, and Tranquil Harbor Restaurant.
Best Places To Stay On Oak Island
On Oak Island, you won't find miles of super-sized, three- and four-story condos or dozens of high-rise hotels. The shoreline is dotted with smaller, single-family vacation rentals, rustic motels, and quaint bed and breakfasts. Perfect for a quiet, slower-paced getaway.
If you do prefer the amenities of a larger hotel, there are several in the Oak Island area within minutes of the beach, including Holiday Inn Express & Suites, Comfort Suites, and Hampton Inn & Suites.
For more Carolinas vacation advice, consider our beautiful Carolinas road trip: Asheville to Myrtle Beach, the 10 best hikes in stunning North Carolina, and why Emerald Isle is perfect for your next beach vacation.