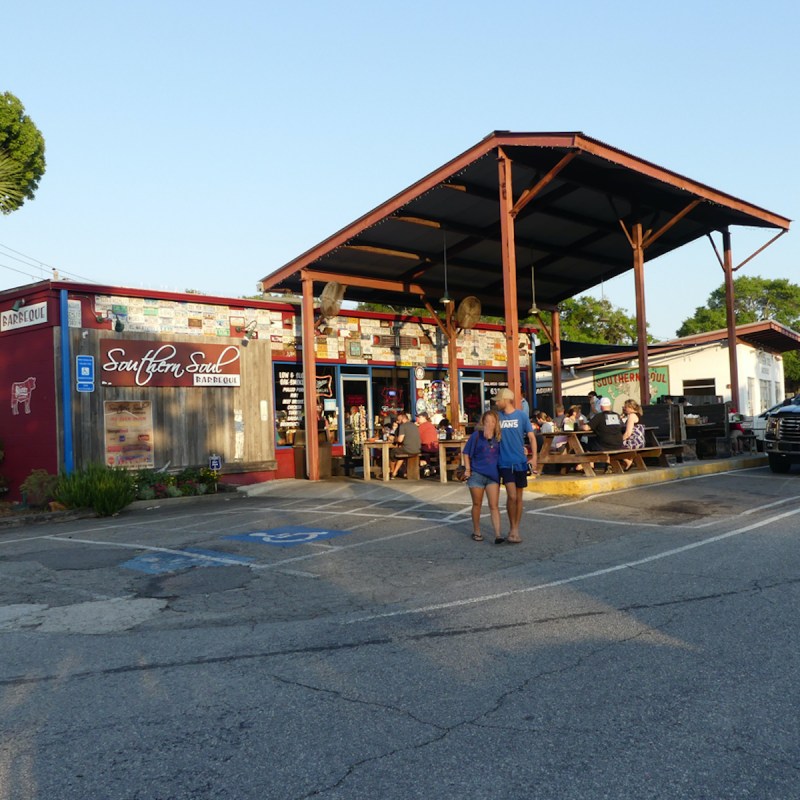 When you're exploring St. Simons Island, all that fresh air will make you hungry. You've got a problem, too many great choices. Do you want flip flops and pop tops, casual, upscale steak, or seafood, or anything in between? No matter, there is a perfect choice to fit your needs. Here are a few of my favorites. There's no particular order. I experienced them on a comped press trip, but my tastebuds make their own decisions.
1. Gnats
Gnats is the kind of place where Jimmy Buffett would feel at home. There's a beachy feeling here. Shorts and flip-flops are the style. You smell the aroma of fried seafood before you step into the low-slung frame building. The bar is just cluttered enough to make you feel at home. Some cute signs adorn a plank wall at one end. My favorite is the one that says, "Frankly Scallop, I don't give a clam." There are some tables in here, but if the weather is typical St. Simons type, sunny and mild, head back to the open-air section. Its white paddle-blade fans whirl amid the exposed beams with little white lights around the ceiling, keeping a comfortable breeze going. Choose one of the brightly painted picnic tables, preferably one by the patio with multiple barn-style doors that stay open, except in bad weather.
You have lots of choices of southern-style foods, including wings and burgers of all varieties. There are a few unusual items like their Grits Bowl, your choice of protein combined with andouille sausage on top of cheese grits and a side of grilled French toast, and Vidalia Onion Pie, made with creamy Swiss, sun-dried tomatoes and onion dip served with tortilla chips. My choice was the shrimp basket with sweet potato fries, cheese grits, and hush puppies. It was a winner in my book. I bit into the crispy outer crust of the shrimp and the big inner shrimp tasted so fresh.
Gnats, located in Redfern Village, a popular shopping, dining, and nightlife spot in the middle of the island, began in 1999. The Pope family had owned and run Gnats since 2013. It is open for lunch and dinner.
2. Golden Isles Olive Oil
Another unique restaurant in Redfern Village is Golden Isles Olive Oil, owned and run by Donna MacPherson. If you don't believe healthy can be delicious, you will be pleasantly surprised. My salad of mixed greens with prosciutto and a slice of orange, dressed with hibiscus syrup and Bianco olive oil, was tasty, as was my entrée of crustless crab quiche with cheddar cheese and topped with wild mushrooms. The crowning event of the meal was dessert. I never dreamed blueberry ricotta ice cream topped with lemon olive oil could be so delicious.
Besides the restaurant, Golden Isles Olive Oil is a shop filled with a large variety of the finest imported olive oils and balsamic vinegar, it has gift items and gourmet foods such as imported olives, pasta from Italy, and many Georgia-grown products.
3. Southern Soul Smokehouse
If you're craving real Southern barbeque, Southern Soul Smokehouse is the place to go. Barbeque is one of my favorites, so I went all out here. I had the Southern Soul Sampler, a choice of two meats, stew, and a side. I went for pulled pork and ribs with slaw and baked beans. Those ribs! I can still taste that fall-off-the-bone tender meat with the tangy sauce. By the time I had eaten as much as I could, I was a happy camper and a messy one. Barbeque isn't good if it's not sloppy. I drenched both the ribs and the pulled pork in Southern Soul's own signature barbecue sauce, mixing the Hot Georgia Soul with the Sweet Georgia Soul. No way you can go wrong with that combination. The Brunswick stew was delicious. I could taste the individual ingredients rather than just a uniform mush.
4. Georgia Sea Grill 
If you want upscale, Georgia Sea Grill is your kind of place. Owner  Zack Gowen really believes in the idea of farm fresh. He wants his chef, Tim Lensch, to have everything grown in Georgia and as close as possible. That's why when you order a catfish, you get locally grown, organically fed catfish from his own Satilla Ponds in White Oak, Georgia. The same holds true for his produce. Zack told us, "I had just finished reading Potlikker Papers, and I was looking for a farm and found an old vegetable farm, 7 acres on Potlikker Place, same spelling; serendipitous. We closed on it and are in full production."
A big part of that production is in the hands of Sam McPherson, the farmer at Potlikker Farms, who grows cucumbers, squash, and many other types of produce used in the fabulous dishes at Georgia Sea Grill.
The end product comes from the capable hands of chef Lensch. When we asked him about his thoughts on the dishes, he said, "I like to keep it as local as possible, as southern as possible, as simple as possible. I don't try to overthink it."
Since he doesn't plan menus far ahead as it depends on what is coming in fresh and he plans around those items. It works. I loved his Shrimp & Grits. The Tasso gravy had just a touch of spice and meshed perfectly with the smooth, creamy grits and the tender shrimp. The small roasted tomatoes added a tasty touch.
Do save room for dessert here. I had a tough decision to make: Georgia pecan pie made with local bourbon honey from Blackwater bees or crème brúlėe topped with fresh strawberries and blackberries. Since a friend had the same problem deciding, we shared. The pie had crunchy pecans and was served with a scoop of flavorful vanilla ice cream. The brúlėe had a firm sweet crust covering melting banana custard goodness.
The atmosphere is one of a quiet, relaxed feeling. White table cloths, white ceilings, and black floors give it a feeling of aged elegance. A brick wall adorned with framed black and white photos of fishermen at their favorite St. Simons Island spots gives it a local atmosphere.
5. Cottage Custard + Coffee
I've been talking more lunch and dinner places, but there is a standout breakfast spot, Cottage Custard + Coffee, located in a beautiful beach house that is part of the King and Prince Resort. It's good for a quick, light breakfast before you hit the beach or golf course. It offers homemade muffins, scones, croissants, and assorted bakery treats. If you're thinking healthy, you can order a fruit cup or yogurt. It also has delicious frozen custards and a choice of toppings. The coffee and espresso are brewed fresh from beans roasted by Wake Up Coffee Company on Saint Simons Island. If you are not a coffee drinker, you can get hot chocolate or tea.
6. ECHO
One place you can find breakfast, lunch, and dinner is ECHO at King and Prince Resort. The name, ECHO, is a tribute to the resort's participation in events during WWII. To protect against the German submarines offshore, the navy purchased the local airport to use as a base. Radar operates by bouncing electronic radio waves off an object in its path like an echo. The King and Prince closed to civilian visitors and housed the operation center, sending out those radar signals. It was home for the officers and a gathering place for enlisted men and local Civil Air Patrol volunteers. 
ECHO is the island's only oceanfront restaurant and bar. You can dine inside or enjoy the ocean view out by the pool. Executive chef James Flack makes sure that when you dine, the food is superb. Breakfast can be as simple as a fresh fruit plate, or go southern again and enjoy a breakfast version of Shrimp & Grits, gouda grits, sautéed wild Georgia shrimp, poached egg, and hollandaise sauce.
One meal I enjoyed started with watermelon salad, a huge chunk of fresh watermelon accompanied by fried goat cheese, dried pomegranate seeds, lotus roots, blackberries, cucumbers, toasted pistachios, frisée, watercress, topped with mint foam and lemon crème fraîche. They paired each course with wine; this salad was paired with a French wine, Champ De Provence, that I liked.
My entrée, Shrimp and Grits, one of my favorite southern foods, had an unusual twist. The wild-caught Georgia shrimp were blackened and served atop andouille étouffée with a side of collard greens.
Dessert was a crisp and juicy fried peach pie topped with vanilla ice cream.
ECHO has a well-stocked bar with some unique cocktails. My favorite is High Tide, made with Rum Haven, Southern Comfort, a splash of vodka, and fresh fruit juices.
You're on "island time" here, so relax and enjoy some great southern dishes.
Pro Tip: The King and Prince Resort is a great place to stay. You are on the ocean and can have a traditional hotel room, villa, or cottage.