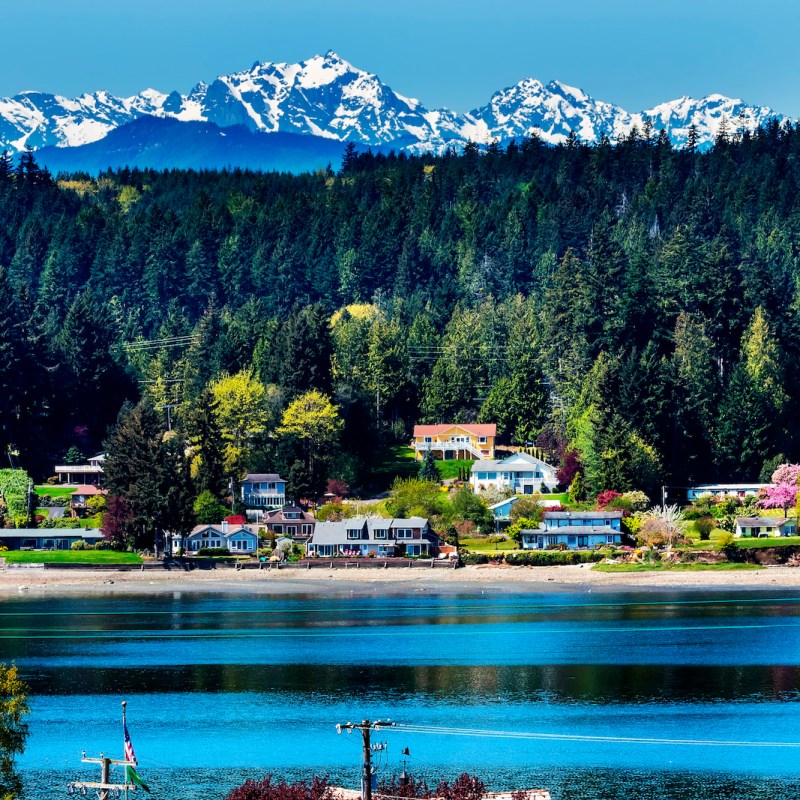 Bordering the Pacific Ocean to the west and the Cascade Mountains to the east, the Pacific Northwest is unbelievably scenic. Oregon and Washington probably come to mind when you think of this area, but it also includes Alaska, Idaho, and Wyoming. Our travel experts have some great recommendations in each state. Some focus on a specific attraction, like the Reindeer Ranch in Fairbanks, Alaska, while others are more general, such as central Oregon. (If you are looking for mountain towns, check out our article, 17 Adorable Mountain Towns Our Readers Couldn't Get Enough Of In 2022.) From quaint towns that lie across the Pugent Sound from Seattle to the Wyoming town that inspired Longmire, here are 10 gorgeous towns to visit in the Pacific Northwest this year.
1. Fairbanks, Alaska
In the Boreal Forest of northern Alaska, Running Reindeer Ranch can be found on the edge of Fairbanks. Sandi Barrett wasn't sure what to expect when she signed up for a Reindeer Walk but was certainly intrigued at the possibility of being up close and personal with these "mythical flying deer."
Much like any other ranch, domesticated animals are fenced in with shelter barns and feeding troughs. Near the pens are rows of folding chairs where visitors listen to a wrangler talk about the herd. "It wasn't long before the reindeer were wandering untethered through the visitors, curiously sniffing necks and angling for loving pets," recalls Barrett.
Running Reindeer Ranch gives you the opportunity to walk through the forest with these playful critters that "love zoomies as much as any canine," according to Barrett. "It was evident that they took us into their pack. This picture is one of my favorites of the day. They had us loosely hold the reins, which were only on for the photo opp. Instructions, just drape the lead, if he wants to go somewhere, you don't want to be attached — visions of flying through the air on the back end of a 500-pound reindeer on a mission danced through my head."
2. McCall, Idaho
This is the only U.S. destination Jill Dutton has considered moving to after visiting. "For someone who loves the vibrancy of the mountains as well as the relaxing aspects of water equally, McCall, Idaho, has it all," she says. Dutton rented a cabin across the street from Payette Lake after visiting family in Boise. Surrounded by majestic mountains with Payette National Forest in the backyard, "it felt like home," she recalled.
"I eventually decided not to move to that charming cabin on the lake after my mom reminded me of the numerous feet of snow they receive each year and how isolated I would be on my own," says Dutton. But McCall still holds a special place in her heart. Here's how to spend a perfect long weekend in scenic McCall, Idaho. You may even want to move there, too!
3. Albany, Oregon
Many small towns along Oregon's Willamette River offer visitors unique, locally-owned shops, craft beverages, and drool-worthy restaurants, but Albany offers so much more, June Russell-Chamberlin tells us. Located 70 miles south of Portland, Albany's historic downtown is filled with cozy coffee shops, galleries featuring local artists, and some of the best eateries in the Willamette Valley.
Take a ride on the town's pride and joy, the historic carousel, then visit the museum and workshop where volunteers hand carve the whimsical carousel animals. Stroll the riverside paths, catch a concert in the park, or stop by the best farmers market around. Architecture fans can pick up a free guide to four National Historic Districts with homes and buildings dating from 1840 to the 1920s. There's always something fun happening, from the Trolley of Terror at Halloween to hot air balloons at the Northwest Art and Air Festival.
4. Terrebonne, Oregon
"Central Oregon needs to be on your bucket list for 2023," contends Peggy Cleveland. Small towns such as Terrebonne, Redmond, Sunriver, and many more are all just a short drive from Bend, Oregon. The area is known for its luxury destination resorts and a favorite is the Brasada Ranch.
You'll find views for miles in this high-desert location. Get out and explore sites such as Smith Rock State Park which offers epic hikes. Lots of rock climbers take advantage of this natural rock feature. You'll find quaint small towns in the area or you can head into the larger city of Bend known for its craft breweries. "This area is beautiful to visit any time of year," comments Cleveland.
5. Bainbridge Island, Washington
Just a short ferry ride from downtown Seattle, Bainbridge Island is one of a handful of Washington islands that belong on your travel list. "Bainbridge Island is worth a visit for the Japanese American Exclusion Memorial alone," attests Kathleen Walls. "I had a tour with Lilly Kodoma who was 7 years old when she, along with 226 people of Japanese descent, were the first to be removed and sent to internment camps." This outdoor exhibit is just one of the island's attractions.
Nature lovers will delight in a visit to Bloedel Reserve. The 150-acre garden and forest preserve is open year-round and timed tickets can be booked online. For more delightful gardens, head to Heyday Farm, a 25-acre sustainable family farm complete with a turn-of-the-century farmhouse. Weekly community dinners are served most Thursday and Friday nights.
This area of the country is known for coffee. Learn all about the bean at Pegasus Coffee House. For stronger drinks, visit Highside Distillery or Eagle Harbor Wine Company. "L'Atelier TR's candy is a true delight," Walls says of the chocolate artisan. Food choices include Streamliner Diner, Bruciato for Italian, and The Marketplace at Pleasant Beach — a coffeehouse, delicatessen, and taproom.
6. Poulsbo, Washington
Overlooking Liberty Bay, Poulsbo is just north of Bainbridge Island on Washington's Kitsap Peninsula. Originally a Suquamish Native American fishing village, Poulsbo was founded by a Norwegian immigrant. Dubbed "Little Norway," the charming Pacific Northwest city hosts several annual Viking-themed events that celebrate its unique heritage.
The Poulsbo Maritime Museum tells the watery history of Poulsbo. "I love the mural next to the replica of the pilothouse of the steamship Hyak," Walls tells us. Learn more about the lifestyle of early Poulsbo pioneers next door at the Poulsbo Heritage Museum and at Martinson Cabin in Nelson Park.
Keep your eyes peeled for sea lions as you look out over the bay at Muriel Iverson Williams Waterfront Park. Learn about sea lions and all the local marine life at the SEA Discovery Center. Located in historic downtown Poulsbo, SEA Discovery Center is open on Fridays and Saturdays.
Nestled along a saltwater shoreline, Kitsap Memorial State Park offers picnicking, camping, and views of the sun setting over the Olympic Mountains.
Boutique and dining choices abound on the picturesque Scandinavian-modeled main street. Walls recommends Sogno di Vino for fantastic Italian dishes and Tizley's Euro pub for a taste of Germany.
7. Sequim, Washington
Lavender fans will love the town of Sequim. Downtown, you'll find great little shops and a variety of restaurants as well as lavender-painted benches and trashcans. Sequim is surrounded by lavender farms, and each July, the Sequim Lavender Weekend gives visitors the opportunity to visit lavender fields at their peak. Gorgeous blooms, buzzing bees, and the soothing smell of lavender blossoms amount to a truly unique experience.
Cleveland recommends visiting Olympic Game Farm. "They worked exclusively for Walt Disney Studios for 28 years," she tells us. "Many famous movies and TV shows filmed at the farm or around the Olympic Peninsula."
8. Union Gap, Washington
Union Gap is located in the Yakima Valley, which is Washington's agricultural mecca. "Union Gap is about a 2-hour drive from Seattle and the vibe is about as un-Seattle as it's possible to get," Jill Robbins tells us. With more than 300 days of sunshine per year, scenic drives, and wide-open spaces, Union Gap offers a different Pacific Northwest experience than the Seattle-Tacoma area, which draws in more visitors.
For those who enjoy wine tasting and craft breweries, Union Gap and the surrounding area deliver the flavors you're after. Fancy yourself a foodie? Sample James Beard award-winning tamales at Los Hernandez Tamales.
An interactive app guides you through outdoor exhibits at Central Washington Agricultural Museum. Directly behind the museum, Ahtanum Ridge has a system of trails that offers stunning views — if you stick with the rather steep walk up!
Take maximum advantage of the fresh produce stands in the area by visiting Union Gap in late spring or early summer.
9. Vancouver, Washington
Vancouver, Washington, is situated on the shores of the mighty Columbia River. "Once considered Portland's stepchild, Vancouver is now a destination stop," according to Kathy Condon. Back in the 1800s, it was the regional headquarters for Hudson's Bay Company, which traded furs. Fort Vancouver, a former frontier trading post, is now a national historic site. Here, you can see the Ulysses S. Grant and George C. Marshall Houses on Officers Row.
The city's new, contemporary-designed waterfront stands proudly on the banks of the river. The Vancouver Waterfront is a planned area with hotels, restaurants, tasting rooms, and trails that provide a variety of activities for all members of the family. "There is nothing better than sitting on a bench and watching people and boats floating by on a warm summer day," Condon contends.
Small-town charm can be found downtown and in Uptown Village's independently-owned boutiques on Main Street.
10. Buffalo, Wyoming
Fans of the popular western book and TV series Longmire may be familiar with Buffalo, Wyoming. This tiny town in north-central Wyoming is home to Craig Johnson, author of the book series about fictional western lawman Walt Longmire of which the television series is based.
Although Absaroka County and the town of Durant are fictional, some real-life elements of this area were borrowed, including the Busy Bee Cafe. TravelAwaits writer Robyne Stevenson says the Busy Bee is a "great breakfast spot, especially in the summer during the Longmire Days festival."
Buffalo is at the crossroads of I-90 and I-25 at the foot of the Bighorn Mountains. These interstates were once the Bozeman Trail, which served as a shortcut to Montana's gold rush. Stevenson recommends staying at the Historic Occidental Hotel. Founded in 1880, this historic hotel has played host to the likes of Buffalo Bill Cody, Teddy Roosevelt, and Calamity Jane.
Take a day trip to Sheridan, one of the original Wyoming pioneer towns. You can also hike or fish in the Bighorn National Forest. Plenty of pronghorns and antelope graze in the pastures at the base of the mountains.
"The western theme of rugged individualism is evident all around Buffalo in taxidermy shops and wild meat processing and butcher shops," says Stevenson. Local jerky is available everywhere from gas stations to grocery stores.
Related Reading: