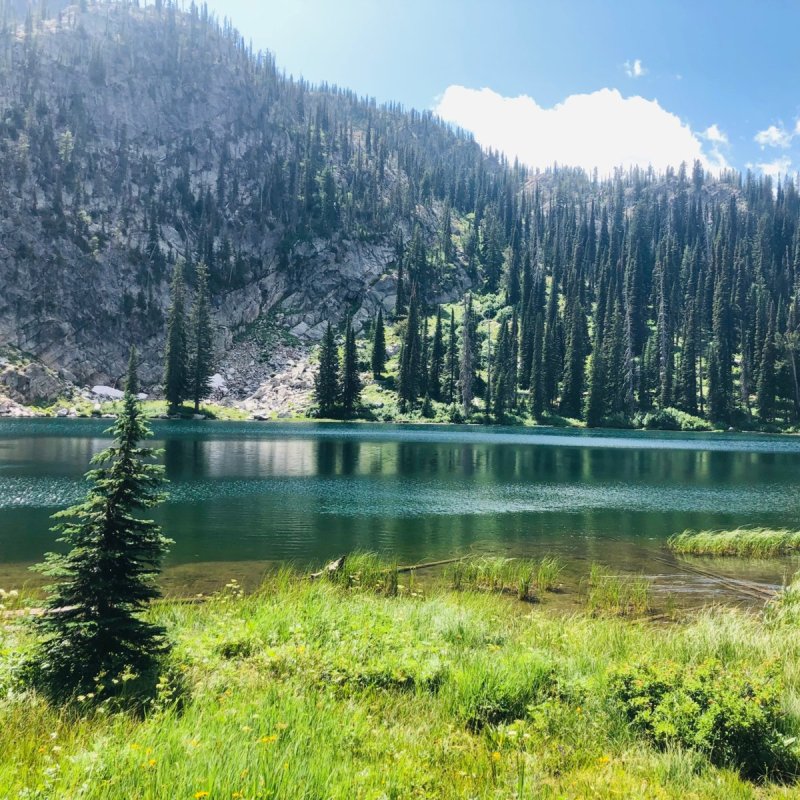 There is only one U.S. destination I've considered moving to after my visit: McCall, Idaho. For someone who loves the vibrancy of the mountains as well as the relaxing aspects of water equally, McCall has it all. There was a cabin for rent, located right across the street from Payette Lake that had the Payette National Forest in the backyard and the surrounding mountains all around. To me, it felt like home.
Our visit started with a family reunion in Boise. My two sisters, our mother, and I made a side trip to McCall to relive an experience our mother had with her mother years before. As she did with her mother, we stopped at a farmer's stand to purchase deep, luscious cherries to eat in the car on the way.
While I eventually decided not to move to that charming cabin on the lake after my mom reminded me of the numerous feet of snow they receive each year and how isolated I would be on my own, McCall still holds a dear space in my heart.
Here's how you, too, can spend a perfect long weekend in scenic McCall, Idaho. You may even want to move there.
Things To Do In McCall
The seasons in McCall are made for sporting activities with skiing, snowmobiles, and other winter activities, then boating, soaking in a hot spring, and hiking in the summer.
1. Kayaking
No matter if you prefer a mellow float or a heart-pumping whitewater experience, there are numerous opportunities to get onto the water near McCall. During our visit, we drove about 100 miles from Boise to McCall and stopped along the way in Banks for whitewater rafting with family on parts of the Payette River. Our cousins who lived nearby brought a variety of inflatable kayaks, rafts, and canoes, and we paired up and hit the water.
It was my first experience kayaking, and I was in an inflatable canoe with a young cousin. He was 19 and experienced on whitewater, and I felt a surge of confidence as we navigated the pool and drop rapids ranging from Class II to Class III. At one point we encountered about a 6-foot drop. My cousin got out of the boat to examine our options, then replied, "I think we should go over it!"
We might have made it, but someone had forgotten to blow up the bottom section of the canoe, so instead, it folded in half and we both landed underwater. The canoe took off down the rapids as my cousin and I were also taken downstream. It was a surreal experience; my face just inches from the surface but I couldn't rise because of the current. As I bounced downstream hitting rocks, I watched the brilliant sunlight but was unable to come up for air. At the end of the rapids, once the waters calmed, I was able to come out of the water and gasp for air.
Ironically, this boating experience instilled my love for kayaking, and I purchased my first kayak after this trip. It was also an inflatable kayak, but I never failed to make sure it was securely inflated before floating.
2. Guided Rafting Tours And Rentals
If you don't want to brave the rapids on your own, you can book a guided half-or full-day rafting tour with Bear Valley Rafting. If you do want to take your own kayak, consider our picks for the best inflatable kayaks here.
We continued driving to McCall and stopped again for my sister Lynn and me to get out and rent a canoe from Backwoods Adventures. There, we paddled the Upper North Fork of the Payette River into Payette Lake in McCall. It was a leisurely float through the woods that gave us breathtaking views, wildlife sightings, and a chance to relax after the earlier excitement on the water.
In McCall, enjoy fun on Payette Lake with boating, fishing, or swimming at the beach. You can rent a canoe, kayak, or stand-up paddleboard from a variety of local shops in town. McCall Lake Cruises offers sunset cruises around the lake.
3. Area Hot Springs
If you just want to relax in a hot spring, there are several both in town and in the national forests that surround McCall with options for both primitive and commercial facilities. In addition to Gold Fork Hot Springs, an in-town favorite, Burgdorf Hot Springs and Zims Hot Springs are also within a short drive.
4. Payette National Forest
We arrived in June, springtime in McCall, for a long weekend. Due to a forest fire the year before, morel mushrooms were rampant and foragers were — literally — raking up the prized mushrooms.
There are numerous hiking trails: Bear Basin Trailhead, Ponderosa State Park, and Rotary Park are all great options.
Pro Tip: For more hiking while you're in Idaho, consider these great hikes.
5. Mountain Biking Or Fat Biking
Whether you're an expert or just starting out, McCall is home to a great variety of trails and beautiful scenery to enjoy. Try Tamarack Bike Park, Jug Mountain Ranch, or Brundage Mountain for suitable levels for all mountain bikers.
6. Area Ski Resorts
With two mountain resorts within a 30-minute drive of downtown McCall, visitors can cross-country ski, alpine ski, snowboard, and fat bike at both Brundage Mountain and Tamarack Resort. Tamarack Resort also offers ski-in, ski-out lodging throughout the entire resort. With five new restaurants located in the Village at Tamarack, it's a perfect destination for an apres ski day.
7. McCall Activity Barn
If skiing doesn't interest you, visit the McCall Activity Barn at Brundage for snow tubing, snowshoeing, and fat bike trails. Fat bikes and snowshoes are available to rent at the activity barn. Sleigh rides are also offered for the entire family to enjoy.
8. Downtown McCall
In the summer, this sleepy mountain town of about 3,100 residents nearly triples with tourists and visitors. You'll find the expected tourist shops, but also art galleries, brewpubs, antique shops, boutiques, and specialty food stores.
Best Restaurants In McCall
After a robust day on the trails or paddling on the lake, a great way to quench your thirst is with an award-winning brew, crafted locally in McCall. There are three local breweries, all within walking distance in the heart of downtown: McCall Brewing Company, Broken Horn Brewing Company, and Salmon River Brewery.
There are plenty of delicious dining options, too. For a fine dining experience, try Rupert's at the Hotel McCall and The Cutwater at Shore Lodge.
Rupert's At The Hotel McCall
At Rupert's the food has Southwest, Asian, and Mediterranean influences focused on quality, local ingredients. You'll often find regional foods that have been foraged, such as morel mushrooms and huckleberries, but also local produce from the farmers market, meat from local farmers, and artisan bread and cheese from local businesses. Start with the Chef's Beet Salad, a beautiful salad made with house-marinated beets, poached pears, smoked bleu cheese, and spiced walnuts. Savor the Ale Brined Pork Porterhouse served with sweet potato mash, seasonal vegetables, and a caramelized onion-ale reduction, or try one of their weekly themed dinners such as Thursday Thai, Fish Fridays, or the Monday Night Tasting Menu, a chef's selection three-course menu.
The Cutwater At Shore Lodge
At The Cutwater, you'll enjoy fine dining with unique spins on bar-food favorites. Some of the elevated comfort foods include the House Made Blue Cheese Nachos. This succulent tower includes potato chips, crispy pork belly, scallions, fresh figs, and gorgonzola crumbles. Or try the Crab Cake BLT, a luscious crab cake served on sourdough bread with Chesapeake aioli fried green tomato, applewood bacon, and spring greens.
Pro Tip: Many locals consider a trip to McCall incomplete without a visit to My Father's Place for a creamy huckleberry milkshake (be prepared to wait in line for this treat).
Best Hotels In McCall
Hotel McCall
Stay at the historic Hotel McCall, open since 1904. This family-owned hotel has the charm of a bed and breakfast with 20 guest rooms and a great location near the beach. Choose the Courtyard Deluxe King for a standard room with views of the lake and courtyard, or bring the family and rent a one-bedroom condo with a large balcony overlooking downtown McCall, or the lakeview condo with views of the lake. Both condos contain full kitchens and washers and dryers, making them ideal for a long weekend stay.
Golf enthusiasts will enjoy their Golf Stay + Play package that includes a night at the hotel plus a round of golf at Jug Mountain Ranch.
Shore Lodge
Enjoy a spa experience at Shore Lodge. Indulge yourself with one of the spa's signature treatments or soak in the heated saltwater immersion pools. Choose from 77 guest suites that include a Fireside Suite, a pet-friendly suite, and even ground-level suites that open onto the shores of Payette Lake. There are plenty of signature events including foodie festivities, rockin' mountain concerts, wine pairing dinners, and even movie nights in their 43-seat theater.
Pro Tip: If you fly into Boise as we did, consider a perfect long weekend in Boise before heading to McCall.