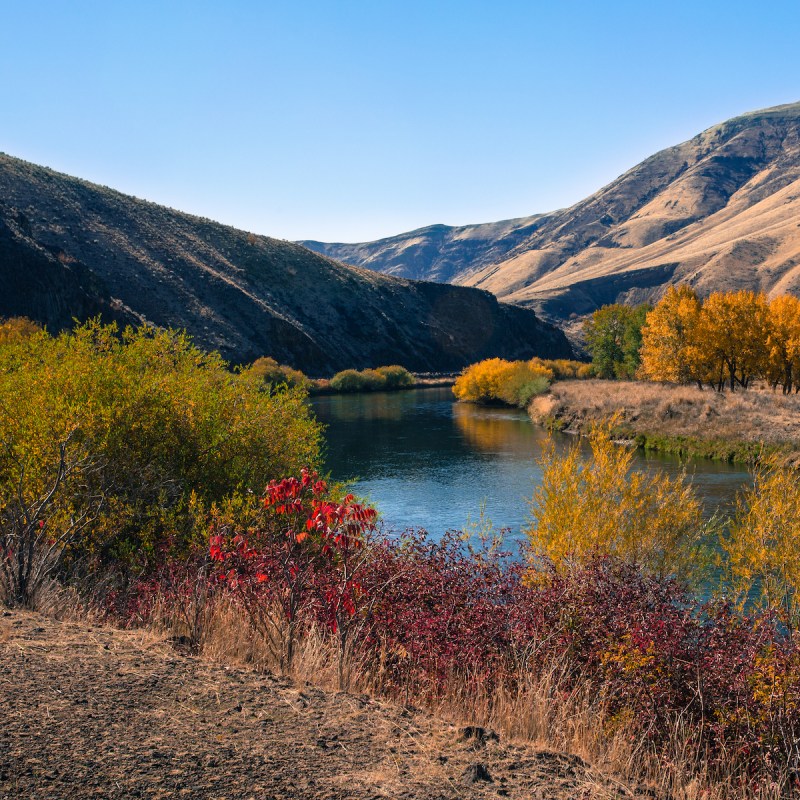 Fall in Washington State's Yakima Valley means three things: grape harvest, fresh hop season, and harvest of farm-to-table produce. With over 120 wineries, 3,000 farms, and the largest hop-growing area in the U.S., a long weekend is ideal for exploring all the area has to offer. Yakima Valley is often referred to as "the fruit bowl of America." Along with 300 days of sunshine per year and a rich history, fall is the ideal time to explore the Yakima Valley. Yakima is located in Central Washington, approximately a 3-hour drive from Portland and just over 2 hours from Seattle.
The Yakima Valley area consists of numerous cities, towns, and villages. My visit covered Yakima, Prosser, Union Gap, Toppenish, and Wapato.
Note: My trip was sponsored by Yakima Valley Tourism and Campbell Coop Ranch. All thoughts and ideas are my own.
1. Learn About Hops And Taste The Brews At Bale Breaker Brewing (Yakima)
Bale Breaker Brewing grows its own hops as well as makes its own beer. It is the only brewery in the U.S. to be situated in the middle of a hop field. Bale Breaker Brewing is the third-largest independently owned brewery in Washington. It has just been awarded Small Brewery Of The Year at GABF (Great American Beer Festival).
Two flights are offered: 1. Core Beer and 2., Experimental/Limited Release. My visit was during the fresh hop season, so I chose the Experimental Flight. What a delight! With names such as "In The Lup IPA" and "Loral Fixation Fresh Hop IPA," you know you are in for a treat.
Guided tours are available and food trucks are also onsite. There are both inside and outside picnic tables available. Families are welcome.
2. Hike Cowiche Canyon East (Yakima)
Enjoy a leisurely hike along Cowiche Canyon East. The Cowiche Canyon East is part of the more extensive Cowiche Canyon Trail system covering 900 acres with 13 miles of unpaved trails. Check this link for a trail map. Look for a variety of flora and fauna found in a riparian zone. The Cowiche Canyon was once the rail line of Burlington National Railroad. Built in 1913, the line was used to transport apples to the production facilities in Yakima.
3. Sip Superior Wines At Owen Roe (Wapato)
Owen Roe sources grapes from 12 vineyards in Washington and Oregon. The winemaker and co-founder, David O'Reilly, is recognized by Wine Spectator and others. Enjoy a tasting either inside or outside. Two flights are available. We especially enjoyed the knowledge and storytelling of our tasting room lead, Susan.
Picnics are welcome.
4. Enjoy A Sip At Gilbert Cellars (Yakima)
Stop in at Gilbert Cellars at Hackett Ranch, where fifth-generation fruit growers have established their tasting room amongst apple trees and vineyards. Enjoy the tasting called the "Gilbert Experience," a flight of one white and four reds. Snacks are available, including a picnic plate of charcuterie, cheese, and crackers. Weekends, look for the Weenie Roast Kit and Smores Kit. Information about special events like MITV (Music in The Vines) can be found in its newsletter. Events sell out quickly.
5. Take "Flight" At Airfield Estates Tasting Room (Prosser)
The founder of Airfield Estates Winery, H. Lloyd Miller, leased land to the Olympic Air Transport at the beginning of WWII. This land was used to build an airbase for training military pilots. Over 600 pilots were trained at this site. After the war, the unique buildings were used as part of Miller's farming operations. The switch to grapes came in 1968 and now consists of 950 acres of wine grapes of 27 different varietals.
Now run by the fourth generation, there are three tasting rooms: Prosser, Vancouver, WA, and Woodinville.
6. Explore History Through The Yakima Valley Museum (Yakima)
The Yakima Valley Museum is a treasure trove of 48,000 artifacts telling the history of the Yakima Valley. Collections include over 3,000 vintage apple box labels, more than 9,000 pieces of clothing from the 1800s to the present, military uniforms and equipment, vintage neon signs, 300 quilts, and the exhibit of Justice William O. Douglas's office
(the justice was a Yakima native). These are just a few of the collections. Please check its website (link above) for more information.
You can easily enjoy 3 to 4 hours here. After you visit the museum, be sure to drop into the 1930s Art Deco soda fountain next door.
7. Learn More About The Yakama Nation At The Yakama Nation Cultural Center (Toppenish)
Visit the Yakama Nation Cultural Center to learn the history of the original inhabitants of this area. (Yes, the spelling is correct. Yakama is the name of the original tribe; the city today is called Yakima). With 12,000 square feet of exhibits, the cultural center is one of the oldest Native American museums in the United States.
Plan to spend 2 to 4 hours here. No photography inside is allowed.
8. Explore Agricultural Heritage At The Central Washington Agricultural Museum (Union Gap)
Explore the Central Washington Agricultural Museum, the largest agricultural museum in the Pacific Northwest. The 15-acre museum grounds preserve the Yakima Valley's agricultural heritage and can be enjoyed in either a walking tour or by auto.
The museum has over 10 thousand artifacts from all facets of farm life: horse-drawn machinery, tools, harvesting equipment, home life, John Deere tractors, and the 1930s vintage gas station. Area families have donated all the artifacts.
Watch for annual events such as the Old Steel/Car Show held the 3rd Sunday in April, The Union Gap Old Town Days celebration each Father's day, and the Central Washington Antique Farm Equipment Exposition held the third weekend of August.
Plan to spend 3 to 4 hours here. For boomers and seniors, there are lots of memories to enjoy.
9. Stroll Historic Downtown Yakima
Admire the Capitol Theater, originally constructed in 1920 and restored in 1978. Listed on the U.S. National Register of Historic Places, the 1,500 seat venue hosts many events. Check the link for the latest productions.
Look for street art and other historic buildings such as the 1908 city hall. Take note of the ghost signs, the advertising signs of bygone days, painted on the brick walls of old buildings. Most ghost signs were painted in the 1920s and 1930s.
Stop by the delightful Vintage Me, a shop combining the old and new. There is a mixture of vintage treasures, gifts, clothing, jewelry, and more!
10. Explore The Historic Murals At Downtown Toppenish
Toppenish has been named "The City of Murals," and calls itself "Where The West Still Lives." Stroll through the downtown to view the 78 historically accurate murals, or you can arrange for a horse-drawn wagon tour. Each mural is historically accurate and celebrates events from the 1840s through the 1940s.
Click this link for a downloadable mural guide or stop by the visitors center for a hard copy.
11. Stroll The Ahtanum Berry Patch (Yakima)
Stop at the Ahtanum Berry Patch for a selection of berries, including blackberries, raspberries, and strawberries, along with delicious baked goods! In season, enjoy u-pick and even guided u-pick tours.
12. Enjoy Fruit and Gifts At Johnson Orchards (Yakima)
Visit Johnson Orchards which has been offering quality fruit since 1904. You can also visit the 1916 fruit-packing warehouse. The shop carries a number of local products. Take time to enjoy the pumpkin patch.
13. Dine On Mexican/American Cuisine At Main Stop On The Avenue (Yakima)
Enjoy the unique Mexican and American Cuisine at Main Stop On The Avenue, just off the downtown center. Look for exciting dishes such as Chorizo Benedict and Machaca Scramble. Breakfast and lunch are served all day.
14. Enjoy Homemade Delights At Lulu's Lunchbox (Yakima)
For homemade soups, salads, and sandwiches, stop in at Lulu's Lunchbox, located inside Vintage Me. The vintage 1950s furniture and decor will delight you. There is also a full-service coffee bar.
15. Dine At A Local Favorite: Cowiche Canyon Kitchen (Yakima)
A local favorite is the Cowiche Canyon Kitchen, where all breads and pastries are made fresh daily. The menu ranges from burgers, sandwiches, soups, and salads to rack of lamb and market fish. All ingredients are locally sourced. Try the prawn and avocado salad topped with Mexican Green Goddess dressing. Delicious.
The couple seated next to me also recommended E-Z Tiger, just up the street.
16. Taste Award Winning Tomales At Los Hernandez Tamales (Union Gap)
Enjoy James Beard Award-winning tamales at Los Hernandez Tamales. Enjoyed by locals and tourists for the past 30 years, the site is popular year round and especially in the spring with the asparagus tamales.
17. Enjoy A Farm-Stay At Campbell Coop Ranch
Campbell Coop Ranch is a unique Airbnb that invites you to try a farm stay. Hosted by Jill and Murray, you can get as involved as you wish. I had a marvelous time interacting with the animals. If that is not your cup of tea, you can have all the privacy you wish. The 1,000 square foot former chicken coop is delightfully renovated and houses up to five guests with four beds. There is a lovely fenced yard with a barbecue and outside furniture. Enjoy the daily fresh eggs.
18. Sleep In Historic Hotel Maison (Yakima)
A lovely, historic boutique hotel, the Hotel Maison is located in the heart of the downtown area within walking distance of restaurants and the Capitol Theater. Initially constructed in 1911, the Hotel Maison building began life as the Masonic Temple for the Yakima Freemasons. Check the lower level hallway for vintage photographs of Yakima — some dating to the 1920s.
The 36-room hotel is wheelchair accessible and offers listening devices and braille. 
A visit to Yakima Valley has something for everyone. Whether you are into craft beer, enjoy tasting wine, are a history buff, and/or enjoy unique architecture and museums, Yakima Valley has something for all tastes.