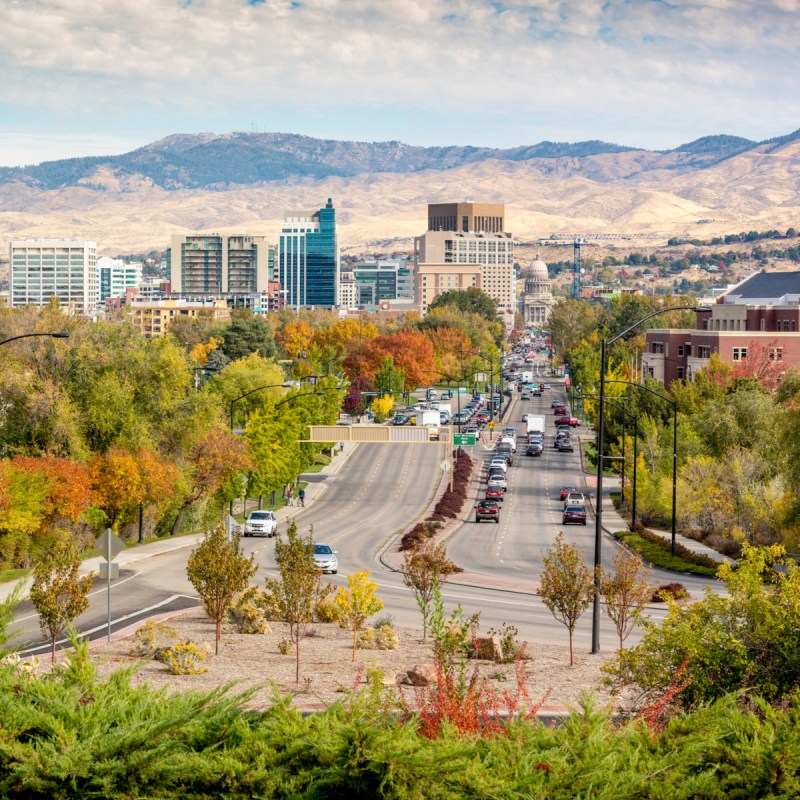 Boise, Idaho, may be one of the most delightfully surprising destinations you'll ever visit. It's full of local charm while having a cosmopolitan feel. The capital and largest city of Idaho, it's got all the buzz of a great college town while also providing unique cultural and historical attractions. There's plenty to see, do, and taste for lovers of food, art, history, nature, culture, and more. We had a blast exploring the nooks and crannies of this fabulous town and want to show you how to spend a perfect long weekend enjoying all that Boise has to offer.
Disclaimer: We were guests of the Boise Convention and Visitors Bureau during our visit. All opinions are strictly our own based on our experiences.
Things To Do In Boise
Boise offers fantastic opportunities to explore indoors as well as outdoors. Here are some of our favorite things to do while you're there for the perfect long weekend.
The Statehouse Building
Because it is the capital of Idaho, Boise is blessed with a chance to show off its status with an impressive statehouse building. Affectionately known as a Capitol of Light, the building was extensively restored and expanded in 2010. It reopened with fanfare and celebration, unveiling a 208-foot dome and local sandstone blocks that make a truly important and beautiful statement. You can get a sneak peek through this great video documenting the renovation and restoration.
Anne Frank Human Rights Memorial
A beautiful park dedicated to the memory of Anne Frank and human rights also provides almost an acre of beautifully landscaped areas for restful contemplation. A wall in one area is full of thoughtful quotations from people of all walks of life. A lovely small waterfall and pond complement greenery and sculpture to offer insight, education, reflection, and a chance to catch your breath for a while.
JUMP
To see the innovative spirit of Boise, you only need to visit JUMP, which stands for Jack's Urban Meeting Place). This is a fabulous interactive creative center and gathering spot that serves multiple purposes. There are interactive learning studios, event spaces, meeting rooms, and even an outdoor amphitheater. It's one of those places intended to bring out the creative spirit in those who visit, and we think it's a pretty cool spot to hang out and have fun.
Freak Alley
Boise likes to get its freak on, artistically speaking. That's why Freak Alley is such a popular attraction with locals and visitors alike. The outdoor gallery boasts murals, graffiti, and street art that make for a memorable and unique experience. The art continues to change, with areas being painted over, changed, and enhanced by artists from all over. The vibrant colors and wide variety of artistic styles and subjects make this one stroll you should be sure to take.
The Basque Block
Another surprising facet of Boise is that it happens to have a large concentration of Basque people. The Basque country, nestled along the border of France and Spain, has its own unique cultural identity, and Boise celebrates it especially in the Basque Block. In this easily accessible area, visitors can experience many aspects of Basque culture, from food and music to history and art. The Basque Museum and Cultural Center offers a wealth of information, and there are several shops, restaurants, attractions, and events to keep you busy for quite some time. See our other article to learn more about this fascinating place.
World Center For Birds Of Prey
We're nature lovers and fond of our bird friends, so during our exploration of Boise, we jumped at the chance to visit the World Center For Birds Of Prey. This amazing place combines conservation, education, and exhibitions in one exciting venue. The opportunity to see huge California Condors, incredible Peregrine Falcons, and several other birds of prey was breathtaking. The center includes the Archives of Falconry, which illuminate this ancient symbiotic relationship between bird and man.
Best Restaurants In Boise
It's no secret that Idaho potatoes are the envy of the world. But Boise has a food scene that includes a whole lot more, too. We love the variety and encourage any visitor to take advantage of all the delicious tastes that Boise has to offer.
Bacon
Yes, it's true. Boise has a restaurant called Bacon that serves, well, bacon. Bacon in all its glory. Bacon drinks, bacon dishes, even bacon tastings. We couldn't resist the opportunity to sample all five preparations they were serving on our visit. They ranged from sweet bacon candy to hot and spicy. Fabulous creations include the bacon Bloody Mary, bacon lasagna, bacon mac, bacon burger, and many other bacon delights. If you love bacon, you won't want to miss Boise's bacon haven.
Goldy's Breakfast Bistro
For the hottest spot in town early in the day, Goldy's is the golden ticket. The menu will make your mouth water. There's usually a crowd gathered because the locals know it's worth the wait. Classics like biscuits and gravy, chocolate chip pancakes, and chicken fried steak are available.
There are some specialties worth trying such as Andalusian Eggs inspired by the local Basque community or smoked salmon hash with capers and homemade hollandaise sauce. You can make your own omelette, with your choice of meats such as delicious Basque chorizo. For those not into breakfast, wraps, burgers, salads, and more make lunch a good choice too. The atmosphere makes you feel like you've stumbled onto a hidden gem even though it's the best-known secret in town.
The Funky Taco
We love a good taco, and Boise rocks when it comes to going the extra mile in taco innovation. The Funky Taco is exactly what it sounds like. It is a fun, exuberant, dance-to-its-own-tune kind of place that serves killer tacos and other modern Mexican delights. With names like Piggy Stardust and Macho brisket, the tacos make you smile as soon as you order them. There are plenty of larger plates, great appetizers for sharing, and lots of vegan choices so everyone can have a great taste and a great time.
Alavita
Italian food may be ubiquitous, but really good Italian food can be hard to find. Fortunately, Boise is blessed with plenty of it. Our fave spot is Alavita, a stylish but welcoming place that offers high quality at reasonable prices. Signature cocktails start you off swimmingly, and appetizers like a good-sized piece of burrata cheese with toast tickle the tongue. Dishes can be as light as grilled artichoke hearts with Parmesan or as hearty as handmade Pappardelle with Sicilian sausage. Whatever you order, you'll find it made with craft, care, and quality ingredients.
Indulge Boise Food Tour
If you want to taste a little of a lot in Boise, one great way to do it is to take an Indulge Boise Food Tour. You'll get a knowledgeable and friendly guide to take you through several of the best tastes that Boise has to offer. There are different choices depending on your interests, including a Historic Downtown Boise Food and Cultural Tour, which gives you the chance to see and learn more about this fabulous city as well as sample delicious bites from various hot spots. Other tours highlight brunch, beer, cocktails, and vegan spots. Go hungry because even though you'll walk some, you'll have plenty of tastes too.
Where To Shop In Boise
Shopping in Boise is fun no matter what treasures you seek. For us, the Capital City Public Market is a fantastic way to get a huge selection of prepared foods, produce, crafts, handmade gifts, and more all in one fabulous outdoor location. Olivin Olive Oil And Vinegar Tap Room makes it fun and tasty to try out new flavors of superior quality olive oils and aged vinegars. Try something unique such as peach balsamic vinegar. You might be surprised at how tasty unusual flavors can be. Downtown Boise also has a lot of local shops selling unique Idaho products. Idaho Made is one fun example that showcases local artists, handmade goods, and a rotating supply of unique items.
Best Hotels In Boise
There are plenty of options for accommodations in Boise. You'll find familiar names from well-known brands. For something different, we enjoyed the Grove Hotel, ideally located in downtown Boise. The location made it easy to go out the door and walk to many of the places we wanted to see. A fitness club, indoor pool, hot tub, and dry sauna are just the beginning of the amenities. Trillium restaurant and The Bar offer great food and a place to unwind. Their happy hours can introduce you to Idaho-made beverages. We loved the Wednesday wine tastings that gave us the chance to try Idaho wines for free. Guests also have access to hotel bikes if you'd rather ride than walk but still want to feel the wind in your hair. Spacious rooms with comfy beds were cozy and inviting after a long day and evening out on the town.
A Perfect Long Weekend In Beautiful Boise
Boise, Idaho, makes an ideal getaway for a long weekend. Explore the cultural attractions, especially the unique heritage of the Basque people. There's so much art, music, and history to enjoy you may not stop until you drop on the comfy bed of a cozy hotel. Nature lovers will find opportunities to head a little off the beaten path for a beautiful way to be inspired. While all there is to do will keep you plenty busy, the best part of Boise is meeting the friendly locals who love to share their beautiful city. That helps make for not only a wonderful long weekend but a way to connect with the locals, one of the best things you'll discover in beautiful Boise.
Related Reading: