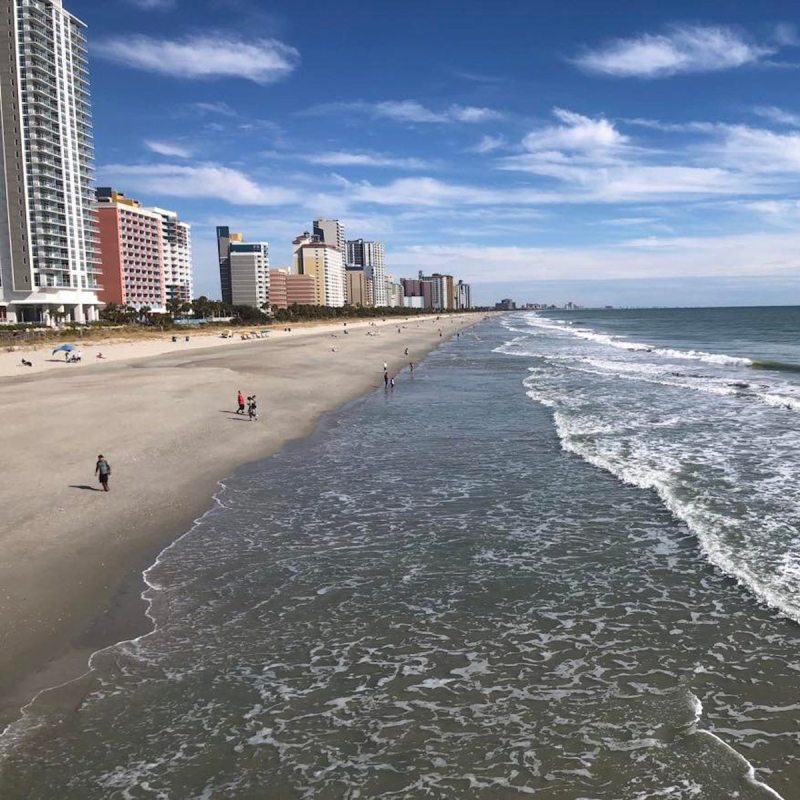 Myrtle Beach is located in the center of a 60-mile stretch of pristine shoreline in northeastern South Carolina. Stretching north from nearly the North Carolina border south to Georgetown, it includes 14 communities such as North Myrtle Beach, Conway, Surfside, Murrells Inlet, Garden City, Ocean City, and Pawley's Island — collectively known as The Grand Strand.
Myrtle Beach takes pride in the fact that it is a vacation spot for everyone. The Grand Strand is home to an array of tourist attractions, over 2,000 restaurants, world-class golf courses, and of course, miles of white sandy beaches.
The typical "beach season" in Myrtle Beach runs from late April through late October but that doesn't mean that there are not plenty of things to do and see in the winter months. The mostly mild winters average daytime highs from 57–61 degrees (Fahrenheit), from December through February.
While the temperatures may be a bit cooler, the crowds are smaller and the abundance of things to do and see are waiting for you. Here is our list of incredible things to do in Myrtle Beach during the winter.
1. Myrtle Beach Boardwalk And Promenade
Drawing an average of 19 million visitors annually, Myrtle Beach Boardwalk is the number 1 tourist destination in all of South Carolina. I've heard some say that it's "touristy," but isn't that why you'd go to the number 3 Best Boardwalk in the U.S., according to National Geographic?
The 1.2-mile boardwalk is filled with restaurants, nightclubs, entertainment venues, a SkyWheel, and shopping — from high-end designer boutiques to the legendary Gay Dolphin Gift Cove (c.1946), with over 70,000 Myrtle Beach souvenirs.
SkyWheel
A ride on the SkyWheel is one of my "must-dos" at Myrtle Beach. The SkyWheel is one of the first true "observation wheels" in North America. Standing at 200 feet above sea level, on a clear day, riders can see up to 25 miles in all directions — almost the entire length of The Grand Strand. At night, the ride is even more spectacular as it becomes a revolving display of 1 million dazzling LED lights.
Pro Tip: Even if you have a fear of heights (like I do), I suggest riding the SkyWheel. The gondolas are large and enclosed. Okay, I'm not going to lie; I was very skittish at first, but then the ride became enjoyable, and I've got great aerial photos to boot.
2. Fish The Intracoastal Waterway
Don't let "Old Man Winter" fool you. Some of the best fishing in the South can be had in the cooler months. The waters surrounding Myrtle Beach are teeming with all sorts of prized fish. There are several different fishing venues to explore as well — inshore, offshore, and deep-sea fishing.
Inshore fishing takes place in the calmer waters of rivers, saltwater estuaries, and the Intracoastal Waterway along the coastline. It's one of the most scenic fishing adventures you'll ever have while cast-fishing for black drum, speckled trout, or tarpon. We recommend Captain Smiley Fishing Charters in Little River. Ask for Captain Buddy, a four-time world-record holder that has been fishing in these waters all of his life.
Offshore and deep-sea fishing are anywhere from 10–80 miles offshore. Keep in mind, the farther out you want to fish, the longer the trip will be. An inshore trip can be as little as 4 hours, while deep-sea fishing is mostly all day and even overnight.
Pro Tip: There are hundreds of fishing charters (yes, that's right) in Myrtle Beach. Most sail out of both Murrell's Inlet (to the south) and Little River (to the north). Check this site for more information.
3. Theater Shows
When the cooler weather tries to keep you indoors, head to the theater — a stage-show theater. There are some great venues in Myrtle Beach including the GTS, an opulent 1920s-style cabaret theater. The Alabama Theatre has been entertaining locals and tourists since 1993 with the grandest variety show.
We more than enjoyed our night out at The Carolina Opry, named "Top Myrtle Beach Attraction" by CNBC. It is a Grand Strand landmark. We were mesmerized from the moment we pulled up to the fabulous structure awash with lights. The grand entrance hall was breathtaking and the luxurious auditorium was very comfortable. The show was outstanding; two thumbs up.
Both Pirates Voyage and Medieval Times offer dinner and a show. Broadway on the Beach boasts two relatively newer theaters. Legends in Concert is a "live-tribute show" and the Palace Theatre offers a variety of shows as well.
4. Golf Courses
Many say that golf in Myrtle Beach is one of the top activities during the cooler winter months. After Hurricane Hazel in 1954, the damage to The Grand Strand beach communities was tremendous. It was during the rebuilding process that developers had the vision of Myrtle Beach as a golf destination. Today, Myrtle Beach is home to over 80 world-class golf courses — a premier golf destination.
The Dunes Golf And Beach Club
The Dunes Golf and Beach Club is an 18-hole course designed by Robert Trent Jones, one of the all-time great golf course architects. This course is consistently ranked in the Top 100 courses in the nation, according to Golf Digest. The multi-course, Barefoot Resort and Golf is home to courses designed by Greg Norman, Davis Love III, Tom Fazio, and Pete Dye. It has been ranked number 1 in "The Top 50 Golf Courses in Myrtle Beach." And the list goes on. Does golf get any better than this?
5. Horry County History Museum And L.W. Paul Living History Farm
I know in the summer it's hard to pull yourself away from the sandy white beaches and warm sun, but the cooler winter months are a great time to peruse the Horry County Museum and L.W. Paul Living History Farm, 20 minutes away in the town of Conway.
The history of Myrtle Beach started long before there was a Myrtle Beach in Horry (pronounced OH-ree) County. Here, you'll learn that the "Strand" was a coastal Native American trade route and was once the most fruitful rice production region in the world. After the Civil War, a lumber company built a railroad that was used to transport lumber and other goods, such as indigo and cotton, to and from the town of Conway. This railway was also used to transport inland (mostly farming) folks to the seaside for rest and relaxation. In 1900, the first "resort hotel," the Seaside Inn, was built to accommodate these visitors. Inspired by the abundance of wax myrtle trees growing wild along the shoreline, New Town was renamed and Myrtle Beach was born.
Pro Tips: Plan to spend at least 2 hours (or more) in the museum and another hour or so at the farm. The farm has a great gift shop. Both the museum and farm are accessible, although, the farm has earthen pathways.
6. Charlie's Place And Myrtle Beach Colored School
Discover Black History
As noted above, Myrtle Beach is steeped in history. Like most southern towns, much of that history revolves around early African-Americans, their lives, and contributions to the area. Two places of notable black history are worth visiting.
Charlie and his wife, Sara, opened a "black" supper club in 1937 — Charlie's Place. Black entertainers such as Otis Redding, Dizzy Gillespie, Little Richard, Billie Holiday, Lena Horne, Duke Ellington, and many others routinely performed there. The club is gone but the hotel where black performers and other travelers (who could not stay in whites-only hotels) remains. Both white and black customers gathered at Charlie's Place to listen to music and dance. Oral tradition has it that the shag, or southern swing dancing, originated at Charlie's Place.
Opened in 1932, Myrtle Beach Colored School was the first school for African American children in the Myrtle Beach area. In addition to learning, the school was a place where the children could play sports, perform in plays, and compete in spelling bees. When the deteriorating Colored School was proposed for demolition, its former students, many now senior citizens, gathered together and began the efforts to save their school. Their dedication, together with the City of Myrtle Beach, saved the school from destruction. It is now a Museum and Education Center preserving not only Myrtle Beach's black history, but that of all of Horry County and the South.
Pro Tips: The buildings at Charlie's Place are not open to the public, but you can walk the grounds and read the historical site signs. The Colored School Museum is open for limited hours.
7. Brookgreen Gardens
Even in the winter, Brookgreen Gardens is magical, filled with fall and winter blooms, fantastic water fountains, and even a small Lowcountry Zoo. Stroll along the winding paths throughout expansive lush-green grounds, dotted with small ponds, and filled with grand old oak trees adorned with quintessential southern hanging moss.
Brookgreen is more than just a botanical garden, it is the largest sculpture garden in the country. Over 2,000 sculptures by 430 artists are on display throughout the gardens and indoor galleries.
As an added bonus for winter visitors, in November and December, you'll be able to experience Nights of a Thousand Candles when Brookgreen Gardens comes alive with millions of twinkling lights and nearly 3,000 hand-lit candles. Celebrate the season as you walk the paths with a warm cup of cider and listen to the sounds of holiday music. Nights of a Thousand Candles includes an extra fee.
Pro Tips: More than several hours may be needed to stroll throughout the gardens. Bring a picnic lunch or eat at one of three dining options on the property. The cost of one ticket is good for 7 days. Service dogs are welcome and many paths are hard gravel but accessible.
8. Huntington Beach State Park
Located near Murrells Inlet, Huntington Beach State Park consists of 2,500 acres of maritime forest, salt marsh, and pristine white sand beaches. There are campsites, picnic shelters, hiking trails, interpretive boardwalk trails over marshland, and even a nice beach walk out onto a jetty.
This state park is a bird-lovers paradise, particularly in winter. Over 300 species of birds have been spotted throughout the park. On any given day, you will see ornithologists of every kind out with their cameras and mega lenses just hoping to capture a particular species on film.
While visiting the park, be sure to see the National Historic Landmark, Atalaya Castle, the winter home of Archer and Anna Hyatt Huntington. The Moorish-style "castle" was Anna's sculpture studio, built during the Great Depression. It is fully accessible.
9. Myrtle Beach State Park
Situated on a 1-mile stretch of Grand Strand coastline, Myrtle Beach State Park sits nestled among an oceanfront maritime forest. Opened in 1936, it's South Carolina's first state park. The fishing pier is just one of the many reasons folks visit in the winter. Along with campgrounds, there are six cabins for rent — a perfect cozy wintertime spot.
Myrtle Beach State Park has a plethora of winter activities to enjoy, like fishing, hiking, biking, beach combing, bird watching, and even horseback riding on the beach beginning the third Saturday in November through the last day of February.
10. Broadway At The Beach
Wrapping up a winter visit, one of the newer sensations drawing crowds to Myrtle Beach is Broadway at the Beach, a mega shopping center and entertainment complex. Spanning over 350 acres, there are over 20 restaurants, 100 shopping storefronts, theaters, and attractions.
The adventurous complex includes a zip line, Ferris wheel and carousel, jet-boat rides, and even a nightclub district. Ripley's Aquarium, the Hollywood Wax Museum, and Wonderworks, a place that "combines education and entertainment in over 100 hands-on exhibits," are perfect indoor activities during the winter months.
Pro Tip: This can be an all-day excursion if shopping, lunch, and attractions are involved.
Related Reading: