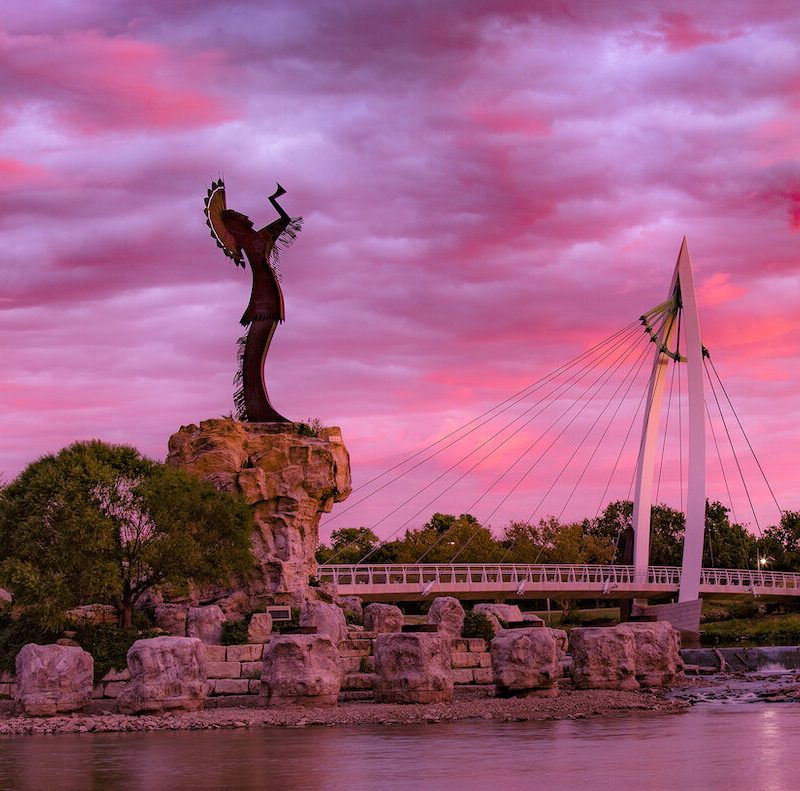 The Midwest may not get as much love as the coasts, but it has plenty to discover. To find the best of the Midwest, we reached out to our expert travel writers. Here's where they recommend visiting this year in Illinois, Indiana, Iowa, Kansas, Missouri, Nebraska, South Dakota, and Wisconsin.
1. Galena, Illinois
Time has stopped in Galena. "Here, you are transported to a simpler time filled with home-baked Americana at every turn," describes Robyne Stevenson. Its quaint downtown is filled with historical buildings and plenty of cafes and restaurants serving up Midwest fare. A plethora of options for beer and wine are also available, including libations from nearby wineries and breweries.
U.S. President Grant lived here and his home is open for tours. There are plenty of other spots to explore for historical interest in the town and nearby. Stevenson enjoyed going up to the bluff to explore Horseshoe Mound preserve for expansive views of the Mississippi River and the valleys below.
If you go in the summer, you can enjoy kayaking or boating on the Galena River that runs through the center of town. Stevenson suggests having a picnic at Grant Park, which overlooks the river, and wandering through the Civil War monuments.
There are plenty of guest houses and motels, including the DeSoto House Hotel, the oldest operating hotel in the state. "It boasts a tavern, courtyard restaurant, and historic touches throughout the hotel and rooms," Stevenson tells us. While summer is the sweet spot for visiting Galena, spring and fall bring fun festivals. Any time of year is a good time to go antiquing, visit quaint shops, and enjoy the food on Main Street.
2. Elkhart, Indiana
Just east of South Bend, Elkhart, Indiana has long been known as the RV Capital of the World, but last summer, Cindy Ladage discovered the city's art scene. "The Midwest Museum of American Art is right across the street from the recently restored historic Hotel Elkhart," she says, "so you can walk to the museum from the hotel." Beautiful murals decorate the town, too.
"The Lerner Theatre is available to tour when no acts are performing," she says. Art from the Midwest Museum is on display at the theater as well.
The Elkhart River and St. Joseph River make a lovely backdrop for this vibrant city that features fun dining spots and historic homes like Ruthmere to tour. For outdoor fun, Ladage suggests checking out Wellfield Botanic Gardens.
3. South Bend, Indiana
"You know when you travel somewhere that really surprises you? That's how I felt about South Bend," Rebecca Deurlein tells us. Her most memorable experience in South Bend was urban white water rafting. Instead of shooting the rapids in nature, careen between skyscrapers and avoid getting hung up in man-made boulders. "I was in the middle of the city on the East Race Waterway, and it was quite surreal," recalls Deurlein.
Potato Creek State Park offers plenty of activities, including kayaking through wetlands, biking along woodlands, and bird watching on Lake Worster. Devour a burger and cheese curds at Howard Park Public House. Quench your thirst at Indiana Whiskey Company, South Bend Brew Werks, or Ironhand Wine Bar. "No visit to South Bend is complete without a tour of Notre Dame," according to Deurlein, who says, "You've seen it in the movies, but it's a thrill to stand before Touchdown Jesus."
4. Fort Dodge, Iowa
A quintessential Midwest town, Fort Dodge, Iowa, oozes "Midwest nice" according to Amy Piper. Located on the Des Moines River in central Iowa, this family-friendly destination combines history and art. "It's the perfect trip to take the grandkids on during summer vacation," Piper tells us.
The littles will love the Back 40 Playground at the Community Orchard (open seasonally, August through October) and the Children's Forest at Kennedy Park. Those interested in art will find Fort Dodge Grain Silo Mural and the Blanden Memorial Art Museum an educational experience. Those who enjoy nature and history will find engaging activities at Fort Museum & Frontier Village (open seasonally — reopens in April 2023).
Fort Frenzy Family Fun Center is a family entertainment center that offers indoor activities, including a full arcade, go-karts, and laser tag, so it's an excellent rainy-day option. Another rainy-day attraction is Studio Fusion, where everyone can get involved in an art project.
No matter the age of your grandchildren, there's plenty to keep them interested and cheerfully busy in Fort Dodge.
5. Muscatine, Iowa
A trip to the beautiful town of Muscatine is in order according to Cindy Ladage. The Iowa town is "known as the Pearl of the Mississippi because of the history of the pearl button industry, which started when a German immigrant brought this huge manufacturing story to the shores of the Big Muddy!" she tells us.
Ladage loved her stay at the lovely Merrill Hotel, which is located right across from the Mississippi River close to Muscatine's historic downtown. It provides a good jumping-off point to explore the river walk and The National Pearl Button Museum. Pine Creek Grist Mill, the oldest grist mill this side of the Mississippi, is just a short drive away in Wild Den State Park.
Muscatine Art Center is a historic house, art gallery, and history museum all rolled into one. "Then there is lots of fun shopping and dining!" exclaims Ladage. "A fun stop all around!"
6. Wichita, Kansas
Whether you're seeking a stop on a summer road trip, a break from city life, or are trying to cross all 50 states off your list and don't know what to see in Kansas, Wichita checks all the boxes according to Jill Robbins. Within driving distance of Dallas, Omaha, and Oklahoma City, Wichita is easy to get to, with direct flights available from Chicago, Atlanta, Houston, and Seattle. With enough activities to fill 2 days to a week, the flexibility of Wichita is a huge perk for travelers.
"Although history buffs will enjoy exploring a slice of Old West frontier life at the Old Cowtown Museum, there's a decidedly hipster vibe in Wichita as well," says Robbins. From trendy restaurants (Public at the Brickyard is Robbins can't-miss) to art walks through the Douglas Design District, there's more here than prairie and sunflowers.
If you're seeking to travel more sustainably, know that downtown Wichita has a robust public transportation system with a free shuttle and bike- and scooter-sharing programs.
Make time at the end of the day for The Ring of Fire at the Keeper of the Plains statue. This monument, symbolizing the Native American relationship with the earth, fire, and water, is worth seeing during the day, too. "The best time to visit Wichita is spring, summer, and fall," Robbins advises, "which are the most pleasant times to be outdoors."
7. Wilson, Kansas
On the Prairie Trail Scenic Byway in Kansas lies Wilson, a small prairie town with a big egg. "But it's no ordinary egg," Ann Bush tells us. "Designated the Czech Capital of Kansas in 1974 due to the history of Czech immigrant settlers remaining in the area, the hand-painted 20-foot-tall Czech egg was a sight to see for these old Czech eyes."
A boom town when the Kansas Pacific Railway built Wilson Station in 1865, Wilson's downtown retains beautiful sandstone-blocked buildings surrounded by a well-kept residential area. The original jailhouse remains a tourist attraction for many. The Midland Railroad Hotel has been stunningly restored. Don't miss delicious food served near an elegant hand-carved bar downstairs. On January 27, 2023, the hotel is hosting a bluegrass festival.
Each July, a huge Czech festival is held, celebrating generations of culture, food, and crafts.
8. Excelsior Springs, Missouri
Loaded with history and located just outside of Kansas City, Excelsior Springs, Missouri, is an adorable Midwest town to place on your travel list this year according to Erika Ebsworth-Goold.
In the late 1880s, word spread that water from the area's bubbling springs had curative powers, and people from all over the country arrived to "take the water." The town's flagship spa, The Elms, was built to accommodate them. "The manor-type estate was recently renovated and features large rooms, a lovely outdoor pool area, and a terrific spa with several treatment rooms. "The focus on wellness extends to yoga and mindfulness sessions offered by staff," says Ebsworth-Goold.
Additionally, downtown Excelsior Springs boasts beautiful boutiques, cafes, pubs, and lots of art — look for the large murals depicting scenes from the town's past on several historic buildings. And a big bonus for wine lovers: There are two local vineyards, Four Horses and a Dog and Fence Stile.
9. Joplin, Missouri
You may have heard of Joplin because of the devastating tornado that struck the southwestern Missouri town in 2011. Since then, this little town on the outskirts of the Ozark Mountains has recovered very nicely, Carol Colborn assures us.
Discover Grand Falls, the tallest natural waterfall in the state at just 12 feet high. Nearby, the Precious Moments Chapel features Sistine Chapel-inspired murals.
Finally, the George Washington Carver National Monument honors the American scientist, botanist, educator, and inventor. "Recently, I discovered the inspiring Praying Hands Memorial and the Ampersand Sculpture. The giant "and" sign honors Joplin history, including infamous outlaws Bonnie and Clyde.
10. St. Joseph, Missouri
Many know St. Louis as the Gateway to the West, but St. Joseph also has that claim to fame, sans fancy arch. This small town north of Kansas City, Missouri, is one of Kathleen Walls picks for best Midwestern towns to visit in 2023.
Patee House Museum & the Jesse James Home showcases the two things St. Joseph is famous for: the Pony Express headquarters and the place where outlaw Jesse James was shot and killed. "At the Pony Express National Museum, I felt I was riding the mountains and plains these young riders took," Walls recalls of the museum dedicated to the first fast mail line across North America.
Robidoux Row Museum features westward expansion exhibits. Glore Psychiatric Museum "could be the set for a horror movie," says Walls, but for now, it depicts treatments used at the adjacent state mental hospital that dates back to the 1800s. The Native American Museum and Black Archives Museum are part of the same complex. "Walter Cronkite Memorial pays tribute to one of the best newsmen of the 20th century," Walls tells us.
Walls recommends dining at J. C. Wyatt House, Fredrick Inn Steakhouse, Boudreaux's Louisiana Seafood & Steaks, and RC's Lunch Car. "Angry Swede Brewing Company is next door to RC's," says Walls. "It's a brewery with a Prohibition-era speakeasy in the basement."
11. North Platte, Nebraska
North Platte offers a mix of fun things to do according to Walls.
At Buffalo Bill State Historical Park, explore Scout's Rest Ranch, the second empire-style mansion the famed Pony Express rider, Army scout, and buffalo hunter-turned-showman built during the heyday of his Wild West show.
Golden Spike Tower overlooks the world's largest railyard, the Union Pacific's Bailey Yard. During Rail Days, held annually in early August, visitors tour Bailey Yard with a motorcoach tour. For more rail explorations, locomote over to The Cody Park Railroad Museum to see old rail cars, including a mail car, caboose, and the only Challenger 3900 series steam locomotive on display in the world.
Lincoln County Historical Museum is a group of amazing museums including Western Heritage Village and the World War II North Platte Canteen exhibit.
Walls recommends visiting in springtime, when more than 400,000 sandhill cranes migrate through for about 6 weeks, preparing for the nesting period to come. "You can watch their courtship dances and pair-bonding behaviors," Walls tells us.
12. Omaha, Nebraska
SJ Morgensen's favorite Midwest town is her hometown of Omaha. Nebraska's largest city is also home to the College World Series, Boystown, Warren Buffet, Omaha Steaks, a world-famous zoo, a great indie-music scene, and so much more. "Omaha should be on your radar," Morgensen asserts.
Catch baseball's finest at the College World Series in June. "You'll experience a couple of weeks of rowdy college fans, crowded bars, and pure fun!" Morgensen tells us.
America's largest indoor desert and indoor rainforest, Henry Doorly Zoo also has the largest nocturnal exhibit in the world. These are just a few of the reasons it is consistently ranked as one of the best zoos in the U.S.
While in the area, Morgensen suggests heading to The Old Market for shopping, drinks, and dining. M's Pub is always a favorite. "Make sure you get a steak while you're here," advises Morgensen, who recommends Johnny's Cafe and Dinkers.
13. Chamberlain, South Dakota
"The town might be small but the attractions are mighty in Chamberlain," says Shel Zolkewich of the south central South Dakota town nestled at the crossroads of Interstate 90 and the Missouri River.
Zolkewich recommends kicking off your tour of Chamberlain with a visit to Dignity: Of Earth and Sky. Standing at 50 feet tall, the stainless steel sculpture overlooks the Missouri River and honors the cultures of the Lakota and Dakota peoples. "Like seeing mountain ranges in person, there's something about her quiet grace and mesmerizing stare that leaves an impression," Zolkewich says.
Just a few miles away at the Aktá Lakota Museum & Cultural Center, Indigenous stories are told through intricate beadwork pieces, star quilts, photographs, and artifacts.
Chamberlain's shining retail star is a kitchen store called berry + basil according to Zolkewich. "As the owners like to say, it's a small-town shop with big-city perks," she says. "They aren't wrong. Cookware, gourmet foods, wine, and dining wares are expertly displayed in the shop's meandering alcoves. French-made Staub cookware, posh Smeg small appliances, and a self-sharpening knife block are the stuff of home cook dreams."
14. Pierre, South Dakota
Pronounced peer, Pierre is the nation's second-smallest state capital. But "don't let its size fool you," warns Roxie Yonkey. "Pierre offers plenty to do."
Boasting 2,250 miles of shoreline, Lake Oahe is one of the largest reservoirs in the country. The reservoir offers plenty of outdoor recreation opportunities, making Pierre a four-season destination.
A causeway connects downtown to La Framboise Island in the Missouri River. Hike or bike on the island's trails, then relax on one of the beaches. Watch for wild turkeys, coyotes, and whitetail deer. Catch your supper from the fishing pier.
The South Dakota Cultural Heritage Center and the South Dakota Discovery Center are among Pierre's numerous museums.
When it comes to dining, Yonkey recommends the pan-seared walleye with Cajun seasoning at Mad Mary's Steak House & Saloon. During the summer, treat yourself to a caramel twist deluxe sundae at Zesto.
"While Pierre is always fun to visit, Oahe Days Arts & Music Festival each June in Steamboat Park adds extra flair to the city," Yonkey tells us.
15. Egg Harbor, Wisconsin
Wisconsin's entire Door County peninsula is magical, Joan Sherman attests, but Egg Harbor is a prime example of why the region earned the nickname "Cape Cod of the Midwest." About 2.5 hours north of Milwaukee, Egg Harbor is located on the bay of Green Bay.
"Amongst all the wonderful small towns of Door County, Egg Harbor earns a distinction with artistic egg displays all over town, One Barrel Brewing brewery, and local peninsula apple and cherry deliciousness at Wood's Orchard Market," Sherman says.
Beautiful in all seasons, Egg Harbor is in close proximity to cross-country skiing, biking, and hiking options. It also serves as an excellent base for exploring the rest of the peninsula. Barring summer busyness and fall leaf peepers, the whole peninsula is very drivable according to Sherman. She recommends ending your day at Egg Harbor's Harbor View Park, which she describes as "a great place to see the sun set on this adorable Midwest town."
16. Elkhart Lake, Wisconsin
Elkhart Lake is an hour's drive from the Milwaukee airport, "and that hour is all the effort you'll expend on this water-for-days getaway," attests Deurlein. "The grand Osthoff Resort radiates Dirty Dancing vibes," she describes, "with a sprawling resort property that looks out over the lake (which offers old-school paddle boats with a dragon-shaped twist)."
The town is blessedly walkable, and the streets here are actually a national landmark – they were the first to feature road racing, which has now blossomed into the world-famous Road America just down the street. "Gessert's Ice Cream, served in hand-made waffle cones, is not to be missed," advises Deurlein, "nor are the cheese curds and brats."
Nightlife here ranges from honky tonk to big bands, but it's all casual and relaxed. The resort's top-rated spa is an additional draw. "It really is a place that keeps you as busy as you want to be and soothes your soul in the best possible way," declares Deurlein.
17. Milton, Wisconsin
Once a booming town with a busy highway, Milton, Wisconsin, is now an off-the-beaten-path town that Melody Pittman loves.
Pittman recommends checking out the latest home decor and more at Hattie & Elsie, a cute boutique in downtown Milton. Red Rooster is another unique shop with dozens of artisans represented in a 150-year-old renovated mill.
Enjoy a glass of Big Buck Blueberry wine at Timber Hill Winery and stay for trivia or live music. "Next, head to Northleaf Winery for a wine and chocolate pairing," instructs Pittman. "Then check in to unpack your bags at the adorable three-bedroom, three-bathroom guest house only steps away."
Grab tasty eggs Benedict for breakfast at Cafe 26 and enjoy a special dinner at Fredrick's Supper Club.
Milton is one of the places you can hike the unique Ice Age Trail, found on E. Storrs Lake Road. It also has a most impressive Underground Railroad history site, the Milton House Museum.
18. New Glarus, Wisconsin
A couple of hours outside of Chicago, New Glarus is a quaint town that offers a glimpse into beautiful Wisconsin small towns. "And this one has a bonus," Sherman says, "a Swiss influence!" It is evident in everything from the architecture to the shops as well as in the foods and flavors of the area.
Beautiful in all seasons, New Glarus always has something to offer. Sherman suggests biking on the 24-mile Sugar River State Trail and/or admiring the creativity of the Cow Parade. From September 21 to 24, 2023, the town's Oktoberfest will feature great food, local beer courtesy of New Glarus Brewing, special events like wagon rides and chainsaw wood carving, and live music. "From biking to bovines to brews, this is small-town Wisconsin at its best," states Sherman.
Related Reading: